High-SchoolGirl:

Ariel Hsing
July, 26, 2012
7/26/12
11:19
AM ET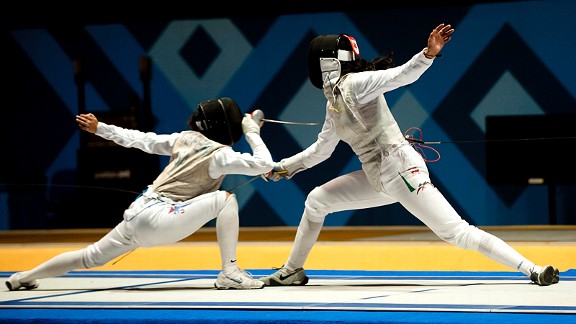 Gerardo Zavala/LatinContent/Getty Images, Courtesy of Teresa KieferLee Kiefer's quest for an Olympic medal begins on Saturday with the women's individual foil.
There will be no easing into the Games for
Lee Kiefer
. Ditto for her fellow high school-aged Olympians
Missy Franklin
and
Lia Neal
.
Kiefer, a recent graduate of Dunbar (Lexington, Ky.), will be going for a medal in individual foil on Saturday, the first full day of the 2012 London Olympics. The fencing competition begins at 6 a.m. (ET), and the gold-medal match is scheduled for 2:40 p.m. Kiefer also will compete in the team event on Aug. 2.
"Of course I want to get a medal this year, and I know I can put up a fight," said Kiefer, who will attend Notre Dame in the fall. "But I don't want to set myself up to be disappointed. [By 2016], I hope to be at my best. I know I haven't reached that point yet."
The hopes are much higher for Franklin, a senior-to-be at Regis Jesuit (Aurora, Colo.). She swims in the first of her scheduled seven events on Saturday, the 4x100 freestyle relay. Neal, a senior-to be at the Convent of the Sacred Heart (New York), is also part of that relay team after finishing fourth in the 100-meter freestyle at the Olympic trials. While Franklin has a jam-packed schedule in London, Saturday will be Neal's lone opportunity to capture gold.
Franklin, obviously, won't get much time to rest. She also is expected to compete in the 100-meter backstroke finals on Monday, the 200 freestyle on Tuesday, the 4x200 freestyle relay on Wednesday, the 100 freestyle next Thursday, the 200 backstroke on Aug. 3 and the 4x100 medley relay on Aug. 4.
The youngest member of the United States' Olympic team,
Katie Ledecky
, who will be a sophomore at School of the Sacred Heart (Bethesda, Md.), is scheduled to swim in the 800 freestyle on Aug. 3.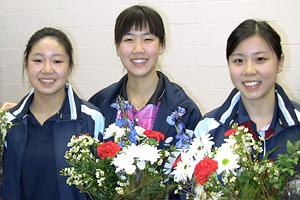 Scott Heavey/Getty ImagesClose friends Lily Zhang, Erica Wu and Ariel Hsing will represent the U.S. in the three-player Olympic team table tennis competition.
Teens are hoping to make an Olympic splash in
table tennis
, too.
Ariel Hsing
, who will be a senior at Valley Christian (San Jose, Calif.), Lily Zhang, a junior-to-be at Palo Alto (Calif.), and Erica Wu, a junior-to be at the Westridge School (Pasadena, Calif.) will try to win the United States' first ever medal in table tennis. The women's preliminary singles rounds begin on Sunday, and the finals will be held Aug. 1. The women's team competition begins Aug. 3 and concludes on Aug. 7.
"It feels like I've been waiting for this opportunity for so long, it's been my dream ever since I was a little kid," Zhang said. "Now that it's finally here, it feels like it's still a dream. It just feels amazing."
The women's gymnastics team, which consists of high school-aged stars
Gabby Douglas
,
Jordyn Wieber
, McKayla Maroney,
Aly Raisman
and Kyla Ross, gets going on Sunday with the qualification rounds. The United States is the heavy favorite to win gold in the team competition on Tuesday. Douglas and Wieber, who finished 1-2 at the U.S. trials, are also favorites in the all-around competition on Aug. 2. Championships on the individual events will be held Aug. 5-7.
Reed Kessler, an 18-year-old 2012 graduate from the Professional Children's School (New York), is set to make history on Aug. 4. Although records are incomplete, she is believed to be the youngest show jumper in Olympic history. Aboard her horse Cylana, Kessler will compete in both the team event and the individual event. The team champion will be crowned Aug. 6 and the individual champion will be decided Aug. 8.
Claressa Shields
, who will be a senior at Northwestern (Flint, Mich.) in the fall, is the last American high school competitor with a chance to medal in London. The middleweight will begin her quest for gold on Aug. 5. The finals are set for Aug. 9. It is the first time women's boxing will be a medal sport at the Olympics.
Click
here
for a complete schedule of the London Olympics.
July, 19, 2012
7/19/12
12:16
PM ET
Between playing a friendly game with "Uncle" Warren Buffett and "Uncle" Bill Gates, taking a pre-calculus class and winning more table tennis titles, senior-to-be
Ariel Hsing
has hardly had time to pack her instant noodles, chips, cookies and chocolate for the London Olympics.
Read about her Olympic preparation -- and her hopes to capture the United States' first medal in table tennis -- in her espnW blog
here
.
July, 11, 2012
7/11/12
3:36
PM ET
It's a record-setting roster for American women at the London Olympics, and 14 high school girls are featured on it.
For the first time, women outnumber men on the
U.S. Olympic team
, 269-261
Among the 269 women are 14 high school stars: boxer
Claressa Shields
; equestrian show-jumper Reed Kessler; fencer
Lee Kiefer
; gymnasts Gabby Douglas, McKayla Maroney, Aly Raisman, Kyla Ross and
Jordyn Wieber
; swimmers
Missy Franklin
, Katie Ledecky and Lia Neal; and
table tennis players Ariel Hsing, Erica Wu and Lily Zhang
.
Of the 530 athletes on the U.S. team, Ledecky, 15, is the youngest. At 4-foot-11, Douglas ties diver Katie Bell and wrestler Clarissa Chun for the shortest.
Read the full story
here
.
February, 13, 2012
2/13/12
6:57
PM ET
Teen Ariel Hsing is one step closer to the Olympics.
The 16-year-old has one chance to make the 2012 Summer Olympics in table tennis. That opportunity will come in April in Cary, N.C., where eight athletes from Canada and the United States will compete at the North American Trials for two berths to the London Games.
Two of the other three women's spots also went to teenagers: 15-year-old Lily Zhang and 15-year-old Erica Wu. That trio -- plus four-time Olympian Gao Jun, 43 -- will return to Cary for the continental trials in April, with the top two women advancing to the Olympics. But the teens, who each finished 9-2 at the U.S. trials, face a tough task.
"I thought I couldn't make it after I lost my second match," Hsing said Monday on a conference call with reporters. "It was definitely new experience for me to come back from such a difficult time."
Hsing has been a rising star since 2010, when she became the youngest-ever U.S. champion in women's singles. She won again in 2011, and also took home two bronze medals from the Pan American Games in October in Mexico. She trains three to five hours a day, six days a week.
"I was raised to believe that talent doesn't make a person successful," she wrote in a diary for espnW. "When I was 7 years old, I was told I had talent by a coach I met when I tagged along with my parents to a local table tennis club (they couldn't find a sitter that night). I later found out he told everyone they had talent. So I learned early on it wasn't a matter of being gifted. It's always been about hard work and dedication."
Read Ariel's full blog
.