High-SchoolGirl:

Australian Open
May, 29, 2012
5/29/12
10:40
AM ET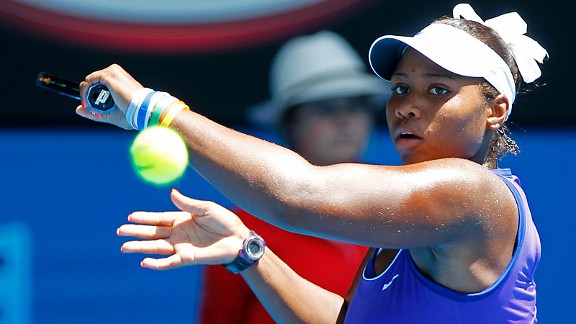 Shuji Kajiyama/Associated Press After winning the girls' singles and doubles titles at the Australian Open, 16-year-old Taylor Townsend is the No. 1 seed in the junior girls' division at the French Open.
PARIS -- When Taylor Townsend started the year, she was a fresh-faced 15-year-old ranked No. 25 in the ITF's world junior rankings.
Less than five months later, Townsend is still fresh-faced, but now 16. And as the No. 1 junior girl in the world, she will be the top seed in the French Open junior girls' draw that starts on Sunday.
Townsend, who became the first American girl to be ranked No. 1 in the world since the ITF went to a combined junior singles and doubles ranking in 2004, vows she's ready for the challenge on the red clay.
"I set high expectations for myself for each tournament," said Townsend, who is most familiar with hard courts. "I've always lived by the motto that I'm not going to go to a tournament if I don't feel like I can do well. ... I'm going to do the best that I can. But I feel like I can do well at this tournament."
So how did Townsend get to be No. 1?
She did it the old-fashioned way: she earned it. Her bragging rights started by winning the
Australian Open singles and doubles titles
-- she entered the Aussie Open ranked No. 18 and left Down Under ranked No. 2. The last American junior girl to win the singles and doubles titles at the same grand slam was
Lindsay Davenport
, who accomplished it at the 1992 U.S. Open.
A victory in the 18s girls draw at the Easter Bowl tournament in April delivered Townsend to the top spot in the world.
Townsend plays a throwback brand of tennis, one that finds her frequently coming to the net, which is rarely seen in today's game. To facilitate that style, Townsend's been paying closer attention to her fitness and diet, giving up on her former favorites of McDonald's and cookie dough ice cream. She's been working with illustrious fitness trainer Pat Etcheberry in Orlando, as well as her main USTA coach, former player Kathy Rinaldi, at the USTA Academy in Boca Raton, Fla., where she's lived for the past 19 months.
Patrick McEnroe, the general manager for USTA player development, is a fan of Townsend's. He believes she is a gifted athlete with a natural flair for the game, possesses a fearless approach to opponents and is willing to accept advice from accomplished sources.
But McEnroe also points out that the leap from successful junior to world-class pro is never a given. Other factors figure into how a junior's future in the game play out.
"What's going to determine whether or not she makes it to the top of women's tennis is going to be her desire, her work ethic day in and day out," McEnroe said. "Once you start to make that transition to the pros, it's inevitable that you're going to suffer some losses, have some bumps and bruises along the way. The players [who] are really focused and determined and can go through that have the best chance of making it all the way to the top."
The good news for Townsend is she appears to have the maturity, the right type of outgoing personality, the ability to make sacrifices and the ambition to traverse the winding road ahead.
But the daughter of a high school principal -- she attended the Charles R. Drew (Riverdale, Ga.) for a few weeks before deciding to leave home to train with the USTA in Boca Raton -- has no plans of rushing into the pros. Things are going well, and while she'll continue to mix in lower-level pro events to her schedule, she'll remain put in junior circles for now.
"I like to keep my options open as of right now," said Townsend, who went to Spain for a week of intensive red-clay training prior to arriving in Paris. "My goal is to go pro. Until I feel like it's the right time, and I consult with my family and everyone, then I'm just going to stay amateur for now."
For right now, her primary goal is conquering the red clay at Roland Garros as the No. 1 seed. For those who take the time to check out the next generation of players, Townsend will be the focal point. They'll be watching -- and critiquing -- how she handles the pressure of being the player everyone in the draw is chasing.
"I started off my year great," Townsend said. "I feel like I can continue that success."
January, 28, 2012
1/28/12
7:10
AM ET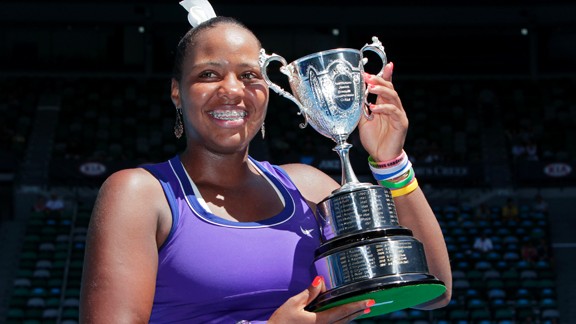 Shuji Kajiyama/Associated PressTaylor Townsend joins a distinguished list of junior girls' singles champions at the Australian Open, including Victoria Azarenka, who won the juniors title in 2005 and won the women's title on Saturday.
MELBOURNE, Australia -- American teen
Taylor Townsend
found that Australia is her kind of place. Except, that is, for one aspect of life that the newly minted Australian Open champion hasn't found quite palatable.
"It's nasty," she said, of Vegemite, a bread spread that Australians love but seems to make most Americans cringe. "I don't like it very much. It's disgusting and tastes like pickled salt. I'd rather have some Jiffy peanut butter."
If not for Vegemite, the 15-year-old might be applying for Australian citizenship considering the double dose of "Good on You" Down Under luck she's had in winning the junior girls' singles and doubles title.
The doubles trophy already in her suitcase from the day before, the 14th-seeded Townsend took to the largest stage she's ever played on -- Rod Laver Arena -- and closed out her trip with a 6-1, 3-6, 6-3 victory over fourth-seeded Yulia Putintseva of Russia on Saturday afternoon.
The two finalists dissolved into tears after the match. For Townsend, it was an emotional reaction to success. For Putintseva, 17, it was disappointment in losing a second Grand Slam final having already contested for the 2010 U.S. Open junior girls' title.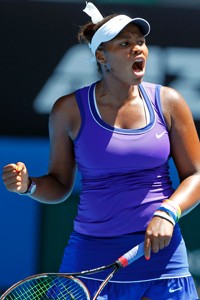 Shuji Kajiyama/Associated Press"It's a dream come true for me," 15-year-old Taylor Townsend said after winning the Australian Open girls' singles title.
"Tears of joy," said Townsend, smiling so broadly that she didn't even think about flashing the gleaming braces she "hates."
"I mean, it's really exciting. It's a dream come true for me. A lot of people supporting me, and my family are so proud. It was just a proud moment for me and the feelings kind of rushed in."
Townsend is a powerful talent with a big lefty serve that delivered six aces during the 1-hour, 57-minute final. She also favors coming into the net -- a rare trait these days -- and won 18 of 29 points from the position. In contrast, Putintseva visited the net only six times, winning four of those points.
"She has a very mature game and she's kind of growing into her body a little bit," said Patrick McEnroe, the USTA's General Manager of Player Development. "She's still only 15, so I think physically she's going to make a lot of strides in the next couple of years. Game-wise, she has an all-court game, a beautiful serve. …She's not afraid to go for it when she has to, and she's not afraid to come in and finish at the net."
Townsend blasted her way through the opening set in just 23 minutes as Putintseva couldn't find any rhythm on the court. But as often happens, the match turned in the next set as the Russian raced to a 4-0 lead. But toward the end of the second set, Townsend was rediscovering her form.
Initially, both players looked nervous at the outset of the third set and surrendered their opening serves. But then they settled in until Putintseva offered Townsend two break points on her serve in the eighth game. Townsend benefited from the second offering when the Russian made an unforced backhand error.
"She's put a lot of work into her game," said Kathy Rinaldi, her coach at the USTA Training Center. "She's made a lot of sacrifices and I told her it will pay off for her. And it has paid off for her."
Townsend is a confident young lady with an infectious personality. She already understands that an athlete needs to go into battle always thinking they're capable of winning.
"Definitely when I got through the quarterfinals, I was like, 'You know, you have three more matches and you can win this,' " said Townsend, who goes on court armed with a notebook with little reminders that she occasionally refers to during matches.
Now that the tournament is over, Townsend will finally get to do something that isn't related to tennis.
All week long, Townsend's been talking about a sightseeing trip to an animal sanctuary where you can hold koalas and pet kangaroos. Now she'll be doing so as the Australian Open champion, who is taking home two trophies.
And a few other Australian Open mementos.
"I'm so happy I got a towel," she said, noting she bought one at the official store.
The other four -- or, she admitted, maybe five -- towels she'll bring home she helped herself to, as most of the players do.
"I was actually surprised that (when I went on court today) I saw four towels, like two towels on one seat, two towels on the other," she added, smiling. "I was like, 'Whoa, I'm gonna snag these. That's exactly what I did.' "
Already a seasoned world traveler, Townsend has figured out that souvenirs earned, or those that come free, can be the most treasured keepsakes from a trip to remember for a lifetime.
January, 27, 2012
1/27/12
8:21
AM ET
MELBOURNE, Australia --
Taylor Townsend
had a busy day at the Australian Open on Friday.
The first assignment for the 15-year-old was competing in the junior girls' semifinals, where she defeated fellow American Krista Hardebeck 7-6 (3), 6-4 to move into her first Grand Slam junior final.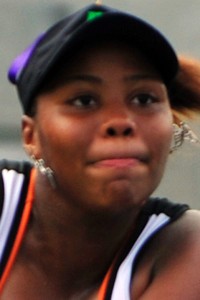 Taylor Townsend
And she wasn't finished yet.
Townsend also had the girls' doubles final to contest with partner and good friend Gabrielle Andrews, a 15-year-old Southern Californian. The two Americans were stretched to a match tiebreak before walking off with a 5-7, 7-5 (10-6) win over Irina Khromacheva of Russia and Danka Kovinic of Montenegra to become the 2012 Australian Open girls' doubles champions.
"Oh my God, when I got in the locker room today I was like, 'What just happened?' " Townsend said. "I'm just so excited. It's literally a dream come true, and winning the doubles tops it all off."
Now all Townsend needs to do is polish off fourth-seeded Yulia Putintseva, 17, of Russia in the singles final on Saturday to take home two Australian Open winner's trophies.
Putintseva, who upended second-seeded Eugenie Bouchard of Canada 7-5, 6-1 in the other semifinal, is making her second trip to a Grand Slam junior final after reaching that stage at the 2010 U.S. Open.
Townsend, who left her Atlanta-area home when she was 14 to train at the United States Tennis Association's Training Center in Boca Raton, Fla., is a crafty left-hander who originally started out playing right-handed simply because she was mimicking her parents and sister, who were all righties.
Eventually it was found that Townsend would lose her balance when going for a right-handed forehand, so it was decided to switch her to her natural southpaw tendencies when she was about 8.
"At first I whiffed every ball with my left hand," she said. "But then it got better."
While she fell short against the 17-year-old Hardebeck 6-4, 6-2 in the quarterfinals of last week's Australian Open tuneup tournament, the Loy Yang Power Traralgon International, Townsend was determined not to let that happen again.
"Last week I felt like I kind of settled because it was a warm-up tournament," Townsend said. "It was very windy and I got into a rally, bang-bang game with her, and that's not how I play and that's not how I am going to win against her.
"But today I came out and fought really hard against her. The biggest thing was keeping myself pumped."
She definitely played Hardebeck tougher on Friday, although she did have some bumpy moments. In particular, she fell behind 4-2 in the second set, but she amped up her serve-and-volley game to turn things around.
As for Putintseva, Townsend lost their recent match at the Eddie Herr International at the end of last year. That match was on clay, which is a surface that favors the Russian more than Townsend.
"I know a little bit about Yulia," Townsend said. "She's a very tough opponent and she tries to get in your head with her (yelling), 'C'mon.' I'll just have to keep the pressure on."
Whether Townsend takes home two trophies or one, she'll leave the Australian Open with a promising future ahead.
January, 16, 2012
1/16/12
9:40
AM ET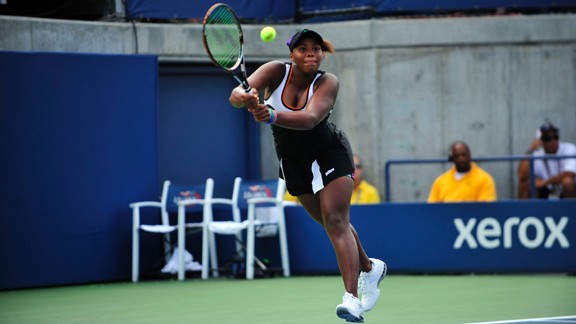 USOpen.org/USTAAfter playing in her first Grand Slam event last year at the U.S. Open, 15-year-old American Taylor Townsend will compete in the girls' singles competition at the Australian Open.
When she was 14, Taylor Townsend's life wasn't really all that different from that of any other high school freshman. With a mix of anxiety and excitement, she was just settling in at Charles Drew (Riverdale, Ga.), where her father, Gary, is the principal.
What a difference a year makes.
Now 15, Townsend is preparing to compete in her second Grand Slam tennis event when the girls' singles tournament begins next week at the
Australian Open in Melbourne
. Ranked No. 27 in the International Tennis Federation (ITF) junior rankings, she's the top-ranked American girl in the juniors draw Down Under.
"I'm going to take a lot of pictures and send them to [my family]," she said. "I'm going to do the best I can to make my family feel like they're there with me."
After spending just a month at Charles Drew, Townsend decided to pack her bags and leave the security of her close-knit family for dorm life at the United States Tennis Association's Training Center in Boca Raton, Fla. Instead of attending school, Townsend studies via an online program and spends unrestricted hours playing tennis.
Townsend admits that one of the biggest adjustments she's encountered is learning how to handle schooling on her own. And considering that her dad is an educator, school remains a priority.
"It's been a really tough transition," Townsend said. "The first year was really hard because I really didn't know what I was doing. What made it even harder is I went to regular high school with my dad for a month before I went down to the USTA. I was accustomed to high school and I was really into it. I've had to learn how to prioritize my time."
Townsend's sacrifices are clearly paying off. At 15 -- she'll turn 16 in April -- Townsend has become an independent teen and a far better player since joining the USTA program.
"She's grown in so many ways," said Kathy Rinaldi, a 1985 Wimbledon semifinalist who is Townsend's USTA-appointed coach. "Her game has improved tremendously. She's come a long way discipline-wise, fitness-wise. As a person she's matured. It's just been a lot of fun to see her put in the work, time and effort and see it pay off."
Before the decision to leave the Atlanta area, Townsend trained from age 8 with Donald Young Sr., the father of top 40-ranked Donald Young. Townsend grew up playing alongside Young and the two have forged a close friendship despite their seven-year age difference -- they played together in the 2011 U.S. Open mixed doubles tournament, losing in the first round.
"I'm so glad to see her doing so well," Young said Friday, already on-site at the Australian Open. "I still see her a lot when she comes home to visit. And she still talks to my dad all the time."
The solidly built Townsend has excellent athletic skill and is quick around the court. She has the advantage of a left-handed serve, a big forehand and power shot-making. Unlike many players of today, Townsend plays offense and enjoys approaching the net to volley.
One significant change Rinaldi made upon Townsend's arrival in Boca Raton was making the teen compete against peers. Since she was 10, Townsend had been playing up in age groups -- at 11, she competed in the 16s age group. She's now back to playing in advanced age groups, but with a better understanding of her strengths.
"She was always playing up, so I told her she was going to have earn her way up and deserve to play up, and she's done that," Rinaldi said. "That had a lot to do with her development."
Townsend announced herself as a player to watch at the U.S. Open in September. It wasn't her performance in the junior event -- she reached the third round -- that put her on the map. Rather, Townsend and fellow American junior Jessica Pegula, the daughter of Buffalo Sabres owner Terry Pegula, received a wild card into the women's doubles tournament and more than held their own. The two upset Liga Dekmeijere and Jelena Jankovic 6-3, 6-3 in the second round before losing.
The main-draw opportunity was an eye-opener for Townsend, who had the privilege of seeing what life can be like as a successful pro.
"It was my first Grand Slam, and it was absolutely amazing," Townsend said. "On top of all the perks you get like the car, the locker room and laundry, the competition was amazing. I just loved the fight and I loved the hype."
Following the U.S. Open, Townsend won the Pan American ITF Championships in October and reached the Eddie Herr International Junior Championships semifinals in December.
Not surprisingly, there's already buzz that Townsend could be the player capable of following in the footsteps of Serena and Venus Williams. That kind of pressure, however, is not what Townsend needs at this juncture, and Rinaldi is carefully downplaying any comparisons.
"I think she admires Venus and Serena for their accomplishments and what they've done for the sport," Rinaldi said. "I don't think she compares herself to them because she's her own person and those are big shoes to fill. I try to teach the girls to stay in the moment."
And for Townsend, this moment is at Melbourne Park.
"I'm actually very excited," Townsend said. "I see it as a great opportunity, and I'm hoping I can do really well."