High-SchoolGirl:

Dynamic Duos
December, 30, 2011
12/30/11
9:31
AM ET
By
Jared Zwerling
| ESPN.com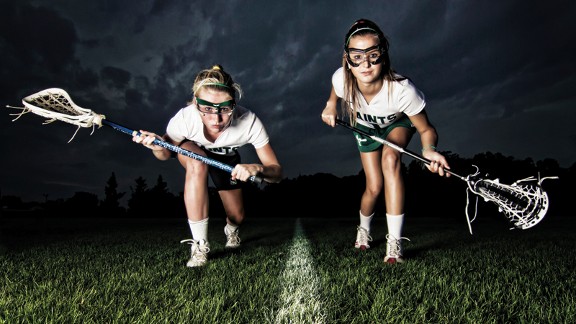 Ryan Gibson"She'd know where I am with her eyes closed," Carly Reed (left) says of St. Stephen's & St. Agnes (Alexandria, Va.) teammate Besser Dyson.
MORE DYNAMIC DUOS:
Morgan Kuhrt and Kinsey Caldwell
|
Kaela Davis and Kristina Nelson
|
Cami Chapus and Amy Weissenbach
|
Cameron Castleberry and Caroline Lindquist
|
Dynamic Duos photo gallery
It all starts when St. Stephen's & St. Agnes (Alexandria, Va.) junior Carly Reed cuts to the goal. Even before she does a quick change-of-direction move to get open, her teammate Besser Dyson knows what to do.
"I don't even have to look at her; I always know where she is," says Besser, named 2011 Second Team All-Met by The Washington Post. "I just pass to her so when she turns around, the ball's basically in her stick. It's like telepathy!"
"She'd know where I am with her eyes closed," adds Carly, a 2011 First Team All-Met selection. "We've been playing together for so long; I always know what she's doing."
The two met as kindergartners when they were backdoor neighbors, and started playing lacrosse together in second grade. No matter what they did — lacrosse camp, playing soccer or basketball, or simply hanging out — they never left each other's side. Now, in addition to playing the same position (attack), they live only about 100 yards from each other in Alexandria, roughly 10 minutes from Washington, D.C.
"I feel like she's a sister," Besser says.
"We're very similar," Carly adds. "I might be a little bit louder than she is."
The only time they get competitive with one another is when they're angling for space on the left side of the field.
"We both want to be on the left side in order to cut with our right hand up, so we talk a lot about who gets that side," Carly says. "But it always works out some way."
Their collaboration led St. Stephen's to back-to-back Independent School League titles in 2010 and 2011; the school has won 18 in a row. Last year, the Saints went 31-2 and Carly and Besser both surpassed 100 goals (Carly had 153, breaking the school's single-season record for goals, along with 41 assists; and Besser had 116 goals and 53 assists).
"They're very, very good," says Kathy Jenkins, who has been the school's girls' lacrosse coach since 1976. "They are gifted with speed, quickness and athletic ability — all the things you look for."
The two plan to be roommates in New York City one day, where they want to work, but first they'll experience an ACC rivalry after high school. Carly and Besser gave verbal commitments to different colleges (North Carolina for Carly and Virginia for Besser), but each destination was a lifelong dream school.
"It'll be weird when I play her," Besser says.
Carly has a different take: "It'll be fun. I can't wait."
December, 23, 2011
12/23/11
8:41
AM ET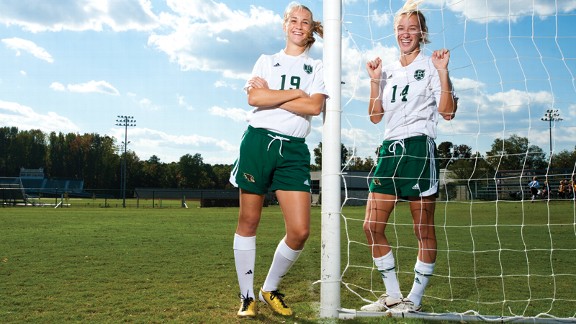 James Robinson/ESPNHS"We've only gotten to know each other in the past couple years," Caroline Lindquist (left) says of Cameron Castleberry. "But it's made those years so much better."
MORE DYNAMIC DUOS:
Morgan Kuhrt and Kinsey Caldwell
|
Kaela Davis and Kristina Nelson
|
Cami Chapus and Amy Weissenbach
|
Dynamic Duos photo gallery
When Cameron Castleberry returned from a week of training with the Under-17 National Team last April, she knew she was in trouble.
She had five days' worth of schoolwork to make up in addition to the new assignments that were coming in, all in the midst of her high school soccer season at Ravenscroft School (Raleigh, N.C.) and her club season with the Capital Area Soccer League Chelsea Under-16 team.
The stress was overwhelming.
Caroline Lindquist knew the feeling. A year older than her Ravenscroft teammate, Caroline had been to a few national team training camps herself and had experience dealing with the anxious aftermath.
"Caroline gave me a lot of good advice about how to talk to my teachers and manage my workload," says Cameron, a junior forward/midfielder. "Having someone to talk to who had been through it made me feel so much better."
Most elite soccer players don't have that luxury. And Cameron and Caroline certainly are elite. Both have verbally committed to 20-time national champion North Carolina, a breeding ground for World Cup stars from Mia Hamm to Heather O'Reilly.
"We've only gotten to know each other in the past couple years," says Caroline, a senior midfielder/defender. "But it's made those years so much better."
Despite playing in the same club program and each being involved with Youth National Teams, last spring was the first time Caroline and Cameron were actually teammates. They became fast friends while sitting next to each other on bus trips to away games.
Their performance on the field had spectators believing they'd been playing together all their lives. The duo led their team to an 18-2-1 record and a trip to the Independent Schools state title game.
In the process, Caroline was named Gatorade North Carolina Girls' Soccer Player of the Year and Cameron earned conference Player of the Year honors.
"Both girls are incredible individual players to watch," Ravenscroft coach J.J. Raabe says. "They make it look so fun and effortless."
December, 16, 2011
12/16/11
7:13
AM ET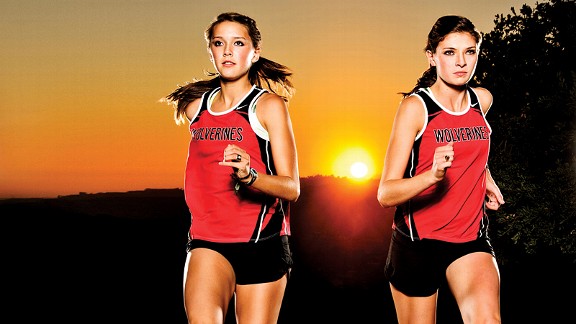 Dustin SnipesCami Chapus (left) and Amy Weissenbach are two of the best runners in the country, and they happen to be teammates at Harvard-Westlake (Studio City, Calif.).
This story originally appeared in the winter issue of ESPNHS Girl magazine.
Click here to subscribe.
READ MORE:
Morgan Kuhrt and Kinsey Caldwell
|
Kaela Davis and Kristina Nelson
|
Dynamic Duos photo gallery
Let's just get this out of the way now -- Cami Chapus and Amy Weissenbach don't like to compete against each other. They don't spend the last period of every school day thinking of ways they can top one another at practice, nor are they devising training regimens for the sole purpose of beating each other at cross country or track meets.
The Harvard-Westlake (Studio City, Calif.) seniors and best friends understand where the questions come from. After all, when you're two of nation's best runners and are on the same team, people are bound to wonder who is faster.
"We know what they're good at, so it isn't a burning question to see what they can do against each other," says Harvard-Westlake track coach Jonas Koolsbergen.
But to them, it's a non-story. For starters, they rarely run in the same individual track events. Cami competes in the 1,600 meters and the mile, while Amy focuses on the 800. And though they go up against each other in cross country, each focuses on clocking her personal best time or scoring points for her team, not on who can break the tape first. In their final state championship cross country race, the two crossed the finish line within a step of each other to place second and third. Cami had won the last two Division IV state titles.
"I've been asked so many times about competing against each other," says Cami. "When people pit us against each other, it brings us closer together. We laugh about it."
Amy concurs.
"People have tried to create competition between the two of us," she says. "But we've had success in different events. We really want each other to do well."
The mutual respect — and friendship — was born during their sophomore year, which is when the pair first got to know each other. They had met as freshmen but rarely practiced together as Amy only ran in three track meets because of a stress fracture in her left heel and didn't compete in cross country.
But once Amy began watching Cami train on a daily basis, she saw someone who shared the same drive to be an elite runner.
"She has always been a great training partner," says Amy. "I don't think either of us would've had the same type of success if we didn't have each other on the team."
Amy and Cami use practice as a way to build off each other's strengths. Cami is dominant at the longer distances, while Amy is an elite middle-distance performer.
"She's definitely one of the main things that's driven me forward and helped me improve," says Cami.
Their work in practice has translated to considerable success on the track and the cross country trail, especially during last spring's outdoor season.
Amy was named Gatorade National Track & Field Athlete of the Year after setting a high school federation record in the 800 with her first-place time of 2:02.04 at the state meet. It was her second consecutive state title in the event, and she later finished fourth in the 800 at the IAAF World Youth Championships in Lille, France, in July.
Meanwhile, Cami clocked the nation's top time in the mile (4:42.71) with her win in the adidas Dream Mile in New York in June and recorded the nation's No. 2 time (4:40.88) in the 1,600 with a first-place showing at state. She also competed at the World Youth Championships, where she finished fifth in the 1,500 in a time of 4:17.12, which was also the top time in the country last season.
Not suprisingly, pairing Cami and Amy together on relays produced explosive results for Harvard-Westlake. Last spring, as they improved, the duo combined with teammates for relay victories over various distances at major mid-season California meets like the Arcadia and Mt. SAC invitationals. Then in June, while in peak condition, Amy (1,200 meters) and Cami (1,600) bookended the greatest distance medley relay in prep history at New Balance Outdoor Nationals as they crushed the U.S. record by 9 seconds in 11:22.23 and beat the squad from five-time national cross country champion Fayetteville-Manlius (Manlius, N.Y.) while doing so.
After track season, Cami and Amy take advantage of the down time for some much-needed relaxation. So whether it's heading out for a light jog, shopping at the mall or going out to dinner together, the pair likes to keep it low-key. That was certainly the case last summer when they took surfing lessons together in El Porto Beach at Manhattan Beach, Calif.
"It was so great just sitting in the ocean and not really worry about anything," says Cami. "You need relief like that to come back and train hard again."
And no, they didn't try to out-surf each other, either.
December, 9, 2011
12/09/11
8:36
AM ET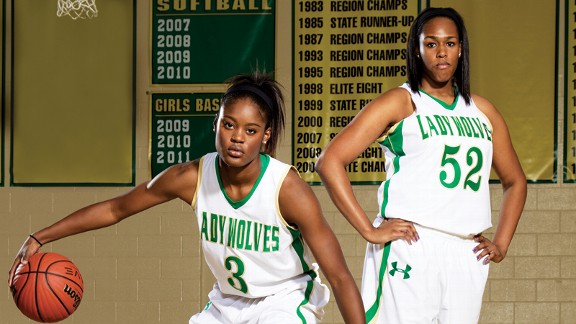 Kelly KlineKaela Davis (left) and Kristina Nelson played against each other for the first time in 2007. This year, they have joined forces and form a dynamic duo for Buford (Ga.).
This story originally appeared in the winter issue of ESPNHS Girl magazine.
Click here to subscribe
.
Dynamic Duos photo gallery
The first showdown between Kristina Nelson and Kaela Davis happened during the summer of 2007.
At the time, Davis lived in Illinois, where her father, former NBA forward Antonio Davis, had played for the Chicago Bulls. Both preteens were playing for their respective club teams -- Davis for the Chicago Ice, Nelson for the Atlanta Celtics -- at the 12U AAU Nationals in Rochester, Minn. The Celtics surged ahead 19-1, but the Ice stormed back to win by one point in overtime.
"We didn't think we were going to beat [Kaela's team]," Kristina says of the Ice, which also featured a young Morgan Tuck, who signed a National Letter of Intent with Connecticut this fall. "We were thinking it was going to be a blowout."
The close loss fueled Nelson's urge for a rematch. Davis made it easy for her when her family relocated to Atlanta later that summer.
As luck would have it, she and Nelson ended up as classmates at Greater Atlanta Christian (G.A.C.). They played together for two years until Davis moved to Norcross (Ga.) for high school.
But this time, attending different schools didn't make them instant rivals. Instead, they joined the same club team -- the Georgia Ice -- and won the 13U AAU Nationals together.
As a sophomore, Davis transferred to Buford (Ga.), where she once again found herself competing against Nelson, G.A.C.'s 6-foot-4 center, who is ranked 30th in the ESPNU HoopGurlz Super 60 for the 2013 class. But, as the No. 2-ranked player in the 2013 class, Davis, a guard, wasn't worried about going up against her friend.
Their teams met four times last season, including in the state championship, which Buford won 57-38.
"When we first played each other in high school, we made comments [like] 'I don't know about you, but I'm tired,' to keep it fun and non-competitive," Davis says.
Coming off its state title, Buford headed into this season with another dynamic duo: Davis and senior guard Andraya Carter, who, along with Davis, has verbally committed to perennial powerhouse Tennessee.
But after Carter suffered a knee injury that will likely sideline her through January, Nelson entered the picture, transferring to Buford during the summer. Thanks to their longtime friendship off the court and summertime success on it, she and Davis were able to pick up right where they left off.
"It helps having been through the highs and lows together," Davis said of having Kristina back on her side of the court.
"I think Kristina's one of those kids who's great at figuring out what her role is," Davis said. "Some games she needs to be Robin, but she's definitely one to not take crap from anybody. Will she have to step down at some point where she didn't maybe at G.A.C.? Yeah."
Davis is confident Nelson, who has yet to choose a college, will help carry Buford, which is currently ranked No. 12 in the POWERADE FAB 50. They get their first major test at the Nike Tournament of Champions Dec. 17-22 in Chandler, Ariz. The tournament features 20 nationally ranked teams in its top two divisions.
"Coach [Gene] Durden and everyone sees it in her," Davis says of Nelson's ability to play the leading role.
Nelson is just happy to be there.
"Our first meeting of the season," Nelson remembers, "when the coaches were doing introductions, [when they got to me] they just said, 'If you can't beat them, join them.' "
December, 2, 2011
12/02/11
1:05
PM ET
By
Ryan Canner-O'Mealy
| ESPN.com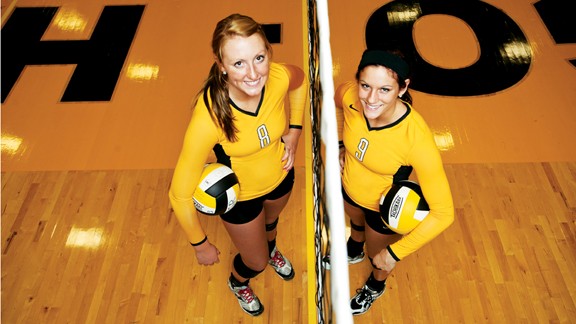 Dan Brouillette/ESPNHSMorgan Kuhrt and Kinsey Caldwell led Waverly-Shell Rock to the Class 3A state title as seniors.
This story originally appeared in the winter issue of ESPNHS Girl magazine.
Click here to subscribe
.
Dynamic Duos photo gallery
Few positions in sports require athletes to be in harmony like setter and outside hitter.
Using a combination of precision and power, they need to be on the same page to have any kind of success. So it's no surprise that Morgan Kuhrt and Kinsey Caldwell have thrived together. Longtime teammates on the court, close friends off of it, the Iowans have combined to form an unbeatable volleyball team.
In fact, it seems the only thing they can't agree on is when they started playing together. (Morgan says fifth grade; Kinsey says fourth.) Either way, they've been setting and spiking together nearly half of their lives. As a result, the Waverly-Shell Rock (Waverly, Iowa) senior co-captains have developed their own unspoken language on the court.
"Sometimes when I go up to hit, I don't even have to call for the ball," says Morgan, an Iowa State-bound outside hitter. "She just knows where I am."
Adds Kinsey, a UNLV-bound setter: "I'm confident that every time I set her, she'll be able to put the ball down. It's awesome that the two of us work so well together."
As sophomores, they helped lead the Go-Hawks to a Class 3A state title. Even though they were young, they were the driving forces behind the triumph. Kinsey had the state-title-clinching kill, while Morgan finished with a team-high 26 kills. Both made the six-player All-Tournament team.
Last year, Waverly-Shell Rock lost in the state semifinals, but it wasn't for lack of effort. Morgan was a first team All-State pick, and Kinsey made the second team.
The duo capped its final season together by winning another Class 3A state title. Morgan, who had 31 kills in the final, was named the All-Tournament team captain, and Kinsey, who had 51 assists, joined her longtime teammate on the All-Tournament team.
After playing side by side for so many years, they say it's hard to believe this was their last season together.
"It's weird to think that really soon she's not going to be my teammate," Morgan says. "She's always been on my team."
Given Morgan's power above the net, Kinsey is happy about that.
"I would be a little scared if I was on the other side," she says with a laugh.
As they get ready for the next chapter in their careers, they do so knowing they wouldn't have reached this point by themselves.
"I couldn't even imagine what it would have been like playing without her," Morgan says. "She's such an amazing player and has helped me get even better. I'm really glad I got the chance to play with her."