High-SchoolGirl:

Girls' Rugby
March, 5, 2012
3/05/12
12:29
PM ET
By
Lindsey Emery
| ESPN.com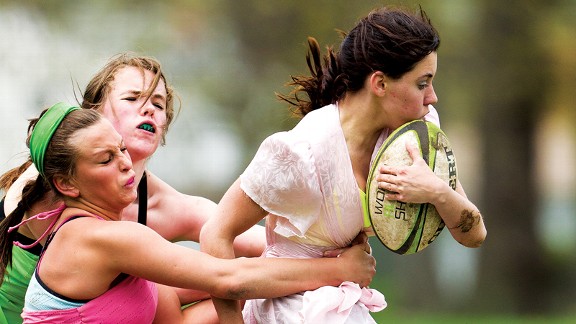 Courtesy of John MulgrewSaint Joseph Academy (Cleveland, Ohio) hopes to donate $1,000 to the Miles for Smiles Triathlon this spring with funds raised at its annual Prom Dress Rugby Tournament.
Quick, picture a rugby game. Betcha the last images that come to mind are dresses, makeup and pretty up-dos. But at Saint Joseph Academy's (Cleveland, Ohio) annual Prom Dress Rugby Tournament, during which girls teams from area high schools compete while wearing -- get this -- prom dresses, style points reign supreme.
"Everyone dresses up ... the fans, the coaches, the girls. It's hilarious," says Saint Joseph coach Jaime Barnes-Cleary.
"I definitely hadn't run or gotten tackled in a dress before, but it was so much fun," says senior Sarah Reinhold.
In addition to being a blast, the tournament also supports good causes, like cancer research.
So far $1,100 has been donated to various charities the past two years. Each team (approximately 10 total) pays a $25-to-$50 entry fee. Additional fund-raising takes place at the event through raffles and food sales.
"This draws together the whole rugby community and shows off the silly side of our sport," says Barnes-Cleary.
This May, the team hopes to donate $1,000 to the
Miles for Smiles Triathlon
, which benefits families and kids, like Barnes-Cleary's son, who are born with a cleft lip and palate.
Where to Start
Getting other teams to participate is the biggest challenge, so reach out to local schools and clubs early, Sarah says. Ask friends and family for items they could donate to the raffle or sell during the event, and seek volunteers to ref the games and work the booths. Gain crowd support by putting notes in the school's morning announcements, handing out fliers and contacting your local newspaper, she says. And last, but certainly not least, you have to find the perfect prom dress for the game. Goodwill is a great place to start. "Don't go for anything too long (you'll trip!). And remember: The less you like a dress, the better, because it will probably get destroyed," Sarah says. Hand out awards to the best-dressed team and crown your own prom queen.
October, 27, 2011
10/27/11
3:55
PM ET
By
Bella Rutkowski
| ESPN.com
Every Tuesday and Thursday in "All-Star Spotlight," members of the ESPNHS All-Star team
tackle a hot topic in high school sports. Today, Bella Rutkowski, a senior at Simsbury (Conn.), explains her reasons for giving up organized sports as a junior and how fitness remains a priority.
I want to start this off by saying I'm not the world's most competitive female athlete, nor am I Connecticut's rising sports star, nor am I even the best athlete in my high school. I am a typical 17-year-old girl, interested in staying fit, spending time with my friends, building teamwork skills, blowing off some stress, and engaging in good-hearted competition; these are the main aspects of sports that I love.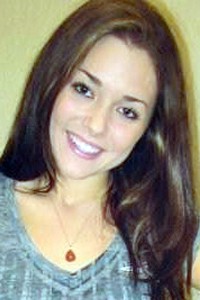 Courtesy of Bella RutkowskiBella Rutkowski is a senior at Simsbury (Conn.) and a member of the ESPNHS All-Star team.
My high school sports career started off with my freshman field hockey season. I had never played field hockey, much less be a part of a sports team at all, so it was a memorable experience to say the least. The season brought with it many firsts, like my first preseason conditioning workouts (run by the seniors, of course) and my first time being a member of a 16-girl family.
My freshman spring season, I gave lacrosse a try, and in sophomore year, I took part in my second year of field hockey.
During the spring of sophomore year, a great new opportunity was given to the female athletes at my high school. We were all finally able to play with the boys. A few of the boys' rugby club coaches were eager to increase the sport's popularity, so they recruited girls who would be willing to participate in rugby as well. Being the first Connecticut Girls High School Rugby Team was thrilling for all of us and gave us an experience we otherwise never would have had. Because I'm not a huge fan of soccer or cheerleading, rugby was a great way to get involved in something completely new and exciting.
Deciding whether or not to participate in a sport my junior year was complicated. I realized I had a lot more responsibility than the previous two years, especially as college hunting approached. Ultimately I decided not to participate in sports because of my crazy schedule.
Physical fitness has always been extremely important to me, so I still work out at home and at the gym. I have so much respect for girls who are able to balance school, a job and a sport, especially in their senior year.
Although I no longer play, I am still able to achieve all the amazing aspects of sports that I mentioned earlier. Working out individually allows me to stay fit and blow off stress, but I also really value the chance to work out with my friends. That keeps me motivated during the workout since I get to spend more quality time with them, doing something that benefits us all.