High-SchoolGirl:

high school girls sports
May, 10, 2012
5/10/12
11:17
AM ET
On June 23, 1972, President Richard M. Nixon signed Title IX into law.
Things have never been the same.
The number of girls playing high school sports jumped from 294,015 in 1971-72 to 3,172,637 in 2009-10, an increase of 1079 percent. The number of women playing varsity sports in college rose from 29,972 in 1971-72 to 186,460 in 2009-10, a 622 percent increase.
Here are
nine ways to celebrate
that progress as we approach the 40th anniversary of Title IX.
November, 29, 2011
11/29/11
11:32
AM ET
By
Laura Suchoski
| ESPN.com
Think back to the first time you said those three magical words: "I love sports."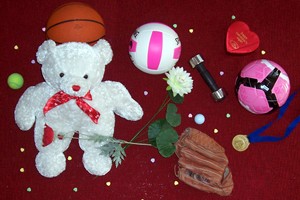 ESPNHS/ESPNHSESPNHS Girl Facebook fans share the moments they fell in love with sports.
Were you about to fall asleep in bed with your cleats on? Or was it after you schooled that guy in a one-on-one? Or perhaps it crossed your mind right before you jumped onto a pile of your teammates after a huge overtime win.
Well the arrow's been shot. And plenty of times. Thousands of high school girls around the country admit they have been hit by Cupid's arrow of sporty love. We asked our 55,000 fans on our
ESPNHS GIRL Facebook page
"When did you first love sports?"
Here are 15 heartwarming comments we received. We heard so many love stories (over 200) that we're combining them into a "I Love Sports" poster in our next
ESPNHS GIRL Magazine
in February. Look out for your name!
Stay tuned to
ESPNHS GIRL Facebook
for more chances to share your stories and get your name in the spotlight.
"I knew I loved sports when…"
… I fell asleep with my Nikes on my feet and my basketball in my bed.
-- Jamie Hopkins
… I was 13 years old and I was out until 11 p.m. in my backyard in the dark trying to get a reverse layup right with a basketball hoop sitting in the grass and a dirt trail I dug up doing it over and over again.
-- Darbie Napieralski
… You first meet your teammates in the ninth grade and you're best friends the next hour.
-- Victoria Jane Burkhart
… I realized the feeling of scoring the perfect goal was better than the feeling of a first kiss.
-- Amanda Jank
… I found myself turning down hanging out with my friends because I had to go practice.
-- Karina Velez

… Sweating was no longer a problem.
-- Jacqueline Chantel

… The team became my second family.
-- Shanay Edaakie

… I could hold a conversation about any team/player/sport with a guy, and know more than they did.
-- Madisonn Felker

… I fell asleep with my glove after my first T-ball game.
-- Mackenzie Huddleston

… I was the kid that still looked forward to gym class every day. I still do!
-- Abby Salvadore

… I developed the mind set of, "You can't get rid of me THAT easily."
-- Katie Magowan

… My seasons weren't fall, winter, spring and summer. They were swim, wrestling, track and summer swim.
-- Emily Prevost

… I connected with my first home run, scored my first goal, and slammed my first kill. These moments made me realize that they aren't just games, they are a lifestyle … a religion.
-- Christina Kaady

… I was put down, cussed at and embarrassed, but I still came to practice the next day. When I tried to quit, something wouldn't let me.
-- Raven Alexandria

… Basketball was my excuse for everything.
-- Jordan JZ Zeigler
November, 4, 2011
11/04/11
5:54
PM ET
By
Laura Suchoski
| ESPN.com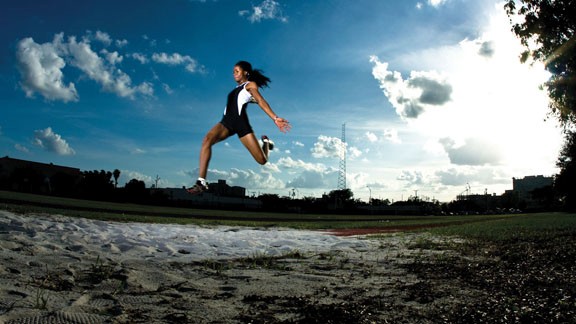 RIKU + ANNAWhat makes you an athlete? Is it the perseverance? The bumps and bruises? The need to compete?
One question for you: What makes you an athlete?
Think about it.
What defines you as a dedicated and strong-hearted competitor? Is it the 20-plus hours every week you spend practicing outside your school? Your "I'm-gonna-dive-for-that-ball-no-matter-what" attitude? The way your legs are two different colors from the weekend tournament? Or how about that locker room smell that trails you from every practice to the dinner table?
You're probably responding 'Yes' to all of these, and the good thing is…you are not alone! 3.2 million girls across the United States play high school sports and share these unique athlete tendencies, attitudes and, yes, even funky smells.
This week we asked our 55,000 Facebook fans that exact question: What makes you an athlete? Turns out, some of the best parts about calling yourself an athlete happen both on and off the field. Here are 20 fantastic favorites we picked. How many can you totally relate to?
Swing by our
ESPNHS Girl Facebook page
after each practice and keep sharing your thoughts, questions, and ideas for a chance to be in the spotlight for our next question!
ESPNHS GIRL: "You know you're an athlete when...."
... your tan lines
could give a zebra a run for its money. -- Tabitha Parker
...you don't complain
about having to go to practice, but complain when it is canceled. -- Chloe Nolan
...you don't just wish
for it to happen, you make it happen. -- Corinna Mendez
...your arms are bigger
than half the guys in the school. -- Jaelyn Brooke Monhollon
...someone tells you 'you can't,'
you don't give up. You keep trying until you prove them wrong! -- Molly Goranson
...you get extremely competitive
in PE class. -- Emily Ball
...the words "give up"
and "quit" are not in your vocabulary. -- Lydia Christine
...you have nightmares
about the words "On The Line!" -- Kayla Ewing
...no matter how much pain
you're in you continue playing because you love the game that much and can't stand sitting out anymore. -- Kayleigh Keggan
...you compare bruise colors
instead of nail polish color. -- Terez Marie
...you want to play a one-on-one
basketball game with your husband on your wedding night instead of your first dance. -- Bonnie Marie Reinsch
...your friends ask if you have practice
before asking to hang out. Or they just don't invite you because they expect you to be playing your sport. -- Alicia Blackham
...the power is out
at your school and you have practice with a generator. -- Kenzie Whalen
... all the T-shirts you wear
are from tournaments and your team shirts." -- De Watts
...you play your sport
because it clears your mind of all problems. -- Hannah Bland
...your kitchen cabinet
has more water bottles than drinking glasses. -- Indiah Porter
...you leave for school
at 6:30 a.m. and don't come home until 8:30 p.m. -- Morgan Frazier
...practice is canceled
and you feel lost. -- Kristiana Danielle Drummer
...you wear more athletic clothes
to school than nice ones. -- Jenn Castro
...your coach doesn't want you to practice
because she wants your shin splints to heal and you respond, "Im all set, I took an ibuprofen!" -- Makayla Pydych
*all responses were collected from ESPNHS GIRL Facebook Page (Facebook.com/ESPNHSgirl) on Nov. 2, 2011.
September, 15, 2011
9/15/11
3:58
PM ET
By
Laura Suchoski
| ESPN.com
Plenty of girls on Facebook this week are posting about, drumroll … National Sister Week!
There's nothing quite like a rockin', supportive sister, so our team at ESPNHS Girl and our Facebook page want to celebrate all sisters who rock the same last name or proudly rep the same jersey as teammates. At the end of the day, what's amazing is that you're there for each other through thick and thin.
So take 5 minutes this weekend to think about who that special girl who is -- simply put -- your rock. Go ahead and plan something special for you two this weekend and remind her how she makes life twice as fun.
Here are 6 ways to celebrate with your sister this weekend:
1. Plan a 1-on-1 pickup game
with her like soccer, basketball or tennis.*
*
This certainly doesn't mean you have to let her win.
2. Cook her breakfast pancakes
to devour in bed. The key is baking them before she senses the delicious smells trickling out from the kitchen.
3. Plan a Skype date.
If she live far away, text her to get to her computer and talk face to face. Go the distance and make a sign to hold up when your webcam kicks on.
4. Share this Facebook "repost if" note on her wall.
We spotted it all over Facebook.
"Your SISTER is your 1ST friend in life. No one will ever understand your crazy family like your sister. SHE will always remain your friend. In good times & bad, you will be there for each other. SHE will hold your hand for a little while, but will hold your heart for a lifetime. REPOST on your sister's wall this week!"
5. E-mail her
a thoughtful, fun (and free) e-card
at
http://www.123greetings.com/
.
6. Go through old photographs and home movies
of you both back in the day. If she's away at college or in the working world, e-mail or pic text a photo to her.
Bring on the bonding, and stay tuned to our
ESPNHS Girl Facebook
page for more ideas.
Happy National Sister Week!