High-SchoolGirl:

Laura Smolinski
December, 1, 2011
12/01/11
12:20
PM ET
By
Laura Smolinski
| ESPN.com
Every week in "All-Star Spotlight," members of the ESPNHS All-Star team
tackle a hot topic in high school sports. Today, Laura Smolinski, a senior at RHAM (Hebron, Conn.), shares the joys of her final high school volleyball season.
My name is Laura Smolinski, and I'm a senior who is just finishing my last season as a setter for RHAM volleyball.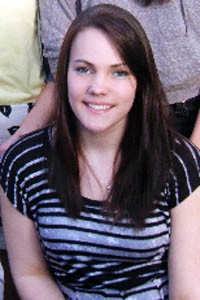 Courtesy of Laura SmolinskiLaura Smolinski is a senior volleyball player at RHAM (Hebron, Conn.) and a member of the ESPNHS All-Star team.
This year was a completely new season for us. The girls who played before us hadn't lost in 70 straight games. We watched them for years and had never seen them lose a match. We were an entirely new team with new players who had never really seen much of the varsity floor.
Even though pressure is only something that you can put on yourself, we all knew we had big shoes to fill. We were never afraid of the challenge, and we always believed that we could carry on their tradition of success. Our program had been a three-time state champion in class M for Connecticut from 2007-2009. We believed in ourselves and knew we could do it, which gave us the drive to win the fourth state title in 2010.
What we didn't anticipate was a change in the playing field for 2011. We had gotten bumped up into a higher class this year, class L (these schools are bigger), and we knew this season was going to be more difficult than ever.
One thing my team always talked about in the huddle was to treat each game like it is going to be the last game you ever play. So we played each game like it was the state championship game -- leaving everything on the floor. We were one of those teams that learned to love to play together. Every time we stepped on that floor, we were excited to play and to be together no matter who we were playing.
We pushed ourselves so hard to make it as far as we did: the state championship. Even though we did not win the state game, we felt in our hearts that we had accomplished more than we had ever imagined. We were that team that always had fun, but knew when we needed to be serious. I can honestly say that I have no regrets from this season because of the hard work we put in and showed every time we stepped on the court. We didn't want to just beat a team; we wanted win the way we knew we could.
We ended our season with a record of 19-3, but more important, our program brought our school and community together. Whether it was a regular game, Dig Pink (a game dedicated to raising money for breast cancer) or the state finals, our fans were there supporting us. Even when we lost, they still believed in us and came to every game that they could. These fans were better than we could have ever asked for.
The whole journey was the time of our lives, and these kids were amazing -- supporting us at the best of times and the worst of times. They were there cheering us on, just like we do for each other.
After our last game, we had a chance to be part of a family. Here's a video of what we had a chance to do this season that made everyone smile after a tough loss, but an amazing season.
Life is a big roller coaster and sometimes you just have to hop on and enjoy the ride!
Click here to watch the amazing ending to our season.
October, 13, 2011
10/13/11
12:05
PM ET
By
Laura Smolinski
| ESPN.com
Every Tuesday and Thursday in "All-Star Spotlight," members of the
ESPNHS All-Star team
tackle a hot topic in high school sports. Today, Laura Smolinski, a senior volleyball player at Rham (Hebron, Conn.), shares 10 inspirational quotes that push her to improve.
If you're like me, you look for quotes to inspire you to keep pushing.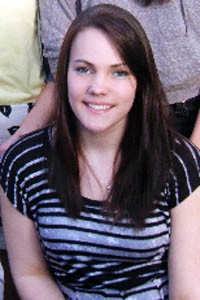 Courtesy of Laura SmolinskiLaura Smolinski is a senior volleyball player at RHAM (Hebron, Conn.) and a member of the ESPNHS All-Star team.
Whether your team is struggling for its first win or if you're an undefeated powerhouse, you turn to successful people to help you stay motivated.
This week, I found a bunch of gold stars in a party store and had my teammates each write a favorite quote on one. Then we hung them in the locker room for inspiration.
To really understand these, you have to take a closer look. When your team is down, you have to work extra hard to bring yourselves to make a comeback. No matter how crazy the moment, that moment is all that really matters. Take every play and shot for what it's worth and realize that you will never get it back. Take nothing for granted and recognize what you have before it's gone. Working hard and having a positive attitude will help drive your team to success. And lastly, never give up. Always remember that!
Here are 10 quotes that should make you really think about what's going on. After all, "Ninety percent of the game is half mental." – Yogi Berra
1.
"The harder you work the harder it is to surrender." - Vince Lombardi
2.
"Fall down seven times, get up eight." - Japanese Proverb
3.
"Obstacles are those frightful things you see when you take your eyes off the goal." – Henry Ford
4.
"It is amazing how much you can accomplish when it doesn't matter who gets the credit." -Harry S. Truman
5.
"Sometimes it's not how good you are, but how bad you want it." - Anonymous
6.
"Don't pin your success on outcomes." – "The Peaceful Warrior"
7.
"Make every move about the move — that one moment in time." – "The Peaceful Warrior"
8.
"Hard work beats talent when talent doesn't work hard." – Author Unknown
9.
"A bad attitude is worse than a bad swing." - Payne Stewart
10.
"Build your weaknesses until they become your strengths." - Knute Rockne