High-SchoolGirl:

Martina Navratilova
June, 21, 2012
6/21/12
1:38
PM ET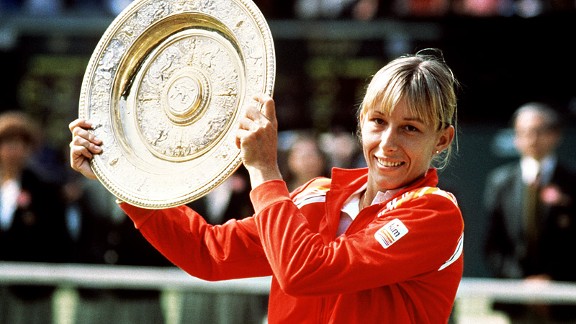 Getty ImagesA slice backhand and a brilliant net game helped Martina Navratilova win a record nine Wimbledon singles titles.
ESPN is marking the 40th anniversary of Title IX by unveiling the top 40 female athletes of the past 40 years.
Martina Navratilova
arrived on the tennis stage as a 16-year-old in the 1973 French Open, where she made it to the quarterfinals as an unseeded player.
By the time she was finished after more than 30 years in professional tennis, she had amassed more singles titles (167) and doubles titles (177) than any woman or man in the Open Era.
The No. 2 woman in ESPN's countdown won 18 Grand Slam singles titles -- including a record nine Wimbledon trophies -- and 59 majors altogether, including the U.S. Open mixed doubles title in 2006, when she was a month shy of her 50th birthday. She claimed major titles in the 1970s, 1980s, 1990s and 2000s.
Legend Billie Jean King calls Navratilova "the greatest singles, doubles and mixed doubles player who's ever lived."
Read the full story from espnW here.
Earlier in this series:

No. 40: Diver
Fu Mingxia
No. 39: Jockey
Julie Krone
No. 38: Gymnast
Mary Lou Retton
No. 37: Hockey player
Cammi Granato
No. 36: Soccer player
Kristine Lilly
No. 35: Basketball player
Diana Taurasi
No 34: Volleyball player
Flo Hyman
No. 33: Soccer player
Abby Wambach
No. 32: Swimmer
Mary T. Meagher
No. 31: Marathoner
Joan Benoit
No. 30: Sprinter
Gail Devers
No. 29: Basketball player
Nancy Lieberman
No. 28: Marathoner
Grete Waitz
No. 27: Soccer player
Michelle Akers
No. 26: Basketball player
Chamique Holdsclaw
No. 25: Swimmer
Dara Torres
No. 24: Golfer
Nancy Lopez
No. 23: Swimmer
Tracy Caulkins
No. 22: Soccer player
Marta Vieira da Silva
No. 21: Tennis player
Venus Williams
No. 20: Figure skater
Michelle Kwan
No. 19: Skier
Lindsey Vonn
No. 18: Softball player
Lisa Fernandez
No. 17: Basketball player
Ann Meyers Drysdale
No. 16: Basketball player
Sheryl Swoopes
No. 15: Swimmer
Janet Evans
No. 14: Figure skater
Katarina Witt
No. 13: Basketball player
Cheryl Miller
No. 12: Sprinter
Florence Griffith-Joyner
No. 11: Tennis player
Billie Jean King
No. 10: Tennis player
Serena Williams
No. 9: Tennis player
Steffi Graf
No. 8: Gymnast
Nadia Comaneci
No. 7: Tennis player
Chris Evert
No. 6: Speedskater
Bonnie Blair
No. 5: Basketball player
Lisa Leslie
No. 4: Golfer
Annika Sorenstam
No. 3: Track star
Jackie Joyner-Kersee
June, 14, 2012
6/14/12
1:24
PM ET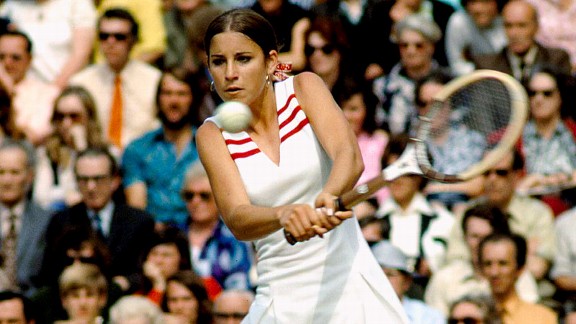 US PresswireIn the 1970s, virtually no one in the game used a two-handed backhand. Chris Evert changed that.
ESPN is marking the 40th anniversary of Title IX by unveiling the top 40 female athletes of the past 40 years.
Chris Evert
was just 15 in 1970 when she beat the world's No. 1 player, Margaret Court, at a tiny tournament in North Carolina.
A year later, the No. 7 woman in ESPN's countdown entered her first Grand Slam event and became the youngest player ever (at the time) to reach the U.S. Open semifinals
Evert won her first major championship at the French Open in 1974 and her last at Roland Garros in 1986. During that period, she captured at least one Grand Slam title a year (including a record seven French Opens), for a total of 18 in her career, tying her with Martina Navratilova for fourth all time, behind Court (24), Steffi Graf (22) and Helen Wills Moody (19).
Evert owned a spot in the world's top 10 for 19 years, including five stints at No. 1. Her 125-match win streak on clay is the best by any player on any surface. And her career .900 winning percentage in singles matches (1,309-146) is the best in tennis history, for women or men.
Read the full story from espnW here.
Earlier in this series:

No. 40: Diver
Fu Mingxia
No. 39: Jockey
Julie Krone
No. 38: Gymnast
Mary Lou Retton
No. 37: Hockey player
Cammi Granato
No. 36: Soccer player
Kristine Lilly
No. 35: Basketball player
Diana Taurasi
No 34: Volleyball player
Flo Hyman
No. 33: Soccer player
Abby Wambach
No. 32: Swimmer
Mary T. Meagher
No. 31: Marathoner
Joan Benoit
No. 30: Sprinter
Gail Devers
No. 29: Basketball player
Nancy Lieberman
No. 28: Marathoner
Grete Waitz
No. 27: Soccer player
Michelle Akers
No. 26: Basketball player
Chamique Holdsclaw
No. 25: Swimmer
Dara Torres
No. 24: Golfer
Nancy Lopez
No. 23: Swimmer
Tracy Caulkins
No. 22: Soccer player
Marta Vieira da Silva
No. 21: Tennis player
Venus Williams
No. 20: Figure skater
Michelle Kwan
No. 19: Skier
Lindsey Vonn
No. 18: Softball player
Lisa Fernandez
No. 17: Basketball player
Ann Meyers Drysdale
No. 16: Basketball player
Sheryl Swoopes
No. 15: Swimmer
Janet Evans
No. 14: Figure skater
Katarina Witt
No. 13: Basketball player
Cheryl Miller
No. 12: Sprinter
Florence Griffith-Joyner
No. 11: Tennis player
Billie Jean King
No. 10: Tennis player
Serena Williams
No. 9: Tennis player
Steffi Graf
No. 8: Gymnast
Nadia Comaneci