High-SchoolGirl:

Nancy Lieberman
May, 31, 2012
5/31/12
1:48
PM ET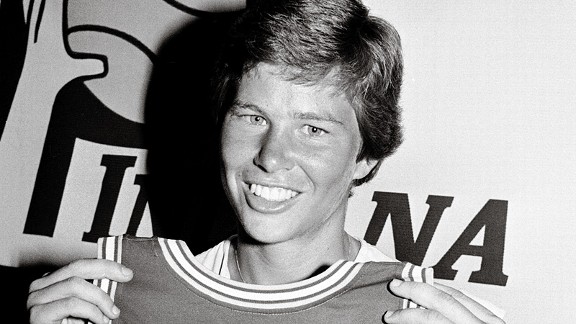 AP Photo/Reed SaxonAnn Meyers had a mix of strength, finesse and unyielding competitive zeal that helped propel women's basketball during the early Title IX era.
ESPN is marking the 40th anniversary of Title IX by unveiling the top 40 female athletes of the past 40 years.
If you're wondering who deserves credit for elevating women's basketball, start with
Ann Meyers Drysdale
.
Meyers entered college as the first woman to earn a full athletic scholarship to UCLA, and the No. 17 woman in ESPN's countdown left as a four-time All-American. While in Westwood, she led the Bruins to the 1978 AIAW national title as a senior. She also still holds school records for career steals and blocked shots.
Later, she became the first woman to try out for an NBA team. Today, she is the general manager of the WNBA's Phoenix Mercury, who have won two titles under her watch, in 2007 and 2009.
"It doesn't matter if you didn't see her play in her prime," says Nancy Lieberman, who won a silver medal with Meyers at the 1976 Montreal Games. "She's more than just an athlete. She's an icon."
Read the full story from espnW here.
Earlier in this series:

No. 40: Diver
Fu Mingxia
No. 39: Jockey
Julie Krone
No. 38: Gymnast
Mary Lou Retton
No. 37: Hockey player
Cammi Granato
No. 36: Soccer player
Kristine Lilly
No. 35: Basketball player
Diana Taurasi
No 34: Volleyball player
Flo Hyman
No. 33: Soccer player
Abby Wambach
No. 32: Swimmer
Mary T. Meagher
No. 31: Marathoner
Joan Benoit
No. 30: Sprinter
Gail Devers
No. 29: Basketball player
Nancy Lieberman
No. 28: Marathoner
Grete Waitz
No. 27: Soccer player
Michelle Akers
No. 26: Basketball player
Chamique Holdsclaw
No. 25: Swimmer
Dara Torres
No. 24: Golfer
Nancy Lopez
No. 23: Swimmer
Tracy Caulkins
No. 22: Soccer player
Marta Vieira da Silva
No. 21: Tennis player
Venus Williams
No. 20: Figure skater
Michelle Kwan
No. 19: Skier
Lindsey Vonn
No. 18: Softball player
Lisa Fernandez
May, 15, 2012
5/15/12
12:08
PM ET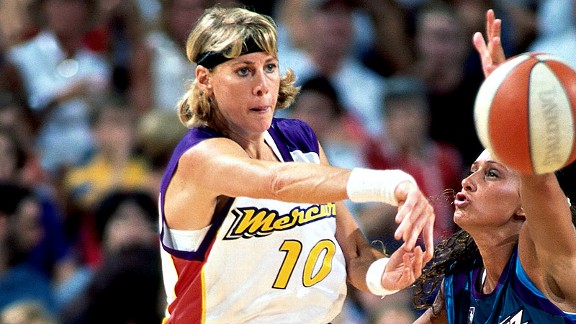 Barry Gossage/NBAE/Getty ImagesNancy Lieberman, a pioneer of the women's game, was inducted into the Basketball Hall of Fame in 1996.
ESPN is marking the 40th anniversary of Title IX by unveiling the top 40 female athletes of the past 40 years.
To the asphalt warriors (all men) on the pickup courts of New York City, the red-haired girl from Far Rockaway, Queens, was just another player. It was there that
Nancy Lieberman
, No. 29 in ESPN's countdown, honed her electric all-around game and her legend was born.
At 17, she was named to the U.S. women's national team, which took silver a year later at the 1976 Summer Olympics in Montreal. She then enrolled at Old Dominion, where she led the Lady Monarchs to two AIAW national championships (1979 and '80) and became the first two-time winner of the Wade Trophy as the country's best player.
"Nancy was the face of the game," says Marianne Stanley, who coached Lieberman at ODU. "She was a relentless competitor, always seeking to improve. You had to chase her out of the gym. You could find her in there at 1 a.m."
Read the complete story from espnW here.
Earlier in this series:

No. 40: Diver
Fu Mingxia
No. 39: Jockey
Julie Krone
No. 38: Gymnast
Mary Lou Retton
No. 37: Hockey player
Cammi Granato
No. 36: Soccer player
Kristine Lilly
No. 35: Basketball player
Diana Taurasi
No 34: Volleyball player
Flo Hyman
No. 33: Soccer player
Abby Wambach
No. 32: Swimmer
Mary T. Meagher
No. 31: Marathoner
Joan Benoit
No. 30: Sprinter
Gail Devers