High-SchoolGirl:

Olympic figure skating
June, 5, 2012
6/05/12
10:20
AM ET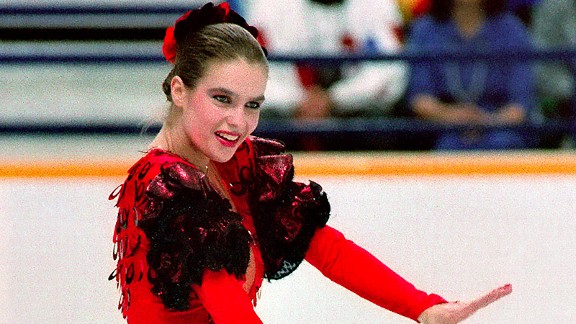 Daniel Janin/AFP/Getty Images"I was an athlete," figure skater Katarina Witt once said. "And I proved I didn't win just because I was pretty. I was good, too."
ESPN is marking the 40th anniversary of Title IX by unveiling the top 40 female athletes of the past 40 years.
Katarina Witt
was only 18 when she began winning over global audiences at the 1984 Winter Olympics in Sarajevo. It was there that she upset the favorite, Rosalynn Sumners of the U.S., to win figure skating gold.
By the time she arrived at the Calgary Games to defend her title four years later, Witt had gained international renown -- a glamorous skater whose intrigue was magnified by the fact that she hailed from East Germany, a notoriously drab communist country known more for producing speed skaters and bobsled pilots than camel-spinning supermodels.
Witt triumphed again at the Calgary Games, and she remains one of only two women -- along with three-time gold medalist Sonja Henie -- to have won multiple Olympic titles in ladies' figure skating. She also won four world championships and claimed six straight European crowns from 1983 to 1988. She is No. 14 in ESPN's countdown.
Although there was nothing particularly remarkable about the technical content of her programs, Witt's ability to connect with spectators and judges was unmatched.
"She captivated an audience because she was great at playing the crowd," says Philip Hersh, the longtime Olympics columnist for the Chicago Tribune. "She could reach the 143rd row of an arena."
Read the full story from espnW here.
Earlier in this series:

No. 40: Diver
Fu Mingxia
No. 39: Jockey
Julie Krone
No. 38: Gymnast
Mary Lou Retton
No. 37: Hockey player
Cammi Granato
No. 36: Soccer player
Kristine Lilly
No. 35: Basketball player
Diana Taurasi
No 34: Volleyball player
Flo Hyman
No. 33: Soccer player
Abby Wambach
No. 32: Swimmer
Mary T. Meagher
No. 31: Marathoner
Joan Benoit
No. 30: Sprinter
Gail Devers
No. 29: Basketball player
Nancy Lieberman
No. 28: Marathoner
Grete Waitz
No. 27: Soccer player
Michelle Akers
No. 26: Basketball player
Chamique Holdsclaw
No. 25: Swimmer
Dara Torres
No. 24: Golfer
Nancy Lopez
No. 23: Swimmer
Tracy Caulkins
No. 22: Soccer player
Marta Vieira da Silva
No. 21: Tennis player
Venus Williams
No. 20: Figure skater
Michelle Kwan
No. 19: Skier
Lindsey Vonn
No. 18: Softball player
Lisa Fernandez
No. 17: Basketball player
Ann Meyers Drysdale
No. 16: Basketball player
Sheryl Swoopes
No. 15: Swimmer
Janet Evans
May, 28, 2012
5/28/12
1:33
PM ET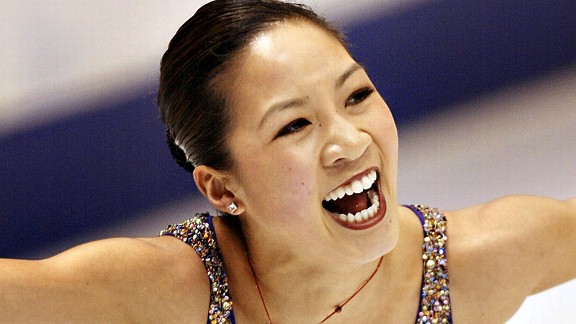 Jacques Demarthon/AFP/Getty ImagesAs an eighth-grader, Michelle Kwan finished eighth at the 1994 world championships.
ESPN is marking the 40th anniversary of Title IX by unveiling the top 40 female athletes of the past 40 years.
As a 13-year-old,
Michelle Kwan
was thrust into one of the ugliest scenes in figure skating history when she was sent to the 1994 Winter Olympics as an alternate following an attack on Nancy Kerrigan that Tonya Harding was later linked to.
And while Kwan didn't get a chance to skate in Lillehammer -- Kerrigan took silver and Harding finished eighth -- it was from those ugly roots that one of the most artistic and elegant figure skaters of all time grew.
Kwan's career ended with five world championships and nine U.S. titles, but she was never able to capture Olympic gold, settling for a silver in 1998 and a bronze in 2002.
Read the complete story from espnW here.
Earlier in this series:

No. 40: Diver
Fu Mingxia
No. 39: Jockey
Julie Krone
No. 38: Gymnast
Mary Lou Retton
No. 37: Hockey player
Cammi Granato
No. 36: Soccer player
Kristine Lilly
No. 35: Basketball player
Diana Taurasi
No 34: Volleyball player
Flo Hyman
No. 33: Soccer player
Abby Wambach
No. 32: Swimmer
Mary T. Meagher
No. 31: Marathoner
Joan Benoit
No. 30: Sprinter
Gail Devers
No. 29: Basketball player
Nancy Lieberman
No. 28: Marathoner
Grete Waitz
No. 27: Soccer player
Michelle Akers
No. 26: Basketball player
Chamique Holdsclaw
No. 25: Swimmer
Dara Torres
No. 24: Golfer
Nancy Lopez
No. 23: Swimmer
Tracy Caulkins
No. 22: Soccer player
Marta Vieira da Silva
No. 21: Tennis player
Venus Williams