High-SchoolGirl:

Olympics
April, 30, 2012
4/30/12
12:54
PM ET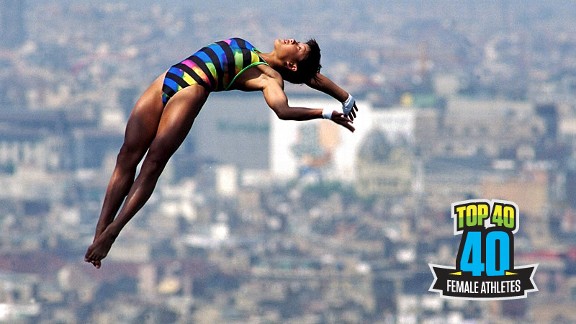 AP Photo/Santiago LyonFu Mingxia was only 13 when she won the first of her four Olympic gold medals.
ESPN is marking the 40th anniversary of Title IX by unveiling the top 40 female athletes of the past 40 years.
At No. 40, diver
Fu Mingxia
won every individual Olympic event she entered, collecting four gold medals over her three Games.
She won her first Olympic gold medal as a 13-year-old at the 1992 Barcelona Games. At the 1996 Atlanta Games, she successfully defended her platform title, then three days later added the 3-meter springboard gold. She retired prior to the 2000 Games in Sydney, but returned to compete in the 3-meter event and struck gold yet again.
Read the complete story from espnW here.
March, 21, 2012
3/21/12
9:47
AM ET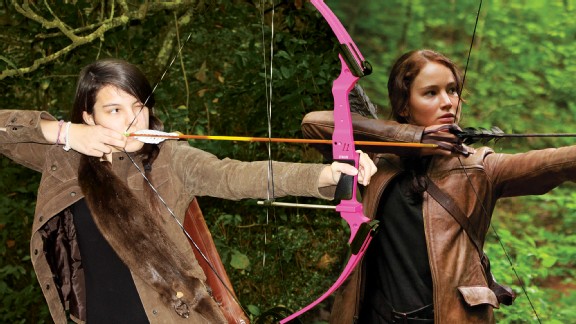 Courtesy of Michael Parker and Lions Gate EntertainmentTo fake what 17-year-old archer Ella Kokinda (left) does for real, actress Jennifer Lawrence (aka Katniss) underwent a grueling, six-week training camp.
Ella Kokinda may not know much yet about the irrepressible teen heroine of Suzanne Collins' bestselling book series-turned-film "The Hunger Games" (in theaters this Friday), but she and Katniss Everdeen sure have a lot in common.
Though the 17-year-old junior from Bishop England (Charleston, S.C.) High hasn't read the trilogy about kids who battle for their lives in an annual TV reality show, she is Katniss' doppelganger, right down to her hair. From her low-slung, brunette braid to her skills with a bow and arrow and her participation in a TV show last summer, where she competed against the nation's top four male and female teen archers for prizes (it aired on the Sportsman Channel), it's no wonder Kokinda reminds her peers of the fictional archer extraordinaire.
Like Katniss, Ella has also become the accidental poster child of a cause in her community. Thankfully, it's not a violent revolution but rather the good ol' sport of archery, which dates back about 10,000 years. In early January, Kokinda and her coach of four years, Mike Parker, started Bishop England's first archery team.
"In South Carolina, you can get an archery kit for free from the Department of Natural Resources," said Kokinda, who first picked up the sport in seventh grade (when Parker brought it to her middle school) and won third place at state that year. "You just need a teacher in the school to sponsor the team and then fill out forms on the DNR website," added the National Honor Society student, who has a 4.59 GPA.
The best part about the sport is that anyone can pick it up, regardless of age, gender or strength, Kokinda said. During a tournament, you have to shoot five arrows in each of three rounds from distances of 10 meters and then 15 meters (30 arrows total). You can earn 10 points max per shot and that's only if you hit the bull's-eye, a three-inch-in-diameter center ring. "That's where I always aim," said Kokinda, who scored 292 points out of a possible 300 at nationals last year, earning her second place in the high school female division.
This May, she's aiming to become the national champ. Kokinda's great form, relentless dedication to training and unshakeable focus set her apart from the rest, said Parker, who relies on her to help him with the school's new archery team of 18 male and female athletes at the range behind the school. "Once you have the point system down and learn how to fine-tune the muscle movements in your arm, you've got it in the bag," said Kokinda, who's already targeting the 2016 Olympics in Rio.
This story originally appeared in the Spring issue of ESPNHS Girl magazine. Click here to subscribe.