High-SchoolGirl:

Secrets from the training room
November, 21, 2011
11/21/11
9:54
AM ET
By
Brooke Ward
| ESPN.com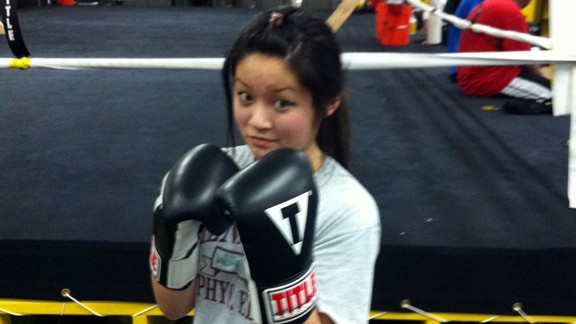 Courtesy of Bob MillerNicole Wokas says boxing appeals to her because it challenges her both physically and mentally.
Life as an athlete doesn't begin and end on the field. The dedicated are relentless in searching for a perfect mix of diet, clothing, sleeping patterns and cross-training that will beat the competition. Although the choices are seemingly endless, we're making your search easier by going to coaches, trainers and athletes and bringing you back the secrets from the training room.
This week, we're taking a look at boxing as cross-training.
What it is:
A sport that underdog movie dreams are made of, boxing pits two competitors of roughly equal weight in a ring for a specified number of rounds. The winner is determined either by judges' scoring or when one competitor is unable – or deemed unable -- to continue.
How it works:
Although a sport based on hand-to-hand combat may not seem beneficial to the total body, boxing doesn't leave many areas out when it comes to training. Gary Dobry, owner of Pug's Boxing Gym in Crystal Lake, Ill, refers to boxing as "the art of being relaxed while performing at a sprinter's pace," a practice that takes incredible focus and conditioning.
Boxers must have great endurance, agility and flexibility. Plus, mental sharpness is key to staying one step — sometimes literally — ahead of your opponent.
Who does it:
These days, participants include moms who want to get back into shape, kids who attend boxing classes alongside trumpet lessons and soccer practice, professional athletes dreaming of gold medals, and, of course, girls in high school looking to cross-train and potentially excel at another sport.
Does it work?
Given the accessibility of boxing trainers, gyms and coaches across the country -- along with the addition of women's boxing to the 2012 Olympics -- it would seem the sport is doing something right for its participants.
Bob Miller, co-owner and coach at Warrior Boxing in Downers Grove, Ill., trains one of the largest female boxing teams in the country.
"(I'm) happy that there is a good avenue for girls to express their talents in this area," Miller says.
One of his boxers, sophomore Nicole Wokas, loves the sports because it challenges her on multiple levels.
"(Boxing) not only demands physical agility," she says. "But also forces you to mindfully pace yourself, which builds stamina."
An added bonus, according to Lake County Boxing Club coach Larry Lentz, is that with women's boxing just starting to catch on, a smaller pool of competition allows for a higher chance of excelling.
"It's easier to turn a good fighter into a champion," he says.
And even if your sights aren't set on the championship in the ring, Dobry provides another benefit.
"Life is all about challenges and going the distance," he says. "If you can take on a scary opponent inside the ring, the challenges outside will be a piece of cake."
November, 7, 2011
11/07/11
10:07
AM ET
By
Brooke Ward
| ESPN.com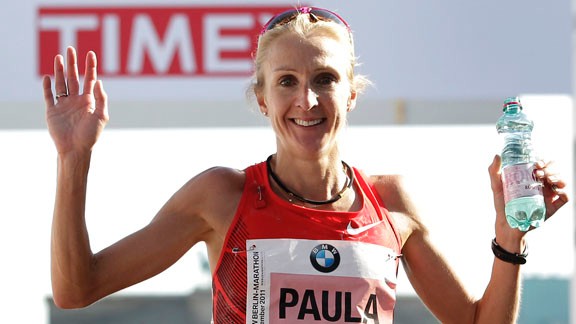 Michael Sohn/APPaula Radcliffe, one of the top marathoners in the world, is among the many runners who have found value in compression socks.
With all of the quick fixes and miracle products in the world of sports, it's tough to tell the helpful techniques from the hurtful, or the ones that don't make a difference either way. Which is why we're ducking into training rooms and offices, talking to athletes and coaches, and getting the real deal on what's worth your time.
This week we're getting the download on compression socks.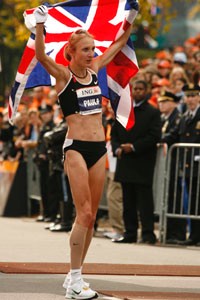 Kathy Willens/APPaula Radcliffe wore flesh-colored compression socks during her victory at the 2007 New York City Marathon.
What They Are:
If you watched the New York City Marathon on Sunday, chances are you saw some runners wearing what appeared to be skin-tight knee-high socks. Compression socks, which were historically worn by anyone who was not able to get up and walk around for an extended period of time, are now showing up on athletes — runners in particular — everywhere. Many believe they can increase performance during races and help speed up recovery post-workout.

How They Work:
Designed to be tightest around the ankle and approximately knee-high, the socks are designed help increase blood circulation. Because of the tightness, blood flow has a narrower path to work through and, as a result, pressure in the arteries is higher, causing more blood to return to the heart instead of going to the lower legs. Essentially, they help do the work that walking does normally for those who are stuck in the seated position.
So how does this translate to running and endurance sports? It turns out that some people believe this boost in blood circulation can also help runners feel a boost in speed — and benefit them post-performance with a speedier recovery and prevent lactate build-up.
When to Wear Them:
Depending on the results you're going for, before, after or during a workout are all options. Runners who don them for races say they benefit from increased speed and even point to improved mechanics, and those looking for a speedy turnaround with muscle recovery say they wear them after or even pre-performance.
Who Wears Them:
Most notably, Paula Radcliffe, and other professional long-distance runners, but overall, runners everywhere — newbies and veterans alike — are giving them a go.
Do They Work?
The definition of "working" depends on the wearer and what she's looking to get out of them. Studies are mixed. But three-time Ironman Anthony Ewing (Chicago, Ill.) swears by them for several reasons, including the aforementioned increased blood circulation during performance and the recovery benefits.
But he also refers to the placebo effect, and the fact that runners are "creatures of habit" -- once a runner or athlete wears or does something that seems to benefit her performance, she tends to add it as a permanent step in her routine.
But for Ewing, compression socks are not necessarily the best fit for high school athletes.
"(High school athletes) tend to recover quicker and have less problems at that age with lactate build-up," he said.
Instead, Ewing feels at high school level the priority should be placed on post-stretching, and some athletes may falsely consider the socks a replacement for this crucial step.
However, Paul Brettner, a coach of multiple sports at Vernon Hills ((Lake County, Ill.) isn't so quick to dismiss the socks.
"If it gives them confidence during their performance, then I'd consider that working," he said.
October, 24, 2011
10/24/11
10:38
AM ET
By
Brooke Ward
| ESPN.com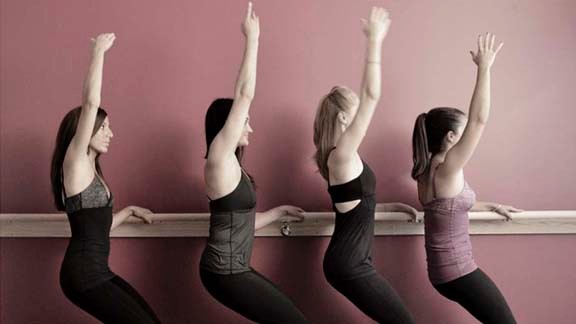 Courtesy of Aaron StiggerBar Method classes are designed to elongate the form, strengthen the core and leverage the body's own weight to build stability.
When every other magazine ad touts a quick fix in fitness training, it's tough to tell which ones are worth your time and which are a complete waste. So we're sneaking behind the scenes with the experts — the instructors, coaches and professors who make it their job to know what works vs. what you should ignore.
This week? We're heading into the studio to take a look at the Bar Method.
What It Is:
In the 1950s, when German modern dancer Lotte Berk injured her back, she combined a series of ballet-bar moves with rehabilitative techniques in order to keep fit. Twenty years later, after falling in love with Berk's classes, Burr Leonard started her own version of the practice, reworking it to lessen the impact the exercises had on the knee, back and shoulders, and officially called it the Bar Method.
How It Works:
Similar to the Dailey Method, Core Fusion and Pure Barre, the practice combines using light weights for bursts of high-intensity aerobic moves (designed to wear out the muscles) with deep yoga-like stretches and, of course, a heavy reliance on the ballet bar. Classes typically last about an hour and are designed to elongate the form, strengthen the core and leverage the body's own weight to build stability.
When To Do It:
Any time of day is fine, but in order to experience the best results, instructors recommend practicing at least three times a week.
Who Does It:
Original followers of the Berk technique included 80s icons Joan Collins and Brooke Shields, but more recent devotees include actresses Drew Barrymore and Ginnifer Goodwin.
Does It Work?
The sheer number of studios and spinoffs that have opened across the United States would indicate people love the results. But like any training routine, it depends on the individual and the end goals you have in mind.
And while a method popular with celebrities may seem targeted to adult women, Michelle Pretekin, instructor and owner of Fit Girl Studio in Evanston, Ill., says it appeals to other demographics, too.
"High school girls love (it)," she says. "It mixes up the regular routine offered in their sport of choice and keeps things fresh and interesting."
So which athletes would benefit the most from this method?
Dancers may be the most obvious, but Tamara Cain, the JV drill coach at Hononegah (Rockton, Ill.), says a variety of teen female athletes could benefit.
"Any activity that combines conditioning with fun is key to keeping the girls engaged outside of practice," Cain says.
As an added bonus, with such a unique combo of lengthening and resistance moves, the classes allow for mental agility as well.
"Body form is absolutely crucial during class," Pretekin says. "It invigorates a higher sense of awareness during workouts."
And that mental edge may just be what you need to beat the competition.
October, 10, 2011
10/10/11
9:36
AM ET
By
Brooke Ward
| ESPN.com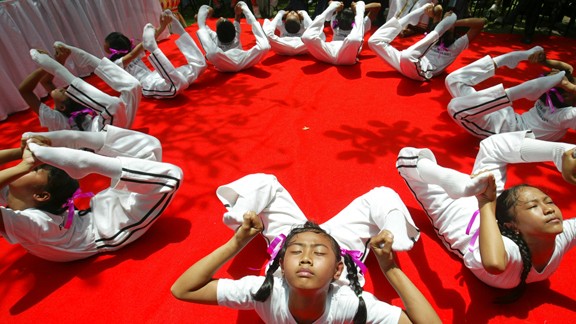 Firdia Lisnawati/APYoga can help build core strength, increase flexibility and improve your ability to focus.
With all of the quick-fix promises in the world of sports, it can be overwhelming determining which ones are legit and which are not worth your time. So we're ducking into the training room each week to get the scoop straight from the experts' mouths--the coaches, trainers, and professionals who make telling the real from the completely bogus their everyday jobs.
Up this week? Yoga.
What It Is:
A combination of spiritual, mental and physical disciplines, yoga started in ancient India as a way to obtain enlightenment but has since infiltrated the American culture, creating a fiercely loyal community and spawning consumer brands, individual studios and countless variations of the original practice.
How It Works:
Stretching, breathing, meditation and balance are all integral parts of yoga, but the emphasis varies depending on the type of class. Derived from the Sanskrit word "union," the common goal among all types is a unity between mind, body and spirit, and if that turns off the weight-lifters and cardio addicts in the room, it should be noted that a stronger core, elongated posture, increased flexibility and an enhanced ability to focus are among the key benefits.
When To Do It:
Pretty much any time you want, although many followers like to begin their day with yoga-based stretches and meditation.
Who Does It:
A widely varying crowd made up of everyone from high school kids to retired dads, from celebrities such as Jennifer Aniston to athletes like LeBron James, and countless women of all ages and backgrounds. Originally more common among the female set, with the onset of classes and studios making all types of yoga widely available across the states, today anyone can reap the benefits.
Does It Work?
Similar to any physical activity, one should consult with a doctor on the right approach, but the majority response is a resounding yes.
While many girls don't begin practicing until college, "it would vastly benefit them in high school," says yoga instructor Megan Dawson, who is based in Chicago. "Yoga can not only help mitigate some of the physical stress of sports, but mentally give women the tools to thrive and keep a healthy perspective amidst all the chaos that accompanies a day in your teens."
Katie Christensen, a sophomore cross country runner at Waunakee (Wis.) thinks of yoga "to stay relaxed, and to help increase flexibility and skill set." As a cross-country runner and a member of the school's dance team, she's even considering taking classes during her offseasons.
And she should, according to Julia Wipf, Doctor of Physical Therapy at AthletiCo in Oak Park, Ill., because track and cross country runners are among the athletes that stand the most to gain from yoga. With a sport that "requires repetitive use of the same muscles, like running, it's necessary to allow those muscles a chance to relax, and yoga provides that," she says. Plus, many running injuries are "due to lack of sufficient core strength and stability. Yoga focuses on improving both middle-body strength and flexibility in a way that one cannot get from running alone."
But don't be fooled by thinking it's simply an hour of stretching.
"I wish I could have embraced it in high school," Dawson says, "instead of naively dismissing it as stretching. It would have helped me identify what truly matters as well as helping me excel at my sport."
September, 26, 2011
9/26/11
10:14
AM ET
By
Brooke Ward
| ESPN.com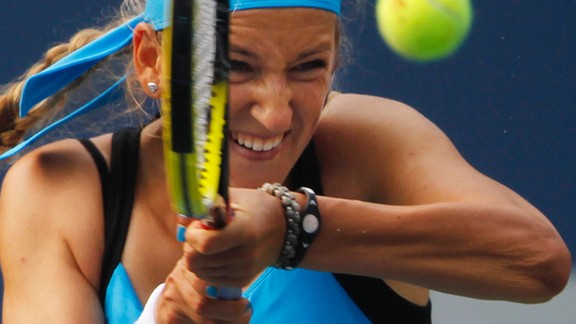 Mike Groll/APVictoria Azarenka, currently the No. 3 women's tennis player in the world, was sporting a Power Balance band at the U.S. Open.
With all of the wonder-products in the world of sports, it can be hard to determine which ones actually work and make sense for you. So we're ducking into the training room to get the scoop straight from the experts' mouths -- the coaches, trainers and players who make telling the real from the completely bogus their everyday jobs.
This week? Balance bands.
What they are:
The Power Balance band (and its imitators) came bursting into American culture about four years ago, popping up at vendor stations in malls, as the subject of infomercials and eventually on the wrists of celebrity athletes.
Promising to restore the body's natural balance through increased energy and stamina, the brand helped make millions of believers with a simple visual demonstration. Witnesses of these sales pitches should have no trouble recalling volunteers from the audience being pushed over easily when not wearing the bands, but standing strong against resistance — on one foot — once the bracelet circled their wrists.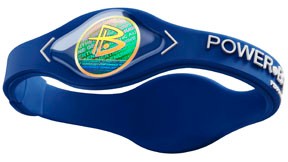 Courtesy of Power BalanceBalance bands have been spotted on the wrists of celebrities and athletes alike.
How they work:
Technology behind the bands is difficult to pinpoint, but the makers commonly reference harnessing the "energy frequency" in all of us. By placing a hologram designed to work with the body's energy flow inside a plastic wristlet, designers say, modern-day athletes can channel an ancient form of Eastern-medicine beliefs just by slipping on an accessory.
(Quick cheat sheet —Western medicine typically covers the practices and prescriptions you'd get at your local doctor, while Eastern or alternative medicine usually taps into nature, dietary changes, and healing techniques such as massage or acupuncture.)
When to wear them:
At any time based on the promise of increased balance both on the field and off.
Who wears them?
The bands have appeared on everyone from elite athletes like David Beckham and Blake Griffin to celebrities, including Ashley Greene and Justin Bieber.
Do they work?
As with many products lacking firm evidence, Power Balance bands fell under scrutiny when research studies showed no scientific evidence of results. The company eventually ran advertisements stating it didn't have proof the product improved stability or strength, and promised dissatisfied customers a full refund. Tests are ongoing to get to the bottom of the science.
And yet, the bands still hold a strong following.
"I actually think they work," says softball player Becca Feld, who graduated in the spring from Vernon Hills (Lake County, Ill.) and wears a band even on days when she's not playing or training.
Paul Brettner, a coach of multiple sports at Vernon Hills, admits the bands "seem to work if you believe they work." Like the research supports, "it is more of a placebo effect rather than something scientific."
"The bands are unobtrusive and cause no harm," says Nathan Johnson, physical therapist and owner of Therapy Solutions in Lombard, Ill. "So the mental benefit or boost in confidence may be worth the cost."
Almost every competitor preps with some mental routine before hitting the field, and one girl's balance band could be considered another's lucky pair of socks. After all, mental strength on the field is in the mind — or on the wrist — of the beholder.
September, 12, 2011
9/12/11
5:45
PM ET
By
Brooke Ward
| ESPN.com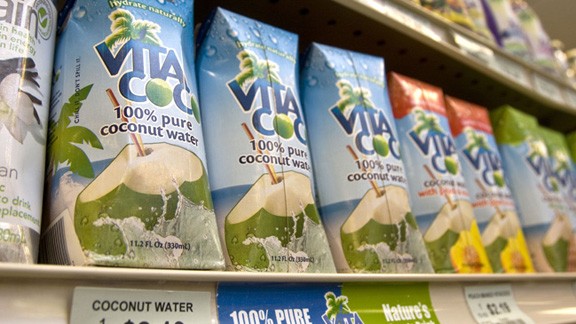 Larry Crowe/APCoconut water has been billed as a miracle drink, and athletes and celebrities have endorsed it. Experts share their thoughts on "nature's sports drink."
Lately it seems every day there is a new wonder product promising to shave minutes off your time, help you jump higher, run longer or make every single shot you take. And while some seem legit, it's not always easy to determine which ones actually work and make sense for your sport.
So we're ducking into the training room to get the scoop straight from the experts' mouths — the coaches, trainers, and professionals who make telling the real from the bogus their everyday jobs.
First up? Coconut water.
What it is:
The clear liquid found inside young coconuts gained popularity in the U.S. through two key brands — Vita Coco and Zico. The founders of Vita Coco (two best friends) claim the brand was born after asking two Brazilian girls in a bar what they missed most about their native land. When the answer was coconut water — what they touted as "the most delicious and nutritious drink in the world"— an idea was born.
How it works:
Branded as "nature's sports drink," coconut water is low in calories and completely void of fat but high in potassium — containing two times as much as a banana, the long-standing post-workout choice of runners. Combined with the small amount of sodium the drink contains, you have a powerful combo of recovery-promoting electrolytes. (For those of you who were texting during science class, electrolytes are basically salts making up a high percentage of your body's fluids. While working out, you lose sodium and potassium electrolytes through sweat, which then need to be replenished.)
How to use it:
Usually after a workout, but you can also enjoy it at any time of day as a healthy snack, meal accompaniment or smoothie ingredient.
Who drinks it:
Celebrity athletes, runners, and high-octane performers such as Alex Rodriguez and Rhianna have jumped on the bandwagon, and food magazines and fitness websites have even gone so far as to call the drink a "superfood."
Worth the hype?
"As long as you're getting pure coconut water, it can be an added benefit to an already healthy routine," says Dave Geslak, former assistant strength coach of the University of Iowa and founder of the Exercise Connection Corporation in Illinois. "If you like the taste, it could be a nice post-workout reward once in a while — but I don't think it's a necessity."
Molly Laughlin, a volleyball player at Mount Vernon (Fortville Ind.) says she and her sister Caitlin, a tennis player at Mount Vernon, enjoy the drink for the benefits it gives, but aren't crazy about the taste. "It's not bad," Molly says. "But I love how it helps me stay hydrated and boosts my energy back up after a long workout."
Running at about $2 a pop, the price may outweigh the benefits.
James Hardy, director of strength and training for basketball at the University of Colorado, agrees.
"While coconut water will supply some important nutrients the body needs, there's no replacement for hard work and healthy choices. It should be an added indulgence on top of daily smart habits — not a miracle fix."