High-SchoolGirl:

teen female athlete
November, 29, 2011
11/29/11
11:32
AM ET
By
Laura Suchoski
| ESPN.com
Think back to the first time you said those three magical words: "I love sports."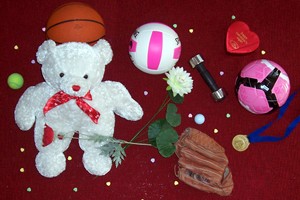 ESPNHS/ESPNHSESPNHS Girl Facebook fans share the moments they fell in love with sports.
Were you about to fall asleep in bed with your cleats on? Or was it after you schooled that guy in a one-on-one? Or perhaps it crossed your mind right before you jumped onto a pile of your teammates after a huge overtime win.
Well the arrow's been shot. And plenty of times. Thousands of high school girls around the country admit they have been hit by Cupid's arrow of sporty love. We asked our 55,000 fans on our
ESPNHS GIRL Facebook page
"When did you first love sports?"
Here are 15 heartwarming comments we received. We heard so many love stories (over 200) that we're combining them into a "I Love Sports" poster in our next
ESPNHS GIRL Magazine
in February. Look out for your name!
Stay tuned to
ESPNHS GIRL Facebook
for more chances to share your stories and get your name in the spotlight.
"I knew I loved sports when…"
… I fell asleep with my Nikes on my feet and my basketball in my bed.
-- Jamie Hopkins
… I was 13 years old and I was out until 11 p.m. in my backyard in the dark trying to get a reverse layup right with a basketball hoop sitting in the grass and a dirt trail I dug up doing it over and over again.
-- Darbie Napieralski
… You first meet your teammates in the ninth grade and you're best friends the next hour.
-- Victoria Jane Burkhart
… I realized the feeling of scoring the perfect goal was better than the feeling of a first kiss.
-- Amanda Jank
… I found myself turning down hanging out with my friends because I had to go practice.
-- Karina Velez

… Sweating was no longer a problem.
-- Jacqueline Chantel

… The team became my second family.
-- Shanay Edaakie

… I could hold a conversation about any team/player/sport with a guy, and know more than they did.
-- Madisonn Felker

… I fell asleep with my glove after my first T-ball game.
-- Mackenzie Huddleston

… I was the kid that still looked forward to gym class every day. I still do!
-- Abby Salvadore

… I developed the mind set of, "You can't get rid of me THAT easily."
-- Katie Magowan

… My seasons weren't fall, winter, spring and summer. They were swim, wrestling, track and summer swim.
-- Emily Prevost

… I connected with my first home run, scored my first goal, and slammed my first kill. These moments made me realize that they aren't just games, they are a lifestyle … a religion.
-- Christina Kaady

… I was put down, cussed at and embarrassed, but I still came to practice the next day. When I tried to quit, something wouldn't let me.
-- Raven Alexandria

… Basketball was my excuse for everything.
-- Jordan JZ Zeigler
November, 4, 2011
11/04/11
5:54
PM ET
By
Laura Suchoski
| ESPN.com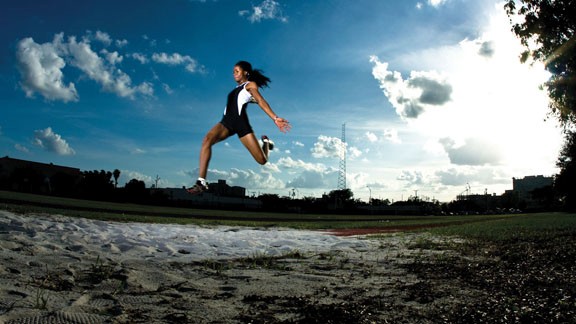 RIKU + ANNAWhat makes you an athlete? Is it the perseverance? The bumps and bruises? The need to compete?
One question for you: What makes you an athlete?
Think about it.
What defines you as a dedicated and strong-hearted competitor? Is it the 20-plus hours every week you spend practicing outside your school? Your "I'm-gonna-dive-for-that-ball-no-matter-what" attitude? The way your legs are two different colors from the weekend tournament? Or how about that locker room smell that trails you from every practice to the dinner table?
You're probably responding 'Yes' to all of these, and the good thing is…you are not alone! 3.2 million girls across the United States play high school sports and share these unique athlete tendencies, attitudes and, yes, even funky smells.
This week we asked our 55,000 Facebook fans that exact question: What makes you an athlete? Turns out, some of the best parts about calling yourself an athlete happen both on and off the field. Here are 20 fantastic favorites we picked. How many can you totally relate to?
Swing by our
ESPNHS Girl Facebook page
after each practice and keep sharing your thoughts, questions, and ideas for a chance to be in the spotlight for our next question!
ESPNHS GIRL: "You know you're an athlete when...."
... your tan lines
could give a zebra a run for its money. -- Tabitha Parker
...you don't complain
about having to go to practice, but complain when it is canceled. -- Chloe Nolan
...you don't just wish
for it to happen, you make it happen. -- Corinna Mendez
...your arms are bigger
than half the guys in the school. -- Jaelyn Brooke Monhollon
...someone tells you 'you can't,'
you don't give up. You keep trying until you prove them wrong! -- Molly Goranson
...you get extremely competitive
in PE class. -- Emily Ball
...the words "give up"
and "quit" are not in your vocabulary. -- Lydia Christine
...you have nightmares
about the words "On The Line!" -- Kayla Ewing
...no matter how much pain
you're in you continue playing because you love the game that much and can't stand sitting out anymore. -- Kayleigh Keggan
...you compare bruise colors
instead of nail polish color. -- Terez Marie
...you want to play a one-on-one
basketball game with your husband on your wedding night instead of your first dance. -- Bonnie Marie Reinsch
...your friends ask if you have practice
before asking to hang out. Or they just don't invite you because they expect you to be playing your sport. -- Alicia Blackham
...the power is out
at your school and you have practice with a generator. -- Kenzie Whalen
... all the T-shirts you wear
are from tournaments and your team shirts." -- De Watts
...you play your sport
because it clears your mind of all problems. -- Hannah Bland
...your kitchen cabinet
has more water bottles than drinking glasses. -- Indiah Porter
...you leave for school
at 6:30 a.m. and don't come home until 8:30 p.m. -- Morgan Frazier
...practice is canceled
and you feel lost. -- Kristiana Danielle Drummer
...you wear more athletic clothes
to school than nice ones. -- Jenn Castro
...your coach doesn't want you to practice
because she wants your shin splints to heal and you respond, "Im all set, I took an ibuprofen!" -- Makayla Pydych
*all responses were collected from ESPNHS GIRL Facebook Page (Facebook.com/ESPNHSgirl) on Nov. 2, 2011.
October, 28, 2011
10/28/11
1:03
PM ET
By
Angelica Richie
| ESPN.com
Even if you're officially too cool to go trick-or-treating on Halloween, you're bound to find yourself in the middle of an onslaught of sweet and festive treats this weekend. Between class parties, bake sales and seasonal specials, getting a taste for autumn is easy. Making choices that support your athletic goals can be hard.
Becci Twombley
, a dietician for UCLA Athletics, and
Mary Ellen Bingham
, a sports nutritionist at North Carolina, explain what happens when you splurge on sweets, and how to keep them from damaging your athletic performance.
First things first: When it comes to sugary seasonal snacks, small bites are better than handfuls.
"Your body can only process so many calories at one time," Twombley says. "If you overindulge, you've created a traffic jam for your body to metabolize."
So when you get to practice, your body may not be able to keep up.
"If you're working on a specific skill," Twombley says, "your muscle memory is not going to be as solid as it would be if you had been well-fueled."
But that's not the scary part
"Unless you're trying to balance your weight, it's not so much about what you are eating, it's what you're not eating," Twombley says. "By the time you get to your practice, unless you've eaten your 'always' foods also, you're going to be out of energy."
Bingham says those staples are key, even on holidays.
"Establish a healthy base of fruits, vegetables, whole grains, lean proteins and low-fat dairy or dairy alternatives," she says. "And then you can allow for treats such as desserts or candy."
For Halloween in particular, it's easy to have an "it's just one day" mentality, but it's important to consider what you need to do tomorrow, which will definitely be affected.
"Everybody has a calorie budget that they need to stay within," Twombley says. "On those days, 80 percent of things you eat need to be functional if you're trying to be an athlete, but 20 percent can be whatever you want. For typical days, 90/10 is a better goal, but the key is to consider your training."
Remember when making choices, not all candies are created equal.
Some treats:
Red Vines, chocolate-covered almonds and raisins, York Peppermint Patties, lollipops, tootsie pops and baked chips
Some tricks:
Starburst and Skittles, Butterfingers and Snickers
"Look at what's underneath it." Twombley says of choosing your chocolates. "Anything that has nugget or caramel is going to have a lot more saturated fats than something that doesn't."
Bingham's secret is in the portions.
"For chocolate candy or gummies, opt for the small 'snack size' portion instead of the full-sized candy," she says.
For favorites like apple cider, Twombley says there's room.
"It can be functional as long as those carbs are figured into your total diet," she says.
And Bingham goes so far as to recommend a pumpkin latte or one of its coffee cousins. With one warning.
"Treat yourself to these fall drinks once in a while," Bingham says. "But opt for size small, low-fat milk.
"And skip the whipped cream."
October, 17, 2011
10/17/11
8:37
AM ET
By
Diana Kelly
| ESPN.com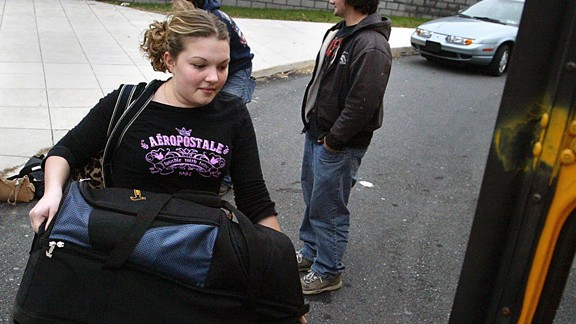 Chris Knight/APLugging your bag to away games can tire you out before the opening whistle. Check out these six multi-tasking beauty products to help you save space, not to mention muscles.
We know you're a tough athlete who isn't afraid to get a little dirty — but that doesn't mean you don't want to look your best after the game.
You've already got a ton of stuff to stash in your gym bag, so toting your entire makeup bag and shower caddy just isn't realistic.
To help you look gorgeous in minutes while lightening your load, we talked to a women's magazine beauty editor, Katie Becker, and co-editor at
iheartdaily.com
, Melissa Walker, for some of their favorite multitasking beauty products to stow in your gym bag.
Read on to learn what fun beauty products can make your life easier.
1.
NP Set Duo Pens Eyeliner/Cream Blush
This double-ended beauty product is a bargain that will define your eyes and give your cheeks a healthy flush — if that post-win glow has already faded. The eyeliner/blush duo contains black liner and coral cream blush that's easy to apply. You might even want to pick up the mascara/concealer version for another winning combination. We love that they're small enough to fit in your purse if you want to touch-up throughout the day. ($13,
Available at Target and Target.com
)
2. Tarte's LipSurgence Lip Tint
This natural lip tint provides a dose of shimmery gloss and major moisturizing power in seven rich colors. Among other natural beauty ingredients, this power pencil contains peppermint oil to help cool and soothe irritated skin. This product also works perfectly as blush. Just rub a little on your cheeks and blend.
Voila! ($24; Learn more about where to buy on tartecosmetics.com)
3. Psssssst! Instant Dry Shampoo
Don't have time to wash your hair? Spray on this dry shampoo to freshen up sweaty locks and soak up hair oil. This dry aerosol shampoo won a Best of Beauty award in
Allure
magazine in 2009. To apply, hold the can a good six inches from your head and spray it at the roots. You can brush the powder through right away, or, for extra body, blast hair with heat while lifting roots with a round brush, according to
Allure.com
. It may zap some of your hair's shine, but for sprucing up a sweaty head in a jiffy, we think it's a solid product to keep on hand.
($6.99 for 5.3 oz; Available at drugstore.com)
4. mark Touch & Glow Shimmer Cream Cubes All Over Face Palette
The shimmery shades of pink, peach, gold, copper and brown in this all-over face palette work together to give you a beautiful glow. Use it as a blush, bronzer, or combine the colors for a pretty blended look. The cream-to-powder formula means color goes on smoothly and evenly and resists fading. You can use each of the nine colors individually for eye shadow as well — just dab some on your fingertips and have fun with it. ($15;
Available at meetmark.com
)
5. Philosophy's Perfumed Shampoo, Bath, and Shower Gel
Consider this fair warning that you'll be making your teammates jealous when they get a whiff of you post-shower after using any of the Philosophy scented shower gels. What could be better for a postgame '
Ahhhh
,' then lathering up your hair and body with products called, "I Love Candy Corn," "Caramel Apple," "Autumn Air," and even "Coconut Frosting?" We suggest using this as your shampoo and shower gel after the game and treating yourself to a luxurious bubble bath at home when you have more time.
($16 for 16 oz; Available at Philosophy.comand Sephora stores)
6. Marc Jacobs' Daisy Solid Perfume
This double-duty product also makes a fun piece of jewelry. After a game or shower, dab on the sweet floral scent and use it to accessorize your post-play outfit.
($40; Available at Sephora stores and Sephora.com)
September, 28, 2011
9/28/11
8:49
AM ET
By
Dana Sullivan Kilroy
| ESPN.com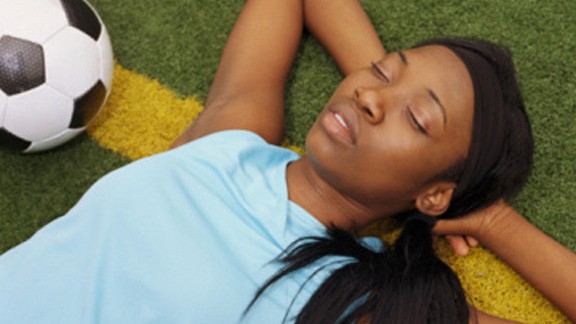 David Troncoso/GettyImagesA study conducted on the Stanford men's basketball team found that more sleep meant better accuracy from the free-throw line and 3-point range.
Go. To. Bed. No wonder your mom's always nagging you: A typical high school-aged athlete gets somewhere around 6.9 hours of shut-eye a night.
"But she needs closer to nine," says Mary A. Carskadon, Ph.D., an adolescent sleep expert at Brown University. "Eight to eight-and-a-half is the minimum," she adds.
What's the big whoop?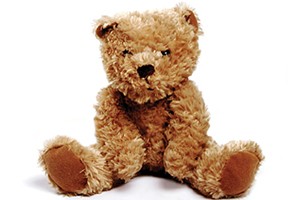 blackcurrent/VeerExperts recommend nine hours of sleep per night for high school girls.
As any coach will tell you, getting a good night's rest is as important as eating right and training hard. While you're dreaming about the hot guy in chem class, your body is hard at work, healing all the microscopic muscle tears you incur during practice. This recovery period also helps your body process carbs more efficiently, giving you energy the following day.
If you opt to skimp on sleep, you'll pay the price on the field with slower reaction times. You simply won't be as alert and responsive as your well-rested teammates and opponents.
Truth is, getting consistent and adequate sleep can be a game changer. In a recent study published in the journal "Sleep," 11 members of the Stanford University men's basketball team — who averaged fewer than seven hours of sleep per night — added an average of 110.9 minutes of sleep per night for several weeks. The athletes were then asked to perform a series of tasks. Their sprint speed improved by 0.7 seconds, their shooting accuracy on free throws and 3-point field goals increased by 9 percent, and they reported higher overall ratings for both physical and mental well-being.
"There is no reason to think gender makes a difference in this instance," says Dr. Carskadon, who believes female athletes would see the same benefits. She also says that similar results would likely translate to a variety of sports.
While your parents know better than to give you a curfew, you should consider giving yourself one. If you usually roll out of bed at 6 a.m., aim to hit the hay no later than 10 p.m. — and don't bring your laptop or cell with you.
Try it for two weeks and chances are you'll notice that you've stepped up your game, both at practice and in the classroom.
So close your eyes, step into the dark side and reap the rewards.
Now, seriously, get to bed.
September, 21, 2011
9/21/11
8:31
AM ET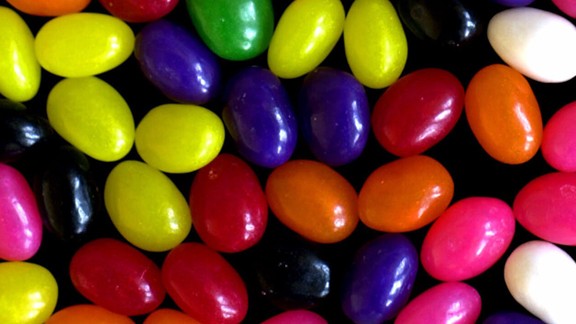 Dan Loh/Associated PressDid you know that a healthy helping of about 25 jelly beans can boost your memory? Try it out for your next afternoon snack.
Pop quiz:
If a poor diet can mess with your mind — take the infamous "Twinkie Defense" of 1979, when a man on trial for murder claimed junk food made him do it — then can eating smart actually make you, well, smarter?
Correct answer:
Yes! Add these four foods to your diet to improve your game and your grades.
1. Oatmeal
Mental Payoff:
Spatial understanding
Since the high-fiber whole grain is digested slowly, it becomes a long-lasting energy source for your body and noggin. According to a Tufts University study, oatmeal eaters displayed significantly better spatial-memory skills (such as identifying states on a map) than those who ate cold cereal or skipped the morning meal altogether. Having trouble remembering a play? Make oatmeal, like
Nature's Path's Maple Nut
, your breakfast of champions ($4.29 for a 14-ounce box). Sweeten it with dried cherries, which have been proven to relieve post-practice muscle soreness.
2. Red Meat
Mental Payoff:
Focus
A whopping 60 percent of American female athletes are believed to be iron deficient, according to a study published in the "International Journal of Sports Nutrition and Exercise Metabolism." That's bad news for your report card. Iron allows your body to send oxygen-carrying red blood cells to the brain; even a modest deficiency can leave you blanking on tests or feeling foggy in class. Women are especially at risk, as iron is lost during menstruation. The human body absorbs more iron from meat than any other source. Hey vegetarians, you can meet your daily needs with beans, spinach and dried fruit.
3. Blueberries
Mental Payoff:
Coordination and short-term memory
Chock-full of powerful antioxidants, this fruit has earned the nickname "brainberries" for good reason. Research showed that a diet rich in blueberry extract improved short-term memory loss and reversed some loss of coordination and balance in aging rats. Scientists theorize that similar effects could occur in humans. Blueberries also contain another great antioxidant called resveratrol, which may help get more oxygen to your muscles, allowing you to run more efficiently and for longer. The perfect brainberry snack? Greek yogurt and blueberries.
4. Candy
Mental Payoff:
Memory
A 2007 study published in "Physiology & Behavior" found that a sugary afternoon snack boosted memory performance. That's because your brain's favorite fuel source is glucose, which your body creates from the sugars and carbohydrates you eat. But this isn't a license to strap a bag of Swedish fish to your face: Too much sugar can leave you feeling sluggish and may actually harm your memory. Aim for no more than 16 Sour Patch Kids or 25 jelly beans.