High-SchoolGirl:

Women's golf
June, 19, 2012
6/19/12
6:28
PM ET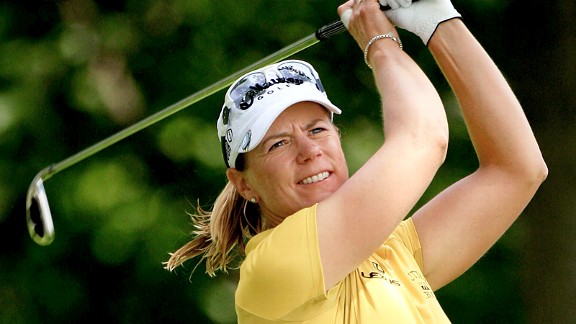 Travis Lindquist/Getty ImagesAnnika Sorenstam was the LPGA Tour's player of the year a record eight times.
ESPN is marking the 40th anniversary of Title IX by unveiling the top 40 female athletes of the past 40 years.
Are you painfully shy? So was
Annika Sorenstam
. The woman who won 72 titles on the LPGA Tour once dreaded winning junior tournaments because of the speeches that were required afterward.
But the No. 4 woman in ESPN's countdown gamely withstood the media glare as a global television audience watched every hole she played in 2003 at the PGA's Colonial, a tournament she entered because she wanted to test herself against the best in the game.
"She was the dominant player in her sport," says fellow golfer Laura Davies. "She had to change. It was that or really be miserable. I think by the end of her career, she actually enjoyed the spotlight."
Read the full story from espnW here.
Earlier in this series:

No. 40: Diver
Fu Mingxia
No. 39: Jockey
Julie Krone
No. 38: Gymnast
Mary Lou Retton
No. 37: Hockey player
Cammi Granato
No. 36: Soccer player
Kristine Lilly
No. 35: Basketball player
Diana Taurasi
No 34: Volleyball player
Flo Hyman
No. 33: Soccer player
Abby Wambach
No. 32: Swimmer
Mary T. Meagher
No. 31: Marathoner
Joan Benoit
No. 30: Sprinter
Gail Devers
No. 29: Basketball player
Nancy Lieberman
No. 28: Marathoner
Grete Waitz
No. 27: Soccer player
Michelle Akers
No. 26: Basketball player
Chamique Holdsclaw
No. 25: Swimmer
Dara Torres
No. 24: Golfer
Nancy Lopez
No. 23: Swimmer
Tracy Caulkins
No. 22: Soccer player
Marta Vieira da Silva
No. 21: Tennis player
Venus Williams
No. 20: Figure skater
Michelle Kwan
No. 19: Skier
Lindsey Vonn
No. 18: Softball player
Lisa Fernandez
No. 17: Basketball player
Ann Meyers Drysdale
No. 16: Basketball player
Sheryl Swoopes
No. 15: Swimmer
Janet Evans
No. 14: Figure skater
Katarina Witt
No. 13: Basketball player
Cheryl Miller
No. 12: Sprinter
Florence Griffith-Joyner
No. 11: Tennis player
Billie Jean King
No. 10: Tennis player
Serena Williams
No. 9: Tennis player
Steffi Graf
No. 8: Gymnast
Nadia Comaneci
No. 7: Tennis player
Chris Evert
No. 6: Speedskater
Bonnie Blair
No. 5: Basketball player
Lisa Leslie
June, 1, 2012
6/01/12
7:34
AM ET
By
Mike Cullity
| ESPN.com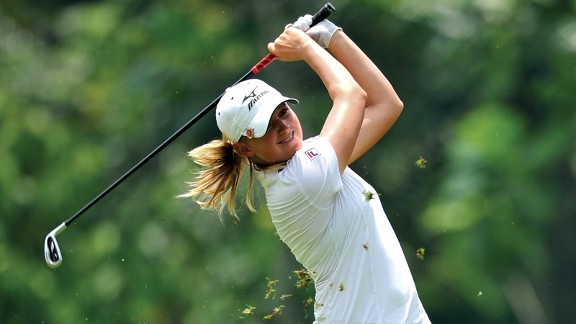 MOHD RASFAN/AFP/Getty ImagesStacy Lewis, who spent her teenage years wearing a back brace 18 hours a day to combat scoliosis, won her first LPGA title at the 2011 Kraft Nabisco Championship.
This story originally appeared in the May/June issue of ESPNHS Magazine.
Stacy Lewis is a study in perseverance.
Diagnosed at 11 with scoliosis, a condition causing lateral curvature of the spine, she spent her teenage years outside Houston wearing a back brace 18 hours a day. But instead of accepting limitations, she earned a golf scholarship to the University of Arkansas, and although back surgery nearly derailed her college career before it started, she won 12 tournaments.
During her third full season as a pro, Lewis won her first LPGA title, the 2011 Kraft Nabisco Championship, which is one of the tour's four majors.
Because June is National Scoliosis Awareness Month, we caught up with the 27-year-old to discuss her experience and her work as a spokesperson for the
Scoliosis Research Society
.
ESPNHS:
How did you cope with having scoliosis as a teenager?
Lewis:
It was really hard. My mom and I got into a lot of fights because I didn't want to wear my brace. As a high school kid, you're worried about what you look like, what your clothes are like and what people think of you. I didn't want anybody to know about my brace, and I tried to hide it as best I could. Part of the reason I'm partnering with the Scoliosis Research Society is to create awareness so kids don't feel so bad about it.
ESPNHS:
What was it like wearing a back brace 18 hours a day for 6 1/2 years?
Lewis:
It's very uncomfortable. And in Texas especially it's very hot, so the summers are brutal. I would itch, get bruises, sweat a lot. And I had to sleep in it. I turned to golf because that was time I could get out of my brace to practice.
ESPNHS:
How did you overcome the disease to become a major champion?
Lewis:
I think it created a lot of determination in me. When things get tough, that's when I get better. Having to go through all I did with my back, I learned to deal with hard situations. And I think for golf that's perfect, because it's such a mental game that you have to be able to overcome bad holes and bad shots.
ESPNHS:
What other lessons have you learned from your journey?
Lewis:
I think the biggest thing is just to never give up. When somebody tells me it can't be done, I say, "Watch me." It's made me who I am.
Read more about Lewis's triumphs on and off the course on her personal blog, StacysBack.com.
May, 22, 2012
5/22/12
12:01
PM ET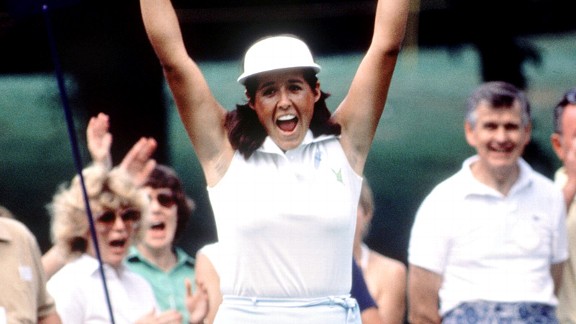 Getty ImagesIn her first full season on the LPGA Tour, Nancy Lopez won nine tournaments, including five in a row, on her way to capturing Rookie of the Year and Player of the Year honors.
ESPN is marking the 40th anniversary of Title IX by unveiling the top 40 female athletes of the past 40 years.
Before golfer
Nancy Lopez
even graduated from high school, she already had a runner-up finish at the U.S. Women's Open.
Lopez, No. 24 in ESPN's countdown, went on to collect 48 career victories and earn a spot in the World Golf Hall of Fame.
And nobody captured the adoration of the galleries quite like Lopez.
"She loved the crowd, they loved her, and she fed off of that," former LPGA pro Hollis Stacy says. "She just had a beautiful smile on the golf course. Even for those of us within the ropes, Nancy's smile always eased the tension.
"She would smile, then stab you in the heart by making a putt."
Read the complete story from espnW here.
Earlier in this series:

No. 40: Diver
Fu Mingxia
No. 39: Jockey
Julie Krone
No. 38: Gymnast
Mary Lou Retton
No. 37: Hockey player
Cammi Granato
No. 36: Soccer player
Kristine Lilly
No. 35: Basketball player
Diana Taurasi
No 34: Volleyball player
Flo Hyman
No. 33: Soccer player
Abby Wambach
No. 32: Swimmer
Mary T. Meagher
No. 31: Marathoner
Joan Benoit
No. 30: Sprinter
Gail Devers
No. 29: Basketball player
Nancy Lieberman
No. 28: Marathoner
Grete Waitz
No. 27: Soccer player
Michelle Akers
No. 26: Basketball player
Chamique Holdsclaw
No. 25: Swimmer
Dara Torres