March, 31, 2012
3/31/12
3:37
PM ET

BETHESDA, Md. — Last season's ESPNHS National High School Invitational was not a pleasant experience for the Riverdale Baptist (Upper Marlboro, Md.) girls' team. The Crusaders entered the 2011 tournament as the favorite, but their stay was short, ending with an upset loss at the hands of No. 5 seed Dr. Phillips (Orlando, Fla.) in the first round.

A year later, Riverdale Baptist got a second chance at both Dr. Phillips and the NHSI, and the Crusaders made it count. Led by senior guard Jennie Simms' 19 points and 14 rebounds, Riverdale Baptist beat Dr. Phillips 63-59 in the title game on Saturday to claim the NHSI crown.

For Simms and her teammates, losing to Dr. Phillips again was simply not an option.

"It was basically, 'Get it back,' because it's rare that you get the chance to play a team again," said Simms, the No. 87 senior in the ESPNU HoopGurlz 100. "I told my team, 'We've got a second chance, and we can't let them beat us twice.'"

Simms' passion was apparent on the court, as the West Virginia recruit played a fiery, emotional game. She fought for every rebound and made several key plays down the stretch, including a put-back to give Riverdale Baptist a three-point lead with 15 seconds to play.

The No. 6 team in the POWERADE FAB 50, Riverdale Baptist improved to 37-2 with the win. Dr. Phillips, the No. 22 team in the FAB 50, dropped to 30-4.

Guard Duo Steps Up for DP

Dr. Phillips once again received tremendous play from its backcourt of junior Sydnei McCaskill and sophomore Taryn Griffey, as the duo scored 19 points apiece in a losing effort.

Griffey poured in 17 points in the second half, converting several acrobatic finishes in crunch time as the Panthers tried to hold off the Riverdale Baptist rally. She averaged 14 points, seven rebounds and four assists per game at NHSI, while McCaskill averaged 19.5 points, 4.5 rebounds and 4.5 assists.

Both were named to the All-Tournament team.

"We're gifted in that area," said Dr. Phillips coach Anthony Jones. "We're blessed to have the backcourt that we have."

Baptist Dominates the Boards

Riverdale Baptist simply pulverized Dr. Phillips on the glass, out-rebounding the defending NHSI champs 56-39. Riverdale Baptist was especially effective on the offensive boards -- the Crusaders grabbed 34, compared to 15 for DP.

Wake Forest-bound senior Kelila Atkinson grabbed 11 rebounds, with 10 coming off the offensive glass, and Simms was right in the middle of the action as well, pulling down eight offensive rebounds.

"We watched [Dr. Phillips] yesterday and we saw how they attacked the boards with their guards," Simms said. "Rebounding was helping us out a lot, so I just kept attacking."

MVP for Simms

Simms' scoring touch and hard work on the boards earned her NHSI tournament MVP honors. In two games, the 6-foot guard/forward averaged 13.5 points and 12.5 rebounds.

"She made the difference today," said Jones. "Even when she's not scoring, she does little things like sprinting into the paint and knocking the rebound loose. And when she knocked it out, they were getting all those loose balls."

Simms credited her teammates for helping her earn the MVP award.

"It's all about the team," she said. "I was able to find them and they were able to find me. They were able to get me the ball where I was able to score it. My team helped me get it."

All-Tournament Team

In addition to Simms, McCaskill and Griffey, the All-Tournament team was rounded out by Riverdale Baptist sophomore guard Auteaonna Gilmore and H.D. Woodson (Washington, D.C.) senior forward Jephany Brown.

Gilmore averaged 10.5 points, 3.5 rebounds and two assists in the tournament, while Brown posted 27 points and nine rebounds in a first-round loss to Dr. Phillips.

The full team:

Jennie Simms, Riverdale Baptist (MVP)
Jephany Brown, H.D. Woodson
Auteaonna Gilmore, Riverdale Baptist
Taryn Griffey, Dr. Phillips
Sydney McCaskill, Dr. Phillips
March, 30, 2012
3/30/12
8:17
PM ET
BETHESDA, Md. -- Instant analysis from No. 2 seed Dr. Phillips' 65-60 win over No. 3 seed HD Woodson in the semifinals of the ESPNHS National High School Invitational at Georgetown Prep on Friday:
Overview:
It wasn't easy, but Dr. Phillips (Orlando, Fla.) was able to call on its experience to hold on to a slim lead down the stretch. The defending NHSI champion Panthers were poised under pressure and hit their free throws to hold off a spirited comeback attempt by HD Woodson (D.C.).
Junior guard
Sydnei McCaskill
was key in crunch time, scoring 11 of her 20 points in the second half to spark Dr. Phillips. She went 11-of-11 from the free-throw line and made four in the final minute to seal the win. Sophomore guard
Taryn Griffey
displayed her usual stellar all-around game, contributing nine points, nine rebounds and five assists.
Both players were cogs in the Panthers' NHSI title run last year, which came in handy when Woodson started pressing late in the game.
"Me and Taryn knew we had to step up in the second half," said McCaskill. "We had to get other players going and make plays."
Turning Point:
With six minutes to play in the third quarter, Woodson looked like it had all the momentum. A 7-0 run for the Warriors tied the game at 31-31, and Dr. Phillips appeared to be on the ropes.
But that's when McCaskill took over. She hit a pull-up jumper in the lane to give DP the lead again, then drilled a 3-pointer on the following possession to make it 36-31. After a Woodson bucket, McCaskill buried a driving floater to stretch it to 38-33. She then picked up an assist by finding junior center Stephanie Ratliff all alone for a layup.
Dr. Phillips ended the quarter with a 43-33 lead, and all of Woodson's momentum was gone. It was an uphill battle the rest of the way, and while the Warriors cut it down to a single possession a few times, the were never able to recover.
Woodson senior forward
Jephany Brown
poured in a game-high 27 points, but the Warriors weren't able to get closer than three points the rest of the way.
McCaskill continued to produce in the fourth quarter, scoring 10 of her 20 points in the final frame.
Key Player:
Woodson made the mistake of leaving Jade Cheek open early in the game, and the sophomore guard made them pay. Cheek drilled four 3-pointers in the first half to help Dr. Phillips jump out to an early lead, and she went into halftime with 16 points.
"Sydney and Taryn always set me up very well," said Cheek. "They make it pretty easy."
Cheek finished with a team-high 21 points, hitting five 3-pointers and shooting 8-of-15 from the field.
Key Stat:
Every team needs a closer, and for Dr. Phillips it's McCaskill. She was at her best when the pressure was on, as evidenced by her 11-for-11 showing from the free-throw line. She made all 10 of her attempts in the second half, staving off a furious Woodson rally.
Up Next:
Dr. Phillips' three-guard attack will have to pick up the pace in order to challenge top-seeded Riverdale Baptist (Upper Marlboro, Md.), the Panthers' opponent in Saturday's NHSI final.
Baptist used its size to pulverize a smaller Edgewater (Orlando, Fla.) squad in the semifinals, so Dr. Phillips may try to make it an open-court game in order to neutralize the height advantage. Griffey, McCaskill and Cheek combined for 50 points against Woodson.
March, 30, 2012
3/30/12
7:01
PM ET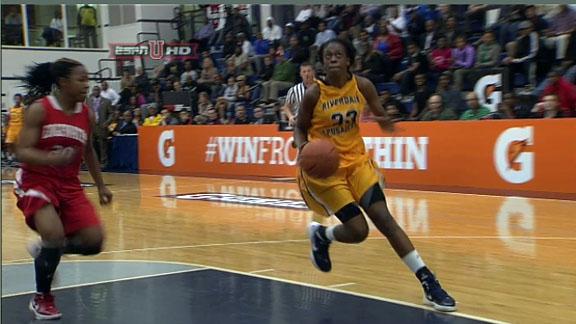 BETHESDA, Md. -- Instant analysis from No. 1 seed Riverdale Baptist's 73-42 win over No. 4 seed Edgewater in the semifinals of the ESPNHS National High School Invitational at Georgetown Prep on Friday:
Overview:
Both teams were missing their top player, with Riverdale Baptist (Upper Marlboro, Md.) senior
Jonquel Jones
and Edgewater (Orlando, Fla.) senior
Alexis Prince
both in Denver this weekend to participate in an All-American game. The difference, however, was that even without Jones, Riverdale Baptist still had six other Division I college recruits to work with.
The No. 6 team in the
POWERADE FAB 50
, Riverdale Baptist played suffocating defense for 32 minutes to cruise into Saturday's NHSI final, which will be televised live at noon ET on ESPN2. With three starters taller than six feet, the Crusaders made it almost impossible for Edgewater to get a good look at the basket, forcing Edgewater into 13 percent shooting in the first half and a 19 percent mark for the game. Riverdale Baptist opened an 18-point margin in the second quarter and never looked back.
The trio of sophomore
Auteaonna Gilmore
, senior
Kelila Atkinson
and freshman
De'Janae Boykin
was especially productive for Riverdale Baptist, combining for 36 points. Senior
Jennie Simms
finished with eight points and 11 rebounds.
Riverdale Baptist is also without head coach Diane Richardson this weekend. Richardson and Jones are in Colorado to participate in the Women's Basketball Coaches' Association High School All-America Game.
Turning Point:
Edgewater jumped out to a quick 4-0 lead to start the game, but once Riverdale Baptist settled in defensively, the game was over. The Crusaders forced nine turnovers in the first half and converted them into nine points. Edgewater managed just seven points in the first quarter and found itself trailing 33-18 at the half.
Boykin was a defensive catalyst for Riverdale Baptist, coming up with a pair of steals and five rebounds.
Key Player:
Boykin put on a show in Jones' absence. The 6-foot-1 guard/forward scored 12 points in addition to her five boards and two steals. The freshman's play will be critical in Saturday's championship game, when the Crusaders will once again be without Jones.
"De'Janae Boykin stepped up," said Simms. "She's capable of doing the same things as Jonquel. She really helped us on the boards."
Key Stat:
Baptist crushed Edgewater inside, finishing the game with a 54-10 advantage in scoring in the paint. With no player taller than 5-11 seeing minutes for Edgewater, the Eagles simply couldn't compete under the basket.
Playing without the 6-foot-2 Prince certainly didn't help matters. The Baylor-bound forward won MVP honors at the McDonald's All-American Game earlier in the week.
"Normally Lexi handles the inside and locks that down," said Edgewater junior guard
Trimaine McCullough
. "We weren't able to fill that."
Up Next:
Riverdale Baptist will once again be without Jones in Saturday's title game (ESPN2, noon ET), but the Crusaders have already proved they can play without her. Players like Boykin and reserve senior forward
Brittany Murray
(eight points, three rebounds) will have to continue to fill the void.
March, 29, 2012
3/29/12
5:57
PM ET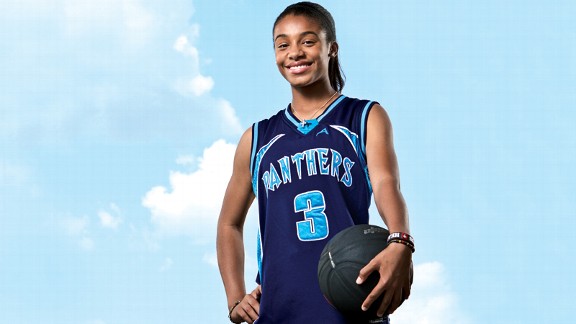 RIKUHer dad, Ken Griffey Jr., is one of the greatest players in baseball history and her brother, Trey, is one of the nation's top prep football players, but Taryn Griffey has earned her share of the spotlight.
If there's one thing
Taryn Griffey
knows how to do, it's perform under a spotlight.
For someone who's growing up Griffey, that's sort of a prerequisite. Whenever the Dr. Phillips High School (Orlando, Fla.) sophomore takes the court, she's automatically the center of attention as soon as the PA announcer reads off her last name.
That's what happens when your father is a baseball icon, a soon-to-be Hall of Famer with 630 career home runs and 10 Gold Gloves. And when your older brother is a star wide receiver at the same high school and signs a football scholarship to play at Arizona, that only raises the stakes.
"I realize that anytime someone from this family does something in sports, there are always going to be expectations," Taryn said. "People expect you to be a great athlete or whatever, but I don't worry about that so much."
Sure, Ken Griffey Jr. may be one of the greatest players in baseball history, and Trey Griffey may be one of the best high school football players in the country, but Taryn has earned her share of the spotlight.
The 5-foot-7 point guard has already established herself as one of the nation's top basketball players by using a combination of athleticism and energy to take over games against even the best competition. She's rated as the No. 13 point guard in the ESPN HoopGurlz Class of 2014 rankings.
As a freshman last season, she averaged 15.1 points, 7.5 rebounds and 4.7 assists while leading Dr. Phillips to a Florida Class 8A state title. She followed that with a star-making performance at the 2011 National High School Invitational tournament, averaging 16.0 points and 10.0 rebounds while powering the Panthers to the championship.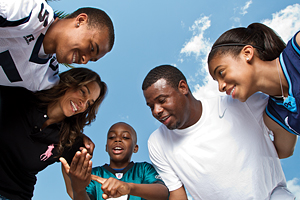 RIKUFamily time for the Griffeys "usually means what dad wants to do [is] what we're going to do," said Ken (second from right) with (from left) Trey, Melissa, Tevin and Taryn -- and it's usually something competitive.
"You would have never known she was a freshman," said Dr. Phillips coach Anthony Jones. "To play in the NHSI, with the games on TV on ESPN, and be so cool and relaxed -- she knocked down shots, she made big steals -- she just made every big play right when we needed it."
Opponents are unable to handle her quickness, and Jones takes advantage of that by making Griffey the centerpiece of Dr. Phillips' offensive and defensive schemes. She upped her scoring output to 16.4 points per game this season, shooting 56 percent from the field and an absurd 49 percent from behind the 3-point line. She also fronted the Panthers' trapping defense and averaged 3.4 steals.
"I think our style is fun," Taryn said. "I have the freedom to take the ball up the court and make plays. Mostly I just try to use my quickness to set up my teammates for shots. If I can't find anyone, then I try to look for my own shot.
"On defense, we trap and then play a zone, trying to force turnovers. We try to make it a fast-paced or up-tempo game."
With Griffey dominating both ends of the court, Dr. Phillips went 29-3 this season and won the Class 8A state championship in February. The Panthers are ranked No. 22 in the POWERADE FAB 50 and earned the No. 2 seed for NHSI.
Last season, Dr. Phillips was the lowest-seeded team in the tournament. And just because the Panthers are now the defending champs and one of the favorites, Griffey realizes that nothing is guaranteed.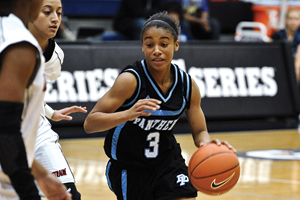 Joe FaraoniGriffey's quickness makes the 5-foot-7 guard a force on both ends of the court.
"Even though you're ranked higher than another team, they're not going to stop playing," she said. "We know because we did it last year. We were the underdogs and we fought all the way to the championship. So we know our opponents are going to play their hearts out, and we have to step up and be ready for that."
Griffey is obviously no stranger to competition. As one could imagine, being a member of America's royal sports family means earning respect through countless games of H-O-R-S-E. Her mother, Melissa, recalls how Taryn and Trey would battle their parents on the basketball court.
"Ken always had a rule," said Melissa, laughing. "The kids were always very competitive, but his rule was that once they started talking junk, he wasn't going to let them win anymore. We'd let them beat us when they were younger, but once they started talking junk, we took it up a level. Because you know Ken didn't like to lose, either."
If Taryn Griffey can lead Dr. Phillips to another NHSI crown this week, that would give her a pair of state titles and two NHSI victories in her first two high school seasons.
Even for a Griffey, that's impressive.
March, 27, 2012
3/27/12
12:34
PM ET
By
Ronnie Flores
| ESPN.com
CHICAGO -- The McDonald's All-American Games will return to Chicago in 2013, McDonald's announced Tuesday.
One of the nation's most prestigious high school all-star events will take place at the United Center for the third consecutive year in 2013.
This year's McDonald's All-American festivities will conclude March 28 with the girls' game slated for 7 p.m. ET (ESPNU) and the boys' game at 9:30 pm ET (ESPN).
After changing venues each year since the game's inception in 1978, Chicago is the first city to host the McDonald's All-American Games in back-to-back years. McDonald's is so pleased with its relationship with the basketball-crazed city, the event will return for an unprecedented third consecutive year.
"Since we came here in 2011, Chicago has embraced the McDonald's All-American Games," said Douglas Freeland, director of the McDonald's All-American Games. "Chicago has a great tradition of high school basketball and we're very happy to keep the games here in 2013."
McDonald's had no intentions of returning to the Windy City prior to the completion of its 2011 festivities, according to Freeland, but a record 20,019 fans attended the games at the United Center and that influenced the decision to return. The huge turnout generated $625,000 in proceeds for Ronald McDonald House Charities.
In 2011,
Anthony Davis
(now at Kentucky) was the top home-grown product. Next year, local fans may get a chance to see
Jabari Parker
of Simeon (Chicago) one last time before he heads to college in the fall of 2013.
Parker, ranked No. 1 in the
ESPNU 60
, is arguably the nation's top boys' high school basketball player and is a logical choice to get an invite.
According to Freeland, McDonald's is aware of Parker's ability and following in the city, but there haven't been any formal talks with him or Simeon's administration about the event.
Still, Parker is looking forward to the event, even if he doesn't have an invite yet.
"I love it," Parker said. "It's big for my community and for our school. It's special because I'll be playing in front of familiar faces that supported me throughout my career. I won't be as nervous as I probably would've been, and I just feel like I'm playing for my city."
Ronnie Flores is a senior editor for ESPNHS. He can be reached at
ronnie.flores@espn.com
. Don't forget to follow him on Twitter:
@RonFloresESPN
March, 21, 2012
3/21/12
2:00
PM ET
By
Christopher Parish
| ESPN.com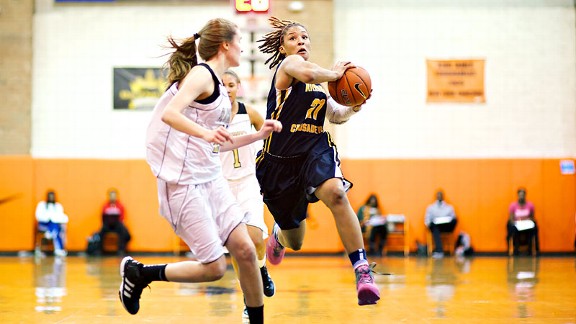 Glenn Nelson/ESPN.com Jennie Simms and top-seeded Riverdale Baptist (Upper Marlboro, Md.) will take on Edgewater (Orlando, Fla.) in the first round of the NHSI.
The seeds have been announced for the

ESPNHS

National High School Invitational, and

Riverdale

Baptist (Upper Marlboro, Md.) has earned the No. 1 spot.
The top-seeded Crusaders (35-2) are currently the nation's No. 6 team in the

POWERADE

FAB 50 after winning an

NACA

national championship earlier this month. The team is led by

Jonquel

Jones, a senior who is currently ranked as the nation's No. 36 senior in the

ESPNU

HoopGurlz

100. Jones, who has committed to Clemson, is unlikely to play at

NHSI

because she has been invited to participate in the

WBCA

All-America game in Denver on March 31, coach Diane Richardson said. Fellow seniors Kelila Atkinson, a Wake Forest recruit and the nation's No. 85 prospect in the

ESPNU

HoopGurlz

100, and Jennie

Simms

a West

Virginia

recruit ranked No. 87, will lead the team.
The Crusaders will face

Edgewater

(Orlando, Fla.) in the first round after the Eagles drew the No. 4 seed in the tourney.

Edgewater

(28-4) is currently the nation's No. 28 team in the

POWERADE

FAB 50 and recently won a Florida Class 6A state championship.

Edgewater

will most likely be without its star as well, as Alexis Prince also plans to play in the

WBCA

All-America game, according to her club coach Kimberly Davis-Powell. Sophomores

Markeema

Crawford (15.9 points per game) and Haley Clark (9.2 points per game) will lead the team.
The other first-round contest will pair second-seeded Dr. Phillips (Orlando, Fla.) against HD Woodson (Washington, D.C.).
Dr. Phillips (29-3) is currently the nation's No. 22 squad in the

POWERADE

FAB 50 and is the reigning

NHSI

champion. The team recently won the Florida Class 8A championship. Sophomore Taryn

Griffey

, the daughter of former

MLB

superstar Ken

Griffey

Jr., is the team's leader and is considered one of the top players in the Class of 2014. She averaged 16.4 points per game this season. Junior

Sydnei

McCaskill

is also one of the team's leaders, and the duo forms one of the nation's most dangerous

backcourts

.
HD

Woodson

(26-5) enters the

NHSI

tournament as a No. 3 seed after earning an upset win over Good Counsel (

Olney

, Md.) in the Washington D.C. city title game on Tuesday. Good Counsel was previously ranked in the

POWERADE

FAB 50. The senior-laden

HD

Woodson

team is led by

Jephany

Brown, who averaged 17.6 points per game this season for the Warriors.
The tournament will begin on Thursday, March 29 and continue through March 31 at Georgetown Preparatory School's

Hanley

Center for Athletic Excellence in Bethesda, Md. The girls' first-round games will be on March 30 on

ESPNU

, and the championship game will be on March 31 at 12 p.m. EST on ESPN2.
March, 8, 2012
3/08/12
2:00
PM ET
By
Christopher Parish
| ESPN.com
The fourth annual ESPNHS National High School Invitational, which will take place March 29-31 at Georgetown Prep (Bethesda, Md.), features three girls' teams ranked in the ESPNHS POWERADE FAB 50 rankings, including defending champion Dr. Phillips (Orlando, Fla.).

The girls' semifinal games will be broadcast on ESPNU and the championship will air on ESPN2. All telecasts will also be available through ESPN3 and WatchESPN.

Dr. Phillips (Orlando, Fla.) won last year's event as the No. 5 seed, beating 2011 No. 1 Riverdale Baptist 64-61 in a play-in game, overcoming a five-point halftime deficit to beat third-seeded Archbishop Spalding (Md.) in the semifinals and rallying past fourth-seeded Murry Bergtraum (N.Y.) 60-45 in the final. Dr. Phillips joined Seton Keough (Baltimore, Md.), and Peddie School (Hightstown, N.J.) as NHSI girls' champions. Seedings and matchups for this year's event have not been set.

"Just being invited to [NHSI] means a lot for our high school and also for every player in the state of Florida," said Dr. Phillips coach Anthony Jones.

2012 NHSI GIRLS TEAMS

FAB 50 No. 7 Riverdale Baptist (Upper Marlboro, Md.)
Coach: Diane Richardson
Key player: Jonquel Jones, the No. 6 ranked forward in the Class of 2012 according to ESPN HoopGurlz, is also the Gatorade State Player of the Year for Maryland. Her range and shooting stroke have earned her comparisons to Kevin Durant.
More Info: Jones (Clemson) is one of five Riverdale Baptist seniors who have committed to a Division I college program. The others are Jennie Simms (West Virginia), Brittany Murray (La Salle), Domonique Johnson (Towson) and Kelila Atkinson (Wake Forest).

FAB 50 No. 29 Dr. Phillips (Orlando, Fla.)
Coach: Anthony Jones
Key player: Sophomore Taryn Griffey, a four-star guard with explosive leaping ability.
More Info: Griffey, the daughter of former MLB star Ken Griffey Jr., led the Panthers to their second consecutive Class 8A Florida state title, pouring in 17 points and pulling down 16 rebounds in a 72-50 win over Dr. Krop (Miami, Fla.). Junior guard Sydnei McCaskill also had 17 points in the state title game.

FAB 50 No. 34 Edgewater (Orlando, Fla.)
Coach: Malcolm Lewis
Key player: Senior wing Alexis Prince, a Baylor commit and the No. 16 prospect in the ESPNU HoopGurlz 100.
More Info: The Eagles (28-6) beat Miami Norland 46-36 to win the FHSAA 6A State championship. Prince had 13 rebounds and seven blocks in the title game. Sophomore guard Markeema Crawford led the team in scoring with 15 points.

H.D. Woodson (Washington, D.C.)
Coach: Frank Oliver Jr.
Key player: Senior post Jephany Brown, a 6-foot-1 power forward and Providence commit.
More Info: Brown and Chanel Green, a 5-7 point guard, led the Warriors to their seventh straight D.C. Interscholastic Athletic Association title. Woodson will face Washington Catholic Athletic Conference champ Good Counsel (Olney, Md.) in the Abe Pollin City Title Game on March 20.
June, 7, 2011
6/07/11
4:48
PM ET
By
Lucas O'Neill
| ESPN.com
ESPNHS GIRL:
Brother Trey Griffey is Taryn's Biggest Fan
"And the foul!"
Dr. Phillips (Orlando, Fla.) High assistant girls' basketball coach Ben Sokolowsky can't help but shout after watching guard Taryn Griffey dribble left on her defender, upfake and draw contact before converting a 5-foot leaner off the glass. The next time through the drill, Taryn blows by on the right for an easy layup.
Riku/ESPNHSSophomore Taryn Griffey is a serious force on the basketball court -- and a playful prankster off of it.
With two drives in a mostly meaningless practice, the 5-foot-6 Taryn has demonstrated the speed, athleticism and aggressiveness that make her one of the nation's top players in the Class of 2014.
It's the first day of open gym for Dr. Phillips, just two months after the squad punctuated its Class 6A state championship season by winning the ESPN RISE National High School Invitational in North Bethesda, Md., in early April. In between Coach Sokolowsky, head coach Anthony Jones and a handful of their hoops players -- including, initially, Taryn -- took to the gridiron for flag football.
Hannah Schaible, a rising junior captain for both teams, threw 50 touchdown passes to lead the Panthers to the state flag football title. They accomplished this without their most talented asset: Taryn. She fractured her right ankle during the NHSI final and missed most of the flag football season as a result. A piece of the bone chipped off, but she didn't need surgery and is fully healed now.
"If she had continued to play flag, she probably would have been the best player in the state of Florida, by far," Coach Jones says.
Being the best seems to be the M.O. for Taryn, 15, the daughter of Major League Baseball legend Ken Griffey Jr. and Melissa Griffey, and the sister of 17-year-old Trey (who has multiple Division I football offers himself) and Tevin, 9. She quit softball at age 12 in part because she was so far ahead of the competition. She excels at swimming, track and tennis. She's even an excellent piano player.
But in addition to the family's penchant for athletic excellence, Taryn seems to have inherited another Griffey trait: silliness. Her primary partner-in-crime is fellow rising sophomore Jade Cheek.
"We just act like we're like 5 years old when we're together," Taryn says. "We have play dates and everything. Before games we like to focus, but after the game? It's like we're [kindergartners] again."
Hannah, who roomed with the pair during the state basketball tournament, confirms this. Some of their antics included talking in different voices and playing dress-up. And then there was their preferred mode of communication.
"They're talking on walkie-talkies but they have no actual walkie-talkies, so they're talking into their hands," Hannah says, cracking up at the memory.
When it comes to basketball, there's no messing around. Taryn ran the show for a talented, well-balanced team that featured Hannah in the post or mid-range and sharpshooters Jade and Sydnei McCaskill on the wings. But Taryn was the engine.
She averaged a team-high 15.1 points and 7.5 rebounds and added 4.7 assists per game. In the second game of her high school career, she finished one steal shy of a quadruple double. Most important, she provided on-court leadership for a young team (eight of nine players return this year) that seemed to meet every challenge thrown its way.
First, the team was without its best player from the previous season: Taryn's close friend and AAU teammate Lexi Brown, the daughter of former NBA star Dee Brown, who moved to Georgia with her family in the offseason. But Taryn filled her shoes admirably.
In the state championship game, Dr. Phillips was up against defending champ Lake Mary, which featured among its several seniors All-American Morgan Jones. Despite coughing up a late lead, the Panthers prevailed in overtime behind Taryn's 19 points and 10 rebounds.
"Taryn was amazing that game," says Coach Jones. "The way she played, you couldn't tell she was just a true freshman."
The team went to the NHSI tournament as the lowest seed but knocked off one elite opponent after another on its way to the title, culminating in a decisive 60-45 win over perennial power Murry Bergtraum (New York, N.Y.) in the championship game.
Across the country, at a Michael Jordan charity golf tournament in Las Vegas, legends like Wayne Gretzky, Julius Erving and Roger Clemens found themselves watching the tournament in the clubhouse. At first they weren't sure why Ken Griffey Jr. was so rapt with attention over a high school girls' basketball game -- until they saw Taryn.
"Guys sports always sell," Ken says, "but there are girls out there who are doing just as well -- and better -- at their sport than some of the guys. If you go to a girls' basketball game [you see that] they're more fundamentally sound than the boys."
Taryn has the fundamentals and the superlative natural ability. She also has a mischievous streak, something her teammates -- like the one who found her drink inexplicably salty one day -- and coaches know all too well.
"She's quiet now, but in her head she's planning a big prank," says Coach Jones.
The way she plays, she can get away with it.
This story originally appeared in the Summer 2011 issue of ESPNHS Girl magazine. Click here to subscribe.
June, 7, 2011
6/07/11
4:27
PM ET
By
Lucas O'Neill
| ESPN.com
ESPNHS GIRL:
Rising hoops star Taryn Griffey is one of the nation's best young ballers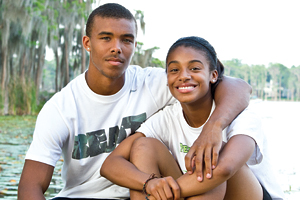 RIKUTrey Griffey, left, is his sister's biggest fan.
Unlike many siblings who are close in age, Trey and Taryn Griffey get along well -- aside from the occasional argument, of course. Trey credits Taryn with helping make him a better player. He can compete with her in most sports, he says, but not in basketball.
"That's her advantage sport. So we play it a lot," says Trey. "We used to play Knockout, H.O.R.S.E., do a lot of stuff. She gets me all the time. We'll play Around the World, and I'll usually get to like the fifth shot and just stay there, while she'll just go around the whole thing and then start laughing. And then she'll miss the last shot on purpose, so she can go to the beginning and around again, just to make me feel bad."
Trey punctuates this last line with a laugh, but he's serious about his sister's talent.
"She's determined. She's young but she's played against kids older than her, so once she gets to her senior year, I don't think anybody's going to be able to stop her, honestly," he says. "She proved to everybody this year that even though she's young and she's small, she can shoot. I believe she can outplay basically anybody."
This story originally appeared in the Summer 2011 issue of ESPNHS Girl magazine. Click here to subscribe.