High-SchoolGirls-Basketball:

Jephany Brown
March, 31, 2012
3/31/12
3:37
PM ET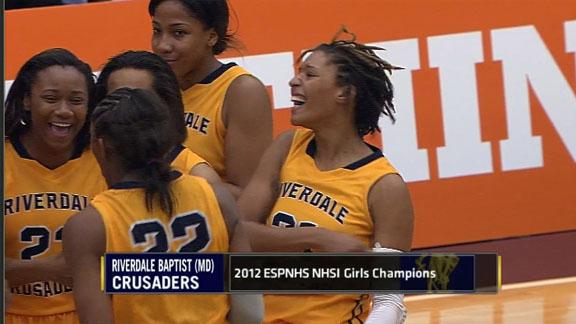 BETHESDA, Md. — Last season's ESPNHS National High School Invitational was not a pleasant experience for the Riverdale Baptist (Upper Marlboro, Md.) girls' team. The Crusaders entered the 2011 tournament as the favorite, but their stay was short, ending with an upset loss at the hands of No. 5 seed Dr. Phillips (Orlando, Fla.) in the first round.
A year later, Riverdale Baptist got a second chance at both Dr. Phillips and the NHSI, and the Crusaders made it count. Led by senior guard Jennie Simms' 19 points and 14 rebounds, Riverdale Baptist beat Dr. Phillips 63-59 in the title game on Saturday to claim the NHSI crown.
For Simms and her teammates, losing to Dr. Phillips again was simply not an option.
"It was basically, 'Get it back,' because it's rare that you get the chance to play a team again," said Simms, the No. 87 senior in the ESPNU HoopGurlz 100. "I told my team, 'We've got a second chance, and we can't let them beat us twice.'"
Simms' passion was apparent on the court, as the West Virginia recruit played a fiery, emotional game. She fought for every rebound and made several key plays down the stretch, including a put-back to give Riverdale Baptist a three-point lead with 15 seconds to play.
The No. 6 team in the POWERADE FAB 50, Riverdale Baptist improved to 37-2 with the win. Dr. Phillips, the No. 22 team in the FAB 50, dropped to 30-4.
Guard Duo Steps Up for DP
Dr. Phillips once again received tremendous play from its backcourt of junior Sydnei McCaskill and sophomore Taryn Griffey, as the duo scored 19 points apiece in a losing effort.
Griffey poured in 17 points in the second half, converting several acrobatic finishes in crunch time as the Panthers tried to hold off the Riverdale Baptist rally. She averaged 14 points, seven rebounds and four assists per game at NHSI, while McCaskill averaged 19.5 points, 4.5 rebounds and 4.5 assists.
Both were named to the All-Tournament team.
"We're gifted in that area," said Dr. Phillips coach Anthony Jones. "We're blessed to have the backcourt that we have."
Baptist Dominates the Boards
Riverdale Baptist simply pulverized Dr. Phillips on the glass, out-rebounding the defending NHSI champs 56-39. Riverdale Baptist was especially effective on the offensive boards -- the Crusaders grabbed 34, compared to 15 for DP.
Wake Forest-bound senior Kelila Atkinson grabbed 11 rebounds, with 10 coming off the offensive glass, and Simms was right in the middle of the action as well, pulling down eight offensive rebounds.
"We watched [Dr. Phillips] yesterday and we saw how they attacked the boards with their guards," Simms said. "Rebounding was helping us out a lot, so I just kept attacking."
MVP for Simms
Simms' scoring touch and hard work on the boards earned her NHSI tournament MVP honors. In two games, the 6-foot guard/forward averaged 13.5 points and 12.5 rebounds.
"She made the difference today," said Jones. "Even when she's not scoring, she does little things like sprinting into the paint and knocking the rebound loose. And when she knocked it out, they were getting all those loose balls."
Simms credited her teammates for helping her earn the MVP award.
"It's all about the team," she said. "I was able to find them and they were able to find me. They were able to get me the ball where I was able to score it. My team helped me get it."
All-Tournament Team
In addition to Simms, McCaskill and Griffey, the All-Tournament team was rounded out by Riverdale Baptist sophomore guard Auteaonna Gilmore and H.D. Woodson (Washington, D.C.) senior forward Jephany Brown.
Gilmore averaged 10.5 points, 3.5 rebounds and two assists in the tournament, while Brown posted 27 points and nine rebounds in a first-round loss to Dr. Phillips.
The full team:
Jennie Simms,
Riverdale Baptist (MVP)
Jephany Brown,
H.D. Woodson
Auteaonna Gilmore,
Riverdale Baptist
Taryn Griffey,
Dr. Phillips
Sydney McCaskill,
Dr. Phillips
March, 30, 2012
3/30/12
8:17
PM ET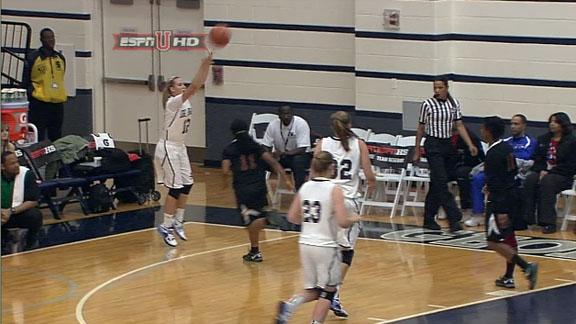 BETHESDA, Md. -- Instant analysis from No. 2 seed Dr. Phillips' 65-60 win over No. 3 seed HD Woodson in the semifinals of the ESPNHS National High School Invitational at Georgetown Prep on Friday:
Overview:
It wasn't easy, but Dr. Phillips (Orlando, Fla.) was able to call on its experience to hold on to a slim lead down the stretch. The defending NHSI champion Panthers were poised under pressure and hit their free throws to hold off a spirited comeback attempt by HD Woodson (D.C.).
Junior guard
Sydnei McCaskill
was key in crunch time, scoring 11 of her 20 points in the second half to spark Dr. Phillips. She went 11-of-11 from the free-throw line and made four in the final minute to seal the win. Sophomore guard
Taryn Griffey
displayed her usual stellar all-around game, contributing nine points, nine rebounds and five assists.
Both players were cogs in the Panthers' NHSI title run last year, which came in handy when Woodson started pressing late in the game.
"Me and Taryn knew we had to step up in the second half," said McCaskill. "We had to get other players going and make plays."
Turning Point:
With six minutes to play in the third quarter, Woodson looked like it had all the momentum. A 7-0 run for the Warriors tied the game at 31-31, and Dr. Phillips appeared to be on the ropes.
But that's when McCaskill took over. She hit a pull-up jumper in the lane to give DP the lead again, then drilled a 3-pointer on the following possession to make it 36-31. After a Woodson bucket, McCaskill buried a driving floater to stretch it to 38-33. She then picked up an assist by finding junior center Stephanie Ratliff all alone for a layup.
Dr. Phillips ended the quarter with a 43-33 lead, and all of Woodson's momentum was gone. It was an uphill battle the rest of the way, and while the Warriors cut it down to a single possession a few times, the were never able to recover.
Woodson senior forward
Jephany Brown
poured in a game-high 27 points, but the Warriors weren't able to get closer than three points the rest of the way.
McCaskill continued to produce in the fourth quarter, scoring 10 of her 20 points in the final frame.
Key Player:
Woodson made the mistake of leaving Jade Cheek open early in the game, and the sophomore guard made them pay. Cheek drilled four 3-pointers in the first half to help Dr. Phillips jump out to an early lead, and she went into halftime with 16 points.
"Sydney and Taryn always set me up very well," said Cheek. "They make it pretty easy."
Cheek finished with a team-high 21 points, hitting five 3-pointers and shooting 8-of-15 from the field.
Key Stat:
Every team needs a closer, and for Dr. Phillips it's McCaskill. She was at her best when the pressure was on, as evidenced by her 11-for-11 showing from the free-throw line. She made all 10 of her attempts in the second half, staving off a furious Woodson rally.
Up Next:
Dr. Phillips' three-guard attack will have to pick up the pace in order to challenge top-seeded Riverdale Baptist (Upper Marlboro, Md.), the Panthers' opponent in Saturday's NHSI final.
Baptist used its size to pulverize a smaller Edgewater (Orlando, Fla.) squad in the semifinals, so Dr. Phillips may try to make it an open-court game in order to neutralize the height advantage. Griffey, McCaskill and Cheek combined for 50 points against Woodson.
March, 8, 2012
3/08/12
2:00
PM ET
By
Christopher Parish
| ESPN.com
The fourth annual ESPNHS National High School Invitational, which will take place March 29-31 at Georgetown Prep (Bethesda, Md.), features three girls' teams ranked in the ESPNHS POWERADE FAB 50 rankings, including defending champion Dr. Phillips (Orlando, Fla.).

The girls' semifinal games will be broadcast on ESPNU and the championship will air on ESPN2. All telecasts will also be available through ESPN3 and WatchESPN.

Dr. Phillips (Orlando, Fla.) won last year's event as the No. 5 seed, beating 2011 No. 1 Riverdale Baptist 64-61 in a play-in game, overcoming a five-point halftime deficit to beat third-seeded Archbishop Spalding (Md.) in the semifinals and rallying past fourth-seeded Murry Bergtraum (N.Y.) 60-45 in the final. Dr. Phillips joined Seton Keough (Baltimore, Md.), and Peddie School (Hightstown, N.J.) as NHSI girls' champions. Seedings and matchups for this year's event have not been set.

"Just being invited to [NHSI] means a lot for our high school and also for every player in the state of Florida," said Dr. Phillips coach Anthony Jones.

2012 NHSI GIRLS TEAMS

FAB 50 No. 7 Riverdale Baptist (Upper Marlboro, Md.)
Coach: Diane Richardson
Key player: Jonquel Jones, the No. 6 ranked forward in the Class of 2012 according to ESPN HoopGurlz, is also the Gatorade State Player of the Year for Maryland. Her range and shooting stroke have earned her comparisons to Kevin Durant.
More Info: Jones (Clemson) is one of five Riverdale Baptist seniors who have committed to a Division I college program. The others are Jennie Simms (West Virginia), Brittany Murray (La Salle), Domonique Johnson (Towson) and Kelila Atkinson (Wake Forest).

FAB 50 No. 29 Dr. Phillips (Orlando, Fla.)
Coach: Anthony Jones
Key player: Sophomore Taryn Griffey, a four-star guard with explosive leaping ability.
More Info: Griffey, the daughter of former MLB star Ken Griffey Jr., led the Panthers to their second consecutive Class 8A Florida state title, pouring in 17 points and pulling down 16 rebounds in a 72-50 win over Dr. Krop (Miami, Fla.). Junior guard Sydnei McCaskill also had 17 points in the state title game.

FAB 50 No. 34 Edgewater (Orlando, Fla.)
Coach: Malcolm Lewis
Key player: Senior wing Alexis Prince, a Baylor commit and the No. 16 prospect in the ESPNU HoopGurlz 100.
More Info: The Eagles (28-6) beat Miami Norland 46-36 to win the FHSAA 6A State championship. Prince had 13 rebounds and seven blocks in the title game. Sophomore guard Markeema Crawford led the team in scoring with 15 points.

H.D. Woodson (Washington, D.C.)
Coach: Frank Oliver Jr.
Key player: Senior post Jephany Brown, a 6-foot-1 power forward and Providence commit.
More Info: Brown and Chanel Green, a 5-7 point guard, led the Warriors to their seventh straight D.C. Interscholastic Athletic Association title. Woodson will face Washington Catholic Athletic Conference champ Good Counsel (Olney, Md.) in the Abe Pollin City Title Game on March 20.