Denver PDP offers a look at top prospects
May, 11, 2012
5/11/12
9:25
AM ET
By
Chris Ackels
| ESPN.com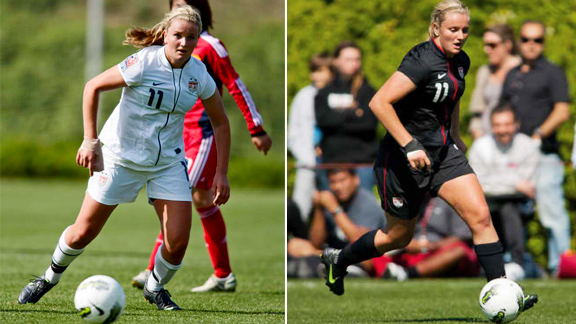 Photo Courtesy of Linda HoranNorth Carolina signee Lindsey Horan was the standout performer at the Denver PDP event.
The ECNL/id2 Player Development Program is designed to identify top players in each region and gather those players for a weekend training and developmental camp. Throughout the spring, the ECNL and US Club Soccer are sponsoring 10 ECNL/id2 Player Development Program weekends across the country, inviting players from nearby clubs.
Players from four clubs in the ECNL Mountain West Conference took part last weekend's PDP event at the Colorado School of Mines in Golden, Colo.
ESPNHS spoke with a few of the coaches who helped make it all happen after the event to find the players who stood out this weekend. Players are listed with club and high school.
Forwards
Lindsey Horan, Colorado Rush, Golden (Golden, Colo.)
Coaches say:
"She is the class of Colorado soccer right now. She is the standard for what a great player should be at this level. She is strong and powerful in front of the net, and she can score in a variety of ways."
Class of 2012 – Signed with North Carolina
Danica Evans, Colorado Rush, Lakewood (Lakewood, Colo.)
Coaches say:
"She's such a creative striker and she's extremely skilled. Around the box, she's just got spunk to her game. When she teamed up with Horan, they were unstoppable."
Class of 2013 – Verbally committed to Portland
Mariah Elmer, Utah Avalanche, Freemont (Ogden, Utah)
Coaches say:
"She was probably the most exciting athlete out there. She's very fast, strikes a good ball, and she's got a flip throw that's got to be at least 40 yards. Though she's listed as a forward, she's strong defensively, and her tackling was strong. She's got a lot of room to grow and a whole lot of natural talent."
Class of 2014
Janine Beckie, Real Colorado, Valor Christian (Highlands Ranch, Colo.)
Coaches say:
"Listed at forward, she's a winger all the way. She reads the game and gets forward with her runs extremely well, and has a cannon for a shot that she could hit in full stride."
Class of 2012 – Signed with Texas Tech
Jastin Redman, Colorado Rush, Chatfield (Littleton, Colo.)
Coaches say:
"She was just dangerous all weekend. She was always around the ball, always creating chances. She begins defending for you from the striker position and creates a lot of turnovers in the attacking third."
Class of 2015
Midfielders
Frannie Garzelloni, Real Colorado, Ponderosa (Parker. Colo.)
Coaches say:
"She's really dynamic on the dribble. She played wide, and she's very fluid. She's very good at creating space both for her dribble and for a passing lane. She also plays a really good penetrating ball."
Class of 2012 – Signed with Denver
Kayla Hill, Colorado Rush, Thunder Ridge (Highlands Ranch, Colo.)
Coaches say:
"She does a good job of thinking about what surface of her foot is the right surface to play a ball in. She would play a ball on the outside of her foot and curl it into a great pass. She was rarely being dispossessed. Her creativity and passing and her efficiency in not losing the ball were excellent all weekend."
Class of 2015
Betsy Brandon, Colorado Rush, D'Evelyn (Denver, Colo.)
Coaches say:
"She's a creative midfielder. She was our field general for her team. She could dictate the play, change the point of attack, and if she gets near goal, she's very creative on the dribble."
Class of 2015
Rebecca Rasmussen, Colorado Rush, Dakota Ridge (Littleton, Colo.)
Coaches say:
"She is a midfielder, and she is attacking to the extreme. She gets the ball and just runs at you. She is darting in and out with the ball, her one-on-one breaks down the defense big time. Every time she got it she was beating the first defender and causing everyone to adjust."
Class of 2014
Katie Leonard, Real Colorado, East (Denver, Colo.)
Coaches say:
"Strong ball winner in the middle, strikes a really heavy ball that is always dipping, diving. She's your classic midfielder, she's a point in your steering wheel, changing the point of attack. But if she gets in range, she can unleash a rocket."
Class of 2013 – Verbally committed to Connecticut
Defenders
Candace Cephers, Real Colorado, Smoky Hill (Aurora, Colo.)
Coaches say:
"She's a big and strong defender, and she's outstanding in the air. Really calm at bringing the ball down and playing out of tight situations."
Class of 2013 – Verbally committed to Virginia Tech
Havana McElvaine, Colorado Rush, Kent (Denver, Colo.)
Coaches say:
"She gets into the attack really well. And when she gets on the attack, the end product is almost always positive. A good serve, a good shot, a good pass … she is an attacking-minded player from the left back."
Class of 2013 – Verbally committed to Washington
Goalkeepers
Kailey Norman, Real Colorado, Valor Christian (Highlands Ranch, Colo.)
Coaches say:
"She was excellent at shot stopping. And when you consider she was playing against these national quality players, she stood up and stood out. She made a number of just excellent saves."
Class of 2013