High-SchoolIllinois:

Matt Alviti
January, 27, 2012
1/27/12
11:08
AM ET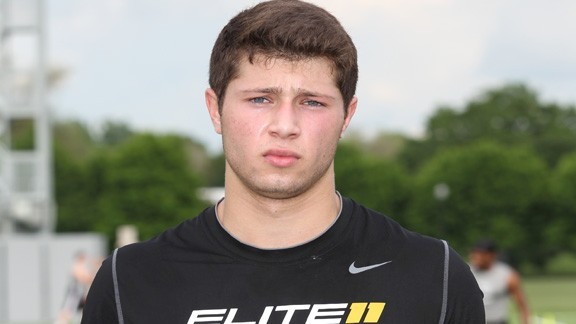 Tom Hauck/ESPNHSMaine South (Park Ridge, Ill.) junior Matt Alviti is one of the nation's top quarterbacks in the Class of 2013 and led his squad to a state title his sophomore year.
Throughout this offseason, we'll spotlight Class of 2013 quarterbacks who have a shot at making the Elite 11 finals in July. This week we profile Maine South (Park Ridge, Ill.) star Matt Alviti.
Elite 11 Watch Archive
Matt Alviti
is part of the new wave of athletic, spread quarterbacks. Lacking prototypical size at 6-feet tall, the Maine South (Park Ridge, Ill.) junior makes up for it by producing with his legs as well as his arm. As a sophomore, he threw 24 touchdown passes and ran for 12 scores while
leading Maine South to a state championship
. Last year, he threw 29 touchdown passes and added another dozen on the ground. At last year's
Elite 11 regional camp at Ohio State
, all of Alviti's skills were on display, as he impressed with his quick release, accuracy and mobility. Is he the next Colt McCoy? For now,
Alviti
is just focused on making it to the Elite 11 finals.
December, 13, 2011
12/13/11
11:53
AM ET

Monday

|

Tuesday

| Wednesday | Thursday | Friday

Whether you're putting together a grouping of best quarterbacks or worst albums, or you're making that special list for Santa, there's nothing quite like a good list. So in honor of the holiday season we're bringing you lists all week long — Merry List-Mas! Today: The top underclassmen in high school football.

The state championships are over and the Class of 2012 had a great run, but it's never too early to start looking at the impressive players in the Class of 2013 and beyond. Who's going to rule the gridiron in Illinois next season? We give you the early rundown of who to watch for.

5. LaQuon Treadwell (JR), Crete-Monee, WR

Credentials: Big, physical playmaker caught 75 passes for 1,391 yards and 18 touchdowns this year

4. Ethan Pocic (JR), Lemont, OL

Credentials: At 6-foot-7, 285 pounds, Pocic is dominant in the running game and pass protection

3. Matt Alviti (JR), Maine South, QB

Credentials: Passed for 2,210 yards and 29 touchdowns and also ran for 12 scores

2. Aaron Bailey (JR), Bolingbrook, QB

Credentials: Led Bolingbrook to a state championship, running for

1. Ty Isaac (JR), Joliet Catholic, RB

Credentials: Ran for 2,629 yards and 48 touchdowns on the year, including a title game-record 515 yards in the Class 5A championship contest

Click here

to check out some of the other states in our Five Days of List-Mas.

Tomorrow: The POWERADE Illinois Weekly Basketball Rankings. Did I miss someone who should be on the list? Hit me on Twitter (@ESPNHSGrimala) and let me know about it.
November, 4, 2011
11/04/11
4:42
PM ET
The Game:
No. 1 Maine South (10-0) at Stevenson (8-2)
Saturday, 3 p.m.
The Players:
Maine South — Last week's win over Curie was a bit too close for comfort, and senior running back Paul Preston had just 10 carries for 70 yards. Those two statements may be related. Look for Preston to handle a bigger workload against Stevenson as the Hawks look to get back to basics. And of course, junior quarterback Matt Alviti is always a big-play threat.
Stevenson — The Patriots' offense couldn't be considered explosive, but Stevenson does a good job of running the ball and controlling tempo. And when it's time to go for chunks of yardage, senior receiver Troy Radtke is usually the target.
The Stakes:
Besides the win-or-go-home aspect that comes with every playoff game, Stevenson also has a rather large "Maine South monkey" on its back. The Patriots came into last year's playoff matchup undefeated, and Maine South sent them home anyway. That's a lot of baggage to carry around.
The Prediction:
Defense wins championships, sure, but you have to bring some offense to the table, too. I just don't see any way that Stevenson can score enough points to keep within striking distance of Maine South, let alone upset the state's No. 1 team. I have Alviti pegged for three touchdowns and Preston for two — Stevenson can't keep up.
MAINE SOUTH 42, STEVENSON 16
For the rest of the weekend picks,
click here
.
Think I made a bad call? Hit me on Twitter (
@ESPNHSGrimala
).
October, 20, 2011
10/20/11
2:10
PM ET
With the regular season winding down, the stakes are high in a lot of the Week 9 matchups. And there are several intriguing games on the slate, including No. 1 Maine South taking on a very dangerous (and motivated) Glenbrook South team. There's a lot to get through, so let's move on with the picks.
Note: The game between No. 4 Loyola and No. 5 St. Rita isn't listed here because I'm saving it for an in-depth preview tomorrow.
Week 9 picks
Glenbrook South (7-1) at No. 1 Maine South (8-0)
Friday, 7 p.m.
The Glenbrook South defense has been improving as the season has gone on, but are the Titans ready to stop the two-headed monster of QB Matt Alviti and RB Paul Preston?
ESPNChicago's Scott Powers
has Maine South winning this game, and so do I.
MAINE SOUTH 31, GLENBROOK SOUTH 20
No. 2 Glenbard West (8-0) at Downers Grove North (2-6)
Friday, 7:30 p.m.
Can Glenbard West make it three shutouts in a row? I don't think so, but it's in play.
GLENBARD WEST 28, DOWNERS GROVE NORTH 7
No. 3 Lincoln-Way East (8-0) at Joliet West (2-6)
Saturday, 12 p.m.
A win clinches the Southwest Suburban Blue title for LWE, and I don't expect the Griffins to stumble.
LINCOLN-WAY EAST 38, JOLIET WEST 10
No. 6 Downers Grove South (8-0) at Addison Trail (7-1)
Friday, 7:30
I loved the way Addison Trail gave Glenbard West everything it could handle. Wouldn't surprise me if they slowed down RB Josh Williams just enough to come away with an upset win here.
ADDISON TRAIL 21, DOWNERS GROVE SOUTH 14
Cary-Grove (6-2) at No. 7 Prairie Ridge (8-0)
Friday, 7 p.m.
The Cary-Grove defense is good, but Prairie Ridge can score on them.
PRAIRIE RIDGE 34, CARY-GROVE 20
Lockport (6-2) at No. 8 Bolingbrook (7-1)
Friday, 7:30 p.m.
Is Lockport for real? I don't think they can stop Bolingbrook QB Aaron Bailey.
BOLINGBROOK 38, LOCKPORT 14
Think you could make better picks? Hit me on Twitter (@ESPNHSGrimala) and let me know what I got wrong.
October, 7, 2011
10/07/11
1:23
PM ET
There are no monster games on the schedule this week, so no need for a long, drawn-out intro. I know why you're here — you want the picks. So let's jump right into it.
Week 7 Picks
Evanston (4-2) at No. 1 Maine South (6-0)
Thursday, 7 p.m.
The easiest pick of the week, as the game has already been played. Still, I see Maine South RB Paul Preston returning a kickoff 97 yards for a touchdown and QB Matt Alviti throwing for 201 yards and running for a pair of TDs in an easy victory.
Maine South 48, Evanston 7
*Update: I was close — Alviti ended up throwing for 202 yards. Nailed everything else though...
No. 2 Glenbard West (6-0) at Addison Trail (6-0)
Friday, 7:30 p.m.
Could this be an upset in the making? Addison trail is undefeated (albeit against soft competition) and Glenbard West QB Justice Odom is dealing with a knee injury. I think the Hilltoppers win it on defense anyway.
Glenbard West 30, Addison Trail 6
No. 8 Prairie Ridge (6-0) at Jacobs (6-0)
Friday, 7:15 p.m.
Jacobs has an offense that should be able to stick with Prairie Ridge, but I think the Wolves pull away late with a couple long, grinding drives.
Prairie Ridge 34, Jacobs 14
No. 5 St. Rita (5-1) at Bishop McNamara (5-1)
Friday, 7:30 p.m.
Bishop McNamara is solid, but St. Rita has too many weapons on offense, especially in the running game.
St. Rita 31, Bishop McNamara 14
Want to make your own picks (or call me out on mine)? Hit me on Twitter (
@ESPNHSGrimala
).
September, 23, 2011
9/23/11
11:25
AM ET
Homewood-Flossmoor lost its showdown with No. 3 Lincoln-Way East last week, but the Vikings are still 3-1 and very dangerous. They'll get a chance to rebound in a big way today, when they face off against 4-0 Bolingbrook.
The Game:
Bolingbrook at Homewood-Flossmoor
Friday, 7:30 p.m.
The Players:
Bolingbrook — Whether running or throwing, quarterback Aaron Bailey is a threat to put points on the board with every snap. Defending him will be priority No. 1 for Homewood-Flossmoor.
Homewood-Flossmoor — The Vikings have a dynamic QB of their own in senior Tim Williams. If this game turns into a shootout, Williams has the juice to deliver when it counts.
The Stakes:
Both teams are hovering just outside the
POWERADE Top 10
, and the winner could vault into the ranks. For Homewood-Flossmoor, two consecutive losses at this point in the season would hurt.
The Prediction:
Homewood-Flossmoor really needs this game, but I think Bailey is just too hot right now. He makes the plays in the fourth quarter and Bolingbrook improves to 5-0 with a huge road win.

BOLINGBROOK 24, HOMEWOOD-FLOSSMOOR 20
Other notable games:
No. 1 Maine South at New Trier
Friday, 7: 30 p.m.
New Trier is 3-1, but Trevians don't have the firepower to stick with Matt Alviti and Co. MAINE SOUTH 38, NEW TRIER 10
No. 2 Glenbard West at Oak Park
Saturday, 1 p.m.
Don't mean to offend Oak Park fans, but I would be surprised if Glenbard West allowed any points (outside of garbage time). GLENBARD WEST 35, OAK PARK 0
Sandburg at No. 3 Lincoln-Way East
Friday, 7:30 p.m.
Huge win over Homewood-Flossmoor last week proved the Griffins were for real. Lincoln-Way East just has too many weapons here. LINCOLN-WAY EAST 45, SANDBURG 16
September, 1, 2011
9/01/11
6:18
PM ET
As part of our weekly football coverage here, I offer up my hypothetical fantasy football picks every Thursday. Note: This league is completely made up. If you are in a high school fantasy football league, please seek professional help.

START 'EM

RB — Martez Walker, Brother Rice, Sr.
I know what you're thinking — Walker split carries pretty evenly with fellow Brother Rice running back Andrew Walker in Week 1. But Martez still did plenty of fantasy damage, running for 80-plus yards and two TDs on 14 carries. I can live with that kind of production, and Martez will likely see increased usage as the season goes on. Against Marist this week, I think he's capable of carrying your team.
Projection: 19 carries, 115 yards, 2 TDs

August, 21, 2011
8/21/11
4:11
PM ET
The ESPNHS football All-State team will be unveiled on this blog later today, but I thought I'd give you a sneak peek at the quarterbacks who made the cut.

ESPNHS All-State Football
First Team

[QB] Matt Alviti, Maine South, Junior -- Threw 24 TD passes, ran for 12 as a sophomore
[QB] Robert Gregory, Simeon, Senior -- Athletic dual threat drawing interest from Big Ten
[QB] Wes Lunt, Rochester, Senior -- Oklahoma State recruit is top-rated senior QB in state

And there you have it. But that's just a taste -- check back later today for the rest of the All-State team.