High-SchoolIllinois:

Simeon
January, 16, 2012
1/16/12
6:35
PM ET
SPRINGFIELD, Mass. — There will likely be a new team atop the next
POWERADE FAB 50
rankings after No. 1 Simeon (Chicago, Ill.) fell to No. 6 Findlay Prep (Henderson, Nev.), 75-50, at the Spalding Hoophall Classic on Monday.
Simeon never found its offense, frequently forcing bad shots and allowing Findlay to run out on the fast break after misses. For the game, Simeon shot just 4 of 24 on 3-point attempts (16.7 percent), while Findlay Prep shot 66.7 percent from downtown (61 percent overall).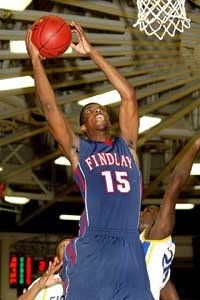 J. Anthony Roberts/ESPNHSWinston Shepard finished with high-flying dunks all night against Simeon.
The game was also billed as a matchup of two of the country's top players — Simeon junior
Jabari Parker
and Findlay Prep senior
Brandon Ashley
. Parker, the No. 1 player in the
ESPNU 60
, was solid with 24 points and 12 rebounds, but the smooth superstar felt he could have done more to stop Findlay from pulling away in the second half.
"I waited too long to get it going," said Parker. "I didn't do a lot of scoring in the third quarter. If I don't show up, my team's going to lose by a lot of points."
Ashley, the No. 4 player in the
ESPNU 100
, posted 13 points and nine boards, including back-to-back dunks to seal the game in the fourth quarter. He also received more help from his teammates.
Findlay Prep junior guard
Nigel Williams-Goss
chipped in 18 points, and senior guard
Dominic Artis
(No. 72 in the ESPNU 100) earned Player of the Game honors with 21 points, eight assists and seven rebounds.
The 6-foot-2 Williams-Goss also drew plenty of attention with his defensive performance, even switching onto the 6-foot-8 Parker at times and doing a good job.
"Obviously, our focus was on [Simeon junior guard]
Kendrick Nunn
and Jabari Parker," said Williams-Goss. "I took it personally, because I knew I'd have to defend both of them during the game."
Williams-Goss also said that Findlay Prep felt it had something to prove at Hoophall.
"We had a slip-up earlier in the season with our loss to La Lumiere," he said. "But it was motivation to us that Simeon was ranked No. 1. We feel we're still the best team in the country. Being No. 1, that put a bull's-eye on their back and we were coming for them."
Findlay Prep's victory was even more impressive considering that the team was without senior forward
Anthony Bennett
, the No. 7 player in the ESPNU 100. Bennett sat out the game with a hamstring injury.
Simeon dropped to 14-1 with the loss. The Wolverines have spent the entire season at No. 1 in the POWERADE FAB 50, but the blowout loss is likely to drop them at least several spots. Findlay Prep improved to 16-1 with the win.
There were plenty of top college coaches on hand, presumably to get a close look at Parker, who is still uncommitted. Among those in the crowd were Duke's
Mike Krzyzewski
and Kentucky's
John Calipari
.
After the game, Parker said he hasn't formed any list of college favorites yet. "I'm wide open," he said.
Mike Grimala covers high school sports for ESPNHS. Follow him on Twitter @ESPNHSGrimala or email him at michael.grimala@espn.com.
January, 8, 2012
1/08/12
10:35
PM ET
By
Jason Jordan
| ESPN.com
WHEELING, W.Va. --
Jabari Parker
couldn't have cared less about Miller Grove's (Lithonia, Ga.) recent shortcomings.
Sure, he was aware that just 23 days ago Miller Grove was ranked No. 2 in the
POWERADE FAB 50
and, yeah, he'd heard about Miller Grove's four-game losing streak. But the only thing Parker was concerned with was making certain he and his top-ranked Simeon (Chicago) squad extended that streak to five.
"I don't care who we're playing or what that team's situation is," said Parker, a junior swingman who is the No. 1 player in the
ESPNU 60
. "All we care about is leaving with a win."
They did.
Parker scored 20 points and snagged six rebounds to keep No. 1 Simeon (13-0) undefeated with a 59-56 win over No. 34 Miller Grove (6-5) Saturday night at the Cancer Research Classic in Wheeling, W.Va., in a game televised on ESPN2.
Kendrick Nunn
added 19 points and
Steve Taylor
pumped in 11 for Simeon.
Tony Parker
led Miller Grove with 20 points and 12 rebounds.
"This was a great win for us over a great team," said Jabari Parker, who was named Most Valuable Player. "We knew that we'd have to come out and execute well early, and I feel like we did that. That carried over to later in the game and it helped us pull out a close one. We're really happy with this win."
Parker had the hot hand early for Simeon, reeling off 10 points in the first quarter to give his squad an early 18-14 lead. Simeon extended that lead by capitalizing off of Miller Grove's turnovers. Simeon turned six second-quarter turnovers into 10 points and cruised to a comfortable 35-20 lead at the half.
Simeon's swarming defense caused Miller Grove to shoot just 36 percent from the field in the first half.
"We executed well in the first half," Simeon coach Robert Smith said. "But we know that basketball is a game of runs, and we knew that they'd make a run. They're too good not to make a run."
That started in the third quarter.
Miller Grove shot 8 of 11 and put together a 24-8 run to grab a 44-43 lead early in the fourth quarter.
That's when Simeon displayed its full array of offensive weapons. Four different players scored during Simeon's 16-13 run to seal the win.
"That's the special thing about this team," Smith said. "We have so many guys that can score the ball that it's hard to key in on one player. This was a huge win for our program. Coach (Sharman) White does a great job with that program, and we feel great to have pulled this one out."
Jason Jordan is the basketball editor for ESPNHS. He can be reached at jason.x.jordan.-ND@espn.com. Don't forget to follow him on Twitter: @JayJayESPN.
November, 17, 2011
11/17/11
11:46
AM ET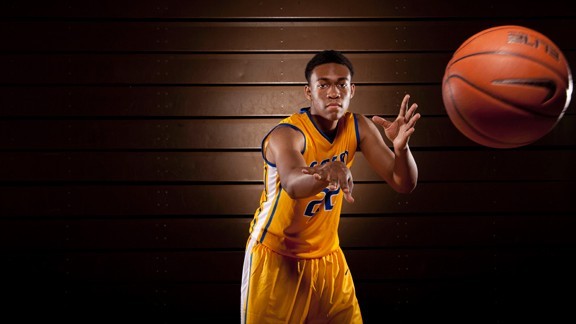 Matt Marcinkowski/ESPNHSSimeon junior Jabari Parker is rated No. 1 in the ESPNU 60
This story originally appeared in the Holiday issue of ESPNHS magazine's Illinois edition.
In Chicago, word spreads quickly. The city's reputation for producing basketball talent has everyone on the lookout, as locals are always eager to find the next big thing on the hardwood.
It's never too early to anoint the next legend, either. That's why Jabari Parker signed his first autograph in the sixth grade.
"I remember there was an article in the paper about me," says Parker, now a junior at Simeon. "Someone came up and asked me to sign it. That was interesting."
Chicago was pumping up Parker as the sport's next phenom before he even reached middle school, but the rest of the country was in wait-and-see mode. Even after he stepped into Simeon's starting lineup as a freshman and helped the team win a state title, he wasn't locked into the top spot.
But as it turns out, the Windy City hype machine was right all along. There's no need to wait anymore. Parker has proved it — after watching him lead Simeon to another state crown last year, it's safe to say he's backed up the hype and then some.
Ranked No. 1 among juniors in the
ESPNU 60
, Parker is arguably the country's top player regardless of class.
"Jabari is an exceptional talent," says Simeon coach Robert Smith. "I think he can be one of the best basketball players that ever lived. Ever."
Parker's true position is small forward, where he draws comparisons to NBA All-Stars like Grant hill, Paul Pierce and Carmelo Anthony, but Smith uses him all over the court.
At 6-foot-8, Parker can legitimately play all five positions at the high school level and dominate at each spot. He's the perfect combination of skill, size, athletic ability, attitude and intelligence. Last year as a sophomore, he averaged 16 points and eight rebounds per game while flashing the kind of talent that should have pro teams tanking games during the 2013-14 season in order to draft him.
Parker does everything for Simeon. He runs the point, scores on the perimeter, initiates the offense, posts up and crashes the boards. It's a lot of pressure to put on one player, but if early fame taught Parker anything, it's the importance of being poised.
That composed presence is one of the biggest reasons Parker has been able to guide Simeon to Class 4A state championships the past two seasons.
"I think poise is my best quality," says Parker, whose Wolverines open this season as the nation's No. 1 team in the POWERADE FAB 50. "I always try to have my head about me, and I think that gives my coaches and my teammates confidence in me. They know that no situation is too big for me."
When it was announced that he would attend Simeon, the Parker buzz got even louder. The school had just seen its previous superstar and most famous alum, Derrick Rose, walk across the stage as the top pick in the NBA draft, and similar expectations were placed on Parker.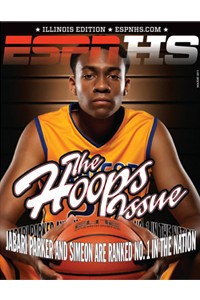 Matt Marcinkowski/ESPNHSJabari Parker averaged 16.1 points and 8.0 rebounds while leading Simeon to a state championship as a sophomore last year
"In this city, there's a lot of expectations and hype," says Parker. "coming out of eighth grade when i was going to Simeon, it was a lot of talk about Derrick Rose and now, me. But I was OK with it, because I want people to expect the most out of me. I was hungry."
Parker has always been well equipped to deal with the spotlight. His father, Sonny, is a former NBA player, so Jabari has never been in awe of the glitz and glamour that goes with being a professional athlete.
And his mother, Lola, is a big influence on how he lives his life off the court. Parker credits her for keeping him grounded while at the same time encouraging him to pursue basketball.
"Family is really No. 1 for me," says Parker. "They are why I'm the person I am today. They taught me to be focused and to have discipline. I try to do things 110 percent and with full effort. I have full gratitude for my parents for teaching me that."
With his family keeping him humble, Parker is driven to work hard even though he's been signing autographs since the sixth grade. This offseason, he transformed his body, losing the baby fat and replacing it with lean, explosive muscle.
Parker is moving more suddenly on the perimeter, accelerating better in the open court and finishing more decisively around the rim. Plays that ended with layups last year are now dunks. "You can tell he's been in the weight room," says Smith. "We're just going to let him play. offensively, he's going to have multiple responsibilities, but he's always been comfortable with that.
"The biggest difference this season is what we're asking him to do on defense. He's working on his footwork and moving his feet defensively, getting better at man-to-man defense. He wants to guard the other team's best player, and we want to utilize that ability. Getting into such good shape will help, and he understands that."
So he can play every position on offense, defend the opponents' best scorers, set an example with his work ethic and lead the nation's No. 1 team.
Jabari Parker came in with a lot of hype. But in his case, maybe it wasn't enough.
Follow Mike Grimala on Twitter (@ESPNHSGrimala) — it's fun!