High-SchoolIndiana:

Montverde Academy
March, 29, 2012
3/29/12
5:23
PM ET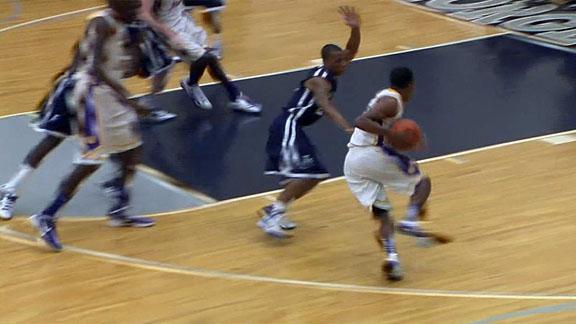 Overview
If you like defense, this was the game for you. No. 3 seed Montverde Academy (Montverde, Fla.) used a pressure, trapping D to force fifth-seeded La Lumiere (La Porte, Ind.) into 19 turnovers en route to a 62-54 win in the opening game of the ESPNHS National High School Invitational.
Montverde, No. 12 in the
POWERADE FAB 50
, didn't need much offense to win this one, but most of the Eagles' scoring came from the backcourt of senior
Michael Frazier
and junior
Kasey Hill
. The duo combined for 35 points and consistently came up with big plays whenever La Lumiere threatened.
On the other end, Montverde's defensive performance was staggering. The Eagles held La Lumiere to 32.3 percent shooting from the field and totally shut down the Lakers' top offensive players. La Lumiere scored just six points in the first quarter and never recovered.
Turning Point
La Lumiere came into the NHSI ranked No. 23 in the POWERADE FAB 50 thanks in large part to the frontcourt of senior forwards
Rapheal Davis
,
Hanner Perea
and
Jay Simpson
. But that trio was almost completely neutralized by Montverde, combining for just 35 points (on 32 shots). Davis and Perea averaged 36.5 combined during the regular season.
Montverde senior forwards
Michel Enanga
,
Landry Nnoko
and
Patricio Garino
were dominant on defense. Enanga grabbed 15 rebounds, Nnoko blocked three shots and Garino played solid man-to-man defense on Davis. They set the tone from the opening tip and La Lumiere was never able to effectively run its offense.
"That was absolutely the difference in the game — they took us out of everything we wanted to do," said La Lumiere coach Alan Huss. "Nnoko is the key to the whole thing. He's back there protecting the rim, and even when we were able to beat the press we had trouble finishing."
Key Players
Florida Gators fans are probably still numb after their loss in the Elite 8, but the performances of Florida recruits Michael Frazier and Kasey Hill must have made them feel a bit better. Hill, a junior point guard, scored a game-high 19 points, while Frazier, a senior shooting guard, tallied 15.
Hill shot just 6-of-21 from the floor, but he put in work at the free-throw line, hitting seven of his eight attempts. Frazier shot 5-of-14 from the field and added seven rebounds while playing tough defense.
"I just tried to play hard," said Frazier. "My shot wasn't falling, so I tried to contribute in other ways."
Key Stat
Montverde Academy coach Kevin Boyle recognized that La Lumiere was lacking in quality ball-handlers, so he applied a pressure defense from the opening tip. The result was 19 turnovers for La Lumiere, which led to 15 points for MVA.
"Whenever they got close, we were able to force a couple turnovers and get easy baskets," said Boyle."
Up Next
Montverde Academy will take on the winner of the Ravenscroft-Montrose Christian game. Boyle is hoping for a better performance from Frazier, who was unable to practice for more than three weeks before Thursday's game because of an illness.
"He missed some shots that he normally makes," said Boyle of his leading scorer. "If he makes those, this is a completely different game. Hopefully he knocked the rust off and we get his normal results tomorrow."
March, 21, 2012
3/21/12
11:36
PM ET
By
Ronnie Flores
| ESPN.com
ESPNHS has announced the
seedings
for the eight boys' teams that will compete in the fourth annual ESPNHS National High School Invitational.
The year's event, which features six
POWERADE FAB 50
-ranked teams, will be March 29-31 at Georgetown Prep in Bethesda, Md. The championship game is set for 2 p.m. ET March 31 on ESPN.
As expected, two-time NHSI champion Findlay Prep (Henderson, Nev.) was awarded the top seed and will face No. 8 seed Coolidge (Washington, D.C.) March 29. Coolidge (29-7) will have its hands full with the No. 2 team in the country. In three years, only Montrose Christian (Rockville, Md.) has played the top seed in the No. 1 versus No. 8 game down to the wire, and that came in 2010 when Montrose lost to Montverde Academy (Montverde, Fla.) by two points.
This year, FAB 50 No. 9 Montrose Christian (20-2) snagged the second seed and opens the tournament with seventh-seeded Ravenscroft (Ravenscroft, N.C.). The North Carolina Independent Schools Athletic Association Class 3A champions come in with a 31-3 mark, but they didn't venture too far from home this season and are decided underdogs against the defending NHSI champions.
Returning from last year's championship team is emotional leader
Justin Anderson
, a Virginia recruit, and
Michael Carrera
, who averaged a record 12.7 rebounds in Montrose Christian's three victories. Stu Vetter's club has to show its backcourt is capable without reigning tourney MVP Tyrone Johnson (now at Villanova), but Ravenscroft has even more to prove. The last two years, the NCISAA entrant has been routed in its opener.
After missing last year's event because of key early season losses, No. 12 Montverde Academy is back in the fold as the third seed. Kevin Sutton coached the team in 2010 when they advanced to the finals, but this year the 21-3 Mustangs have a new coach in Kevin Boyle. He turned
St. Patrick (Elizabeth, N.J.)
into a national power but his program never had the opportunity to compete at the NHSI.
Boyle now gets the opportunity against No. 6 seed La Lumiere (La Porte, Ind.), a newcomer on the national scene with a big and talented roster. Montverde not only faces the challenge of a hungry 25-2 team ranked No. 23, they also face the challenge of idle time. Montverde had not played another high school since Feb. 4.
One team that certainly won't have any problems with idle time is fourth seed St. Benedict's (Newark, N.J.), which competed in the prestigious Alhambra Catholic Invitational last weekend. Gray Bees lost only their second game of the season (33-2) to eventual tournament champion DeMatha Catholic (Hyattsville, Md.) in the semifinals.
Had St. Benedict's won that tournament without its point guard (Tyler Ennis) and sixth man (Jordan Forehand), there's a strong possibility they would have been seeded second. They only dropped five spots in the FAB 50 to No. 15 (two spots behind DeMatha) and will open the NHSI against fifth-seeded Ely (Pompano Beach, Fla.), the FHSAA Class 7A state champ ranked No. 16. If Ennis and Forehand are not healthy for St. Benedict's, they could have trouble stopping the backcourt of Ely, which has proven its scoring ability in big games this season.
If St. Benedict's situation is any indication, this could be the most balanced NHSI field yet. Findlay Prep wants another crack at La Lumiere to avenge its only loss, but in order for that to occur both teams have to advance to the championship game. If history is any indication, La Lumiere might have a good shot at the semifinals (where defending champion Montrose Christian could be waiting) since the No. 6 seed has won in the opening round the past two years.
"You play 30 games for a seeding, but when the ball goes up, everyone is 0-0," said Findlay Prep coach Michael Peck. "We're blessed to be able to participate, as these games give the competing teams some closure."
Ronnie Flores is a senior editor for ESPNHS. He can be reached at
ronnie.flores@espn.com
. Don't forget to follow him on Twitter:
@RonFloresESPN