High-SchoolIndiana:

Rapheal Davis
March, 29, 2012
3/29/12
5:23
PM ET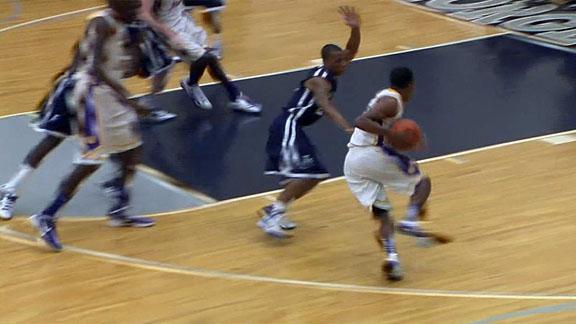 Overview
If you like defense, this was the game for you. No. 3 seed Montverde Academy (Montverde, Fla.) used a pressure, trapping D to force fifth-seeded La Lumiere (La Porte, Ind.) into 19 turnovers en route to a 62-54 win in the opening game of the ESPNHS National High School Invitational.
Montverde, No. 12 in the
POWERADE FAB 50
, didn't need much offense to win this one, but most of the Eagles' scoring came from the backcourt of senior
Michael Frazier
and junior
Kasey Hill
. The duo combined for 35 points and consistently came up with big plays whenever La Lumiere threatened.
On the other end, Montverde's defensive performance was staggering. The Eagles held La Lumiere to 32.3 percent shooting from the field and totally shut down the Lakers' top offensive players. La Lumiere scored just six points in the first quarter and never recovered.
Turning Point
La Lumiere came into the NHSI ranked No. 23 in the POWERADE FAB 50 thanks in large part to the frontcourt of senior forwards
Rapheal Davis
,
Hanner Perea
and
Jay Simpson
. But that trio was almost completely neutralized by Montverde, combining for just 35 points (on 32 shots). Davis and Perea averaged 36.5 combined during the regular season.
Montverde senior forwards
Michel Enanga
,
Landry Nnoko
and
Patricio Garino
were dominant on defense. Enanga grabbed 15 rebounds, Nnoko blocked three shots and Garino played solid man-to-man defense on Davis. They set the tone from the opening tip and La Lumiere was never able to effectively run its offense.
"That was absolutely the difference in the game — they took us out of everything we wanted to do," said La Lumiere coach Alan Huss. "Nnoko is the key to the whole thing. He's back there protecting the rim, and even when we were able to beat the press we had trouble finishing."
Key Players
Florida Gators fans are probably still numb after their loss in the Elite 8, but the performances of Florida recruits Michael Frazier and Kasey Hill must have made them feel a bit better. Hill, a junior point guard, scored a game-high 19 points, while Frazier, a senior shooting guard, tallied 15.
Hill shot just 6-of-21 from the floor, but he put in work at the free-throw line, hitting seven of his eight attempts. Frazier shot 5-of-14 from the field and added seven rebounds while playing tough defense.
"I just tried to play hard," said Frazier. "My shot wasn't falling, so I tried to contribute in other ways."
Key Stat
Montverde Academy coach Kevin Boyle recognized that La Lumiere was lacking in quality ball-handlers, so he applied a pressure defense from the opening tip. The result was 19 turnovers for La Lumiere, which led to 15 points for MVA.
"Whenever they got close, we were able to force a couple turnovers and get easy baskets," said Boyle."
Up Next
Montverde Academy will take on the winner of the Ravenscroft-Montrose Christian game. Boyle is hoping for a better performance from Frazier, who was unable to practice for more than three weeks before Thursday's game because of an illness.
"He missed some shots that he normally makes," said Boyle of his leading scorer. "If he makes those, this is a completely different game. Hopefully he knocked the rust off and we get his normal results tomorrow."
November, 8, 2011
11/08/11
12:13
PM ET
See all 51 All-State teams.
With the 2011-12 hoops season set to tip off, ESPNHS has all the info you need on the top players in Indiana.
We've broken down the state's top 20 players into four teams based on their talent, and included a whole lot of other players who just missed the cut. Keep in mind, these selections are based on past accomplishments and projected on-court performance in addition to recruit rankings.
For a list of the top senior basketball recruits in Indiana,
click here
.
Indiana All-State Basketball
First Team
G: Yogi Ferrell, Park Tudor, 5-11/170, Senior
Rated the No. 3 point guard in the country by ESPNU.
G: Gary Harris, Hamilton SE, 6-4/200, Senior
Two-sport star was also an
All-State first team selection for football
.
F: Jeremy Hollowell, Lawrence Central, 6-8/210, Senior
Versatile swingman can play either forward spot.
F: Hanner Perea, La Lumiere, 6-8/215, Senior
One of the best dunkers in the country; best to stay out of his way.
F: Glenn Robinson III, Lake Central, 6-6/185, Senior
Premier scorer is heading to Michigan next year.
Second Team
G: James Blackmon Jr., Bishop Luers, 6-2/175, Sophomore
Scored more than 20 points per game as a freshman.
G: Rapheal Davis, La Lumiere, 6-5/200, Senior
Transferred from South Side over the summer.
G: Ronnie Johnson, North Central, 5-10/160, Senior
Posted 13.5 points and 5.0 assists per game last year.
F: Devin Davis, Warren Central, 6-6/200, Junior
Could play multiple positions this season; a real matchup nightmare.
F: Tre Lyles, Arsenal Tech, 6-7/200, Sophomore
Physical power forward has pledged to Indiana.
Third Team
G: Kellen Dunham, Pendleton Heights, 6-4/170, Senior
Butler recruit can hit from long range (43 percent on 3's last year).
G: Ron Patterson, Broad Ripple, 6-3/200, Senior
Athletic wing is one of Indy's top defenders.
G: Bryson Scott, FW Northrop, 6-0/175, Junior
Natural scorer has already committed to Purdue.
F: Collin Hartman, Cathedral, 6-6/200, Junior
Looking to improve on last year's 14.3 points, 7.9 rebounds per game.
F: DeJuan Marrero, Bowman Academy, 6-6/195, Senior
Used quickness inside to ring up 24 points, 17 rebounds per game.
Fourth Team
G: V.J. Beachem, FW Harding, 6-6/180, Junior
Notre Dame commit averaged 19 points per game last year.
G: Zak Irvin, Hamilton SE, 6-5/180, Junior
Will team with Gary Harris to form top wing duo.
G: Basil Smotherman, Lawrence North, 6-4/180, Junior
Scored 13.9 last year while hitting 52 percent of his 3-pointers.
F: Austin Burgett, Avon, 6-9/200, Senior
Skilled big man has committed to Notre Dame.
F: Tyler Wideman, Lake Central, 6-7/240, Sophomore
Skilled big man has committed to Notre Dame.
Other Top Players
Obij Aget, La Lumiere, C, Sr.
Tyler Alderman, Fishers, C, Sr.
D.J. Balentine, Kokomo, G, Sr.
Ronnye Beamon, Bishop Noll, G, Sr.
Jacobby Bledsoe, Hamilton SE, G, Sr.
Trevon Bluiett, Park Tudor, F, So.
Bo Calhoun, SB Washington, F, Sr.
Tyler Corley, Lawrence Central, G, Sr.
Jared Drew, Cathedral, F, Sr.
Richard Freeman, Lawrence Central, F, Jr.
Lucas Grose, Warsaw, F, Sr.
Eron Harris, Lawrence North, G, Sr.
Austin Hatch
, FW Canterbury, F, Jr.
R. J. Hunter, Pike, G, Sr.
Patrick Ingram, North Central, G, Sr.
Demetrius Jackson, Marian, G, Jr.
Milos Kostic, Bishop Noll, C, Jr.
Darius Latham, North Central, F, Jr.
Jaquan Lyle, Evansville Bosse, G, So.
Matt O'Leary, Terre Haute North, F, Sr.
Nick Osborne, Muncie Central, F, Sr.
Taylor Rainey, New Palestine, G, Sr.
Mike Ramey, Southport, F, Sr.
Elijay Ray, Bowman Academy, F, Sr.
Joe Reed, Center Grove, F, Sr.
Kendall Rollins, Pike, F, Jr.
Brenton Scott, FW Northrop, G, Jr.
Edward Seay, Merrillville, F, Sr.
Jay Simpson, La Lumiere, F, Sr.
Anthony Swanigan, Pike, F, Sr.
Kellon Thomas, Southport, G, Sr.
Zavier Turner, Pike, G, Jr.