High-SchoolLacrosse:

Justin Guterding
August, 15, 2012
8/15/12
6:09
PM ET
By
Mike Loveday
| ESPN.com
RELATED LINKS:
Warrior 40 Day 1 Photo Gallery
|
Warrior 40 Day 2 Photo Gallery
|
Warrior 40 Day 3 Photo Gallery
COMMERCE CITY, Colo. --
The Warrior 40 brings together 40 of the best high school lacrosse players in the country for two days of competition and camaraderie, but what many people see is the competition that happens on the field.
Here are some news and notes from behind the scenes.
What's In a Name
If ESPNHS were to do an All-Name team there is no doubt St. Mark's (Dallas) defender Bear Goldstein would make the list.
But he might have to make the list twice since Bear is not Goldstein's birth name, but a nickname.
The rising senior's given name is Sierra Moon. According to Goldstein's father Robert, it took a few days for them to give their newborn an official name so they took to calling him their little bear and the nickname stuck.
"Even his report cards come home with Bear on them," Robert said. "Nobody calls him Sierra."
Sierra is named after the mountain range and keeps with the family theme. Bear's older sister is Everest Star.
Giving Back
As part of the athletes' Day 1 activities they worked with Special Olympic athletes to show them how to play lacrosse.
Athletes from both camps were jovial as players showed the Olympians how to scoop, throw and shoot.
"It was awesome. I've worked with Notre Dame School, which is a school for special needs in Dallas and I love coming out and teaching the kids how to do this stuff," Dallas Jesuit goalie Daniel Morris said. "When I see them smile it puts a smile on my face."
Old-timers
A first for the Warrior 40 was the selection of five players that participated in the event last year.
Wilkins Dismuke from Rock Canyon (Lone Tree, Colo.), Nick Fields from Bullis (Potomac, Md.), Danny Fowler from Chaminade (Mineola, N.Y.), Justin Guterding from Garden City (N.Y.) and Mac Pons from Boys' Latin (Baltimore) are the first two-time selections in Warrior 40 history.
"I feel a little more like I belong this year," Fowler said. "Last year I was the young kid coming up and I was still getting recruited. This year I can loosen up a little bit and just have fun."
Being in the group of returnees, the players have been thrust into the role of advisor to the first-year athletes.
"A lot of the guys are asking me questions like 'what's next,'" Guterding said. "I just tell them to follow the schedule."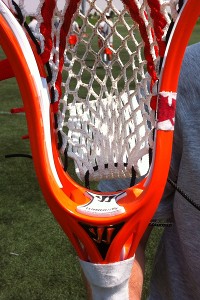 Mike Loveday/ESPNHSAustin Shanks shows his Canadian pride by applying tape to his Warrior 40 lacrosse stick.
Rep Your Country
This year marks the first year the Warrior 40 became a multi-national event with the selection of two Canadian players to the roster: Jeremy Bosher from Norkam Senior (Kamloops, British Columbia) and Austin Shanks from Ontario.
Shanks is already committed to Michigan.
Both players realize the opportunity to represent their country and be counted among some of the best high school lacrosse players in North America.
"From where Canada was and where it is now we're a lot more noticed now," Shanks said. "Before we didn't get many looks. Now coaches and scouts weigh it even with the U.S. now. It's cool how far Canada's come."
"We're not only representing ourselves, but part of Canada," Bosher added. "It's a huge honor. I know there's a ton of guys back home that could be here."
Shanks is made sure his country was represented during the game by using tape with the Canadian Maple Leaf on his stick.
August, 14, 2012
8/14/12
8:34
PM ET
By
Mike Loveday
| ESPN.com
RELATED LINKS:
Warrior 40 Day 1 Photo Gallery
|
Warrior 40 Day 2 Photo Gallery
|
Warrior 40 Day 3 Photo Gallery
COMMERCE CITY, Colo. -- Four athletes broke the 100 mph mark for the first time in event history as the
Warrior 40
kicked off at Dick's Sporting Goods Park in Commerce City, Colo. on Tuesday.
Kieran Eissler from Coronado (Las Vegas) won the fastest shot skill competition with a 103 mph shot in the final to set a new Warrior 40 record.
"Paul Rabil is my idol and when I saw him break the world record I thought if I work hard in the weight room and practice every day I can do that too," Eissler said. "I've been clocking my shot for a year now. I've been using weighted shafts and doing everything I can. About six months ago I was in the high 90s and my brother and I were working hard every day and it's progressively gotten faster week by week. My goal is to hit 106 before the year ends."
However, Eissler was not the first Warrior 40 athlete to break the century mark. JT Blubaugh from St. Francis DeSales (Columbus, Ohio) set the tone for the day when he laced a 100 mph shot on the third try to break the previous record of 99 mph set by Timothy Stackpole at the 2011 event.
La Salle (Wyndmoor, Pa.) rising senior Matt Rambo hit 102 and John-Jay (Cross River, N.Y.) defender Jack Lambert hit 101 to make it four players to make it into triple digits.
Rabil, of Major League Lacrosse's Boston Cannons, set the World Record of 111 mph in 2010.
Better With Age
Nick Fields from Bullis (Potomac, Md.) is one of four
returning Warrior 40 athletes
. This year the rising senior won the agility competition with a time of 10.41 seconds.
The defender placed in the Top 10 as a sophomore last year, but held the top spot for the entire event this season.
"I knew how to cut and that's a football thing and we've been doing drills for that all summer," Fields said.
Jack Lambert from John-Jay (Cross River, N.Y.) placed second with a time of 10.65 while Bear Goldstein from St. Mark's (Dallas) and Garret Van de Ven from Dallas Jesuit (Dallas) tied for third with a time of 10.78.
Mile High Impact
Known as the Mile High City, Denver is one mile above sea level and according to the Denver Convention and Visitors Bureau, even finely tuned athletes can feel the difference.
The post on the board's High Altitude Tips webpage
recommends that runners who normally run 10 miles a day opt for six instead, for example.
Ken Clausen was a four-time All-American at the University of Virginia and was drafted by the Denver Outlaws in 2010 and knows a little about the effects of the elevation change.
"I remember the first game I played with the Outlaws. I told the trainer I was going to die. I thought I was going to pass out," Clausen said. "Even more than playing I remember going up the stairs to my apartment and having to stop and catch my breath."
But after one day of skills and drills, the effects didn't seem to weigh on the minds of the athletes who are competing 10 miles outside of Denver.
"You can definitely feel it. It's not too bad, but as you keep going harder and harder you can tell it's harder to breathe." Justin Guterding from Garden City (N.Y.) said. "We're not too worried about it; this is all for fun and I don't see one guy out here who hasn't had a smile on his face all day."
"I've noticed it's not as humid as it is in Florida," Lake Highland Prep (Orlando, Fla.) rising senior Devon Lewis said. "You don't sweat as much out here as you do in Florida and I feel like I'm running better."
The Warrior 40 athletes take the field at 10:40 a.m. Wednesday as part of the Warrior 40 final competition.
To get live updates, follow ESPNHS Lacrosse editor Mike Loveday on Twitter
@ESPNMike
in addition to
@Warrior40Lax
and
#Warrior40
.
July, 18, 2012
7/18/12
6:00
AM ET
By
Mike Loveday
| ESPN.com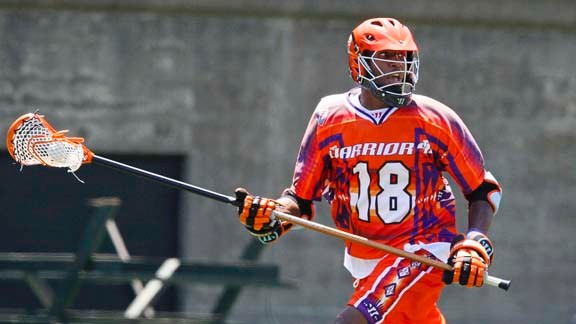 Doug Austin/ESPNHSHeaded off to Johns Hopkins Nick Fields of Bullis (Potomac, Md.) made the Warrior Lacrosse All-America second team.
ESPNHS releases its selections for the Warrior Lacrosse All-Americans.
Criteria for inclusion in the Warrior Lacrosse All-American boys' team includes, but not limited to: being named a Player of the Year, first team all-league or US Lacrosse All-American. College recruiting status also plays a role in the selection process.
Eleven players each were named to the first team with 12 players earning second team honors. The breakdown consisted of three attackers, midfielders, defenders and one goalie. One spot is considered open on first team while two were open on the second team and awarded to the best possible player, regardless of position.
May, 3, 2012
5/03/12
6:48
AM ET
By
Mike Loveday
| ESPN.com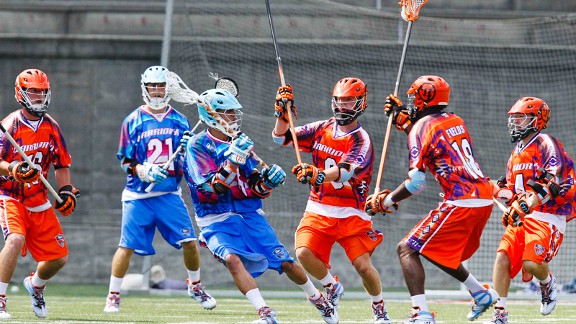 Doug AustinMac Pons from Boys' Latin is one of the first five players selected to the 2012 Warrior 40.
Today ESPNHS announces the first five players to be added to the 2012
Warrior 40 roster
.
Four of the five are returnees from last year's event while the fifth is a newcomer to the event and the No. 1 player in the ESPN Top 50 Junior list.
The
Warrior 40
is a three-day competition that features the nation's top underclass high school lacrosse players. Players will receive coaching from Major League Lacrosse stars and participate in skills competitions and a final competition.
This year's competition
takes place Aug. 13-15
at Dick's Sporting Goods Park in Commerce City, Colo.
April, 20, 2012
4/20/12
5:36
AM ET
By
Mike Loveday
| ESPN.com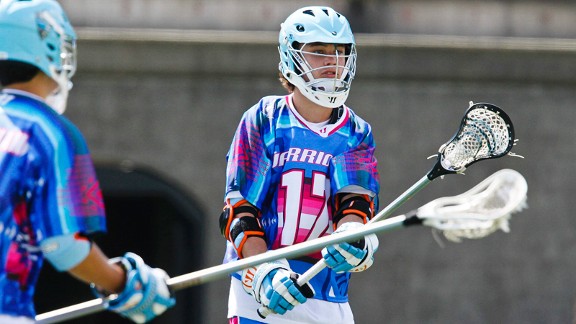 Doug AustinWilkins Dismuke is one of several players looking to make the Warrior 40 for the second time.
The third annual Warrior 40 competition is Aug. 13-15 in Commerce City, Colo. The three-day event hosts the nation's best high school boys lacrosse players.
Each week until the final roster is announced, ESPNHS will profile four athletes from our
Warrior 40 Tracker
.
April, 13, 2012
4/13/12
5:00
AM ET
By
Mike Loveday
| ESPN.com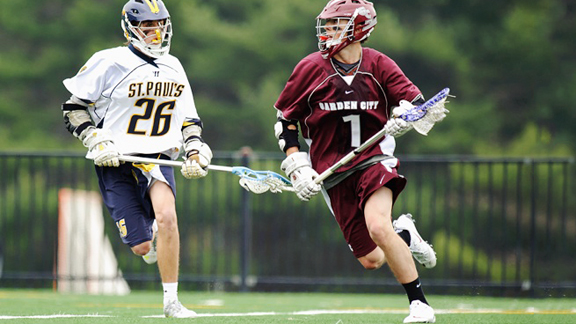 Ryan LasekJustin Guterding has helped Garden City (N.Y.) to a Top 10 ranking in the POWERADE FAB 50.
Saturday, April 14 is a big day for teams in the boys' and girls' POWERADE FAB 50.
Two events, the Checking for Cancer Invitational and the St. Stephen's & St. Agnes Spring Fling, will pit several FAB 50 teams against each other in what will be a pivotal weekend for the rankings.
August, 1, 2011
8/01/11
1:04
PM ET
By
Mike Loveday
| ESPN.com
Justin Guterding, a 2013 attacker from Garden City, has given a verbal commitment to play men's lacrosse for Duke.