High-SchoolLacrosse:

Katie Samson Lacrosse Festival
April, 27, 2012
4/27/12
5:00
AM ET
By
Brian A. Giuffra
| ESPN.com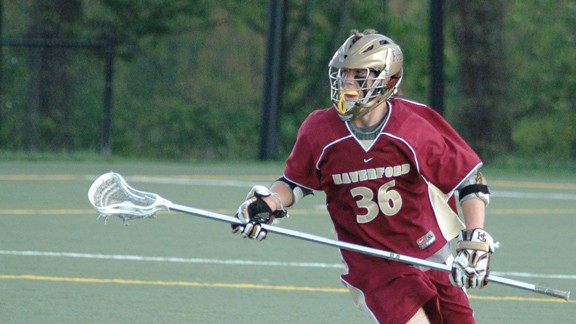 ESPNHS/ESPNHSWill McNamara and Haverford School (Haverford, Pa.) are still in the hunt for a FAB 50 National Championship.
More than 12 years after Katie Samson, a former standout goalie at Radnor (Pa.) and D-III national champion at Middlebury, was paralyzed from the chest down after suffering a spinal cord injury while sledding, the
12th annual Katie Samson lacrosse festival
takes center stage at Radnor from 9 a.m. to 6 p.m. April 28.
For the second straight year, the festival will feature two of the top-ranked boys lacrosse teams in the nation doing battle in hopes of positioning themselves for a chance to claim the No. 1 spot in the
POWERADE FAB 50
.
As an added bonus this year, two of the top girls lacrosse teams in the nation will also square off at the festival, hoping to solidify their high rankings in the FAB 50.
Yet if you ask the players, coaches and people in charge, the games are the second most important part of the all-day event.
It's the cause that matters most.
"The most important aspect of the event is the fundraising," Haverford School (Haverford, Pa.) coach John Nostrant said. "That's the message from most of the coaches to their teams. That's what the day should be about."
And that's coming from a coach whose team used its win over national-power Conestoga (Berwyn, Pa.) at last year's festival to propel itself to the
POWERADE FAB 50 national championship
. Haverford School and Conestoga -- both currently ranked in the top 15 of the FAB 50 -- will play each other again this year with national title implications on the line.
"Playing for a cause that's bigger than yourself and your team is important to a lot of players and a lot of teams in the area," said Conestoga coach Brian Samson, who is Katie Samson's brother. "We want to win, we want to win badly. But at the end of the day it's a great day for lacrosse regardless of the outcome. It really puts things in perspective."
More than 10,000 people are expected to watch 48 boys' and girls' teams play 27 games during the nine-hour event, including several marquee matchups between many of the top-ranked teams in the nation.
And at the heart of it all, with the teams, coaches, players and spectators participating, is the cause.
In only 11 years, the Katie Samson Festival has donated over a million dollars to charities supporting spinal cord injury research, care, and quality of life improvements. Every team competing raises money individually for donation and all the proceeds from the entree fees ($8 for an all-day pass) and sponsors goes to the cause.
In addition to the lacrosse games being played there are also wheelchair rugby (the sport Katie now plays) and basketball games, two fan zones for kids to play in, different raffle prizes, clothing and equipment companies and plenty of concession stands filled with a variety of food and drinks.
"It's like going to the Texas-Oklahoma football game and then having the Texas State Fair to go to afterward," event founder, director and Katie's father Peter Samson said. "There's such a tremendous feeling of good will and sportsmanship. For one day coaches put a cause in front of cutthroat competition."
Come for the cause, stay for the games
Besides Conestoga playing Haverford School, a match up between the No. 3 and No. 7 ranked teams in the POWERADE FAB 50, No. 20 La Salle (Wyndmoor, Pa.) plays Downingtown East (Exton, Pa.), No. 16 Episcopal Academy (Newtown Square, Pa.) plays Springfield (Pa.) and No. 48 Saint Joseph's Prep School (Philadelphia, Pa.) plays Radnor.
On the girls side, defending Pennsylvania state champion and
FAB 50 No. 6 Garnet Valley (Glen Mills, Pa.)
plays No. 18 St. Stephen's & St. Agnes (Alexandria, Va.) and No. 14-ranked Harriton (Rosemont, Pa.) plays previously ranked Archbishop Carroll (Radnor, PA).
"This is a great opportunity for the sport of lacrosse to give back to a great cause and do so in a highly-competitive environment," Garnet Valley coach Kate Henwood said. "We definitely take the game very seriously. But at the same time, it's a great experience either way."
Because win, lose or draw, the cause benefits, and that's what's most important.
September, 27, 2011
9/27/11
4:41
PM ET
By
Mike Loveday
| ESPN.com
The schedule for the 12th annual Katie Samson Lacrosse Festival slated for April 28 at Radnor High has been released.