High-SchoolLacrosse:

Kieran Eissler
August, 15, 2012
8/15/12
5:13
PM ET
By
Mike Loveday
| ESPN.com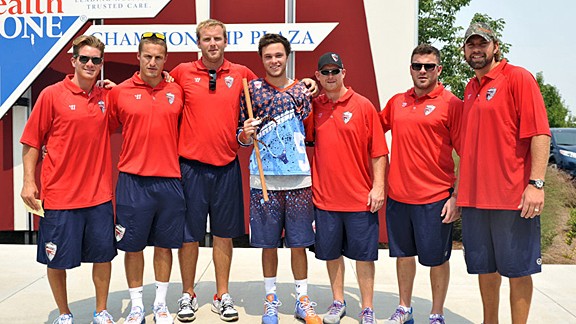 Andrew Fielding/ESPNHSWilkins Dismuke earned his second Warrior 40 overall MVP award after scoring five goals in a 16-14 victory for Team Dojo.
RELATED LINKS:
Warrior 40 Day 1 Photo Gallery
|
Warrior 40 Day 2 Photo Gallery
|
Warrior 40 Day 3 Photo Gallery
COMMERCE CITY, Colo. -- The streak is over.
Team Dojo (Blue) defeated Team Burn (Orange) 16-14 to win its first Warrior 40 final competition at Dick's Sporting Goods Park in Commerce City, Colo., Wednesday.
Wilkins Dismuke from Rock Canyon (Littleton, Colo.) was named the overall MVP for the second-straight year after scoring five goals, including four goals in the fourth quarter for Dojo.
"I was more nervous coming into this year then I was last year," Dismuke said. "I felt like there was a little more pressure this year so it means a lot to win overall MVP. I didn't want to come out and not play well this year after earning MVP last year."
The Johns Hopkins commit scored his second and third goals to put DoJo up 13-11 in the fourth quarter then followed it up with two of the game's final three goals to seal the victory.
Back and Forth
Three goals was the biggest lead for either team until the final few minutes.
Burn, which had won the previous two Warrior 40 final competitions, jumped out to a 3-0 lead in the first quarter, but Dojo roared back with two goals and an assist by Jordan Evans from Jamesville-DeWitt (DeWitt, N.Y.) and the teams ended the first tied at 4-4. The first and second quarters ended with the teams tied.
Coronado (Las Vegas) rising senior Kieran Eissler scored with 2:41 remaining to push DoJo's lead to 15-12. Dismuke's fifth goal with 1:47 remaining pushed the lead to 16-12, but goals by Burn's Dylan Maltz and Tim Rotanz capped the final two goals of the contest.
Most Valuable
Rotanz from Shoreham-Wading River (Shoreham, N.Y.) finished the game with four goals and one assist for Burn and was named Offensive MVP.
"I didn't expect it at all. I finished eating my sandwich during the (team) picture so I was obviously unprepared," Rotanz said.
Daniel Morris from Dallas Jesuit (Dallas) earned the Defensive MVP award after recording nine saves in the first half for Burn.
"It means a lot to me. It really shows the growth of lacrosse across the U.S. and in Texas," Morris said of two players from non-traditional hotbeds earning MVP honors. "It nice to show that we have some skills."
Box Score
Dojo 16, Burn 14
Dojo Leaders
Goals:
5 Dismuke; 3 Justin Guterding, Garden City (N.Y.); Evans; 2 Eissler; 1 Tate Jozokos, Governor's Academy (Byfield, Mass.); Ryan Lukacovic, Chaminade (Mineola, N.Y.); Hayes McGinley, University School (Huntington Valley, Ohio). Assists: 2 Ian King, St. Xavier (Cincinnati, Ohio):
Ground Balls:
7 Steve Larson, Chaparral (Scottsdale, Ariz.):
Saves:
7 Jake Kennedy, Torrey Pines (San Diego, Calif.); 3 Danny Fowler, Chaminade (Mineola, N.Y.).
Burn Leaders
Goals:
4 Rotanz; 2 JT Blubaugh, St. Francis DeSales (Columbus, Ohio); Connor Cazzizzaro, Jamesville-DeWitt (DeWitt, N.Y.); Dylan Maltz, Stone Bridge (Ashburn, Va.); Matt Rambo, La Salle (Wyndmoor, Pa.); 1 Colin MacIlvennie, East Side Catholic (Sammamish, Wash.); Austin Shanks, Brewster Academy (Wolfeboro, N.H.).
Assists:
2 Connor Cannizzaro, Jamesville-DeWitt (DeWitt, N.Y.); Austin Shanks, Brewster Academy (Wolfeboro, N.H.); Jake Woodring, Eden Prairie (Minn.);
Ground Balls:
11 Brian Wegner, Regis Jesuit (Lone Tree, Colo.):
Saves:
9 Morris; 7 Brian Balkam, Smithtown East (St. James).
August, 14, 2012
8/14/12
8:34
PM ET
By
Mike Loveday
| ESPN.com
RELATED LINKS:
Warrior 40 Day 1 Photo Gallery
|
Warrior 40 Day 2 Photo Gallery
|
Warrior 40 Day 3 Photo Gallery
COMMERCE CITY, Colo. -- Four athletes broke the 100 mph mark for the first time in event history as the
Warrior 40
kicked off at Dick's Sporting Goods Park in Commerce City, Colo. on Tuesday.
Kieran Eissler from Coronado (Las Vegas) won the fastest shot skill competition with a 103 mph shot in the final to set a new Warrior 40 record.
"Paul Rabil is my idol and when I saw him break the world record I thought if I work hard in the weight room and practice every day I can do that too," Eissler said. "I've been clocking my shot for a year now. I've been using weighted shafts and doing everything I can. About six months ago I was in the high 90s and my brother and I were working hard every day and it's progressively gotten faster week by week. My goal is to hit 106 before the year ends."
However, Eissler was not the first Warrior 40 athlete to break the century mark. JT Blubaugh from St. Francis DeSales (Columbus, Ohio) set the tone for the day when he laced a 100 mph shot on the third try to break the previous record of 99 mph set by Timothy Stackpole at the 2011 event.
La Salle (Wyndmoor, Pa.) rising senior Matt Rambo hit 102 and John-Jay (Cross River, N.Y.) defender Jack Lambert hit 101 to make it four players to make it into triple digits.
Rabil, of Major League Lacrosse's Boston Cannons, set the World Record of 111 mph in 2010.
Better With Age
Nick Fields from Bullis (Potomac, Md.) is one of four
returning Warrior 40 athletes
. This year the rising senior won the agility competition with a time of 10.41 seconds.
The defender placed in the Top 10 as a sophomore last year, but held the top spot for the entire event this season.
"I knew how to cut and that's a football thing and we've been doing drills for that all summer," Fields said.
Jack Lambert from John-Jay (Cross River, N.Y.) placed second with a time of 10.65 while Bear Goldstein from St. Mark's (Dallas) and Garret Van de Ven from Dallas Jesuit (Dallas) tied for third with a time of 10.78.
Mile High Impact
Known as the Mile High City, Denver is one mile above sea level and according to the Denver Convention and Visitors Bureau, even finely tuned athletes can feel the difference.
The post on the board's High Altitude Tips webpage
recommends that runners who normally run 10 miles a day opt for six instead, for example.
Ken Clausen was a four-time All-American at the University of Virginia and was drafted by the Denver Outlaws in 2010 and knows a little about the effects of the elevation change.
"I remember the first game I played with the Outlaws. I told the trainer I was going to die. I thought I was going to pass out," Clausen said. "Even more than playing I remember going up the stairs to my apartment and having to stop and catch my breath."
But after one day of skills and drills, the effects didn't seem to weigh on the minds of the athletes who are competing 10 miles outside of Denver.
"You can definitely feel it. It's not too bad, but as you keep going harder and harder you can tell it's harder to breathe." Justin Guterding from Garden City (N.Y.) said. "We're not too worried about it; this is all for fun and I don't see one guy out here who hasn't had a smile on his face all day."
"I've noticed it's not as humid as it is in Florida," Lake Highland Prep (Orlando, Fla.) rising senior Devon Lewis said. "You don't sweat as much out here as you do in Florida and I feel like I'm running better."
The Warrior 40 athletes take the field at 10:40 a.m. Wednesday as part of the Warrior 40 final competition.
To get live updates, follow ESPNHS Lacrosse editor Mike Loveday on Twitter
@ESPNMike
in addition to
@Warrior40Lax
and
#Warrior40
.
May, 24, 2012
5/24/12
7:00
AM ET
By
Lem Satterfield
| ESPN.com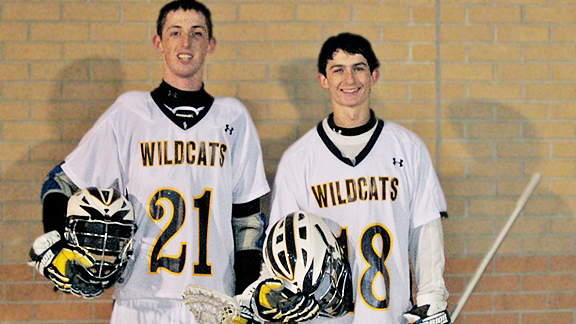 Loretta GlesenerAdam Higginbottom and Ted Glesener collected and donated 650 pieces of equipment to Iowa and Denver area lacrosse programs.
ESPNHS continues its weekly feature, Around the Crease, which takes a look at players, teams and high school lacrosse news from around the country.
May, 17, 2012
5/17/12
7:00
AM ET
By
Mike Loveday
| ESPN.com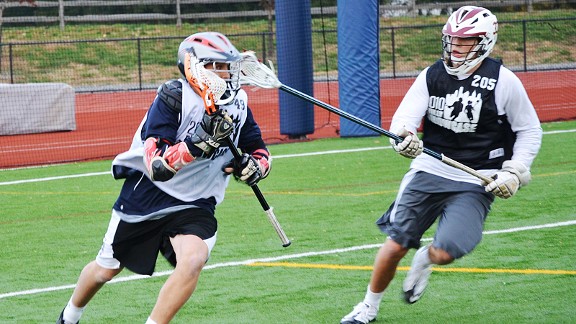 Mike LovedayAustin Pifani is among the first defenders named to the 2012 Warrior 40.
ESPNHS announces the third wave of players to be added to the 2012
Warrior 40 roster
, which includes several defenders.
The
Warrior 40
is a three-day competition that features the nation's top underclass high school lacrosse players. Players will receive coaching from Major League Lacrosse stars and participate in skills competitions and a final competition.
This year's competition
takes place Aug. 13-15
at Dick's Sporting Goods Park in Commerce City, Colo.
January, 16, 2012
1/16/12
2:20
PM ET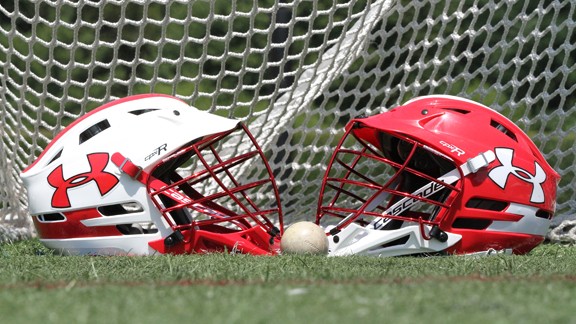 Jimmy Hurlburt/ESPNHSThe Under Armour All-American Lacrosse Classic will take place June 30, 2012 at Towson University.
Under Armour has announced the roster for the West boys' team that will participate in the 2012 Under Armour Underclass All-Star Lacrosse Tournament.
The roster features 15 players from California, five from Colorado, two from Nevada and one each from Arizona and Washington.
"This was an especially strong tryout this year," Head Coach Alex Cade said. "It was a very tough process and ultimately we could only choose 24 of the incredibly talented players at this tryout. As coaches I know we are very excited about the group of young men that were put together. We hope that the mixture of athleticism, skill and leadership will serve us well this summer."
The Under Armour Underclassmen tournament features girls and boys teams from Baltimore, Long Island, New Jersey, Philadelphia, Upstate New York, Washington, D.C., New England, Midwest, South and West and consists of players from the graduating classes of 2013-15.
The event will take place June 29 to July 1 at Johnny Unitas Stadium on the campus of Towson University in Maryland. Over the three days, the teams will battle in a 10-team pool play tournament. The weekend is capped off on July 1 at 3:30 p.m. where the winner of each pool will face off for the championship.
West Roster
Key: Name, graduation year, high school, hometown, position

Lucas Gradinger, 2013, Torrey Pines (Del Mar, Calif.), attack
Wily Osborn, 2013, Menlo (Atherton, Calif.), attack
Wilkins Dismuke
, 2013, Rock Canyon (Lone Tree, Colo.), attack
Dalton Sierra, 2013, Columbine (Littleton, Colo.), attack
Peter Aplet, 2013, Wheat Ridge (Wheat Ridge, Colo.), attack
Jacob Gonzales, 2013, Columbine (Littleton, Colo.), attack
Chris Carter, 2013, Torrey Pines (Del Mar, Calif.), defense
Kevin Fahey, 2013, Coronado (Coronado, Calif.), defense
Jack McGovern, 2013, St. Ignatius (San Francisco), defense
Chris Groel, 2013, Palisades Charter (Pacific Palisades, Calif.), defense
Kyle Mummau, 2013, La Costa Canyon (Carlsbad, Calif.), defense
Christian Guinchard, 2013, Bishops Rancho (Santa Fe, Calif.), defense /LSM
Charlie Ford, 2013, St. Ignatius (San Francisco), defense /LSM
Trent Schulte, 2014, Coronado (Coronado, Calif.), defense/LSM/FO
Russell Bartle, 2013, Highland (Gilbert, Ariz.), goalie
Cyrus Scott, 2014, St. Ignatius (San Francisco), goalie
Justin Anderson, 2014, Centennial (Las Vegas), midfield
Spencer Evans, 2013, St. Ignatius (San Francisco), midfield
Kieran Eissler, 2013, Coronado (Henderson, Nev.), midfield
Matt Emery, 2013, St. Ignatius (San Francisco), midfield
Colin Macilvennie, 2014, Eastside Catholic (Sammamish, Wash.), midfield
Mikie Schlosser, 2013, Davis (Davis, Calif.), midfield
Jake Seau, 2014, Bishops (San Diego), midfield
Jack Stebbins, 2013, Columbine (Littleton, Colo.), midfield /FO