High-SchoolLacrosse:

Matt Emery
January, 16, 2012
1/16/12
2:20
PM ET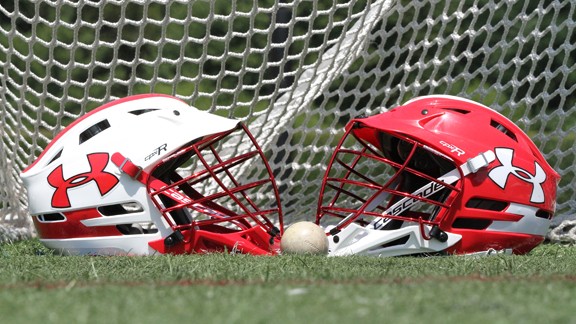 Jimmy Hurlburt/ESPNHSThe Under Armour All-American Lacrosse Classic will take place June 30, 2012 at Towson University.
Under Armour has announced the roster for the West boys' team that will participate in the 2012 Under Armour Underclass All-Star Lacrosse Tournament.
The roster features 15 players from California, five from Colorado, two from Nevada and one each from Arizona and Washington.
"This was an especially strong tryout this year," Head Coach Alex Cade said. "It was a very tough process and ultimately we could only choose 24 of the incredibly talented players at this tryout. As coaches I know we are very excited about the group of young men that were put together. We hope that the mixture of athleticism, skill and leadership will serve us well this summer."
The Under Armour Underclassmen tournament features girls and boys teams from Baltimore, Long Island, New Jersey, Philadelphia, Upstate New York, Washington, D.C., New England, Midwest, South and West and consists of players from the graduating classes of 2013-15.
The event will take place June 29 to July 1 at Johnny Unitas Stadium on the campus of Towson University in Maryland. Over the three days, the teams will battle in a 10-team pool play tournament. The weekend is capped off on July 1 at 3:30 p.m. where the winner of each pool will face off for the championship.
West Roster
Key: Name, graduation year, high school, hometown, position

Lucas Gradinger, 2013, Torrey Pines (Del Mar, Calif.), attack
Wily Osborn, 2013, Menlo (Atherton, Calif.), attack
Wilkins Dismuke
, 2013, Rock Canyon (Lone Tree, Colo.), attack
Dalton Sierra, 2013, Columbine (Littleton, Colo.), attack
Peter Aplet, 2013, Wheat Ridge (Wheat Ridge, Colo.), attack
Jacob Gonzales, 2013, Columbine (Littleton, Colo.), attack
Chris Carter, 2013, Torrey Pines (Del Mar, Calif.), defense
Kevin Fahey, 2013, Coronado (Coronado, Calif.), defense
Jack McGovern, 2013, St. Ignatius (San Francisco), defense
Chris Groel, 2013, Palisades Charter (Pacific Palisades, Calif.), defense
Kyle Mummau, 2013, La Costa Canyon (Carlsbad, Calif.), defense
Christian Guinchard, 2013, Bishops Rancho (Santa Fe, Calif.), defense /LSM
Charlie Ford, 2013, St. Ignatius (San Francisco), defense /LSM
Trent Schulte, 2014, Coronado (Coronado, Calif.), defense/LSM/FO
Russell Bartle, 2013, Highland (Gilbert, Ariz.), goalie
Cyrus Scott, 2014, St. Ignatius (San Francisco), goalie
Justin Anderson, 2014, Centennial (Las Vegas), midfield
Spencer Evans, 2013, St. Ignatius (San Francisco), midfield
Kieran Eissler, 2013, Coronado (Henderson, Nev.), midfield
Matt Emery, 2013, St. Ignatius (San Francisco), midfield
Colin Macilvennie, 2014, Eastside Catholic (Sammamish, Wash.), midfield
Mikie Schlosser, 2013, Davis (Davis, Calif.), midfield
Jake Seau, 2014, Bishops (San Diego), midfield
Jack Stebbins, 2013, Columbine (Littleton, Colo.), midfield /FO
December, 12, 2011
12/12/11
10:00
PM ET
By
Mike Loveday
| ESPN.com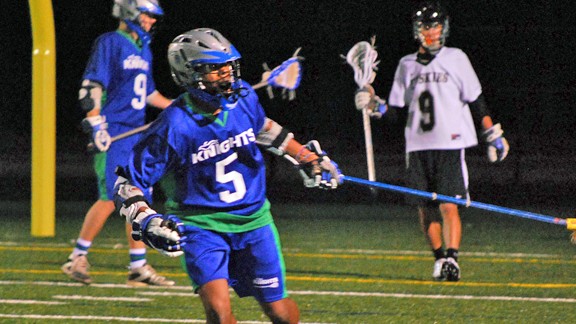 Courtesy Lake Norman Charter Lax/ESPNHSRandon Hassell from Lake Norman Charter (N.C.)
ESPNHS continues its weekly feature, Around the Crease, which takes a look at players, teams and high school lacrosse news from around the country.
Look Who's Playing
Randon Hassell, a junior from Lake Norman Charter (Huntersville, N.C.), earned All-Conference honors for his play last season and over the summer earned All-Star honors at the 2011 Gait Cup.
Now the 5-foot-9, 160-pound junior is starting to receive interest from college coaches and could be a stellar pickup for his eventual college destination.
"He has the best vision of any long pole player I've seen," Lake Norman coach Terry Gobble said. "I first met Randon when my son played on his Pop Warner football team. My son and Randon become friends and we introduced him to lacrosse in seventh grade. He adapted to the game so fast because of his athleticism. He began to separate himself from other seventh graders that started at the same time."
The long stick midfielder earned improved so much that he earned Adidas All-American honors as a freshman.
For the upcoming season Hassell is working on improving his stick skills and becoming a team leader.
He is in the gym every day and works on his shooting in the back yard and is always hitting the wall with wall ball," Gobble said. "He has been organizing his defensive teammates to work on gym and defensive skills."
Gobble said he has fielded interest from Dartmouth, Lynchburg and Berry College among others so far.
Going Clubbin'
The Golden State Titans club team is located in Northern California and boasts an impressive lineup of coaches, including Denver Outlaw, Eric Martin and 2003 Tewaaraton Trophy Winner and UVA National Champion Chris Rotelli.
The program has expanded to include 130 players from youth players to high school. The freshman team has about 25 guys and the high school group boasts 55 players.
Top Players You May Know:
Cam Bowlby, Jr., goalie, San Ramon Valley (Danville, Calif.); Matt Emery, Sr., midfield, St. Ignatius Prep (San Francisco, Calif.; Will Ernst, Jr., goalie, University (San Francisco, Calif.); Spencer Evans, Jr., midfield, St. Ignatius Prep; Charlie Ford, defense, St. Ignatius Prep, Georgetown; Michael Hernandez, Sr., attack, Piedmont (Piedmont, Calif.), Michigan; Jack McCormick, Jr., attack, De La Salle (Concord, Calif.); Wiley Osborne, Jr., attack, Menlo (Atherton, Calif.); Michael Schlosser, Jr., midfield, Davis (Davis, Calif.);
College Bound
: Of the 55 in the high school group, several have already made choices and Martin expects all 55 to play on some level.
Recent Performances
: The Titans went 10-0 in the opening round of the Battle of the Hotbeds and finished as a semifinalist this summer. During a tournament in Denver the team finished 4-1.
The team will compete in the
Adrenaline Challenge
, a team recruiting program, held in San Diego, Calif. In January.
Who can play on the team: The teams are made up mainly of players from Northern California, including several players from San Francisco.
Team Website: For more information on the Titans visit them at
GS-Lacrosse.com
.
What You Might Have Missed
Top Story:
Last week ESPNHS released the
2013 Girls' Watch List
. The players on this list will be considered for the ESPNHS 100 when it is released in the fall of 2012. Athletes are continually added through the end of the summer recruiting season.
Club and high school coaches are invited to e-mail E-mail lacrosse editor Mike Loveday at
Michael.Loveday@espn.com
for player submissions
Top Boys' Commitment:
A couple players with the club program For the Love of the Game made verbal commitments last week.
Jericho (Jericho, N.Y.) junior defender Chandler Kirby's verbal to Cornell was the highest trafficked story for the boys last week
.
Top Girls' Commitment:
The University of Maryland picked up a verbal commitment from
Emily Kift, a junior goalie for Foothill (Santa Ana, Calif.)
. ESPNHS has updated Kift's commitment with an interview with the future Terrapin.
News, Notes And What's Going On
The 2012 season is little more than two months away from beginning -- Florida starts just after Valentine's day -- and ESPNHS is looking for high school coaches to help with our 2012 Season Preview.
If you are a high school coach, please take 10 minutes and fill out our
Season Preview form
. All submisisons will be verifed as coming from the head coach before being included.