High-SchoolLacrosse:

Mike Messere
April, 26, 2012
4/26/12
5:00
AM ET
By
Lem Satterfield
| ESPN.com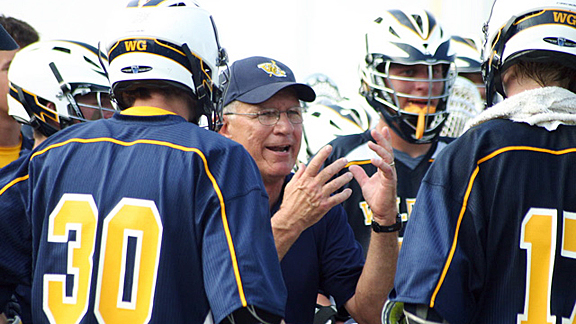 Barb MessereWest Genesee head coach Mike Messere is the all-time wins leader in high school lacrosse.
ESPNHS continues its weekly feature, Around the Crease, which takes a look at players, teams and high school lacrosse news from around the country.
Old School Gets Results
On April 19, Michael Messere guided his West Genesee (Camillus, N.Y.) team to a 7-3 victory over visiting Oswego (N.Y.). That was career win No. 748 for the coach and broke the national record for most career victories in high school boys' lacrosse.
Messere was presented with a Native American Great Lakes' lacrosse stick, as well as two cakes decorated with the No. 748 during the post game celebration. But as grateful as Messere was for the honor, he was anxious to get back to his coaching routine.
So the next morning, Messere did what he always does: He woke up at 5:30 a.m., took his labrador retrievers, Buddy and Ozzie, for a walk, fed his three horses, read the newspaper, had a cup of coffee and began scouting Jamesville-Dewitt (DeWitt, N.Y.).
"Right after the game was over, along with the celebration of it, it was over for me," said Messere, a 68-year-old resident of Camillus who has been married to Barbara Messere for 43 years.
Win 748 broke the previous record set by former Ward Melville and Mount Sinai head coach Joe Cuozzo.
In 37 seasons, Messere has compiled a career record of 749-54 and has led the Wildcats to 15 New York state titles in 21 championship game appearances. He has 29 New York Section III titles, including 17 of the past 18 and the last 10 in a row. He guided the Wildcats to 91 consecutive wins from 1981 to 1984 and was inducted into the U.S. Lacrosse Hall of Fame in 1994.
But for all the records and accolades, Messere is still working to teach his athletes.
"You tell the kids they have to be prepared, but they played the next game like they were afraid to lose. That was the hard part," Messere said, referring to the Wildcats game against Jamesville-DeWitt on April 21.
The Wildcats lost that game, 13-11, to FAB 50 ranked Jamesville-DeWitt.
"They had been building up to that game [Oswego] and that night, and I had a feeling they would relax after that and they did," said Messere. "There were a lot of things that we needed to correct, so as far as teachable moments this was it."
It is challenges like those, along with remaining consistent with his methods against the constantly changing student-athlete and technology that Messere still enjoys after all of these years.
"I just started using a computer last week, and I still don't have a cell phone. I'm old school," Messere said. "The challenge is understanding where the kids are coming from and how they think today. It used to be that kids didn't give any backtalk; they didn't have all of these computers and video games. In the offseason they were out working on their own. Today, if you don't organize things for them, they're going to stay in their houses and play video games. They have too many other distractions."
To play for West Genesee means adhering to Messere's rules.
"We don't let them have their pants down around their knees and all of that sort of stuff. You want them to be polite and be nice to people and present themselves well," said Messere. "We've had players who didn't want to tow the line. We don't keep them. We don't even let them try out. You can be judged by one guy, so you're under a microscope."
West Genesee rebounded after its loss to Jamesville-DeWitt, defeating Cicero-North Syracuse 6-1 and giving Messere career win 749. The Wildcats have six games remaining in the regular season. One of the favorites in Class A this season, West Genesee is looking to win its first state championship since 2008.
Quietly Setting A Record
It was a quick mention in the eighth paragraph in the
Jacksonville Daily News on March 14
, but Topsail (Hampstead, N.C.) senior Dominique Fortunato set a national record by scoring 20 goals in a 29-2 victory over Northside (Jacksonville, N.C.) on March 13.
Fortunato scored the Pirates' first five goals of the game and scored nine in the first half. She scored 11 in the second half, notching her 20th goal as the buzzer sounded.
The National High School Federation had the previous record of 17 goals in a game by Katie Farrell from Fayetteville-Whitewater (Ga.) in 2010.
According to the NFHS, Fortunato's 11 goals in the second half is also a record for the most goals scored in a half. The previous record was nine by Molly Malone of Ossining (N.Y.) in 2011 and was tied by Fortunato during the first half of the Northside game.
January, 31, 2012
1/31/12
5:14
AM ET
By
Mike Loveday
| ESPN.com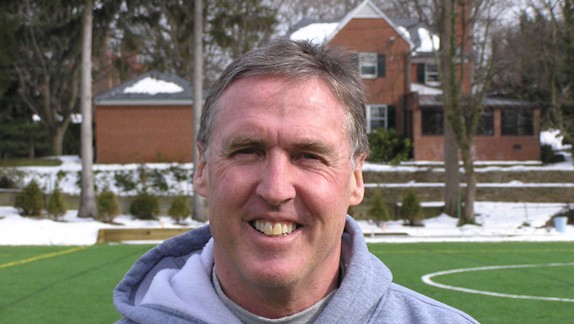 Donald Obrecht/ESPNHSBoys' Latin (Baltimore, Md.) coach Bob Shriver is 438-128 in 32 years.
ESPNHS continues its weekly feature, Around the Crease, which takes a look at players, teams and high school lacrosse news from around the country.
Record Setters
Our 2012 Season Previews have not started yet, but it is not too early to take a look at some coaches who could be reaching milestones this season.
Mike Messere should win his 750th career game this season. The West Genesee (Camillus, N.Y.) coach currently has
740 career wins
and has been coaching since 1969.
Boys' Latin (Baltimore, Md.) coach Bob Shriver looks to win his 450 career game. He is 438-128 in 32 years.
Brad Touma from Charlotte Country Day (Charlotte, N.C.) will try to win his 400th game this season. His current record is 385-109.
St. Thomas Aquinas (Fort Lauderdale, Fla.) coach Terry Crowley needs 14 wins to reach 300.
Jay Watts, Westminster (Atlanta, Ga.) girls' coach, is 16 wins away from his 250 career victory.
Ben Mrva, Hutchison (Memphis, Tenn.) girls' coach needs 12 wins to get his 100th career victory.
Steve Finnell from Garden City (Garden City, N.Y.) is 13 wins shy of 100.
Fort Mill (Fort Mill, S.C.) boys coach Jim Van Blarcom looks for his 50th career victory. His current record is 42-14.
ESPNHS will update as we discover more coaching milestones for the upcoming season. To submit coaching information, please have a head coach or assistant coach fill out our
2012 Season Preview form
.
News And Notes
The 2012 high school season is just three weeks away from starting, but Florida got interesting this week with the
return of the all-time leader in wins returning to the sideline.
ESPN 760 reported that Jeff Goldberg, who won
380 games
and 14 state championships with St. Andrew's (Boca Raton, Fla.) joined the coaching staff at St. Thomas Aquinas (Ft. Lauderdale, Fla.). Aquinas head coach Terry Crowley is No. 2 on Florida's win list with 286.
Last week ESPNHS highlighted the
Champion Challenge in which former ESPNHS No. 2 goalie Bridget Bianco
was expected to see her first college action.
Bianco recorded nine saves in her college debut, an
18-1 loss to the US Women's National Team
. The event was held at the ESPN Wide World of Sports Complex in Florida, Jan. 27-29, 2012
What You Might Have Missed
Top Story
: Having been the first team selected for the 2012 Under Armour Underclass All-Star Lacrosse Tournament, the
West team has gained a number of views
and is the most viewed story on ESPNHS for the second straight week.
The roster features 15 players from California, five from Colorado, two from Nevada and one each from Arizona and Washington.
The remainder of tryouts will be held starting in June, beginning June 2 with the South. For a complete listing of 2012 tryouts you can
visit the Under Armour site here.
Top Boys' Commitment
: One advantage of our
2012 Season Preview form
is picking up commitments that we were not aware of before. That is what happened when we received our information for Memphis University School (Memphis, Tenn.) junior Peyton Klawinski, who was
selected as the No. 50
junior.
The midfielder has chosen North Carolina.
Top Girls' Commitment
: Another Top 50 Junior has chosen her college destination.
The No. 14 player in the ESPNHS Top 50 Junior list, Linda Attanasio from Garden City (Garden City, N.Y.)
, has verbally committed to play women's lacrosse for Dartmouth.
Looking Ahead
As ESPNHS gets ready to launch its 2012 Season Previews on Feb. 7 we spend this week discussing what it takes to get ranked in the POWERADE FAB 50 (Feb. 1) and what to expect during our previews (Feb. 3).
A complete look at what lies ahead can be found on our
2012 Season Preview Central home page.