High-SchoolLacrosse:

Patrick Kelly
April, 25, 2012
4/25/12
5:00
AM ET
By
Brett Manney
| ESPN.com
Each week during the 2012 season, ESPNHS Lacrosse will select a player from each of four regions as Player of the Week.
To submit a player for consideration
fill out our submission form here
. Please be sure to provide the player's entire week worth of performances. Athletes can earn Player of the Week honors just once during the 2012 regular season.
The following players are for the week of April 15-21.
East
Patrick Kelly, Sr., Calvert Hall (Towson Md.), attack
One of the many stars on the Cardinals' roster, Kelly dismantled Loyola's (Towson, Md.) defense in a convincing 11-6 victory. Kelly notched four goals and two assists in the first half to help the Cardinals jump out to an 8-2 lead, which they never relinquished. The senior attackman did not tally a point in the second half, but his impressive first half helped the Cardinals climb back into a first place tie in the Maryland Interscholastic Athletic Association.
Southeast
Will Gardner, Sr., Charlotte Latin (Charlotte, N.C.), goalie
In a highly anticipated matchup against Christ School (Arden, N.C.), Gardner rose to the occasion. Gardner only allowed two goals in the 8-2 victory solidifying the Hawks as the team to beat in North Carolina. After posting 15 saves in the win, Gardner will be expected to continue his solid play as another game against the Greenies looms on May 4.
West
Bryce Cady, Soph., Torrey Pines (San Diego), goalie
Torrey Pines handed St. Ignatius (San Francisco, Calif.) their first loss of the season and have now taken over as one of the top teams in the Golden State. Without regular starting goalie and Bucknell recruit Jake Kennedy, the Falcons turned to their young netminder, who was stellar. Cady recorded 12 saves including eight in the second half to help the Falcons soar past the powerhouse from northern California.
Midwest
Dan Morris, Jr., Dallas Jesuit (Dallas), goalie
In a crucial game with state playoff implications on the line, the Rangers dethroned St. Mark's (Dallas) in an 8-4 victory. Ranger goalie Dan Morris was a stalwart in net stopping 12 shots and helped the Rangers to their first win over the Lions since 2003. Morris has been impressive all season as the last line of a defense, which has allowed an average of just 3.6 goals a game.
March, 10, 2012
3/10/12
4:16
PM ET
By
Mike Loveday
| ESPN.com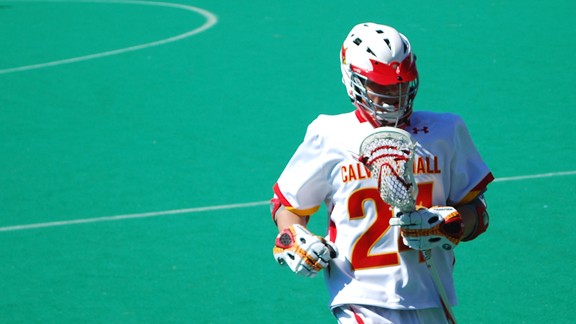 Mike Loveday/ESPNHSStephen Kelly helped lead Calvert Hall to an opening round win at the Brine King of Spring Face off Classic.
CHAPEL HILL, N.C. -- Calvert Hall (Towson, Md.) looked every bit like the No. 1 team in the nation with a 17-2 win over Lovett School (Atlanta) in the Brine King of Spring Face-off Classic.
Patrick Kelly scored four goals and dished out three assists to help the Cardinals start the season 1-0.
"This is the first step of many. We want to take away the things that we did well, but they know the things that they need to work on." Calvert Hall coach Bryan Kelly said. "When we get guys not wanting to get their points and more worried about winning, that's when we'll be really good."
Calvert Hall took advantage of two non-releasable penalties on Lovett, scoring five goals in five minutes with the man advantage. The first penalty, an illegal stick, forced Lovett to play a man down for three minutes which led Calvert Hall to score four goals to increase its lead to 5-0.
The Cardinals were voted as the No. 1 team in the
POWERADE FAB 50
, receiving six of eight first place votes. Their next game is Sunday against No. 49 St. Mark's (Dallas).
Lovett drops to 3-2. The Lions next game is at home against Whitewater (Fayetteville, Ga.).
Winning At The X
ESPNHS
No. 8 junior
Stephen Kelly went 10-1 on face offs and scored one goal in the win. Overall, Calvert Hall went 16-4 on face offs and controlled possesion for most of the game.
Short-handed
Calvert Hall started the game without Evan Connell, the No. 50 senior in the
ESPNHS 100
. The defender got sick after the team left for North Carolina on Friday and sat for the game on Saturday.
Junior Tom Bennett was knocked out of the game after he suffered a concussion in the second half.
Lovett is without the No. 6 senior, Jordan Cunningham, who tore his ACL in the first game of the year and will miss the entire season.
Other Scores From Day 2
(Scores will be updated as we recieve them)
Rockhurst Jesuit (MO) def. Christ School (N.C.), 7-6 OT
Addison Degen scored two goals, including the game-winning goal in overtime. Goalie Emerson Hodes recorded seven saves and Sam Krause scored two goals in the win for Rockhurst. Christ School suffers its first loss of the year (6-1) while Rockhurst Jesuit improves to 2-1.
St. Anne's-Belfield (Charlottesville, Va.) def. No. 49 St. Mark's (Dallas, Texas), 6-1
Ian Robertson scored three goals in the win while goalie Colin Bressan recorded 16 saves for St. Anne's. Dylan Park added a goal and Miles Davis had an assist in the win.
Blue Ridge School (St. George, Va.) def. RJ Reynolds (Raleigh, N.C.) 8-5
Andy Teasdall scored three goals and added two assists and Alex Karpinski and Davis Welch each scored a goal for RJ Reynolds. Reynolds goalie Marshall Montgomery recorded 10 saves. Reynolds falls to 1-2 while Blue Ridge improves to 2-0.
Charlotte Latin (Charlotte, N.C.) def. East Chapel Hill (Chapel Hill, N.C.), 17-7
Will Donohue scored four goals and added an assist and Emerson Schaeffer recorded eight saves in the win for Charlotte Latin. Carson Song totaled five points (three assists, two goals) and Carson Clough had three assists and a goal in the win. Jackson Voyer scored two goals and added two assists for East Chapel Hill. Charlotte Latin improves to 2-1 while East Chapel Hill falls to 1-3.
Norfolk Academy (Norfolk, Va.) def. Providence Day School (Charlotte, N.C.), 9-5
Walker Brown totaled four assists and Wyatt Devine recorded 10 assists for Norfolk Academy. David Best and Thomas Brown each scored two goals in the win. Sophomore goalie Mitch Renfrow recorded 13 saves for Providence. Steve Onak scored two goals and added an assist in the loss. Providence Day drops to 3-1 while Norfolk improves to 3-0.
Lambert (Suwanee, Ga.) def. Apex (N.C.), 10-7
Lambert came back from being down 5-4 at halftime to outscore Apex 6-2 in the second half to win. Cory Phillips scored three goals and added two assists and Teddy Ryan scored two goals with one assist in the win. Goalie Alec McNamara recorded 10 saves in the victory. Apex drops to 2-4 while Lambert improves to 9-0 this season.
St. Christopher's School (Richmond, Va.) def. Ravenscroft School (Raleigh, N.C.), 7-2
Ravenscroft is 0-1 on the season. St. Christopher's improves its record to 1-0.
Highland Park High School (University Park, Texas) def. Charlotte Country Day (Charlotte, N.C.), 9-1
Wills Manley scored four goals and Bryce Green had three assists in Highland Park's win. Michael Radford scored the lone goal for Charlotte Country Day. Highland Park improves to 2-2 while Charlotte Country Day drops to 0-4.
Cardinal Gibbons (Raleigh, N.C.) def. McCallie School (Chatanooga, Tenn.), 14-10
Chad Toliver and Briar Davis each scored three goals and added an assist for McCallie in the loss. Cardinal Gibbons improves to 5-0 while the Tornado drops to 3-1 on the season.
Christchurch (Va.) def. Broughton High School (Raleigh, N.C.), 16-8
Kenny Gaspa scored four goals and Brendan Buckley and Pat Young each scored three for Christchurch.