High-SchoolLacrosse:

Pete Aplet
August, 10, 2012
8/10/12
11:26
AM ET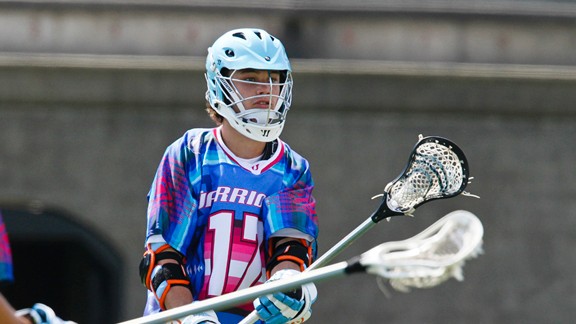 Doug Austin/ESPNHSWilkins Dismuke from Rock Canyon (Littleton, Colo.) participated in the 2011 Warrior 40.
When you think of traditional lacrosse hotbeds, the usual suspects are grouped together in the mid-Atlantic region -- Virginia; Maryland; Long Island, N.Y.; etc.
But a new hot zone may be emerging out west. Colorado is producing elite players and fielding some of the best high school teams in the country, and the national spotlight will be shining on the region Aug. 13-15, when the
Warrior 40
will be held in Commerce City, Colo.
The marquee event will provide an opportunity for Colorado to assert itself as a budding superpower, as the nation's best players in the classes of 2013-14 compete.
The Rocky Mountain State will be well represented in the game, with three Colorado natives on the Warrior 40 roster.
Pete Aplet, a Wheat Ridge (Colo.) attackman in the Class of 2013, is part of the home-grown trio, as is Regis Jesuit (Aurora, Colo.) defender Brian Wegner (2013).
The third member of the hometown group is Wilkins Dismuke, an attackman from Rock Canyon (Littleton, Colo.). He's ranked No. 17 in the
ESPNHS Top 50 Juniors list
, and he's no stranger to the Warrior 40 -- he scored three goals and
won Offensive MVP honors
at last year's event, which was held in Boston.
Dismuke is relishing the chance to perform closer to home this time around.
"The atmosphere at last year's game was great," Dismuke said, "but having it in my home state of Colorado is very exciting. It's going to be a lot of fun."
Dismuke thinks this could be an opportunity for Colorado to show how far it's come in the lacrosse world.
"Normally, kids back east look at Colorado and the west coast and think it's not up to the same level," Dismuke said. "But I think it's really coming on strong. The last couple years we've had a lot of kids going to Division I, and I think we already have eight or nine kids from my class who have committed to DI schools. The talent is there."
Colorado's ascent isn't limited to producing elite players. The level of competition in the region is getting better and better, with teams breaking into the national rankings. Arapahoe (Littleton, Colo.) went 19-0 en route to a state title in 2012 and finished the season ranked No. 33 in the
POWERADE FAB 50
.
And the state's recent surge may not be limited to the high school level. While Dismuke has committed to college powerhouse Johns Hopkins, Aplet and Wegner are staying close to home, as both have pledged to Denver.
May, 31, 2012
5/31/12
8:00
AM ET
By
Mike Loveday
| ESPN.com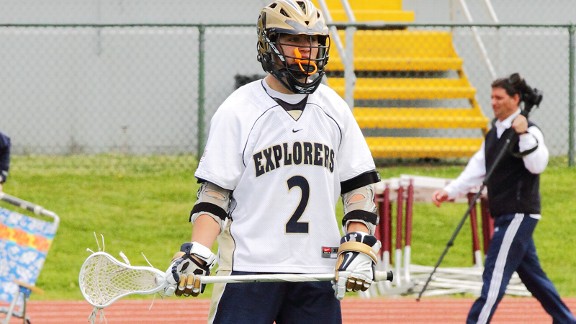 Jimmy HurlburtSean Coleman will join La Salle teammate Matt Rambo as part of the 2012 Warrior 40.
ESPNHS announces the fifth wave of players to be added to the 2012
Warrior 40 roster
.
This week 10 players are being added to bring the roster total to 29 confirmed atheltes. The entire 40-man roster is expected to be completed over the next few weeks.
The
Warrior 40
is a three-day competition that features the nation's top underclass high school lacrosse players. Players will receive coaching from Major League Lacrosse stars and participate in skills competitions and a final competition.
This year's competition
takes place Aug. 13-15
at Dick's Sporting Goods Park in Commerce City, Colo.
April, 27, 2012
4/27/12
9:00
AM ET
The third annual Warrior 40 competition is Aug. 13-15 in Commerce City, Colo. The three-day event hosts the nation's best high school boys lacrosse players.
Each week until the final roster is announced, ESPNHS will profile four athletes from our
Warrior 40 Tracker
.
Justin Anderson, Soph., Centennial (Las Vegas, Nev.), midfielder
Anderson could bring some West Coast flavor to the Warrior 40, as he's one of the region's top players regardless of class. A midfielder, Anderson excels at moving the ball and creating for his teammates. He showed his all-around skills in an April 17 game against Spring Valley (Las Vegas, Nev.), totaling seven goals and five assists in a 21-7 win. Despite being one of the younger players on the Warrior 40 Watch List, Anderson has to be given serious consideration at this point. The sophomore committed to North Carolina in March.
Tyler Andreassi, Jr., Sachem North (N.Y.), long stick midfielder
As one of the top long stick midfielders in the country, Andreassi brings great versatility to the position. He's capable of shutting down elite offensive midfielders and creating opportunities going the other way. Andreassi is ranked No. 37 in the
ESPNHS Top 50 Juniors
, and he's No. 3 among LSMs. He has committed to Stony Brook, where he will play with his older brother Michael, a sophomore attackman for the Sea Wolves.
Pete Aplet, Jr., Wheat Ridge, (Colo.), attackman
With his ability to apply constant pressure in the offensive end, Aplet would seem like a natural to earn a Warrior 40 invite this summer. And he wouldn't have to travel very far, either, as this year's Warrior 40 is being
held in Denver
. So far this season, the junior attack has compiled 40 goals and 32 assists in 13 games. He has already enjoyed four four-goal games this spring.
Nick Aponte, Jr., West Islip (N.Y.), midfielder
Ranked No. 26 in the
ESPNHS Top 50 Juniors
, the Aponte has lived up to that billing by scoring clutch goals all season long for West Islip. With Aponte leading the way, West Islip is currently 8-1 and ranked No. 6 in the
POWERADE FAB 50
. The midfielder is currently undecided on college.
January, 16, 2012
1/16/12
2:20
PM ET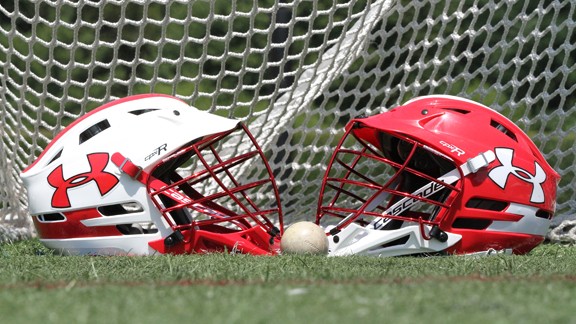 Jimmy Hurlburt/ESPNHSThe Under Armour All-American Lacrosse Classic will take place June 30, 2012 at Towson University.
Under Armour has announced the roster for the West boys' team that will participate in the 2012 Under Armour Underclass All-Star Lacrosse Tournament.
The roster features 15 players from California, five from Colorado, two from Nevada and one each from Arizona and Washington.
"This was an especially strong tryout this year," Head Coach Alex Cade said. "It was a very tough process and ultimately we could only choose 24 of the incredibly talented players at this tryout. As coaches I know we are very excited about the group of young men that were put together. We hope that the mixture of athleticism, skill and leadership will serve us well this summer."
The Under Armour Underclassmen tournament features girls and boys teams from Baltimore, Long Island, New Jersey, Philadelphia, Upstate New York, Washington, D.C., New England, Midwest, South and West and consists of players from the graduating classes of 2013-15.
The event will take place June 29 to July 1 at Johnny Unitas Stadium on the campus of Towson University in Maryland. Over the three days, the teams will battle in a 10-team pool play tournament. The weekend is capped off on July 1 at 3:30 p.m. where the winner of each pool will face off for the championship.
West Roster
Key: Name, graduation year, high school, hometown, position

Lucas Gradinger, 2013, Torrey Pines (Del Mar, Calif.), attack
Wily Osborn, 2013, Menlo (Atherton, Calif.), attack
Wilkins Dismuke
, 2013, Rock Canyon (Lone Tree, Colo.), attack
Dalton Sierra, 2013, Columbine (Littleton, Colo.), attack
Peter Aplet, 2013, Wheat Ridge (Wheat Ridge, Colo.), attack
Jacob Gonzales, 2013, Columbine (Littleton, Colo.), attack
Chris Carter, 2013, Torrey Pines (Del Mar, Calif.), defense
Kevin Fahey, 2013, Coronado (Coronado, Calif.), defense
Jack McGovern, 2013, St. Ignatius (San Francisco), defense
Chris Groel, 2013, Palisades Charter (Pacific Palisades, Calif.), defense
Kyle Mummau, 2013, La Costa Canyon (Carlsbad, Calif.), defense
Christian Guinchard, 2013, Bishops Rancho (Santa Fe, Calif.), defense /LSM
Charlie Ford, 2013, St. Ignatius (San Francisco), defense /LSM
Trent Schulte, 2014, Coronado (Coronado, Calif.), defense/LSM/FO
Russell Bartle, 2013, Highland (Gilbert, Ariz.), goalie
Cyrus Scott, 2014, St. Ignatius (San Francisco), goalie
Justin Anderson, 2014, Centennial (Las Vegas), midfield
Spencer Evans, 2013, St. Ignatius (San Francisco), midfield
Kieran Eissler, 2013, Coronado (Henderson, Nev.), midfield
Matt Emery, 2013, St. Ignatius (San Francisco), midfield
Colin Macilvennie, 2014, Eastside Catholic (Sammamish, Wash.), midfield
Mikie Schlosser, 2013, Davis (Davis, Calif.), midfield
Jake Seau, 2014, Bishops (San Diego), midfield
Jack Stebbins, 2013, Columbine (Littleton, Colo.), midfield /FO