High-SchoolLacrosse:

St. Mark's
August, 14, 2012
8/14/12
8:34
PM ET
By
Mike Loveday
| ESPN.com
RELATED LINKS:
Warrior 40 Day 1 Photo Gallery
|
Warrior 40 Day 2 Photo Gallery
|
Warrior 40 Day 3 Photo Gallery
COMMERCE CITY, Colo. -- Four athletes broke the 100 mph mark for the first time in event history as the
Warrior 40
kicked off at Dick's Sporting Goods Park in Commerce City, Colo. on Tuesday.
Kieran Eissler from Coronado (Las Vegas) won the fastest shot skill competition with a 103 mph shot in the final to set a new Warrior 40 record.
"Paul Rabil is my idol and when I saw him break the world record I thought if I work hard in the weight room and practice every day I can do that too," Eissler said. "I've been clocking my shot for a year now. I've been using weighted shafts and doing everything I can. About six months ago I was in the high 90s and my brother and I were working hard every day and it's progressively gotten faster week by week. My goal is to hit 106 before the year ends."
However, Eissler was not the first Warrior 40 athlete to break the century mark. JT Blubaugh from St. Francis DeSales (Columbus, Ohio) set the tone for the day when he laced a 100 mph shot on the third try to break the previous record of 99 mph set by Timothy Stackpole at the 2011 event.
La Salle (Wyndmoor, Pa.) rising senior Matt Rambo hit 102 and John-Jay (Cross River, N.Y.) defender Jack Lambert hit 101 to make it four players to make it into triple digits.
Rabil, of Major League Lacrosse's Boston Cannons, set the World Record of 111 mph in 2010.
Better With Age
Nick Fields from Bullis (Potomac, Md.) is one of four
returning Warrior 40 athletes
. This year the rising senior won the agility competition with a time of 10.41 seconds.
The defender placed in the Top 10 as a sophomore last year, but held the top spot for the entire event this season.
"I knew how to cut and that's a football thing and we've been doing drills for that all summer," Fields said.
Jack Lambert from John-Jay (Cross River, N.Y.) placed second with a time of 10.65 while Bear Goldstein from St. Mark's (Dallas) and Garret Van de Ven from Dallas Jesuit (Dallas) tied for third with a time of 10.78.
Mile High Impact
Known as the Mile High City, Denver is one mile above sea level and according to the Denver Convention and Visitors Bureau, even finely tuned athletes can feel the difference.
The post on the board's High Altitude Tips webpage
recommends that runners who normally run 10 miles a day opt for six instead, for example.
Ken Clausen was a four-time All-American at the University of Virginia and was drafted by the Denver Outlaws in 2010 and knows a little about the effects of the elevation change.
"I remember the first game I played with the Outlaws. I told the trainer I was going to die. I thought I was going to pass out," Clausen said. "Even more than playing I remember going up the stairs to my apartment and having to stop and catch my breath."
But after one day of skills and drills, the effects didn't seem to weigh on the minds of the athletes who are competing 10 miles outside of Denver.
"You can definitely feel it. It's not too bad, but as you keep going harder and harder you can tell it's harder to breathe." Justin Guterding from Garden City (N.Y.) said. "We're not too worried about it; this is all for fun and I don't see one guy out here who hasn't had a smile on his face all day."
"I've noticed it's not as humid as it is in Florida," Lake Highland Prep (Orlando, Fla.) rising senior Devon Lewis said. "You don't sweat as much out here as you do in Florida and I feel like I'm running better."
The Warrior 40 athletes take the field at 10:40 a.m. Wednesday as part of the Warrior 40 final competition.
To get live updates, follow ESPNHS Lacrosse editor Mike Loveday on Twitter
@ESPNMike
in addition to
@Warrior40Lax
and
#Warrior40
.
May, 24, 2012
5/24/12
8:00
AM ET
By
Mike Loveday
| ESPN.com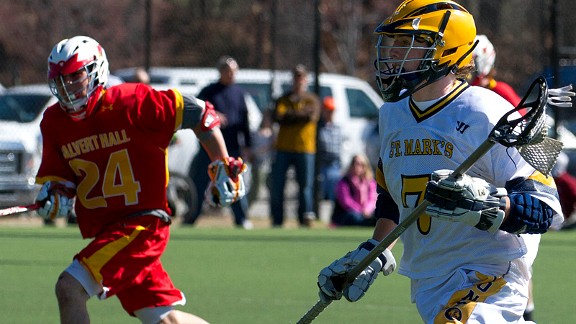 Courtesy of Robert GoldsteinBear Goldstein from St. Mark's is one of the top defenders in Texas.
ESPNHS announces the fourth wave of players to be added to the 2012
Warrior 40 roster
, highlighted by players outside the traditional hotbed areas of lacrosse. The roster now has 19 players. The final 21 are scheduled to be announced in the coming weeks.
The
Warrior 40
is a three-day competition that features the nation's top underclass high school lacrosse players. Players will receive coaching from Major League Lacrosse stars and participate in skills competitions and a final competition.
This year's competition
takes place Aug. 13-15
at Dick's Sporting Goods Park in Commerce City, Colo.
April, 11, 2012
4/11/12
5:57
AM ET
By
Brett Manney
| ESPN.com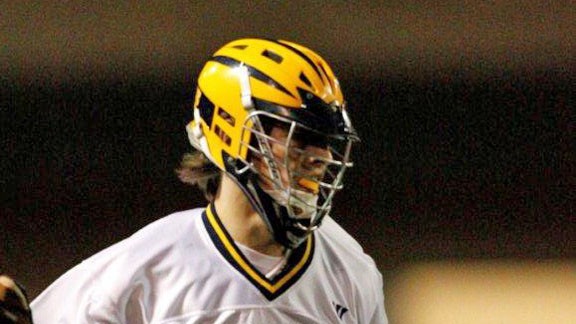 Robert Goldstein/ESPNHSGriffin Cassagne tallied two hat tricks in a week for St. Mark's (Dallas).
Each week during the 2012 season, ESPNHS Lacrosse will select a player from each of four regions as Player of the Week.
To submit a player for consideration
fill out our submission form here
. Please be sure to provide the player's entire week's worth of performances.
East
Luke Goldstock, Jr., Niskayuna (N.Y.), attack
Goldstock led the Silver Warriors to a huge early season victory and one of the biggest upsets in the
POWERADE FAB 50
last week. Behind the smooth finishing attackman, Niskayuna halted the 46-game winning streak by Jamesville-Dewitt (De Witt, N.Y.), the two-time defending New York Class B state champions. Now with the big victory and 18 goals this week, Goldstock should expect to be a marked man this season in the Empire State.
Southeast
Dan Decenzo, Sr., Chantilly (Va.), attack
In a rematch of last year's Virginia Northern Regional game, Chantilly emerged victorious over Annandale (Va.) 14-9 behind Decenzo's carving of the Atoms' defense. With his knack for scoring and setting up his teammates, Decenzo finished the game with seven points on five goals and two assists. With a potent senior-laden attack unit, Decenzo and company should once again be in the hunt to make a deep postseason run in Virginia.
West
Joe Barnard, Sr., Castle View (Castle Rock, Colo.), attack
This past week Castle View took a huge leap in their program's history with an 11-9 victory over Colorado Academy (Lakewood, Colo.). Bernard contributed a game-high seven goals to propel his squad to victory. If Bernard continues to put up big numbers at the offensive end, the program will reap the benefits of an emerging squad in the Centennial state.
Midwest
Griffin Cassagne, Sr., St. Mark's (Dallas), midfield
Cassagne has been making the most of his remaining high school career. Last week, in a showdown of state powers, Cassagne recorded a hat trick in a narrow 8-6 victory over Coppell (Texas). It was Griffin's second hat trick in a week, propelling the Lions to their 12th win. Cassagne will have to continue his dominating performance; the highly anticipated matchup with Dallas Jesuit (Dallas) lies ahead on April 19.
March, 12, 2012
3/12/12
7:33
PM ET
By
Mike Loveday
| ESPN.com
DURHAM, N.C. -- St. Mark's (Dallas) jumped out to an early lead, but it took until the final minute of the game and a goal by Will Perkins for the No. 49 team in the
POWERADE FAB 50
to defeat Durham Academy (Durham, N.C.), 6-5 in the final day of the Brine King of Spring Face-off Classic.
March, 11, 2012
3/11/12
6:18
PM ET
By
Mike Loveday
| ESPN.com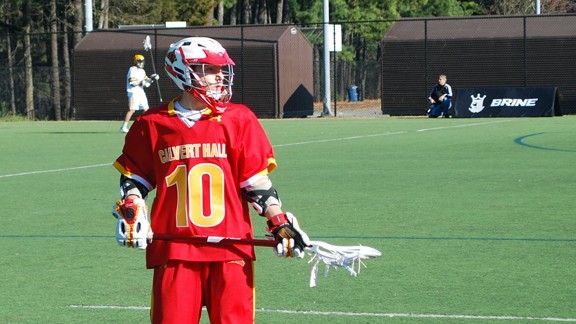 Mike Loveday/ESPNHSJordan Germershausen scored three goals in the third quarter to help Calvert Hall defeat St. Mark's at the Brine King of Spring.
DURHAM, N.C. -- In a battle of
POWERADE FAB 50
teams, No. 1 Calvert Hall (Baltimore) used an eight goal second half to defeat No. 49 St. Mark's (Dallas), 11-1 at the Brine King of Spring Face-off Classic on Sunday.
Calvert Hall took an early lead over the Lions, scoring two goals in the first quarter. The Cardinals were held to just one more goal in the first half to go into the second half with a 3-0 lead.
St. Mark's freshman goalie Conner Mullen recorded six saves in the first half to help keep the Lions in the game, but the second half opened with Stephen Kelly winning the face off and taking the ball straight to the net for a goal.
Junior Jordan Germershausen scored the next three goals to extend the lead to 7-0 and help put the Cardinals in control.
"We got outworked in ground balls and turnovers killed us in the first half," Germershausen said. "We just started clicking in the second half."
Calvert Hall got two goals apiece from Kevin Diehl and Tim Kelly in the second half to break open the game and give the Cardinals an 11-0 lead.
St. Mark's senior and Michigan commit, Will Perkins, scored the lone goal for St. Mark's.
Calvert Hall heads back to Maryland where it will host Hill Academy (Canada), Conestoga (Berwyn, Pa.) and Salesianum (Wilmington, Del.).
St. Mark's drops to 6-2 this season and has one game remaining in the King of Spring, Monday against Durham Academy.
Grace Under Fire
St. Mark's started freshman goalie Conner Mullen against Calvert Hall, marking his third varsity start.
Mullen did not seem intimidated by the Cardinals' 17 college-bound athletes, making 13 saves in the game.
"I thought Conner did an excellent job today against a very good offensive team," St. Mark's coach Hayward Lee said. "He was able to make some saves, author some clears and helped with our defensive communication."
Youth Movement
St. Mark's reached the state semifinals in Texas last season and is considered one of the top teams in the state in 2012, but the Lions' best years may be ahead of them.
Just five seniors are on the roster this season and a few times during the Calvert Hall game, the Lions' ran a line entirely made up of freshman and sophomores. St. Mark's does not have a junior varsity team so its young players gain varsity experience from the beginning of their high school career.
Another team that should be making noise over the next few years is McCallie (Chattanooga, Tenn.). The Blue Tornado's roster has just eight seniors and already boasts junior
Brier Davis who recently committed to play for Hofstra.
More Scores from Day 3
Christ School (Asheville, N.C.) def. McCallie, 10-9
Christ School had an 8-4 lead at halftime and held on to win as McCallie outscored them 5-2 in the second half. Zach Mitchell scored three goals and had one assist while Ells Parham and Ben Mulford each scored two goals to help Christ School in the win. Brier Davis scored three goals for McCallie while Bass Barfield recorded four saves. Christ School improves to 7-1 this season while McCallie drops to 3-2.
Rockhurst Jesuit (Kansas City, Mo.) def. Charlotte Country Day, 7-2
Charlie Ferber scored four goals to help Rockhurst improve to 3-1 this season. Michael Radford and Shepard Wilton each scored for Charlotte Country Day.
Highland Park (University Place, Texas) def. Christchurch (Va.), 15-14 OT
Down three goals with four minutes remaining, Highland Park tied the game with 30 seconds left to send it into overtime. Senior Nico Cancemi scored the game-winner 20 seconds into overtime. The goal was Cancemi's sixth of the game. Bryce Green and Robert Mencke each scored three goals and goalie Matthew Meaders recorded 10 saves in the win. Highland Park improves to 3-2 on the season. Christchurch falls to 1-2.
February, 25, 2012
2/25/12
8:08
AM ET
By
Mike Loveday
| ESPN.com
St. Mark's (Dallas) junior defender Bear Goldstein has verbally committed to enter the admissions process and to play men's lacrosse for Princeton.


January, 22, 2012
1/22/12
7:54
PM ET
By
Mike Loveday
| ESPN.com