High-SchoolLacrosse:

Tim Rotanz
August, 15, 2012
8/15/12
5:13
PM ET
By
Mike Loveday
| ESPN.com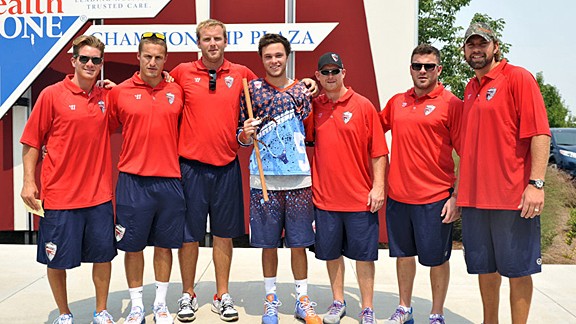 Andrew Fielding/ESPNHSWilkins Dismuke earned his second Warrior 40 overall MVP award after scoring five goals in a 16-14 victory for Team Dojo.
RELATED LINKS:
Warrior 40 Day 1 Photo Gallery
|
Warrior 40 Day 2 Photo Gallery
|
Warrior 40 Day 3 Photo Gallery
COMMERCE CITY, Colo. -- The streak is over.
Team Dojo (Blue) defeated Team Burn (Orange) 16-14 to win its first Warrior 40 final competition at Dick's Sporting Goods Park in Commerce City, Colo., Wednesday.
Wilkins Dismuke from Rock Canyon (Littleton, Colo.) was named the overall MVP for the second-straight year after scoring five goals, including four goals in the fourth quarter for Dojo.
"I was more nervous coming into this year then I was last year," Dismuke said. "I felt like there was a little more pressure this year so it means a lot to win overall MVP. I didn't want to come out and not play well this year after earning MVP last year."
The Johns Hopkins commit scored his second and third goals to put DoJo up 13-11 in the fourth quarter then followed it up with two of the game's final three goals to seal the victory.
Back and Forth
Three goals was the biggest lead for either team until the final few minutes.
Burn, which had won the previous two Warrior 40 final competitions, jumped out to a 3-0 lead in the first quarter, but Dojo roared back with two goals and an assist by Jordan Evans from Jamesville-DeWitt (DeWitt, N.Y.) and the teams ended the first tied at 4-4. The first and second quarters ended with the teams tied.
Coronado (Las Vegas) rising senior Kieran Eissler scored with 2:41 remaining to push DoJo's lead to 15-12. Dismuke's fifth goal with 1:47 remaining pushed the lead to 16-12, but goals by Burn's Dylan Maltz and Tim Rotanz capped the final two goals of the contest.
Most Valuable
Rotanz from Shoreham-Wading River (Shoreham, N.Y.) finished the game with four goals and one assist for Burn and was named Offensive MVP.
"I didn't expect it at all. I finished eating my sandwich during the (team) picture so I was obviously unprepared," Rotanz said.
Daniel Morris from Dallas Jesuit (Dallas) earned the Defensive MVP award after recording nine saves in the first half for Burn.
"It means a lot to me. It really shows the growth of lacrosse across the U.S. and in Texas," Morris said of two players from non-traditional hotbeds earning MVP honors. "It nice to show that we have some skills."
Box Score
Dojo 16, Burn 14
Dojo Leaders
Goals:
5 Dismuke; 3 Justin Guterding, Garden City (N.Y.); Evans; 2 Eissler; 1 Tate Jozokos, Governor's Academy (Byfield, Mass.); Ryan Lukacovic, Chaminade (Mineola, N.Y.); Hayes McGinley, University School (Huntington Valley, Ohio). Assists: 2 Ian King, St. Xavier (Cincinnati, Ohio):
Ground Balls:
7 Steve Larson, Chaparral (Scottsdale, Ariz.):
Saves:
7 Jake Kennedy, Torrey Pines (San Diego, Calif.); 3 Danny Fowler, Chaminade (Mineola, N.Y.).
Burn Leaders
Goals:
4 Rotanz; 2 JT Blubaugh, St. Francis DeSales (Columbus, Ohio); Connor Cazzizzaro, Jamesville-DeWitt (DeWitt, N.Y.); Dylan Maltz, Stone Bridge (Ashburn, Va.); Matt Rambo, La Salle (Wyndmoor, Pa.); 1 Colin MacIlvennie, East Side Catholic (Sammamish, Wash.); Austin Shanks, Brewster Academy (Wolfeboro, N.H.).
Assists:
2 Connor Cannizzaro, Jamesville-DeWitt (DeWitt, N.Y.); Austin Shanks, Brewster Academy (Wolfeboro, N.H.); Jake Woodring, Eden Prairie (Minn.);
Ground Balls:
11 Brian Wegner, Regis Jesuit (Lone Tree, Colo.):
Saves:
9 Morris; 7 Brian Balkam, Smithtown East (St. James).
June, 13, 2012
6/13/12
7:32
AM ET
By
Brett Manney
| ESPN.com
Each week during the 2012 season, ESPNHS Lacrosse will select a player from each of four regions as Player of the Week.
To submit a player for consideration
fill out our submission form here
. Please be sure to provide the player's entire week's worth of performances. Athletes can earn Player of the Week honors just once during the 2012 regular season.
The following players are for the week of June 3-9.
The Southeast and West seasons are complete.
June, 7, 2012
6/07/12
7:00
AM ET
By
Mike Loveday
| ESPN.com
ESPNHS announces the sixth and final wave of players to be added to the 2012
Warrior 40 roster
.
This week 12 players are being added to bring the roster total to 40 confirmed* athletes.
The
Warrior 40
is a three-day competition that features the nation's top underclass high school lacrosse players. Players will receive coaching from Major League Lacrosse stars and participate in skills competitions and a final competition.
This year's competition
takes place Aug. 13-15
at Dick's Sporting Goods Park in Commerce City, Colo.
October, 25, 2011
10/25/11
9:01
AM ET
By
Mike Loveday
| ESPN.com