High-SchoolMassachusetts:

Kaleb Tarczewski
January, 15, 2012
1/15/12
5:30
PM ET
By
Jason Jordan
| ESPN.com
SPRINGFIELD, Mass. -- St. Mark's (Southborough, Mass.) forward
Nik Stauskas
had an epiphany while he sat inside the Lions' locker room at halftime of their game against Friends' Central (Wynnewood, Pa.).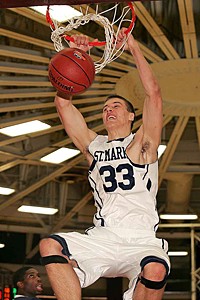 J. Anthony Roberts/ESPNHSArizona commit Kaleb Tarczewski scored 22 points and grabbed six rebounds for St. Mark's.
"If we could just continue getting the ball inside to
Kaleb (Tarczewski)
things would be a lot easier," said Stauskas, a senior who is signed to
Michigan
. "That's what we focused on. That's where I felt we'd have the best chance to win."
Good call.
Tarczewski, a 7-foot senior, scored 22 points and grabbed six rebounds to lead the Lions past the Phoenix 67-57 Sunday at the Spalding Hoophall Classic in Springfield, Mass.
Stauskas chipped in with 16 points and
Jaymie Spears
added 15 for the Lions.
Conrad Chambers
led the Phoenix with 19 points.
"They didn't have much size down there and we knew that working inside-out was the best plan," said Tarczewski, an Arizona signee who is ranked No. 6 in the
ESPNU 100
. "
Amile (Jefferson)
was their tallest player (6-foot-9) and he picked up two fouls early and they left him in so he was trying not to foul out. That's when we really started rolling."
The Lions jumped ahead early behind the hot hand of Spears, who drained two 3-pointers in the first quarter to give St. Mark's a 14-11 lead.
The Lions extended their matchup zone in the second quarter, which wreaked havoc on the Phoenix and Tarczewski and Stauskas combined to score 11 points in the final two minutes of the half to give the Lions a 32-24 lead.
St. Mark's forced eight first-half turnovers.
"We really buckled down defensively and forced them into situations where they weren't as comfortable," Stauskas said. "I felt like we would have to turn up our defensive pressure even more in the second half."
The Lions started punishing Friends' Central in the paint in the third quarter, pumping the ball inside to Tarczewski who, often times, managed to either get fouled or finish with an easy layup or dunk.
Then midway through the fourth quarter, Spears swiped a steal from
Karonn Davis
and took it the other way for the score and came back on the next play and drained a three to extend the Lions' lead to an insurmountable 13 points.
"They're a tough team and obviously Kaleb is a big body down there," said Jefferson, a senior forward who is ranked No. 24 in the
ESPNU 100
. "That gave us a lot of problems all game, but we continued to fight. We definitely could've played a lot better, but I was proud of my team for continuing to fight."
Jason Jordan is the basketball editor for ESPNHS. He can be reached at jason.x.jordan.-ND@espn.com. Don't forget to follow him on Twitter: @JayJayESPN.
December, 15, 2011
12/15/11
1:41
PM ET

Monday

|

Tuesday

|

Wednesday | Thursday |

Friday

Whether you're putting together a grouping of best quarterbacks or worst albums, or you're making that special list for Santa, there's nothing quite like a good list. So in honor of the holiday season we're bringing you lists all week long — Merry List-Mas! Today: The five best NBA players ever to come out of Massachusetts.

Jake Layman, Kaleb Tarczewski and Rene Castro are all standout basketball recruits who are likely headed to D-I colleges — and possibly beyond. Massachusetts has sent its share of school players to the NBA. But who's been the best? Here's our list of the five best players from Massachusetts to play in the NBA.

5. Michael Beasley

This is blatant cheating, as Beasley was a Maryland kid who played for six high schools in four states, but his final stop happened to be Notre Dame Prep in Fitchburg. As a senior, Beasley averaged 28 points and 16 rebounds per game, earning McDonald's All-American honors. After one brilliant college season at Kansas State (26.2 points, 12.4 rebounds), Beasley was drafted No. 2 overall by the Miami Heat in 2008. In three NBA seasons, Beasley has averaged 15.9 points and 5.8 rebounds.

4. Vinny Del Negro


A feared shooter during his time in the NBA, Del Negro is a product of Springfield (though he played his high school ball at Suffield Academy in Connecticut). Del Negro played 12 seasons in the NBA, peaking from 1994-97, when he averaged between 12.3 and 14.5 points per game. He also had three seasons where he hit more than 40 percent of his 3-pointers.

3. Dana Barros

Finally, a true Massachusetts native on the list. Barros was born in Boston and played at Xaverian, then moved on to Boston College. The 16th overall pick in the 1989 NBA draft, Barros averaged 10.5 points per game for his career and made the 1994-95 All-Star team by posting 20.6 points per game for the Philadelphia 76ers. Barros also played five productive seasons for the Celtics from 1995-2000. He finished his career as a 41.1 percent 3-point shooter.

2. Bill Laimbeer

More blatant cheating, and a dagger in the back of Boston sports fans. Laimbeer was born in Boston, but was raised in Chicago and played his high school ball in California. But his birth certificate reads "Born in Massachusetts," so he makes the list. A physical big man, Laimbeer helped the Detroit Pistons win back to back NBA titles in 1989 and 1990. He was a four-time All-Star and and an all-time great villain — just type "laimbeer + fight" into YouTube and enjoy.

1. Patrick Ewing

Ewing was born in Jamaica, but moved to Massachusetts at age 11 and attended Cambridge Rindge and Latin. One of the greatest players in NCAA history at Georgetown, Ewing was the No. 1 pick of the 1985 NBA draft by the New York Knicks. The 7-foot center made 11 All-Star teams and averaged 21.0 points, 9.8 rebounds and 2.4 blocks per game for his career. A 1998 Hall of Fame inductee, Ewing was also named one of the 50 Greatest Players of All-Time by the NBA. Unfortunately, many people remember Ewing more for moments

like this

.

And this

.

And this

.

Tomorrow: Wild Card! Check back tomorrow to find out what our list is.
November, 8, 2011
11/08/11
12:38
PM ET
See all 51 All-State teams.
With the 2011-12 hoops season set to tip off, ESPNHS has all the info you need on the top players in Massachusetts.
We've broken down the state's top 20 players into four teams based on their talent, and included a whole lot of other players who just missed the cut. Keep in mind, these selections are based on past accomplishments and projected on-court performance in addition to recruit rankings.
For a list of the top senior basketball recruits in Massachusetts, click here.

Massachusetts All-State Basketball
First Team
G: Sam Cassell Jr., Notre Dame Prep, 6-4/180, Senior
Son of former Celtics point guard will be a Division I player.
G: Myles Davis, Notre Dame Prep, 6-3/190, Junior
Athletic 2-guard has committed to Xavier.
G: Nikolas Stauskas, St. Mark's, 6-6/205, Senior
Michigan recruit is ranked No. 83 in the ESPNU 100.
F: Jake Layman, King Philip, 6-8/190, Senior
Maryland recruit exploded last season.
C: Kaleb Tarczewski, St. Mark's, 7-0/220, Senior
State's top-ranked player (No. 6 in ESPNU 100).
Second Team
G: Jaylen Brantley, Wilbraham & Monson, 5-10/150, Junior
One of the top sharpshooters in the state.
G: Rene Castro, Worcester Academy, 6-0/185, Junior
Quick guard already has Division I offers.
G: Akosa Maduegbunam, Winchendon School, 6-3/185, Senior
Scored 22.3 points per game for Charlestown last year.
F: Evan Cummins, Northfield-Mt. Hermon, 6-9/205, Senior
Banger posted 6.5 points and 9.0 rebounds per game as a junior.
F: Ethan O'Day, Northfield-Mt. Hermon, 6-8/210, Senior
Interior defender has double-double potential.
Third Team
G: Aaron Calixte, Stoughton, 5-10/175, Junior
Can drop 30 in a flash and be a pest on defense, too.
G: Anthony Dallier, Northfield-Mt. Hermon, 6-6/195, Junior
Pennsylvania native has Ivy, Patriot League interest.
F: Pete Miller, Northfield-Mt. Hermon, 6-8/205, Senior
Key part of Northfield-Mt. Hermon's big man rotation.
F: John Powell, Brimmer and May, 6-8/210, Senior
Lefty doesn't miss inside the paint.
C: Jacquil Taylor, Beaver CD, 6-8/190, Junior
Could be one of state's most dominant big men by end of winter.
Fourth Team
G: Dimitry Coronel, Tabor Academy, 6-4/185, Senior
Athletic wing has committed to Maine.
G: Eric Green, St. Mark's, 6-5/180, Senior
Should have a big year playing with Nikolas Stauskas in the backcourt.
F: Tommy Carpenter, Northfield-Mt. Hermon, 6-7/200, Senior
Gifted passer for his size, and tough enough to work the glass.
F: Steve Haladyna, St. John's Prep, 6-5/180, Senior
Is now the Eagles' No. 1 option after scoring 19.7 per game last year.
F: Keandre Stanton, Lynn English, 6-6/200, Senior
Averaged 19.5 points and 12 rebounds last year with 10 triple-doubles.
Other Top Players
Cooper Ainge, Wellesley, G, Sr.
John Basile, East Longmeadow, F, Sr.
DeKeeba Battee, Northfield-Mt. Hermon, F, Jr.
Josh Bosworth, East Longmeadow, F, Jr.
Adam Bramanti, Masconomet, G, Sr.
Tyler Delorey, Holy Name, F, Sr.
Ryan DiBernardo, Springfield Cathedral, G, Sr.
Matt Droney, Catholic Memorial, G, Sr.
Rony Fernandez, Charlestown, F, Sr.
Jonathan Fortes, New Bedford, F, Sr.
Joe Glynn, Cardinal Spellman, F, Sr.
Tykei Hallman, King Philip, F, Jr.
Dana Hines, Concord-Carlisle, C, Sr.
Sayvonn Houston, Brockton, C, Sr.
Malik James, Brighton, G, Jr.
Chris Lee, Lexington, F, Sr.
Trevon Moore, East Boston, G, Sr.
Marcus Neale, West Roxbury, G, Sr.
Jared Neumann, Northampton, F, Sr.
Chris O'Keefe, Lexington, G, Sr.
Matt Palecki, St. John's (Shrewsbury), C, Sr.
Jonathan Perez, Lowell, G, Jr.
Luis Puello, Central Catholic, G, Sr.
Kenny Reed, Reading, G, Sr.
Colin Richey, Whitinsville Christian, G, Jr.
Isaiah Robinson, St. John's Prep, F, Jr.
Rakim Smith-Lartey, Somerville, G, Sr.
Maurice Taylor, Beaver CD, F, Jr.
Mike Thorpe, Newton North, G, Sr.
Steve Wynn, New Bedford, G, Sr.
October, 19, 2011
10/19/11
10:53
AM ET
St. Mark's is familiar with being ranked No. 1 in the POWERADE state rankings, just like the Lions are used to housing the best player in Massachusetts. The latest super-prospect to come from St. Mark's is senior center Kaleb Tarczewski, a 7-footer who is ranked No. 6 in the ESPNU 100. If that's not enough, the Lions have additional firepower in the form of shooting guard Nik Stauskas, a native Canadian who checks in at No. 83 in the ESPNU 100. Together, they have St. Mark's in the top spot of the just-released preseason state rankings.
Massachusetts POWERADE preseason rankings
St. Mark's
Northfield-Mt. Hermon
Central Catholic
New Mission
Worcester Academy
Click here for complete POWERADE state rankings.