High-SchoolMassachusetts:

Nick LaSpada
November, 8, 2011
11/08/11
2:22
PM ET
ESPNBoston is reporting
that Billerica senior quarterback Nick LaSpada has a hole in his heart, as well as blood clots in his lungs. The condition has forced him to give up football for at least the rest of the season and possibly forever. LaSpada is currently in the hospital recuperating.
LaSpada, the 2009 Gatorade State Player of the Year, was rushed to the hospital on Saturday night, where a CAT scan revealed the blood clots and the heart condition.
Bob Holmes of The Boston Globe is reporting
that LaSpada is being shut down for at least six months.
To read the complete ESPNBoston story,
click here
.
October, 7, 2011
10/07/11
3:48
PM ET
The biggest game on the schedule takes place tomorrow on Clapboardtree Street in Westwood, as No. 2 Duxbury travels to meet No. 3 Xaverian. This is a huge opportunity for Xaverian, as the Hawks are also set to take on No. 1 Everett next week. That's a pretty clear path to the top spot — win both games and Xaverian will be the top team in the state. But that's much easier said than done. Duxbury has the kind of passing attack that could give the Xaverian defense some problems, as the Hawks' greatest strengths (size up front, run defense) could be neutralized.

I think this will come down to the final drive, with the deeper, better-conditioned team pulling ahead late.

The Game:
No. 2 Duxbury at No. 3 Xaverian
Saturday, 1:30 p.m.

The Players:
Duxbury — Senior quarterback Matt O'Keefe has been better than anyone could have hoped for this season, completing a high percentage and tossing 12 touchdowns through the first four games. He's also a playmaker, using his scrambling ability when his initial options are covered. Against the surging Xaverian pass rush, that could be a key factor in this game.

Xaverian — The Hawks will try to disrupt Duxbury's passing game by turning its defensive line loose to get after the QB. Defensive ends Colby Enegren and Matt Stapleton and defensive tackle Matt Hurst should have the green light to pin their ears back.

The Stakes:
Duxbury won't play another team as good as Xaverian, so a win for the Dragons would leave a wide open path to a Super Bowl title and a possible No. 1 ranking if Everett falters at any point. Xaverian, on the other hand, can control its own destiny — a win this week and a win next week against No. 1 Everett would leave the Hawks on top of the rankings.

The Prediction:
The Xaverian defense has allowed just 12 points this season, and I like their deep defensive line. I can see the pass rush disrupting Duxbury's timing just enough to cause frustration and more punts than the Dragons are used to. I think Xaverian jumps ahead early on the strength of a turnover, and by the time the Duxbury O figures things out and starts clicking in the second half, the rally will come up short.
XAVERIAN 24, DUXBURY 21

Other notable games:

No. 5 Auburn at Shepherd Hill
Dan Flink goes nuts to the tune of 150-plus rushing yards and the Rockets roll.
Auburn 35, Shepherd Hill 6

Tewksbury at Billerica
Billerica's offense has been inconsistent, but QB Nick LaSpada makes enough plays to win this one.
Billerica 21, Tewksbury 14

Taunton at No. 1 Everett
Look for the Crimson Tide to fire up the running game and put this one away early.
Everett 38, Taunton 12
September, 20, 2011
9/20/11
11:40
AM ET
In this week's edition of All-State Stock Watch, we're looking at Massachusetts football players who saw their potential value rise or fall over the past week. A player could have had a huge game, gotten a big-time scholarship offer, or broken a leg. Whatever the case, I chart all the data (in my head) and give you the biggest movers of the week.
STOCK WATCH
UP — Damion Johnson, Dennis-Yarmouth WR
In a game that featured two of the state's best quarterbacks (D-Y's Matt Montalto and Barnstable's D.J. Crook), Johnson looked like the best player on the field. The 6-foot-2 wideout pulled down seven catches for 125 yards in D-Y's 28-27 win, including a pair of touchdowns. In this
ESPNBoston story
, Montalto clearly loves throwing to Johnson, saying "I think he's the best wide receiver in high school football right now." That's good enough to earn an UP grade this week.
DOWN — Nick LaSpada, Billerica QB
As much as it pains me to do this to last weeks' guest blogger, LaSpada saw his stock take a hit this weekend. He managed to put just one touchdown on the board and was generally contained in a 12-7 loss to Woburn. He completed 8-of-17 passes for 93 yards and was intercepted twice by an aggressive Woburn defense that continuously blitzed from the outside in an attempt to keep LaSpada in the pocket. Is that the blueprint to stopping him? If LaSpada can come back next week and prove otherwise, this DOWN grade will be a bump in the road.
UP — Tim Joy, Chelmsford LB
Chelmsford allowed 34 points in Week 1, and even though the Lions won that game, you knew Joy wouldn't be satisfied with that defensive performance. The BC-bound linebacker helped his team turn it around this week, making 10 tackles and keeping rival Acton-Boxboro off the scoreboard in a 26-0 victory. A shutout definitely puts Joy in the UP column.
Have an insider stock tip? Don't keep it a secret — hit me on Twitter (
@ESPNHSGrimala
).
September, 16, 2011
9/16/11
11:34
AM ET
Well, it's been a great week, but it's time to say goodbye to our guest blogger,
Nick LaSpada
. But instead of letting this be a sad day, we're going to send him out with a bang. We're picking some of the biggest games from Week 2 of the football season, and the Billerica star QB has some interesting opinions on the top teams.
Once again, LaSpada's picks are in
Billerica green
.
Springfield Central (0-1) at No. 1 Everett (1-0)
Friday, 7 p.m.
LaSpada's pick
: Everett. I'm going with Everett because of the powerful offense. I don't see anyone beating them anytime soon.
Grimala's pick
: Everett. I expected more out of Springfield Central in Week 1. Everett should roll here.
No. 2 Duxbury (1-0) at Plymouth North (0-1)
Friday, 7 p.m.
LaSpada's pick
: Duxbury. We scrimmaged Plymouth North and we gave them quite a game. They weren't really sure how to adjust to our offense, and Duxbury can throw the ball. So I'm going with Duxbury in this one.
Grimala's pick
: Duxbury. Nick has this one pegged — Plymouth North won't be able to compete when Duxbury spreads them out with multiple receivers.
No. 3 BC High (1-0) at DePaul (N.J.)
Saturday, 1 p.m.
LaSpada's pick
: BC High. I'm gonna give it to BC High because of what they proved against Brockton.
Grimala's pick
: BC High. Full disclosure — I consulted
ESPNHS New Jersey
writer
Brandon Parker
for some inside info on DePaul, and he said I could safely pick BC High in this one. Hey Brandon, throw DePaul under the bus much?
No. 5 Andover (1-0) at Gloucester (0-1)
Friday, 7 p.m.
LaSpada's pick
: Andover. I know what Andover is all about. They have a lot of starters back, and we'll probably be competing with them for the MVC title.
Grimala's pick
: Gloucester. In what will be the biggest upset of the week, I think Gloucester runs the ball at will and forces a couple key turnovers to win a close game.
No. 6 Xaverian (1-0) at Waltham (1-0)
Friday, 7 p.m.
LaSpada's pick
: Xaverian. I'm not sure about either of these teams, but Xaverian is always good.
Grimala's pick
: Xaverian. Waltham won't roll over, but Xaverian has too many athletes in the passing game.
Billerica (1-0) at Woburn (0-1)
Friday, 7 p.m.
LaSpada's pick
: Billerica. I'm gonna give this one to us. I know we have to stop their running back, Chucky Ortiz. Then we'll be all set. But that's easier said than done.
Grimala's pick
: Billerica. Could you imagine if LaSpada had picked Woburn? He really dodged a bullet there...
No. 7 Auburn (1-0) at Holliston (1-0)
Friday, 7 p.m.
LaSpada's pick
: Auburn. Can't argue with that many wins.
Grimala's pick
: Auburn. I think you could line up the Rockets against the 2007 New England Patriots and I'd still pick Auburn. On to the next one...
And that will wrap it up for our very first guest blogger. Thanks to Nick for setting the bar so high and not complaining when we continued to heap homework on him. Hopefully we can trick more elite athletes into doing this throughout the year.
Follow Mike Grimala on Twitter (
@ESPNHSGrimala
).
September, 13, 2011
9/13/11
2:40
PM ET
Billerica senior quarterback Nick LaSpada is sitting in as a guest blogger for the week, and today he makes his picks for the weekly All-State Stock Watch. Turns out, the 2009 Gatorade Player of the Year is a pretty easy grader.
LaSpada's stock picks are below, with my grade thrown in as well.
STOCK WATCH
UP — Jimmy Ryan, Dracut QB
I hadn't heard anything about him coming into the season, but he was great in his first start (13 carries, 113 yards in a 13-7 win over St. John's Prep). Dracut usually has versatile QBs — you know they're going to be fast, and they're going to have a big offensive line. It's really hard to defend. It's a high-powered offense, so you have to believe they'll get better as Ryan gets more experience. I think he's going UP.
Grimala's Grade: UP
UP — A.J. Doyle, Catholic Memorial QB
It was a tough week for CM (24-0 loss to Marshfield), and I think the quarterback has to take the majority of the blame in that situation. I know in my case, whether the team executes and does well, I feel like it's in my hands. The QB is the leader on most teams, so when the team doesn't perform well, the quarterback should be stepping up and accepting responsibility. A.J. is a really good player, and I'm sure he's disappointed by what happened. I think he'll get the team focused in practice this week, and I think they'll be better in their next game, so I've gotta say he's going UP.
Grimala's Grade: DOWN
UP — Tim Joy, Chelmsford LB
Chelmsford is one of the toughest defenses in our league. They're fast all over the field, and their line is big. Joy gets to the ball no matter where it is on the field. He plays very smart football — he's always in the right gap at the right time, so it's hard to take advantage of him or make any plays against him. Their defense gave up 34 points (in a 54-34 win over Westford Academy), but I think he's definitely going UP. He had 10 tackles, so he was making plays as usual. I think he'll get the defense on track and be better as the season goes on.
Grimala's Grade: UP
Have an insider stock tip? Don't keep it a secret — hit me on Twitter (
@ESPNHSGrimala
).
September, 12, 2011
9/12/11
1:10
PM ET
Earlier today, we gave you the official ESPNHS POWERADE Massachusetts
football rankings
. Now it's time to turn things over to our
guest blogger
for the week,
Nick LaSpada
.
LaSpada:

No. 1 - Everett
I know what they stand for, the kind of teams they've had in the past. I can't expect anything less than No. 1 from them.
No. 2 - BC High
Seeing what they did against Brockton on Saturday was extremely impressive.

No. 3 - Duxbury
It looks like they have a well-balanced team that can make it very tough on you.

No. 4 - Andover
Another team that was impressive in Week 1. They can hurt you in a lot of ways.

No. 5 - Marshfield
Their win over Catholic Memorial (24-0) was probably the biggest shocker to me. Marshfield looks really good.
Nick's rankings differ from ours in a few places. We've officially got Everett at the top, Duxbury at No. 2 and BC High at No. 3. For the full ESPNHS rankings,
click here
.
September, 12, 2011
9/12/11
12:52
PM ET
With football season kicking off in Massachusetts, I figured it was the perfect time to bring in our first guest blogger of the year. You may know him as the 2009 Gatorade State Player of the Year, or as the guy on the cover of the September issue of ESPNHS magazine.
Nick LaSpada
will be hanging out all week, giving you his thoughts on Week 1 and looking forward to Week 2.
LaSpada led his Billerica squad to a 49-28 win over Burlington on Friday night, passing for 183 yards and two touchdowns, so he should be in a good mood while he sits in on the blog this week.
"I was a little sloppy," he says. "I had the normal opening-night jitters, but I got it out of the way and tried to do what we always try to do -- make good decisions and throw accurate passses."
LaSpada also ran for three touchdowns in the win.
Personally, I think a five-touchdown game pales in comparison to blogging when you measure it on the excitement scale. And I'm sure Nick agrees.
"I'm looking forward to it," he says. "It's going to be fun."
So keep checking in every day for Nick's football rankings, game previews, picks and tips.
September, 7, 2011
9/07/11
2:01
PM ET
Just for fun, I thought we'd take a different approach to our 2011 football preview. Instead of going through the top players in Massachusetts one by one, why not stage a mock fantasy draft? We rounded up 10 GMs willing to play along — a group made up of ESPNHS staff, ESPNBoston gurus and even a couple of the state's top players. After a lottery to determine the order, we jumped right in. Of course, there is no league and we probably just wasted a lot of time, but it was an amusing way to waste it. And big thanks to Nick LaSpada and Jonathan DiBiaso, two of the state's hardest-working QBs, for taking part in this. Here are the Round 1 results:
1st Annual ESPNHS Massachusetts Mock Fantasy Football Draft
Round 1, Pick 1
GM: Matt Remsberg, ESPNHS senior editor
Selection: WR/RB Armani Reeves — Catholic Memorial, Sr.
Strategy: I was tempted to take Billerica's Nick LaSpada or Everett's Jonathan DiBiaso here, but I'm reluctant to take a QB in the first round of any fantasy draft — even fake high school fantasy drafts. I love Reeves' versatility, and the Penn State commit should rack up the TDs this season.
Round 1, Pick 2
GM: Brandon Parker, ESPNHS associate editor
Selection: QB Jonathan DiBiaso — Everett, Sr.
Strategy: I normally don't like taking quarterbacks this high either, but it's hard to look past the numbers DiBiaso put up last year. The two times I've won fantasy football titles, quarterbacks have been critical (hello Tom Brady in 2007), and after DiBiaso's junior campaign of 43 scores and just four interceptions, I like this kid running the show for my squad.
Round 1, Pick 3
GM: Chris Parish, ESPNHS associate editor
Selection: RB George Craan — Concord-Carslisle, Sr.
Strategy: Normally I'd take LaSpada, but I really want to see if he picks himself. So instead I'm going with George Craan. He's got perfect size to dominate at 5-11 and 210 pounds, and his numbers last season don't lie. He'll go for more than 2,000 yards this year and I think he'll find the end zone 26 or 27 times, and you can't ignore numbers like those in a fantasy draft.
Round 1, Pick 4
GM:
Nick LaSpada
, Billerica QB/2009 Gatorade POY
Selection: QB Nick LaSpada — Billerica, Sr.
Strategy: I really like my skill position players this year, and our offense has been working hard to be ready for the start of the season. If our team is playing well, the numbers will be there. And I feel I can change games on both offense and defense.
Round 1, Pick 5
GM: Scott Barboza, ESPNBoston editor/reporter
Selection: LB Tim Joy — Chelmsford, Sr.
Strategy: They say championships are built on defense right? Well, Joy will hope to lead the Lions to a Merrimack Valley Large title this year. The BC commit is an imposing presence at 6-2, 220 pounds and is a tackling machine with 131 stops last year.
Round 1, Pick 6
GM: Brendan Hall, ESPNBoston reporter/editor
Selection: QB Paul Mroz — Brockton, Sr.
Strategy: In my opinion, the most underrated passer in New England. They grow up quick in the City of Champions, and it's hard not to root for this kid after everything he's been through off the field. I definitely want this kid in the clutch — he's a natural leader.
Round 1, Pick 7
GM:
Jonathan DiBiaso
,
Everett
QB
Selection: RB Andrew Coke — Andover, Sr.
Strategy: I played against Andrew last season and trained with him over the summer. He's a tough, hard-nosed runner with great vision, and in the open field I don't see anyone catching him from behind. Andover runs an offense that is built around him, and like he did last season, I see him putting up monster numbers this fall.
Round 1, Pick 8
GM: David Auguste, ESPNHS associate editor
Selection: RB Preston Cooper — BC High, Sr.
Strategy: I was immediately sold on this kid, and I'm ecstatic he fell to me at No. 8. I watched a play last year where Cooper flattened an oncoming corner with a stiff arm, juked a linebacker out of his cleats with a nasty cutback, then reversed field for a touchdown. It's those kinds of runs that lead me to believe he will improve on last year's 1,500-yard campaign. CHAMPIONSHIP!
Round 1, Pick 9
GM: Mike Grimala, ESPNHS associate editor
Selection: RB Karl Sery — Hudson, Sr.
Strategy: I'm a CMass guy, so you know I'm going outside 495 for my first pick. Sery ran for more than 1,400 yards last year, and most of his offensive line returns intact this season. I think he's a good bet to run for 20-plus touchdowns, and if he adds a few more TDs on interception returns, hey I'll take those too. Now I just have to hope there's a good QB available in the next round.
Round 1, Pick 10
GM: Jon Mahoney, ESPNHS senior editor
Selection: QB A.J. Doyle — Catholic Memorial, Sr.
Strategy: As a BC High Alum, it pains me to pick a CM kid. But North Carolina State coach Tom O'Brien knows his quarterbacks (ever heard of Matt Ryan or Russell Wilson?), so if this kid's good enough for the Wolfpack, he's good enough for my team. And with Armani Reeves as his top target, I expect a big year out of Doyle.
For Round 2 results,
click here
.
Have a suggestion for my pick? Hit me on Twitter (
@ESPNHSGrimala
).
September, 6, 2011
9/06/11
2:43
PM ET
Billerica senior QB
Nick LaSpada
was nice enough to sit down with ESPNHS over the summer and watch game footage from the 2010 season as part of our
Film Room
series. He pointed out some of the subtleties that go into reading defenses and making good decisions. It was an interesting process, and it makes me think that LaSpada is in store for a monster senior season. Check out the video below:
August, 22, 2011
8/22/11
10:41
AM ET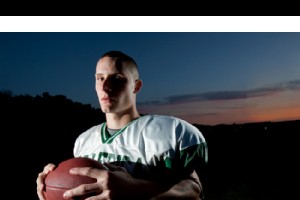 Jacob Belcher/ESPNHSNick LaSpada
Billerica senior QB Nick LaSpada was featured in the September issue of ESPNHS, and the
beautifully-written story
details his return from an ACL tear two years ago. LaSpada says he's better now than he's ever been.
So LaSpada was content to bulldoze defenders, scramble around overmatched rushers and launch deep bombs when the secondary inevitably broke down. And that style worked for him — LaSpada racked up nearly 3,000 total yards and 30 touchdowns in 2009, earning him Gatorade State Player of the Year honors.

But that player was buried on the sideline the instant LaSpada felt his leg go numb.

"My first two years, it was more about my athletic ability than being a pure quarterback," says LaSpada. "I had weaknesses with my technique and throwing style. The book on me was to keep me in the pocket and I'll make more mistakes there.

"The injury sort of gave me a reason to jump in and change that style a little bit. I had time to address it. It was kind of like hitting the reset button."
Interesting stuff from the 2009 Gatorade State Player of the Year. For the complete story,
click here
.
August, 21, 2011
8/21/11
11:53
AM ET
With 2011 being the "Year of the Quarterback" on ESPN, we thought we'd give you a sneak peak at the football All-State squad by revealing the first-team QBs. It's an exceptionally deep year for QBs in Mass, with Division I college recruits all over the place, so narrowing it down to three was tough. But here's what we decided to go with:

Massachusetts Football All-State
First Team

[QB] Jonathan DiBiaso, Everett, Senior -- Looking for second straight state championship
[QB] A.J. Doyle, Catholic Memorial, Senior -- Strong-armed passer is headed to NC State
[QB] Nick LaSpada, Billerica, Senior -- Most dangerous player in state with ball in his hands

Check back later today when we unveil the rest of the All-State team (including the QBs who just missed the cut).