High-SchoolMichigan:

Must See
April, 19, 2012
4/19/12
7:43
AM ET
By
Mark Tennis & Doug Huff
| ESPN.com
Here are this week's high school baseball players of the week. One player is chosen from each region of the country. The only other criteria is that no player will be chosen more than once during a season.
(After games of Tuesday, April 17)
EAST
Randy Rodriguez, George Washington (New York)
The Trojans' leadoff hitter had a monster week as GW captured the annual George Washington Tournament crown with a 5-1 record and avenged an early-season loss to rival Cardozo (Bayside, N.Y.) 6-0 in the title game. Rodriguez, a senior veteran, was selected the tournament MVP after going 12-for-18 in the six games, driving in eight runs and playing stellar defense at short.
SOUTHEAST
Emerson Gibbs, Jesuit (New Orleans)
The senior pitcher, who got the save for the Blue Jays in last year's Class 5A state final, posted the equivalent of a seven-inning perfect game within the team's 2-1 victory in 18 innings last week over Archbishop Rummel (Metairie, La.). Gibbs retired 21 straight batters after the sixth inning of the
marathon matchup
. He ended up throwing 15 innings and 193 pitches. Those totals are legal in Louisiana, but would make the heads spin of many coaches around the country. Gibbs has signed with Tulane.
MIDWEST
Alex Darr, University Liggett (Grosse Pointe Woods, Mich.)
The 6-foot-2, 185-pound senior right-handed pitcher/infielder is off to an impressive start for the defending Division 4 state champions. Last week, he struck out 30 batters in two wins, including a no-hitter in a 4-0 blanking of Clarenceville (Livonia, Mich.). In Liggett's home opener, Darr fanned 15 and allowed only two hits in a 13-0, five-inning win over Parkway Christian (Sterling Heights, Mich.). He also helped his own cause with a three-run first-inning homer. Later in the week, he fanned 15 in the win over Clarenceville for his second no-hitter of the season.
MIDLANDS
Sean Rubalcaba, Grand Junction (Colo.)
A familiar name for anyone who follows Colorado prep sports, Rubalcaba continued his hitting tear in a Tuesday game this week by going 4-for-5 with two doubles in a 19-12 victory over Montrose (Colo.). Rubalcaba, a three-sport athlete who was the winner of the prestigious Gold Helmet Award by the Denver Post, kept his season batting average at a hard-to-believe number (.673) and also raised his season total for doubles to 12. He had his fourth four-hit game of the season and in one of those games all four hits were doubles. Rubalcaba, who has a 3.9 GPA and totaled 2,449 yards of total offense last fall as Grand Junction's quarterback, has signed to play football at Northern Colorado.
WEST
Kyle Twomey, El Dorado (Placentia, Calif.)
Pitching no-hitters is one thing, but doing it at the Hard 9 National Classic and for a third straight shutout is something else. Twomey tossed his no-hitter and struck out 14 for the Golden Hawks in a first-round game against Galena (Reno, Nev.). They eventually went on to win the tourney title with Twomey getting the save in a 4-2 victory over El Toro (Lake Forest, Calif.). He was named the tourney's MVP. Earlier this week, Twomey pitched a three-hitter with nine strikeouts when El Dorado topped Esperanza (Anaheim, Calif.) 2-1 in a matchup between two state-ranked squads. The 6-foot-3 senior has signed with USC.
March, 5, 2012
3/05/12
9:23
AM ET
By
Christopher Parish
| ESPN.com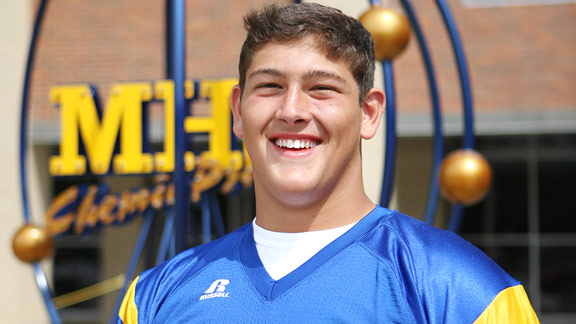 Courtesy of Chopper PhotographyMidland (Mich.) offensive tackle and Notre Dame commit Steve Elmer was named an ESPNHS Underclass All-American as a junior.
On the heels of a successful season, Midland junior
Steve Elmer
didn't spent much time relaxing. Instead, he hit the weight room.
The Notre Dame recruit stands tall at 6-foot-6 and 315 pounds and is a formidable presence on the offensive line. And not many defenders have had success getting past Elmer.
But that doesn't mean he's resting on his laurels. For him, his senior season is a chance to get better, improve on his technique and work on making the transition to the college game.
It shouldn't be a tough transition. The offensive tackle is on the
ESPNU 150 Watch List
and was named to the
ESPNHS Underclass All-American team
as a junior, a year in which he led Midland to a 9-2 record and a spot in a Division 1 district championship.
Colleges continue to send letters to Elmer with the hopes they can still sway him from his Notre Dame commitment. But Elmer said he's solid with the Irish and is looking forward to a dominant senior campaign.
So what else did one of the nation's top offensive linemen in the Class of 2013 have to say? It's time to Get Familiar with Steve Elmer.
ESPNHS:
What's keeping you busy in the offseason?
Elmer:
I'm working a lot in the weight room, just trying to stay in shape. I've been working on a lot of agility drills and technique and footwork drills.
ESPNHS:
Your junior season was really a breakout year for you. In your mind, what changed from your sophomore season to this year?
Elmer:
I definitely got better as a player. I got stronger and faster and knew our offense better and definitely had better technique. The difference was night and day. In my spring camp after my sophomore season, I worked a lot on pass sets and run blocking and first steps. I didn't really work on that much before. This season, my pass protection was way better overall and my run blocking was better, too.
ESPNHS:
You're committed to Notre Dame, but there have been stories recently that said other schools have picked up their recruitment of you. Have you softened your stance?
Elmer:
I think [the stories are a] little misleading. I'm 99 percent with Notre Dame, and that other one percent is just schools sending me letters and stuff. It's pretty crazy. One person gives their take on my recruitment and the next thing you know, you've got all sorts of weird stories out there. But I'm still committed to Notre Dame.
ESPNHS:
What was it you liked about Notre Dame that made you choose so early?
Elmer:
It was everything about it, really. I love the campus a lot. I like the coaches and the people and the tradition and the academics. Everything was a perfect fit for me.
ESPNHS:
Have the Notre Dame coaches talked with you at all about what they are looking for you to improve on in your senior season?
Elmer:
Not really. It's kind of a weird situation. I haven't really met the new O-line coach (Harry Hiestand) in person. I've talked to him on the phone. But I'm waiting to talk to him in person about specific things. I just know they want me to get bigger and faster.
ESPNHS:
What are some of your expectations for Midland, and for yourself, this season?
Elmer:
I expect my team to have another good year. Hopefully no losses. We're playing a tougher schedule this year and we'll be facing some different programs, and we're looking forward to that. I'd like to keep up on my technique for pass sets, and for run blocking I'd like to improve my blocks on linebackers. I don't think I get quite low enough.
ESPNHS:
What do you do in your spare time?
Elmer:
I don't have a ton of spare time. When I'm not working out, I'm doing homework. But I like to fish, I like to hang out with my friends and play video games.
ESPNHS:
In recruiting circles, you're practically a household name now. Have you been surprised by how much attention you've gotten?
Elmer:
It's been pretty cool. You go online or you read the newspaper and there's stories about you all the time. And to be able to go to all the places I've been to and see new places, that's definitely cool. I didn't let it all get too overwhelming, though. I made my (college) decision early.
STEVE ELMER
School:
Midland (Mich.)
Class:
2013
Position:
Offensive tackle
HT:
6-6
WT:
315
College:
Notre Dame
FAVORITES
Food:
Barbecue ribs
Movie:
"Good Will Hunting"
Athlete:
Tim Tebow
Video Game:
"Battlefield 3"
Musical Artist:
Billy Joel
Christopher Parish is an associate editor with ESPNHS. You can follow him on Twitter @CParishESPN.
February, 8, 2012
2/08/12
10:31
PM ET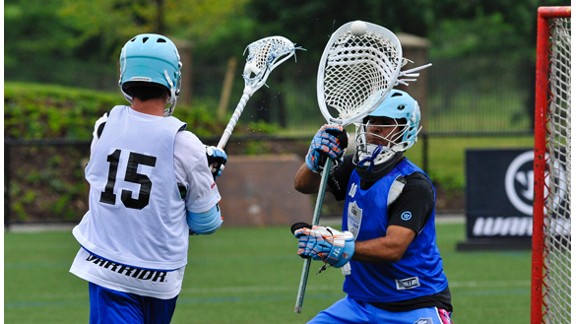 Doug Austin/ESPNHSAhmed Iftikhar from Detroit Country Day (Beverly Hills, Mich.) at the 2011 Warrior 40 held in Boston, Mass.
Related Commitment Links:
Most Recent Commits
|
Class of 2012 Boys
|
LaxPower Recruit Database
Detroit Country Day (Beverly Hills, Mich.) goalie Ahmed Iftikhar has confirmed to ESPNHS that he verbally committed to play men's lacrosse for the University of Pennsylvania.
January, 31, 2012
1/31/12
9:56
PM ET
By
Mark Tennis & Doug Huff
| ESPN.com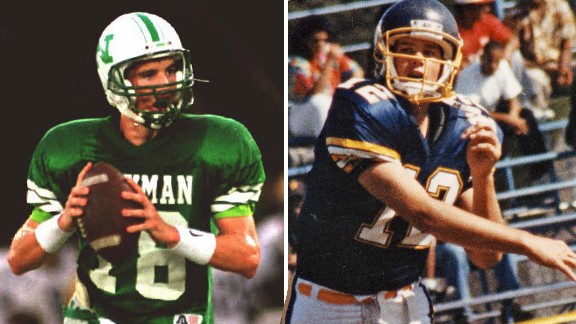 AP Photo, Serra High SchoolBefore they led their teams to Super Bowl XLVI, Eli Manning (left) and Tom Brady were high school standouts at Isidore Newman (New Orleans) and Junipero Serra (San Mateo, Calif.), respectively.
With signing day upon us and the the Super Bowl not far behind, it's a busy time for all levels of the game. Given that every player in Super Bowl XLVI played as a prep back in the day, we decided to break down the rosters for the New England Patriots and New York Giants by state and by high school.
Emerging superstar tight end
Rob Gronkowski
and fullback
Lousake Polite
of the Patriots are both from Woodland Hills (Pittsburgh). These two are also the only two players from Pennsylvania from the Patriots in this year's game.
For the Giants, star receiver
Hakeem Nicks
from Independence (Charlotte, N.C.) was part of the school's legendary 109-game win streak from 2000 to 2009 that still stands as the second-longest in U.S. history.
And with the
Great State Debate
still fresh on our minds, it's worth mentioning that California leads the way for Super Bowl participants this season with 13, while Florida (11) and Ohio (9) aren't far behind in the tally.
ALABAMA
Giants LB
Michael Boley
(Elkmont)
Giants WR
Jerrel Jernigan
(Eufaula)
Giants DL
Justin Tuck
(Central Coosa County, Rockford)
Giants DL
Osi Umenyiora
(Auburn)
ARIZONA
Giants DB
Prince Amukamara
(Apollo, Glendale)
ARKANSAS
Giants OL
Mitch Petrus
(Carlisle)
CALIFORNIA
Giants WR
Ramses Barden
(Flintridge Prep, La Canada)
Patriots QB
Tom Brady
(Junipero Serra, San Mateo)
Giants QB
David Carr
(Stockdale, Bakersfield)
Patriots DB
Patrick Chung
(Rancho Cucamonga)
Patriots WR
Julian Edelman
(Woodside)
Patriots OL
Logan Mankins
(Mariposa)
Patriots DB
Sterling Moore
(Deer Valley, Antioch)
Giants TE
Bear Pascoe
(Granite Hills, Porterville)
Giants LB
Spencer Paysinger
(Beverly Hills)
Patriots WR
Matthew Slater
(Servite, Anaheim)
Giants DL
Dave Tollefson
(Ygnacio Valley, Concord)
Patriots RB
Shane Vereen
(Valencia)
Patriots OL
Ryan Wendell
(Diamond Bar)
COLORADO
Giants DB
Derrick Martin
(Thomas Jefferson, Denver)
Patriots OL
Nate Solder
(Buena Vista)
CONNECTICUT
Patriots TE
Aaron Hernandez
(Bristol Central, Bristol)
Patriots LB
Niko Koutouvides
(Plainville)
Patriots OL
Donald Thomas
(Career Magnet, New Haven)
FLORIDA
Giants OL
David Baas
(Riverview, Sarasota)
Giants OL
Kevin Boothe
(Pine Crest, Fort Lauderdale)
Giants DL
Linval Joseph
(Santa Fe, Alachua)
Patriots WR
Chad Ochocinco
(Miami Beach)
Giants DB
Kenny Phillips
(Carol City, Miami)
Giants DL
Jason Pierre-Paul
(Deerfield Beach)
Giants DB
Antrel Rolle
(South Dade, Homestead)
Giants K
Lawrence Tynes
(Milton)
Patriots DL
Gerard Warren
(Union County, Lake Butler)
Giants LB
Jacquian Williams
(Riverview, Sarasota)
Patriots DL
Vince Wilfork
(Santaluces, Lantana)
GEORGIA
Patriots
Deion Branch
(Monroe, Albany)
Giants DB
Deon Grant
(Josey, Augusta)
Patriots LB
Gary Guyton
(Bradwell Institute, Hinesville)
Patriots DL
Kyle Love
(North Clayton, College Park)
Giants RB
D.J. Ware
(Rockmart)
ILLINOIS
Patriots DB
Sergio Brown
(Proviso East, Maywood)
Giants OL
David Diehl
(Brother Rice, Chicago)
Patriots LB
Rob Ninkovich
(Lincoln-Way Central, New Lenox)
INDIANA
Giants OL
James Brewer
(Arlington)
Giants LB
Mathias Kiwanuka
(Cathedral, Indianapolis)
Giants P
Steve Weatherford
(North Vigo, Terre Haute)
IOWA
Giants DB
Tyler Sash
(Oskaloosa)
KENTUCKY
Patriots DL
Brandon Deaderick
(Elizabethtown)
LOUISIANA
Patriots RB
Kevin Faulk
(Carencro, Lafayette)
Patriots RB
BenJarvus Green-Ellis
(St. Augustine, New Orleans)
Giants RB
Brandon Jacobs
(Assumption, Napoleonville)
Giants QB
Eli Manning
(Isidore Newman, New Orleans)
Giants DB
Corey Webster
(St. James)
MARYLAND
Patriots DB
Kyle Arrington
(Gwynn Park, Brandywine)
MASSACHUSETTS

Patriots DL
Ron Brace
(Burncoat, Worcester)
Giants LS
Zak DeOssie
(Phillips Academy, Andover)
Patriots DB
James Ihedigbo
(Amherst-Pelham Regional, Amherst)
MICHIGAN
Patriots OL
Nick McDonald
(Ford, Sterling Heights)
Giants WR
Devin Thomas
(Canton)
MISSISSIPPI
Patriots K
Stephen Gostkowski
(Madison Central, Madison)
Patriots RB
Stevan Ridley
(Trinity Episcopal, Natchez)
MISSOURI
Patriots OL
Dan Connolly
(Marquette, Chesterfield)
MONTANA
Patriots LB
Dane Fletcher
(Bozeman)
NEBRASKA
Patriots RB
Danny Woodhead
(North Platte)
NEW JERSEY
Giants WR
Victor Cruz
(Paterson Catholic, Paterson)
Patriots DB
Nate Jones
(Scotch Plains-Fanwood, Scotch Plains)
Patriots DB
Devin McCourty
(Saint Joseph Regional, Montvale)
Giants OL
Kareem McKenzie
(Willingboro)
Giants DL
Justin Trattou
(Don Bosco Prep, Ramsey)
Patriots WR
Tiquan Underwood
(Notre Dame, Lawrenceville)
NEW YORK
Giants DL
Jimmy Kennedy
(Roosevelt, Yonkers)
NORTH CAROLINA
Giants DL
Chris Canty
(Charlotte Latin, Charlotte)
Giants WR Hakeem Nicks (Independence, Charlotte)
Patriots LB
Brandon Spikes
(Crest, Shelby)
OHIO
Giants TE
Jake Ballard
(Springboro)
Giants LB
Chase Blackburn
(Marysville)
Giants OL
Jim Cordle
(Lancaster)
Patriots QB
Brian Hoyer
(Saint Ignatius, Cleveland)
Giants LB
Greg Jones
(Archbishop Moeller, Cincinnati)
Patriots OL
Matt Light
(Greenville)
Patriots
Zoltan Mesko
(Twinsburg)
Giants WR
Mario Manningham
(Harding, Warren)
Patriots DB
Antwaun Molden
(Glenville, Cleveland)
OKLAHOMA
Patriots DL
Mark Anderson
(Booker T. Washington, Tulsa)
Patriots WR
Wes Welker
(Heritage Hall, Oklahoma City)
PENNSYLVANIA
Patriots TE Rob Gronkowski (Woodland Hills, Pittsburgh)
Giants LB
Mark Herzlich
(Conestoga, Berwyn)
Giants RB
Henry Hynoski
(Southern Columbia, Catawissa)
Patriots RB Lousaka Polite (Woodland Hills, Pittsburgh)
Giants RB
Da'Rel Scott
(Plymouth Whitemarsh, Plymouth Meeting)
Giants OL
Chris Snee
(Montrose)
RHODE ISLAND
Giants DB
Will Blackmon
(Bishop Hendricken, Warwick)
SOUTH CAROLINA
Patriots DL
Shaun Ellis
(Westside, Anderson)
Patriots LB
Tracy White
(Timberland, St. Stephen)
TEXAS
Giants DL
Rocky Bernard
(Sterling, Baytown)
Patriots OL
Marcus Cannon
(Odessa)
Patriots QB
Ryan Mallett
(Texas, Texarkana)
Giants DB
Aaron Ross
(Tyler)
Giants OL
Tony Ugoh
(Westfield, Houston)
Patriots OL
Brian Waters
(Waxahachie)
Patriots DB
Malcolm Williams
(South Grand Prairie, Grand Prairie)
VIRGINIA
Patriots LS
Danny Aiken
(Cave Spring, Roanoke)
Giants RB
Ahmad Bradshaw
(Graham, Bluefield)
Patriots LB
Jerod Mayo
(Kecoughtan, Hampton)
WISCONSIN
Giants TE
Travis Beckum
(Oak Creek)
Note: List does not include OL Sebastian Vollmer of the Patriots, who is not from a U.S. high school (Germany); Rob Gronkowski attended Williamsville North (Williamsville, N.Y.) before transferring to Woodland Hills for his senior year
January, 12, 2012
1/12/12
11:26
AM ET
By
Christopher Parish
| ESPN.com
Throughout this offseason, we'll spotlight Class of 2013 quarterbacks who have a shot at making the Elite 11 finals in July. This week we profile De La Salle (Warren, Mich.) standout and Michigan commit Shane Morris.
Some of the nation's most impressive quarterbacks were at the same
Elite 11 regional camp
last May at Ohio State. It was a list that included
Chad Kelly
,
Gunner Kiel
and
Jameis Winston
. But one of the most impressive recruits in the competition was an underclassman. Warren De La Salle signal-caller
Shane Morris
stood out thanks to a unique combination of arm strength and a quick, accurate delivery. Having completed his junior season,
Morris
is looking forward to his opportunity to return to the event and vie for a spot in the finals. The standout QB talked to us about last year's event and his expectations for this year.
ESPNHS:
What was your impression of the Elite 11 camp you attended last year?
Morris:
It was an awesome event. Being at Ohio State and having some of the top quarterbacks from the Class of 2012, being around that competition, that was great. I loved that atmosphere and I had a great time just learning from other kids and coaches. We had outstanding coaches. The whole experience was great.
ESPNHS:
What are some of the things you learned?
Morris:
I was really taking in the stuff they were telling us about not forcing every throw. I don't have to throw it that hard. If I take a little off and really focus on the accuracy, I have a strong enough arm to get it there with great velocity. So I've been concentrating on that in the offseason, and I used it quite a bit this season. I feel like it helped me a lot.
ESPNHS:
How do you think your experience at the event will help you at this year's event?
Morris:
My QB coach had gone down to the event with me, and we both learned a lot of stuff from the warmups we were doing and the drills, how do do three-step and five-step drops correctly, and we went back and incorporated a lot of that stuff into our workouts. Hopefully I can take a lot of that knowledge this year and get myself into the Elite 11 final in California.
ESPNHS:
What are some of the things you've been working on this offseason?
Morris:
So far a lot of three-step and five-step drop work. I'm working on my stance, getting my hips turned around when I throw, stuff like that. I'm not leaving any little thing to chance. I'm even working on handing the ball off to the running back and taking the snap from under center. I'm not going to overlook any little thing. I'm never good enough in my opinion.
ESPNHS:
It seems like that's a pattern for you, that you're never satisfied. Is that what motivates you?
[+] Enlarge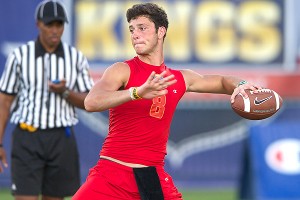 Steve Johnson/ESPNHSThe Michigan-bound Morris has a big arm and a big personality.
Morris:
Oh definitely. Last year at Elite 11, they told me I did really well. I was second behind Gunner Kiel. But with them telling me that, I walked out of there and I knew I had made some bad throws and I could have thrown a better spiral. My dad was telling me I did great, but I know I could have been better.
ESPNHS:
What were some of your thoughts as you watched Michigan in the Sugar Bowl?
Morris:
It was an awesome game. The way they played, it just really shows what the seniors went though for the past few years and what they overcame this year. Those seniors had a lot of pride.
ESPNHS:
Finally, what are some of the things you're most looking forward to about your senior season?
Morris:
Just being with my classmates, really. We went through a lot these past few years. And finally being able to play against kids my own age. I've always played against kids three or four years older than me. I think it's going to be kind of fun. All of the seniors with me who have been playing together since we were freshmen on varsity, we're finally going to play against kids who are 18 just like us. And our focus is going to be winning our school its first state championship. So that'll be a lot of fun.
SHANE MORRIS
School: De La Salle (Warren, Mich.)
Position: QB
Class: 2013
2011 Team Record: 9-3 (Lost in Division I regional final)
2011 Stats
Completions-Attempts:
121-235 (.515)
Yards:
1,684
TD:
19
INT:
7
Rushing Yards:
150
Rushing TDs:
6