High-SchoolMissouri:

ESPNHS Magazine
November, 30, 2011
11/30/11
4:55
PM ET
By
Brandon Parker
| ESPN.com
This story originally appeared in the Holiday issue of ESPNHS magazine's Missouri edition. McCluer North has started the season at 2-1.

They've been here before. You know, as Goliath, with every team lined up in hopes of playing David and knocking off the defending state champions. For McCluer North, the year was 2008. The team's drive for a repeat advanced all the way to the championship round but fell just short. So with the Stars again entering this season with a freshly minted Class 5 championship trophy and a line of Davids already forming, coach Randy Reed says this time his unit will do things a little differently.
"We're not going to live off our past; instead, we're going to challenge our guys even more," he says. "We're going to act like we haven't won anything and that there's nothing to take from us. That way, we'll have 10 desperate guys trying to make a name and statement all season long."
Of course, Reed understands it's hard to fully live in that hypothetical world, especially with nine players returning this season. Senior forward
Jordon Granger
, who averaged 14.8 points and 8.8 rebounds, will be joined by returning seniors
Galen Brown
and
Tremayne Garrett
.
All three are capable playmakers, and Reed expects even more production from Garrett this season after the guard adjusted his game last year to let standout player and current Arkansas freshman B.J. Young shine. Elevated play will certainly be needed, as the Stars compete in the tough Suburban North Conference against the likes of McCluer and Hazelwood Central.
"Losing B.J. was big, and we'll probably be more of a halfcourt-offense team because of it, but I'm excited about this year," Granger says. "If we work hard with the great pieces we have, we'll be fine."
Just as long as they remember to keep their eyes on what they want and not on what they already have.
Brandon Parker covers Missouri for ESPNHS magazine and ESPNHS.com. Follow him on Twitter @brandoncparker or email him at brandon.c.parker@espn.com.
November, 21, 2011
11/21/11
10:05
AM ET
By
Brandon Parker
| ESPN.com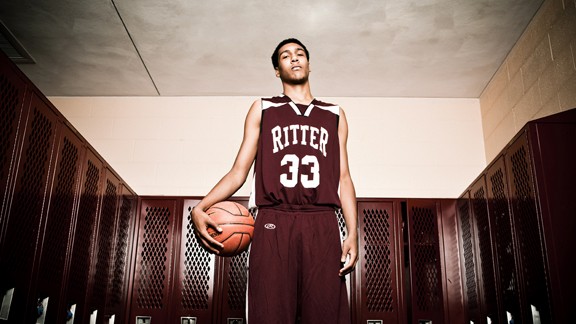 John Fedele/ESPNHSCameron Biedscheid helped lead Cardinal Ritter to a state title as a sophomore and paced the Lions in scoring last season with 29.7 points per game.
This story originally appeared in the Holiday issue of ESPNHS magazine's Missouri edition.
It's no secret that kids say the darndest things. So when children dream of being the next great musician or winning more NBA championships than Michael Jordan, most parents temper these visions with a loving dose of reality.
Kim Biedscheid (pronounced beed-shide) tried this approach with her son, Cameron, but the 4-year-old wasn't having it. So with the conviction of an evangelist and the confidence of a grizzled veteran, Cameron let his future be known.
"No joke, he told us, 'I'm going to Notre Dame, I'm going to play in the NBA and I'm going to go to the Olympics and win a gold medal,'" Kim recalls with a laugh. "To hear it said so confidently in the voice of somebody so young, you kind of just say, 'OK, do what you do.'"
Some 14 years later, here's what Cameron has done:
Notre Dame? Check. Biedscheid committed to the Fighting Irish last year in the wake of a breakout sophomore campaign at Cardinal Ritter.
NBA? The senior isn't eligible yet, but he's on the right track, averaging 29.7 points, 7.9 rebounds and 2.4 steals last season as a junior to earn the No. 62 ranking in the ESPNU 100.
And the Olympics? Biedscheid prepared himself for international success this summer, dropping 14.3 points per game to snag All-Tournament honors at the Nike Global Challenge in Oregon.
September, 28, 2011
9/28/11
10:55
AM ET
By
Ryan Canner-O'Mealy
| ESPN.com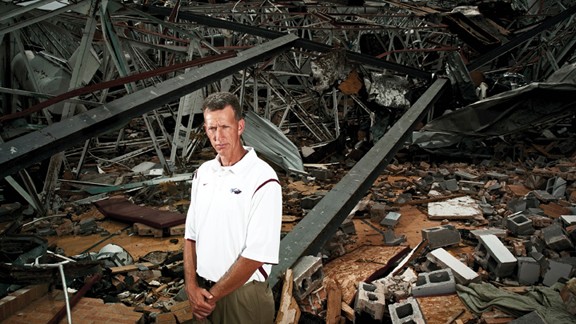 Jeff Lautenberger/Tulsa World/no_sourceJeff Starkweather, Athletic Director of Joplin High School, stands on what remains of the hardwood court in Kaminsky Gymnasium, the school's field house, which was destroyed in an EF-5 tornado in May.
This story originally appeared in the October issue of ESPNHS magazine
Jeff Starkweather didn't think anything of it.
The Joplin (Joplin, Mo.) athletic director had seen countless storms and tornado warnings come and go. So when the alarms started going off just hours after the members of Joplin's Class of 2011 received their diplomas, he went about his business.
Back at his house, Starkweather was watching television when the storm knocked out his DirecTV. But his part of town wasn't directly affected, so he still didn't know the extent of the damage. With his satellite out of commission, he turned on the radio and got a sense of just how bad things were.
"A guy is driving up and down Range Line Road, which is where all the shopping areas and restaurants are, and he's saying, 'The Home Depot is gone, Walgreen's is completely gone,'" Starkweather says.
September, 27, 2011
9/27/11
5:25
PM ET
By
Brandon Parker
| ESPN.com
The October issue of
ESPNHS magazine
hits schools this week, and with four Missouri teams making moves in the latest
POWERADE FAB 50
, there are plenty of big names to highlight on our annual All-State soccer team. See who made the cut this year and let us know your thoughts:
Missouri All-State Soccer
Starting 11
[F] Louis Berra, DeSmet, Senior, SLSG Missouri
Tallied nine goals and five assists last year; headed to Ohio State
[F] Aris Nukic, Mehlville, Senior, SLSG Gold
Looks to regain form from sophomore season when he had 23 goals
[MF] Justin Bilyeu, Christian Brothers, Senior, SLSG Missouri
Recorded 17 goals for Lions, including six multi-point games
August, 23, 2011
8/23/11
12:05
PM ET
By
Brandon Parker
| ESPN.com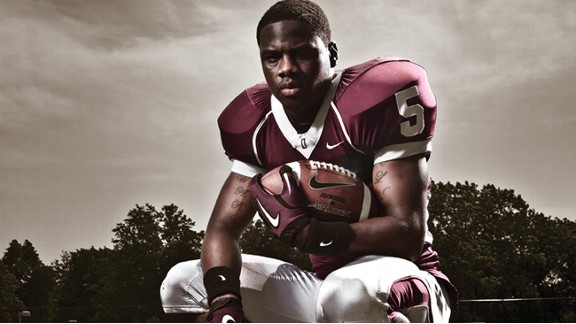 John Fedele/ESPNHSDeSmet senior Durron Neal was off the charts last season, scoring 31 touchdowns from five different positions for the Spartans.
Durron Neal was literally everywhere on the field last season, lining up at quarterback, running back, wide receiver, punt returner and defensive back. (Heck, if Neal added even more meat to his six-foot, 195-pound frame, he probably could take a few snaps at lineman.) And no matter where he was on the field, the Oklahoma commit was making plays.
Neal scored 31 touchdowns from his five positions last year, giving the Spartans a nearly unstoppable force on the field while making them
a threat to win the state title this season
. "You just can't (stop him)," DeSmet coach Pat Mahoney says. "I've never seen anyone tackle him one-on-one in the open field."
Click
here
to read more about Neal's other-worldly skills.
Brandon Parker covers Missouri for ESPNHS magazine and ESPNHIGHSCHOOL.com. Follow him on Twitter @brandoncparker or email him at brandon.c.parker@espn.com.
August, 22, 2011
8/22/11
11:44
AM ET
By
Brandon Parker
| ESPN.com
As featured in the ESPNHS Missouri magazine that hits schools this week, here is our All-State Football Team along with 50 other players to watch.
(
The team is based on projected on-field performance and accomplishments, not necessarily recruiting potential. For a list of the top football recruits in the state, click here
)
Want to see the All-State teams for the other 49 states?
We've got 'em right here
.
2011 MISSOURI ALL-STATE FOOTBALL TEAM
FIRST TEAM OFFENSE
Drew Hare, Fort Zumwalt West, QB, Senior

Threw for 3,210 yards and 24 scores while rushing for 1,701 yards
Luke Knott, Lee's Summit West, QB, Senior

Iowa State pledge had 32 total TDs in Titans' 5A state title run
Ray Harris, Fort Zumwalt West, QB, Senior

Do-everything back ran, caught and threw for 29 total TDs
Morgan Steward, Staley, RB, Senior

Averaged more than nine yards per carry last season; 15 scores
Dorial Green-Beckham, Hillcrest, WR, Senior

Rated the nation's No. 3 recruit and top wideout in the ESPNU 150
Durron Neal, DeSmet, WR, Senior

Oklahoma commit is the nation's No. 62 recruit in the ESPNU 150