High-SchoolMissouri:

Must See
June, 18, 2012
6/18/12
8:38
AM ET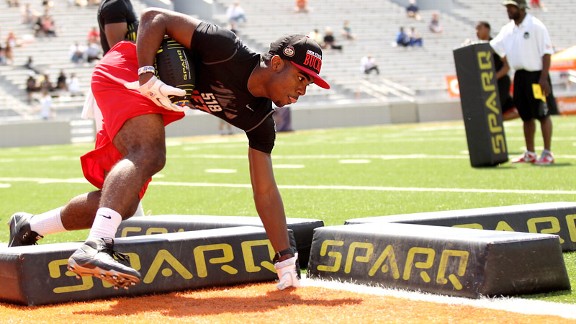 Tom Hauck/ESPNHSJohn Burroughs (St. Louis) running back and Ohio State commit Ezekiel Elliott earned one of five invitations to The Opening at the Champaign NFTC.
Ezekiel Elliott
was a relative unknown heading into 2012.
Last season, the 6-foot, 200-pound running back rushed for 1,802 yards and 34 touchdowns on 211 carries (8.5 yards per carry) and scored 42 total touchdowns while leading John Burroughs (St. Louis) to a Class 3 state runner-up finish.
Yet, Elliott was barely a blip on the national radar. A big reason why is that Elliott had never attended a national combine or camp, choosing instead to focus on his other passion during the offseason — track.
But it all started to change this spring when Elliott began to receive serious football interest from big-time college programs. And on April 1, he committed to Ohio State over Missouri, where his dad played football and his mom ran track, and Notre Dame.
The No. 255 recruit in the
ESPN 300
, Elliott followed his commitment by attending his first major football camp, the Nike Football Training Camp in Champaign, Ill. There, Elliott
was named running back MVP
and earned invitations to both The Opening and Champion Gridiron Kings.
So what's this Buckeyes commit got planned for the rest of the summer?
Get Familiar
with Ezekiel Elliott.
ESPNHS: Why did you never attend a football camp before this spring?
Elliott:
It's something I didn't think was very important. I could have went to some if I wasn't getting the looks I was getting. Also, I'm a track guy, so I'm competing at meets every weekend. I went to Champaign because of The Opening. I had seen it on TV and I was hearing about it from the other recruits. And then I heard from all the Ohio State guys who were going. It's a great chance to go out and compete. I'm not necessarily ranked among the top guys in the country. It's a great way to improve my ranking, compete and have fun.
ESPNHS: What did it feel like when you received The Opening invite?
Elliott:
It felt great. Last summer, I wasn't on anybody's radar. To think in a year's time that I'd be invited to The Opening and Gridiron Kings is incredible. It just shows that hard work pays off.
ESPNHS: You ended up missing most of your sophomore year with a broken collarbone. How tough was that to deal with?
Elliott:
I broke my collarbone during the fourth game of my sophomore year. I had eight touchdowns at that point. It was tough to have to watch. My guys did great and made it to the state championship. But it was tough not being able to be physically part of the games.
ESPNHS: Your team lost in the state final for the second straight year last fall. How much has that motivated you and your teammates this offseason?
Elliott:
It was very heartbreaking. It's something I still think about every day. Now we know what it takes to get there and not get what we want. We just have to work hard, stay humble and stay motivated.
ESPNHS: You're also a track star. Are you planning on running track at Ohio State and why do you love running so much?
Elliott:
Running track has been in the conversation. I'm going to try it my freshman year and see how it goes. I just love to compete. Track helps me stay in shape, and being a hurdler helps my flexibility and my hips. I just can't sit out a season. I also play basketball during the winter. I've been doing this since I was 7. I also run summer track and two-a-days start for football on Aug. 6. It just doesn't feel right for me not to be physically active.
ESPNHS: What led you to pick Ohio State on April Fool's Day?
Elliott:
Nobody thought I was serious. I narrowed it down to three schools — Ohio State, Mizzou and Notre Dame. I visited each school twice. After I came back from the second visit at Ohio State, I sat down with my parents. It was tough. We wanted to wait it out, but it became overwhelming. When we came back from Ohio State, we talked about it and I woke up (the next day) and committed to Ohio State. I called coach (Urban) Meyer and told him I wanted to be a Buckeye. It felt great.
ESPNHS: How much did your parents help you through the process?
Elliott:
I wouldn't be where I am without my mom. She drives me to every practice and every game. My dad has been there for me, too. My dad played football at Missouri and my mom ran track at Missouri, but they supported me in every decision I made. They both love Ohio State. They'll still be rooting me on. I credit everything I've accomplished to them. It's great to have two parents who support you. I'm grateful for everything they've done.
EZEKIEL ELLIOTT
School:
John Burroughs (St. Louis)
Class:
2013
Position:
Running back
HT:
6-0
WT:
200
College:
Ohio State
FAVORITES
TV Show:
"Criminal Minds"
Movie:
"Air Bud"
Musical Artist:
J. Cole
Athlete:
Lolo Jones
Pro Team:
Miami Heat
School Subject:
Physics
Food:
Fried chicken
June, 8, 2012
6/08/12
9:49
AM ET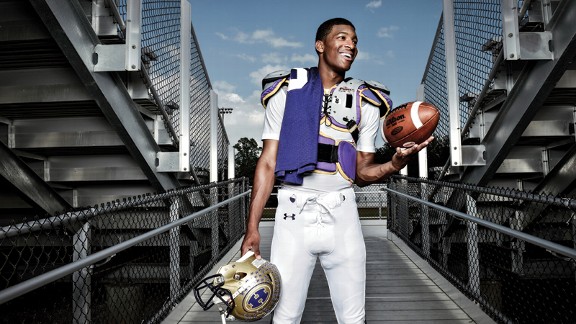 Dustin Snipes/ESPNHSJameis Winston of Hueytown (Ala.) was drafted in the 15th round by the Texas Rangers. The nation's No. 1 quarterback is expected to play both football and baseball at Florida State.
The first day of the 2012 MLB draft had a definite high school feel to it with
35 prep prospects getting drafted
on Monday, highlighted by Puerto Rican shortstop Carlos Correa going No. 1 overall to Houston and Appling County (Baxley, Ga.) outfielder
Byron Buxton
following at No. 2 to Minnesota.
But while the first day of the draft was filled with plenty of star power, the last two days featured plenty of intriguing high school storylines. Here were the best of the bunch.
Can I Graduate?
Providence (Charlotte, N.C.) senior right-hander
Ty Buttrey
created quite a stir when his family revealed he wouldn't be able to walk with his graduating class. The mix-up occurred when Buttrey, a fourth-round pick of the Boston Red Sox and the No. 25 player in the
ESPN 100
, skipped graduation rehearsal to negotiate a deal with an MLB team because no cell phones were permitted at the rehearsal.
Apparently, though, it was all a miscommunication, as Buttrey was ultimately allowed by his high school principal to walk with his class,
according to WBTV News in Charlotte
.
Two-Sport Stars
There were plenty of questions of how far
Jameis Winston
of Hueytown (Ala.) and
Anthony Alford
of Petal (Miss.) would fall in the draft because of their football commitments.
Winston, who's rated the nation's No. 1 quarterback in the
ESPN 150
, signed with Florida State is expected to play
both football and baseball
there. He's rated the nation's No. 71 baseball player in the ESPN 100.
Alford, the nation's No. 95 football recruit in the ESPN 150 and No. 29 baseball prospect in the ESPN 100, signed with Southern Mississippi.
Winston, an outfielder and right-handed pitcher, was drafted in the 15
th
round by Texas, while Alford was selected in the third round by Toronto.
The Rangers
told ESPN Dallas
they were hopeful Winston would choose to play for them in the offseason once Florida State's football season was over, like Russell Wilson did at NC State and Kyle Parker did at Clemson.
Meanwhile, Grant (Sacramento, Calif.) senior
Shaq Thompson
, a Washington football recruit rated the nation's No. 3 safety in the ESPN 150, was drafted in the 18
th
round by the Boston Red Sox. What's intriguing about that is Thompson didn't even play baseball his junior year and played sparingly as a sophomore. But Thompson
told The Sacramento Bee
he plans on signing with the Red Sox, though he'll still honor his commitment to the Huskies.
Where's Kyle Carter?
Columbus (Ga.) senior outfielder/left-handed pitcher
Kyle Carter
enjoyed a
phenomenal 2012 campaign
, hitting 14 homers and going 12-2 on the bump with a 0.98 ERA and 116 strikeouts in 86 innings to help the Blue Devils to their third straight state title and 12
th
overall. Columbus is No. 2 in the
POWERADE FAB 50
.
With a season like that, the Georgia recruit figured he'd go in the first few rounds. But after 40 rounds, he didn't get drafted at all.
What gives?
Carter
told the Ledger-Enquirer
that after he wasn't drafted in the second round, he told teams he was heading to Georgia.
Another player who fell for what is believed to be signability issues is Camarillo (Calif.) left-hander
Hunter Virant
, who lasted until the 11
th
round, when he was selected by Houston. Virant is a UCLA commitment.
When asked about UCLA or the Astros, Virant
told the Ventura County Star
, "The Astros still need to put together some money, so you never know. Right now the only sure thing is UCLA. But it's a win-win no matter what happens with those options."
Injuries and Arm Trouble
A few top prospects fell in the draft due to injury issues, most notably Bishop Amat (La Puente, Calif.) infielder
Rio Ruiz
. Once considered a potential first-round pick, Ruiz had a
blood clot removed from his clavicle
this spring and missed most of his senior season. A USC commit, Ruiz was selected in the fourth round by Houston.
Meanwhile, Bolles School (Jacksonville, Fla.) right-hander
Hayden Hurst
, who had
Tommy John surgery
as an eighth-grader, lasted until the 17th round, where he was selected by Pittsburgh.
While we're on the topic of arms, the three pitchers we featured last week in
our article on high pitch counts
—
Emerson Gibbs
of Jesuit (New Orleans),
Mitch Sewald
of Archbishop Rummel (Metairie, La.) and
Willie Nastasi
of Barnstable (Mass.) — weren't drafted at all. Gibbs and Sewald combined to throw 347 pitches in a game this April, while Nastasi tossed 155 pitches of his own in one start.
No word whether those high pitch counts scared off teams, but they couldn't have helped.
No Pressure, Kid
There are a lot of expectations heaped on sons of big leaguers. Now imagine you got drafted by the team your dad starred for.
That's what Ryan Ripken is facing. The Gilman (Baltimore) first baseman and South Carolina recruit was
drafted in the 20th round
by the Baltimore Orioles, the same squad his dad, Cal Jr., delivered a Hall of Fame career for. Ryan hit .377 and was 4-1 as a pitcher this year for Gilman.
Meanwhile, Tate Matheny, the son of St. Louis manager Mike Matheny, was
drafted by the Cardinals
in the 23rd round. The senior center fielder and Missouri State recruit hit .610 with 11 homers, 51 RBIs and 25 stolen bases this season for Westminster Christian (Town & Country, Mo.), leading the team to a second straight state title.
June, 6, 2012
6/06/12
10:22
AM ET
By
Mark Tennis
| ESPN.com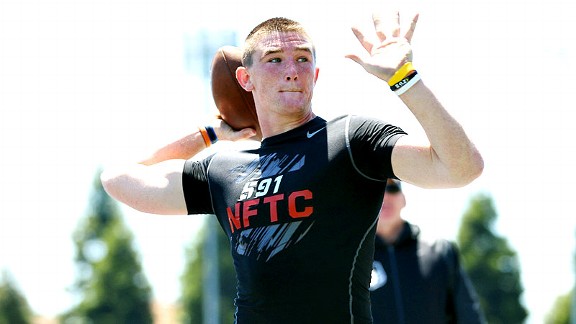 Tom Hauck/ESPNHSJunior quarterback and Missouri commit Trent Hosick guided Staley (Kansas City, Mo.) to its first state title this past fall.
During the offseason, we'll check out one team per week that looks like a sure bet to be among the best in the nation this fall.
FAB 50 Offseason Primer archive
This week's team:
Staley (Kansas City, Mo.)
2011
Season
: 14-0,
Class 5 state champion
, No. 12 in final
Midlands Region rankings
.
Projected
2012
Preseason
Ranking
: Top 50. While the Falcons didn't win the highest division in Missouri's Show-Me Bowl last December, they made a strong case that they were the state's top overall squad. Not only were they unbeaten, but they posted a win against Blue Springs (Mo.) early in the season and Blue Springs was a team that also notched a win early in the season against Class 6 state champion Blue Springs (Mo.) South (Blue Springs, Mo.). This year's Staley team once again will feature the talents of
Trent Hosick
(6-2, 220), one of the top-ranked quarterbacks in the nation. A Missouri commit,
Hosick
rushed for 2,403 yards and 31 touchdowns as a junior and passed for 1,422 yards and 10 scores.
Team Strengths
: Hosick's return automatically makes the Falcons a choice to be one of Missouri's best teams for this fall. He has committed to Missouri after getting offers from most schools from the Big 12 and Big Ten. For the team to repeat and be higher in the rankings, however, a replacement will need to step up for graduated standout
Morgan Steward
. He rushed for 2,226 yards and scored 36 times in his senior season. A good bet to become that feature back is Tre Childs, who averaged nearly eight yards per carry as a backup. Another plus will be the return of all-state offensive lineman Austin White. The defense also could be in rebuilding mode and will need some younger players, including sophomore linebacker Parker Mertz, who played varsity as a freshman, to become team leaders.
Another Missouri team to watch:
Webb City (Mo.) begins 2012 as a two-time defending Class 4 state champion and with on a 30-game winning streak. It's hard to tell how the Cardinals would fare against bigger schools, but early in the season they are going up against Har-Ber (Springdale, Ark.), a solid Class 7A program from Arkansas. This year's team at Webb City also is loaded with returning standouts, led by running back Phoenix Johnson, who rushed for 1,920 yards and scored 33 touchdowns last fall. Three others who earned Class 4A all-state honors as juniors are defensive lineman Jose Speer, kicker Alex Easley, linebacker Nate Brown and tight end Kohl Slaughter.
May, 24, 2012
5/24/12
10:11
AM ET
By
Mark Tennis & Doug Huff
| ESPN.com
(After games of Tuesday, May 22)

One player is chosen from each region of the country. The only other criteria is that no player will be chosen more than once during a season.

EAST

Ben Hartz, Shady Side Academy (Pittsburgh)
The senior pitcher-first baseman led the Indians on the mound and at the plate in a 4-3 Western Pennsylvania Interscholastic Athletic League Class AA first-round 4-3 playoff victory over Waynesburg (Pa.). Hartz struck out 14 batters in a four-hit effort and helped his own cause with two hits and a pair of RBIs. The four-year starter has been impressive his last three seasons with a combined .520 batting average, 77 RBIs, 16 pitching wins and 150 strikeouts.

SOUTHEAST

Blaine Crain, Spanish Fort (Ala.)
Crain was named MVP of the Class 5A state championship series after going 3-for-6 with two RBIs to help Spanish Fort defeat Southside (Gadsden, Ala.) in a two-game sweep. It was Spanish Fort's third straight state title. Crain, who had a game-winning RBI in the team's victory that sent them to the state finals, played despite very difficult personal circumstances. Six weeks ago, his father, Kurt, a former All-American linebacker at Auburn and an assistant football coach at South Alabama, died from a self-inflicted gunshot wound.

MIDWEST

Eric Veglahn, La Crescent (Minn.)
The senior left-handed pitcher had an inning to remember in a 4-1 victory over Hayfield (Minn.), striking out five batters to close out the game in the bottom of the seventh inning. He fanned the first two batters, but the next two strikeout victims reached base on passed balls by the catcher. He then wrapped up the victory with his fourth and fifth strikeouts of the inning plus the 12th and 13th of the game.

MIDLANDS

Tate Matheny, Westminster Christian (Town & Country, Mo.)
The son of new St. Louis Cardinals' manager Mike Matheny is in the midst of a monster senior season. Earlier this week, in Westminster's 3-0 win over Orchard Farm (St. Charles, Mo.) in the Class 3 sectional tourney, Matheny belted a two-run homer, his 11th of the season. Last week in a 11-1 romp in five innings against MICDS of St. Louis, Matheny went 3-for-3 with a double and homer. Prior to the game against Orchard Farm, he was batting .614 with 10 homers, 10 triples, 52 runs scored and 47 RBIs. Matheny's team also improved to 26-3 after that win and upped its winning streak to 23 games.

WEST

Troy Conyers, El Capitan (Lakeside, Calif.)
The 6-foot-5, 230-pound left-handed pitcher struck out 16 and pitched a four-hitter in El Capitan's 7-1 win last week against Monte Vista (Spring Valley, Calif.). Conyers also went 1-for-3 with a double at the plate. He pitched a one-hitter with 11 strikeouts in his previous start and has led the Vaqueros to a 27-5 record and No. 37 FAB 50 national ranking. Heading into this week, Conyers was batting .395 with 24 RBIs and had an 8-1 mound record with 114 strikeouts and a 0.72 ERA. He was the San Diego Union-Tribune Player of the Year as a junior and has signed with the University of San Diego.
May, 24, 2012
5/24/12
10:08
AM ET
By
Brandon Parker
| ESPN.com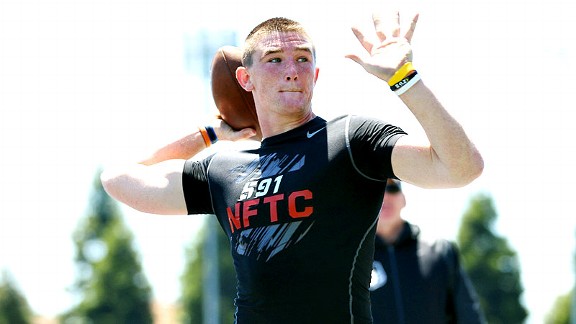 Tom Hauck/ESPNHSStaley (Kansas City, Mo.) quarterback Trent Hosick makes a throw at the Oakland NFTC on May 20. The junior will compete at the Elite 11 regional in Las Vegas on June 16.
Throughout this offseason, we've spotlighted Class of 2013 quarterbacks who have a shot at making the Elite 11 finals in July. This week, we profile Staley (Kansas City, Mo.) junior Trent Hosick, who will compete in the Las Vegas Elite 11 regional on June 16.
Since transferring from Ozark (Mo.) after his freshman year,
Trent Hosick
has adjusted nicely at Staley (Kansas City, Mo.). After sitting out a year, he excelled in his first season under center this past year, maintained a high GPA and even made waves on YouTube by creating a video on
how to "Heisman"
with teammate
Morgan Steward
. But there is one thing the junior quarterback has not grown accustomed to since becoming a Falcon — losing.
In the fall, Hosick totaled 2,403 yards and 31 touchdowns on the ground while throwing for 1,422 yards and 10 touchdowns to lead Staley to a 14-0 record and the Class 5 championship, a first for the football program. Then in the winter, the 225-pound Hosick went 29-0 en route to the Class 3 heavyweight wrestling title, besting competitors who were sometimes 70 pounds bigger than him.
With his past success driving his thirst for more, Hosick will join some of the nation's top gunslingers for the final Elite 11 regional on June 16 in Las Vegas. Rated the
nation's No. 23 pocket passer by ESPN
, Hosick took time out to talk about his victorious junior campaign, commitment to Missouri and intense competitive drive.
ESPNHS:
After going undefeated and winning a state title in football, what was it like doing the same thing in wrestling?
Hosick:
I've been wrestling for 13 years and since I'm graduating early next year, I won't be around to wrestle as a senior, so what's not to love about what happened? It was a great conclusion to my wrestling career and made me even more competitive. It's definitely made me a better football player, too. It's taught me discipline and helped take my training to another level because no one works harder than wrestlers. That's the hardest type of training there is. I think what gives me an edge is the way I train, so there's no doubt that wrestling has helped me out in football, too.
ESPNHS:
How hard was it wrestling guys who were sometimes 70 pounds bigger than you?
Hosick:
I tried to put weight on during the season, but it's hard when you're wrestling because you have four-hour practices almost every day. I ended up wrestling state at 218 and most of the year I was weighing 212.
ESPNHS:
After leading a run-first offense last season, what are you looking to show at the Elite 11 regional next month?
Hosick:
At this point, I'm already committed to Missouri, so I'm not into impressing recruiters. Number one, I love competition, so winning is very important to me. What I hope to show at the camp is that I am one of the best throwing quarterbacks in the country. I have confidence in that. Our offense doesn't always showcase that, and that's fine because we won a state title, which is most important. But whatever doubts people had about me throwing, I plan on changing them and making them say "Wow, this kid is a great thrower."
ESPNHS:
What would it mean to get an invitation to the Elite 11?
Hosick:
I'd of course be really excited to be a part of the Elite 11, but at the same time I feel like I belong. There will be a lot of phenomenal players out there and I feel confident that I can throw with the best guys in the country. I'd be honored if the coaches thought that as well and invited me to the competition.
ESPNHS:
What made you commit to Missouri as a junior?
Hosick:
The number one thing to me in looking for a school was finding a place where the coaching staff, particularly the coach I would spend the most time around, were people I could consider a friend and who were winners. That's the type of relationship I have with [Staley] coach [Fred] Bouchard now. I don't want it to be a serious business relationship. I really love [Missouri assistant] coach [David] Yost and that's the biggest thing I found at Missouri, guys I can go to work with and consider family. The other thing was I wanted to go to a place where they were good but not quite national champions like Alabama or LSU. I wanted to be at a school that was just on the cusp of becoming the best team in the country and I want to be that piece that helps put them over the top. Plus, the guys they are bringing in and the move to the SEC make it even better. If I had waited eight more months, I still would've made the same decision to go to Missouri.
ESPNHS:
One of those guys coming in next season is Dorial Green-Beckham. What would it be like to potentially be throwing to a player like him?
Hosick:
It's very exciting. Dorial is an extremely rare high school football player and is going to be a great college player. At the same time, he will be a teammate and I hope he's willing to go to work because we have work to do as a team. I think we can do something special together. I know Dorial a little bit and I'm also very excited to play with Morgan Steward again, who is one of my best friends.
ESPNHS:
What have you been working on in anticipation for your senior year and the next level?
Hosick:
I watch my own video and critique myself and there are a few things I'm changing about my game. I'm working on my timing and trying to grow in making my reads quicker. I want to look off safeties better and be able to zip the ball in there. I'm also working on my "two throw," which is when you throw over the linebacker and in front of the safeties. My pocket presence is another thing, where I don't feel like I have to rush too soon. I can make plays with my feet if I need to, but the area I need to grow in most is taking a step up in the pocket and throwing with confidence even if there's a guy coming for me.
ESPNHS:
With all the winning you've done, how much more pressure does that create for you to succeed as a senior?
Hosick:
It does raise the bar and we have a very high standard for our team this coming year. I was a little worried at first about coming out again after such a wonderful season and having that same passion. But it didn't take long for it to come back and for me to start getting excited again. And we're going to do it again. Our first game is against Lee's Summit West and I'm confident we can push our team as hard as we can and win the championship again.
ESPNHS:
At this point, do you even remember what it's like to lose in sports?
Hosick:
I remember it enough not to want to do it again [laughs]. I don't like losing. It's the same thing that pushes me in academics, too. If I get a B, there's an A to be had in the class and if I got a B, then I know someone did better than me. I don't know why the Lord made me this way, but I just don't like losing in anything. And I won't do anything unless I know I will win at it. A lot of my friends like to challenge me in HORSE because they know I'm a cruddy shooter. So even though I like shooting hoops, I won't do it sometimes because I don't like losing. It sounds crazy, I know. But that's just the way I am.
Trent Hosick
School:
Staley (Kansas City, Mo.)
Position:
QB
Class:
2013
2011 Team Record:
14-0 (Class 5 state champ; No. 1 in
Missouri POWERADE state rankings
)
2011 Stats
Passing Yards:
2,403
TDs:
31
Rushing Yards:
1,422
TDs:
10
Brandon Parker covers high school sports for ESPNHS. Follow him on Twitter @brandoncparker or email him at brandon.c.parker@espn.com.
April, 26, 2012
4/26/12
9:50
AM ET
By
Mark Tennis & Doug Huff
| ESPN.com
(After games of Tuesday, April 24)

One player is chosen from each region of the country. The only other criteria is that no player will be chosen more than once during a season.
EAST
John Miraglia, Wilmington Friends (Wilmington, Del.)
The senior right-handed pitcher/shortstop got off to a bad start against St. Andrew's (Middletown, Del.) when the Saints loaded the bases with no outs in the first inning. Miraglia then fanned the next three batters to start a 19-strikeout performance. He also ended with a three-hitter in leading the Quakers to a 1-0 victory. The other two outs were recorded by routine, infield grounders to Miraglia and the first baseman.
SOUTHEAST
Zach Wall, Hayesville (Hayesville, N.C.)
In a game played earlier this week, Wall hit three homers and also went 4-for-4 with eight RBIs to lead Hayesville past Swain County (Bryson, N.C.). The 6-foot-2, 175-pound junior shortstop and pitcher also had a six-RBI game last week and had raised his season home run total to 10 in just 13 games after the monster outing against Swain County. Wall, who also allowed three hits in five innings of pitching in that same game, pitched a no-hitter earlier this season against Murphy (N.C.). He was a Class 1A all-state pick last year and was a
preseason all-state choice
by ESPNHS.
MIDWEST
Zack Silerzio, Crete-Monee (Crete, Ill.)
The senior right-handed pitcher recorded consecutive no-hit victories last week over Kankakee (Ill.) 10-0 and Rich East (Park Forest, Ill.) 7-0. In the two gems, he struck out 20 batters and walked five while tossing 13 consecutive hitless innings. In his next outing, Silerzio (4-3) allowed five hits in five innings of a 7-3 victory over Bloom (Chicago Heights, Ill.). A Bloom single in the first inning halted Silerzio's no-hit streak.
MIDLANDS
Austin Bentlage, Union (Mo.)
After missing all of last season with a sore arm, Bentlage is making up for lost time. The 6-foot-3, 270-pound senior set a Missouri state record last week by striking out 18 batters in a row during a 3-0 no-hitter against New Haven (Mo.). Bentlage was making only his fifth start of the season. He walked the third batter of the game, then whiffed 18 in a row for the record before the last batter laid down a bunt and was thrown out at first. Bentlage broke the previous state mark of 15 straight strikeouts set in 2007 by Ryan Austin of Hume (Mo.).
WEST
Dylan Cozens, Chaparral (Scottsdale, Ariz.)
As we were finishing this week's honors, Chaparral grad Paul Konerko of the Chicago White Sox was hitting his
400th career homer
and had just moved to No. 48 on the all-time major league list. It's just one reason we couldn't resist choosing a player from his high school. Cozens, in fact, just broke Konerko's school record after smashing a pair of homers last week for the Firebirds in their 19-0 romp past Camelback (Phoenix). Cozens' two blasts upped his season total to 14 and moved him past Konerko's previous record of 13. The 6-foot-5, 235-pound Cozens is a transfer from Desert Mountain (Scottsdale, Ariz.) and was MVP earlier this season at the Cleats Sports Classic. He hit two homers in the title game to lead Chaparral past Cactus (Glendale, Ariz.). Cozens also is a defensive end in football and had 7.5 sacks last season. He has signed a football letter of intent with Arizona, but could be coming up the charts quickly as a prospect for the upcoming MLB draft.
February, 22, 2012
2/22/12
12:11
PM ET
Here are this week's high school boys' basketball Players of the Week. One player is chosen from each region of the country. No player will be chosen more than once during a season.
(After games of Sunday, Feb. 19)
EAST
Kris Dunn,
New London (Conn.)
The 6-foot-3 senior point guard and
McDonald's All-American
reached the 2,000-point career milestone with 29 points in three quarters of play during an 89-54 victory over Woodstock Academy (Woodstock, Conn.). It was the 14th-straight win for the 18-2 record Whalers. The Providence recruit, who averages 33 points per game, was coming off a quadruple-double in his last game a week earlier. He had 32 points, 15 rebounds, 11 assists and 10 steals in an 88-67 win over Stonington (Pawcatuck, Conn.). Dunn was featured in the holiday issue of
ESPNHS Magazine's
Connecticut edition.
SOUTHEAST
Elijah Wilson, Laney (Wilmington, N.C.)
Scoring 42 points to tie a school record has a bit more meaning at Laney than just about any other school in America because it's a record that was set in 1980 by NBA legend
Michael Jordan
. Wilson, a 6-foot-2 senior guard, accomplished his feat in helping the Buccaneers defeat New Bern (N.C.) 68-62 last week in a four-overtime thriller. One of the top scorers in his region of the state all season, he gave a commitment to College of Charleston after the historic game.
MIDWEST
Victor Vincz
,
Eastern Hancock (Charlottesville, Ind.)
The 5-foot-10 junior guard scored a school record 52 points in a 92-91 shootout victory over host Monroe (Alexandria, Ind.) and its 5-foot-10 senior guard Mitch Yeagly, who also set a school record in the same game with 51 points. Vincz connected on 7-of-8 shots on 3-point attempts (also was 17-of-25 from the floor and cashed 11-of-12 free throws) in the thriller. Vincz converted 8-of-8 free throws in the final minutes. Yeagly, meanwhile, made 15-of-25 shot attempts and 17-of-19 free throws.
MIDLANDS
Cornell Johnston
,
Ladue (St. Louis)
The 5-foot-6 sophomore guard has filled up the stat sheet in helping his team adjust to being without 6-foot-8 center Austin DaGue due to an injury. One week after he scored 34 and 35 points in a pair of games, Johnston made 6-of-8 shots from 3-point land and had 29 points in a 77-58 triumph against Mehlville (St. Louis). In the same game, Johnston also handed out 10 assists and had five steals. Johnston started as a freshman on the varsity last year and was a second-team all-conference choice.
WEST
Durrell McDonald
,
Green Valley (Las Vegas)
Back on Jan. 4, Green Valley was 4-11 and going nowhere fast. But with McDonald leading the charge, the Gators have gone 13-1 since. After a 70-63 victory last weekend over Foothill (Henderson, Nev.), they are headed to the Class 4A state tournament. McDonald poured in 32 points in the win and for the season is averaging 21.2 points with 6.6 rebounds and 3.8 assists per game. The 6-foot-2 senior guard will play next season at DePaul.
January, 31, 2012
1/31/12
9:56
PM ET
By
Mark Tennis & Doug Huff
| ESPN.com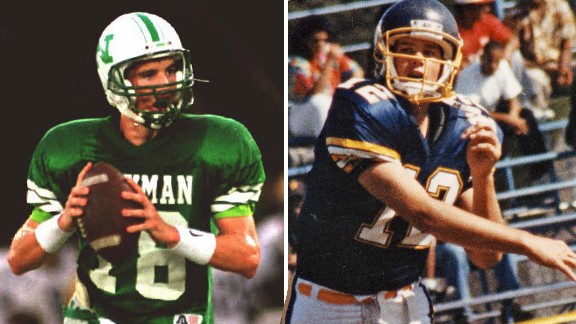 AP Photo, Serra High SchoolBefore they led their teams to Super Bowl XLVI, Eli Manning (left) and Tom Brady were high school standouts at Isidore Newman (New Orleans) and Junipero Serra (San Mateo, Calif.), respectively.
With signing day upon us and the the Super Bowl not far behind, it's a busy time for all levels of the game. Given that every player in Super Bowl XLVI played as a prep back in the day, we decided to break down the rosters for the New England Patriots and New York Giants by state and by high school.
Emerging superstar tight end
Rob Gronkowski
and fullback
Lousake Polite
of the Patriots are both from Woodland Hills (Pittsburgh). These two are also the only two players from Pennsylvania from the Patriots in this year's game.
For the Giants, star receiver
Hakeem Nicks
from Independence (Charlotte, N.C.) was part of the school's legendary 109-game win streak from 2000 to 2009 that still stands as the second-longest in U.S. history.
And with the
Great State Debate
still fresh on our minds, it's worth mentioning that California leads the way for Super Bowl participants this season with 13, while Florida (11) and Ohio (9) aren't far behind in the tally.
ALABAMA
Giants LB
Michael Boley
(Elkmont)
Giants WR
Jerrel Jernigan
(Eufaula)
Giants DL
Justin Tuck
(Central Coosa County, Rockford)
Giants DL
Osi Umenyiora
(Auburn)
ARIZONA
Giants DB
Prince Amukamara
(Apollo, Glendale)
ARKANSAS
Giants OL
Mitch Petrus
(Carlisle)
CALIFORNIA
Giants WR
Ramses Barden
(Flintridge Prep, La Canada)
Patriots QB
Tom Brady
(Junipero Serra, San Mateo)
Giants QB
David Carr
(Stockdale, Bakersfield)
Patriots DB
Patrick Chung
(Rancho Cucamonga)
Patriots WR
Julian Edelman
(Woodside)
Patriots OL
Logan Mankins
(Mariposa)
Patriots DB
Sterling Moore
(Deer Valley, Antioch)
Giants TE
Bear Pascoe
(Granite Hills, Porterville)
Giants LB
Spencer Paysinger
(Beverly Hills)
Patriots WR
Matthew Slater
(Servite, Anaheim)
Giants DL
Dave Tollefson
(Ygnacio Valley, Concord)
Patriots RB
Shane Vereen
(Valencia)
Patriots OL
Ryan Wendell
(Diamond Bar)
COLORADO
Giants DB
Derrick Martin
(Thomas Jefferson, Denver)
Patriots OL
Nate Solder
(Buena Vista)
CONNECTICUT
Patriots TE
Aaron Hernandez
(Bristol Central, Bristol)
Patriots LB
Niko Koutouvides
(Plainville)
Patriots OL
Donald Thomas
(Career Magnet, New Haven)
FLORIDA
Giants OL
David Baas
(Riverview, Sarasota)
Giants OL
Kevin Boothe
(Pine Crest, Fort Lauderdale)
Giants DL
Linval Joseph
(Santa Fe, Alachua)
Patriots WR
Chad Ochocinco
(Miami Beach)
Giants DB
Kenny Phillips
(Carol City, Miami)
Giants DL
Jason Pierre-Paul
(Deerfield Beach)
Giants DB
Antrel Rolle
(South Dade, Homestead)
Giants K
Lawrence Tynes
(Milton)
Patriots DL
Gerard Warren
(Union County, Lake Butler)
Giants LB
Jacquian Williams
(Riverview, Sarasota)
Patriots DL
Vince Wilfork
(Santaluces, Lantana)
GEORGIA
Patriots
Deion Branch
(Monroe, Albany)
Giants DB
Deon Grant
(Josey, Augusta)
Patriots LB
Gary Guyton
(Bradwell Institute, Hinesville)
Patriots DL
Kyle Love
(North Clayton, College Park)
Giants RB
D.J. Ware
(Rockmart)
ILLINOIS
Patriots DB
Sergio Brown
(Proviso East, Maywood)
Giants OL
David Diehl
(Brother Rice, Chicago)
Patriots LB
Rob Ninkovich
(Lincoln-Way Central, New Lenox)
INDIANA
Giants OL
James Brewer
(Arlington)
Giants LB
Mathias Kiwanuka
(Cathedral, Indianapolis)
Giants P
Steve Weatherford
(North Vigo, Terre Haute)
IOWA
Giants DB
Tyler Sash
(Oskaloosa)
KENTUCKY
Patriots DL
Brandon Deaderick
(Elizabethtown)
LOUISIANA
Patriots RB
Kevin Faulk
(Carencro, Lafayette)
Patriots RB
BenJarvus Green-Ellis
(St. Augustine, New Orleans)
Giants RB
Brandon Jacobs
(Assumption, Napoleonville)
Giants QB
Eli Manning
(Isidore Newman, New Orleans)
Giants DB
Corey Webster
(St. James)
MARYLAND
Patriots DB
Kyle Arrington
(Gwynn Park, Brandywine)
MASSACHUSETTS

Patriots DL
Ron Brace
(Burncoat, Worcester)
Giants LS
Zak DeOssie
(Phillips Academy, Andover)
Patriots DB
James Ihedigbo
(Amherst-Pelham Regional, Amherst)
MICHIGAN
Patriots OL
Nick McDonald
(Ford, Sterling Heights)
Giants WR
Devin Thomas
(Canton)
MISSISSIPPI
Patriots K
Stephen Gostkowski
(Madison Central, Madison)
Patriots RB
Stevan Ridley
(Trinity Episcopal, Natchez)
MISSOURI
Patriots OL
Dan Connolly
(Marquette, Chesterfield)
MONTANA
Patriots LB
Dane Fletcher
(Bozeman)
NEBRASKA
Patriots RB
Danny Woodhead
(North Platte)
NEW JERSEY
Giants WR
Victor Cruz
(Paterson Catholic, Paterson)
Patriots DB
Nate Jones
(Scotch Plains-Fanwood, Scotch Plains)
Patriots DB
Devin McCourty
(Saint Joseph Regional, Montvale)
Giants OL
Kareem McKenzie
(Willingboro)
Giants DL
Justin Trattou
(Don Bosco Prep, Ramsey)
Patriots WR
Tiquan Underwood
(Notre Dame, Lawrenceville)
NEW YORK
Giants DL
Jimmy Kennedy
(Roosevelt, Yonkers)
NORTH CAROLINA
Giants DL
Chris Canty
(Charlotte Latin, Charlotte)
Giants WR Hakeem Nicks (Independence, Charlotte)
Patriots LB
Brandon Spikes
(Crest, Shelby)
OHIO
Giants TE
Jake Ballard
(Springboro)
Giants LB
Chase Blackburn
(Marysville)
Giants OL
Jim Cordle
(Lancaster)
Patriots QB
Brian Hoyer
(Saint Ignatius, Cleveland)
Giants LB
Greg Jones
(Archbishop Moeller, Cincinnati)
Patriots OL
Matt Light
(Greenville)
Patriots
Zoltan Mesko
(Twinsburg)
Giants WR
Mario Manningham
(Harding, Warren)
Patriots DB
Antwaun Molden
(Glenville, Cleveland)
OKLAHOMA
Patriots DL
Mark Anderson
(Booker T. Washington, Tulsa)
Patriots WR
Wes Welker
(Heritage Hall, Oklahoma City)
PENNSYLVANIA
Patriots TE Rob Gronkowski (Woodland Hills, Pittsburgh)
Giants LB
Mark Herzlich
(Conestoga, Berwyn)
Giants RB
Henry Hynoski
(Southern Columbia, Catawissa)
Patriots RB Lousaka Polite (Woodland Hills, Pittsburgh)
Giants RB
Da'Rel Scott
(Plymouth Whitemarsh, Plymouth Meeting)
Giants OL
Chris Snee
(Montrose)
RHODE ISLAND
Giants DB
Will Blackmon
(Bishop Hendricken, Warwick)
SOUTH CAROLINA
Patriots DL
Shaun Ellis
(Westside, Anderson)
Patriots LB
Tracy White
(Timberland, St. Stephen)
TEXAS
Giants DL
Rocky Bernard
(Sterling, Baytown)
Patriots OL
Marcus Cannon
(Odessa)
Patriots QB
Ryan Mallett
(Texas, Texarkana)
Giants DB
Aaron Ross
(Tyler)
Giants OL
Tony Ugoh
(Westfield, Houston)
Patriots OL
Brian Waters
(Waxahachie)
Patriots DB
Malcolm Williams
(South Grand Prairie, Grand Prairie)
VIRGINIA
Patriots LS
Danny Aiken
(Cave Spring, Roanoke)
Giants RB
Ahmad Bradshaw
(Graham, Bluefield)
Patriots LB
Jerod Mayo
(Kecoughtan, Hampton)
WISCONSIN
Giants TE
Travis Beckum
(Oak Creek)
Note: List does not include OL Sebastian Vollmer of the Patriots, who is not from a U.S. high school (Germany); Rob Gronkowski attended Williamsville North (Williamsville, N.Y.) before transferring to Woodland Hills for his senior year