High-SchoolMissouri:

Chaminade
January, 24, 2012
1/24/12
4:56
PM ET
By
Brandon Parker
| ESPN.com
After games on Sunday, Jan. 22
Put simply, Vianney has been close to untouchable on the hardwood this season. And with Friday's win against Chaminade, this year's version of the Golden Griffins now sit in uncharted territory.
The top-ranked Golden Griffins notched their 17th straight Friday, moving past the mark set during the 1997-98 campaign. Tony Cochran and Brad Woodson put up monster performances, scoring 30 and 27 points, respectively, to help secure the historic victory. With the win, the Golden Griffins are No. 41 in the
latest POWERADE FAB 50 rankings
. But the moment wasn't filled with all good news, as senior point guard Richard Dorhauer went down with an ankle injury that could sideline him.
These rankings were done before the big Monday matchup between No. 2 McCluer North and No. 7 McCluer, but win or lose, McCluer's week is far from over. The Comets host No. 6 Webster Groves on Friday.
Here are this week's rankings (last week's rankings in parentheses):
1. Vianney (Kirkwood) 17-0 (1)
With Friday's 69-48 victory against Chaminade, the Golden Griffins won their 17th contest to start the season, breaking the school record for most consecutive wins. Next up: Kirkwood on Tuesday.
2. McCluer North (Florissant) 15-1 (2)
After a week off, the Stars play three games this week against No. 7 McCluer, Vashon and Hazelwood East.
3. Lee's Summit West 16-0 (3)
The Titans registered two close wins against Raytown South (58-57) and Blue Springs South (53-51) to remain undefeated. Next up: Ruskin on Tuesday.
Click here for the full POWERADE weekly Missouri hoops rankings.
January, 18, 2012
1/18/12
1:14
PM ET
By
Brandon Parker
| ESPN.com
After games on Tuesday, Jan. 17
The first two weeks of the season didn't go exactly as McCluer North and Nixa, two strong Class 5 contenders, had expected. Defending champ McCluer North fell to Borgia in its third contest while Nixa began the season with an L against Rock Bridge.
Since then, both teams seemingly have been invincible, reeling off long win streaks as we hit the midseason mark of the year. The Stars have won 13 straight while Nixa has gone unbeaten in 14 consecutive contests after clutch shooting allowed the Eagles to pull out a two-point win against Kickapoo on Tuesday.
Of course, the state's best record and streak this season belongs to Vianney, which now sits at 16-0 and 41st in the
POWERADE FAB 50 rankings
.
Here are this week's state rankings (last week's rankings in parentheses):
1. Vianney (Kirkwood) 16-0 (1)
The Golden Griffins easily downed Farmington and Lindbergh. Up next: Chaminade on Friday.
2. McCluer North (Florissant) 15-1 (2)
Stars have hit their stride, beating Hazelwood East and Pattonville before downing Cameron Biedscheid and Cardinal Ritter by the count of 68-50 on Monday. Next up: Vashon on Friday.
3. Lee's Summit West 13-0 (3)
Titans remained unbeaten with last week's 22-point win against Park Hill.
Click here for the full POWERADE weekly Missouri basketball rankings.
December, 29, 2011
12/29/11
10:10
AM ET
By
Brandon Parker
| ESPN.com
The year 2011 is winding down to a close and what a year it's been in the world of sports. Here are the top 10 stories from the Missouri high school sports scene:
10. Pin 'Em Down

Blue Springs dethroned two-time defending Class 4 champ Park Hill to win its first state title in 12 years. Lewis Foutz, Greg Hegarty, Darick Lapaglia and Daniel Lewis all won individual crowns for the Wildcats.
9. Solid as a Rock

In swimming, it's almost become a question of by how much and not who will win the state championship, thanks to Rockhurst's recent run of dominance. The Hawklets extended their reign to a state-record eight titles this past fall and this time they did it without fielding an individual champ.
8. Zach Attack

A year after winning Gatorade State Runner of the Year, it appeared Zach Herriott was headed for a disappointing senior season after finishing 13th at the cross country state meet. But the Rockhurst harrier bounced back with a ninth-place showing at the prestigious Nike Cross Nationals meet.
7. Perfect Saint
In the strive for a state championship, St. Louis Priory's soccer team one-upped itself. The Rebels went 27-0 to complete the second undefeated season in state history and cop the Class 2 crown. The only other program to go undefeated were the 2005 Rebels, who went 26-0.
6. Falcons Soar
In just its fourth year of existence, Staley made its mark in the history books by marching its way to the Class 5 state football title. Led by rushing machines Trent Hosick (2,054 yards and 31 TDs) and Morgan Steward (2,226 yards and 27 scores), the Falcons went 14-0 and downed previously undefeated Kirkwood in the title game.
5. Cardinal Rule
After graduating nearly 30 players from last year's Class 4 state championship squad, it appeared that 2011 would be a rebuilding year for Webb City. But the Cardinals didn't miss a beat, extending their regular-season win streak to 81 games and going undefeated en route to a repeat Class 4 title. In their 56-42 win against MICDS, the Cardinals helped set championship game records for combined points and yards (1,048).
4. Shooting Stars

For most of the 2010-11 season, Chaminade appeared to be the favorite with All-American Bradley Beal and a 27-0 start. But McCluer North avenged an early-season loss to the Red Devils by beating them 57-56 in the Class 5 quarterfinals behind B.J. Young's 27 points. The Arkansas recruit went on to lead the Stars to the Class 5 title.
3. Big Beal

Although his team fell short of the Class 5 hoops title, Bradley Beal ended his senior season on a good note. The Chaminade senior was named Gatorade National Player of the Year after averaging 32.4 points for the Red Devils. Beal is currently a freshman starter for the Florida Gators.
2. Notorious DGB
He's been the talk of the state football scene since his freshman year and as Dorial Green-Beckham capped his prep career in 2011, he showed just why. The Hillcrest senior
shattered the national mark for career receiving yards
by finishing with 6,356 yards and broke his own state record by recording 2,233 receiving yards to go with 24 touchdowns and 119 catches. Green-Beckham also led the Hornets to their best season ever, going 11-2 and reaching the Class 4 quarterfinals.
1. Joplin Recovers

The 2011 sports season got off to a rough start for many when a tornado tore through Joplin in May, killing 160 while destroying much of the town and Joplin High School. The Eagles football team proved to be a source of unity and healing, as many came out to the games and the team helped raise money en route to a 3-8 season.
Brandon Parker covers Missouri for ESPNHS magazine and ESPNHS.com. Follow him on Twitter
@brandoncparker
or email him at brandon.c.parker@espn.com.
October, 18, 2011
10/18/11
12:19
PM ET
By
Brandon Parker
| ESPN.com
Chaminade, a perennial power on the Missouri soccer scene, has found this season that playing like a girl isn't so bad. Especially when that girl is U.S. Women's National Team player Heather Mitts.
Mitts, who is married to St. Louis Rams QB A.J. Feeley, has been training with Chaminade this season and it's proved helpful in elevating the Red Devils' play and on-field communication. Need proof? Look no further than Chaminade's 2-1 win against
POWERADE FAB 50
squad Rockhurst last Friday.
Check out this video for more on this unique partnership.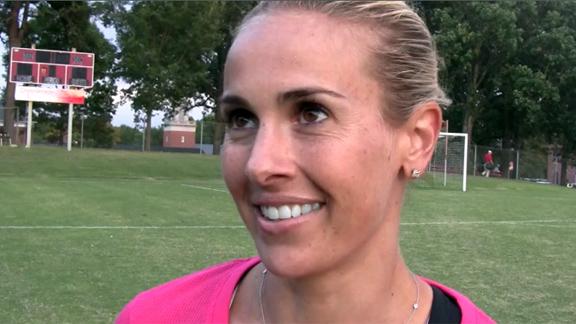 October, 10, 2011
10/10/11
4:15
PM ET
By
Brandon Parker
| ESPN.com
Results as of Saturday, Oct. 8
Even as Jefferson City tore through the first part of its schedule, outscoring opponents by an average of 34.5 points, the thought in many people's mind was: "Wait until they play Rockhurst."
Well, last Friday the wait was finally over, as the two powers clashed on Jefferson City's turf. And after beating the state's top-ranked team, 33-0, in double overtime, it was clear that the Jays are for real.
The Jays jumped out to a 16-0 lead and held on despite a late flurry by the Hawklets, who turned the ball over six times. With the score tied at 23, Jays kicker Ryan Tanner missed a game-winning field goal as time expired. But in overtime, a Hawklets interception opened the door for redemption, as Tanner nailed a 30-yard field goal to pull off the upset.
Rockhurst played without star running back Jordan Walker, who continues to struggle with a leg injury, and his absence showed. Despite its defense not allowing a Jefferson City first down in the second half, the Hawklets' offense struggled to capitalize.
The loss snaps the Hawklets' 20-game win streak and gave the Jays their first win in 14 tries against Rockhurst.
Of course, the outcome means that there's a new No. 1 squad in Missouri, and that team is Christian Brothers College, which rolled to a 41-7 win against Chaminade. It also means that Rockhurst dropped out of
this week's POWERADE FAB 50
and Jefferson City rose to No. 2 in the state rankings.
Click here
to get familiar with the rest of the Missouri high school sports scene.
Here are this week's rankings (last week's rankings are in parentheses):
1. CBC (St. Louis) 7-0 (2)
The Cadets are the new top team in Missouri, as their 41-7 win against Chaminade and Rockhurst's loss opened the door. Next up: Marquette.
2. Jefferson City 7-0 (8)
The Jays showed their mettle with a 33-30, double-overtime win against previous No. 1 Rockhurst. Next up: Troy-Buchanan.
3. Staley (North Kansas City) 7-0 (3)
The Falcons rolled to a 42-13 win against Park Hill South. Next up: Park Hill.
Click here for the full POWERADE weekly Missouri football rankings.
October, 3, 2011
10/03/11
12:33
PM ET
By
Brandon Parker
| ESPN.com
After games of Sunday, Oct. 2.
In less than 30 minutes, Kirkwood went from the slight favorite to the undefeated underdog during its matchup against Parkway Central.
Star wideout Mike McHugh went down with a shoulder injury in the first half, leaving the Pioneers to fend off a Parkway Central squad with its own playmaking receiver in Brandon Sheperd. Sheperd got his, racking up seven catches for 145 yards, but it wasn't enough to overcome a total of 271 rushing yards and five touchdowns from the Pioneers in a 40-21 win. No word yet on McHugh's status, but stay tuned for updates.
The rest of the top 10 teams easily downed their opponents, with Rockhurst and Jefferson City looking impressive just a week before they meet up for a highly anticipated battle. We'll touch on that more during Friday's preview.
Speaking of Rockhurst, the Hawklets stood pat at No. 34 in the
POWERADE FAB 50.
Without further ado, here are this week's rankings (last week's rankings are in parentheses):
1. Rockhurst (Kansas City) 6-0 (1)
The Hawklets' defense continues to impress, allowing just 61 yards in a 21-0 win against Hickman. Next is a highly anticipated matchup against No. 8 Jefferson City.
2. CBC (St. Louis) 6-0 (2)
Cadets quarterback Dalton Demos kept up his solid play, throwing for three scores in a 47-15 win against Vianney. Next up: Chaminade.
3. Staley (North Kansas City) 6-0 (3)
Trent Hosick totaled four touchdowns in a 54-27 win against Grandview, as the Falcons continued to stake their claim as Class 5's top squad. A battle with Park Hill South is up next.
Click here for the full POWERADE Missouri football weekly rankings.
September, 30, 2011
9/30/11
11:15
AM ET
By
Brandon Parker
| ESPN.com
For 79 minutes and 59 seconds, it looked like No. 49 SLUH would pull off the upset of undefeated No. 9 Cherry Creek (Colo.). But a last-second shot deflected off Junior Billikens goalkeeper Jack Robinson and into the goal, tying the score at 1 and sending the game into overtime, where Cherry Creek won on PKs to advance in the Gateway Soccer Classic.
That should give you a taste of how exciting the play at this tournament is and will be this weekend.
Click here for a recap of day one
, which included Chaminade playing to a draw with previous No. 1 Jesuit (Calif.), and
here for a complete scoreboard
.
Brandon Parker covers Missouri for ESPNHS magazine and ESPNHIGHSCHOOL.com. Follow him on Twitter @brandoncparker or email him at brandon.c.parker@espn.com.
September, 29, 2011
9/29/11
12:24
PM ET
By
Brandon Parker
| ESPN.com
When it comes to soccer tournaments, it doesn't get much bigger than the Gateway Soccer Classic. Starting today, fifty-nine teams representing 12 states will gather in St. Louis for a tournament that could shake up the national rankings and offer a glimpse into who could hoist their respective state trophies.
The star-powered tournament features nine of the current
POWERADE FAB 50
squads, including Derek Schrick and No. 15 Rockhurst, No. 19 DeSmet led by Louis Berra, and the 49th-ranked SLUH squad anchored by Ryan Merrifield. Christian Brothers and Chaminade are also among the deep field.
For those soccer fans who can't make it out to the tournament, don't sweat; ESPNHS has got you covered. Our resident expert Sheldon Shealer will be covering the entire tournament, so stay tuned to the
ESPNHS soccer page
and
Twitter page
for updates. As we count down the moments until the soccer ball gets rolling, check out this
preview of the tournament
as well as a rundown of
players to watch
.
Brandon Parker covers Missouri for ESPNHS magazine and ESPNHIGHSCHOOL.com. Follow him on Twitter @brandoncparker or email him at brandon.c.parker@espn.com.
August, 21, 2011
8/21/11
11:13
PM ET
By
Brandon Parker
| ESPN.com
Last year, the Gatorade National Boys Basketball Player of the Year hailed from Missouri in Chaminade's Brad Beal. This year, arguably the country's top football recruit resides here in Hillcrest's Dorial Green-Beckham.
So with that said, a
monthly magazine
covering the area just didn't seem like enough. That's why with this post, I present to you ESPNHS Missouri, a blog solely devoted to prep sports news in the Show Me State!
Understand, though, this isn't your normal blog. Along with providing the latest sports news, we're going to hit on all kinds of topics, like:
-Weekly state rankings (Yep, we love a good debate)
-Had a monster game? We'll give you some love in our "Got Game" feature
-See if the state's top ballers are living up to the hype as well as who's on the rise with our All-State Teams and Stock Watch
-Bonus content from material that didn't make it into ESPNHS magazine
Those are just a few highlights of what's to come in this space. And as we get things rolling, we like to encourage democracy here at ESPNHS Missouri, so feel free to send me any content ideas you may have, or just leave a comment below. I'm on Twitter (
@brandoncparker
) and email (brandon.c.parker@espn.com).
Welcome aboard!