High-SchoolMissouri:

Ezekiel Elliott
June, 18, 2012
6/18/12
8:38
AM ET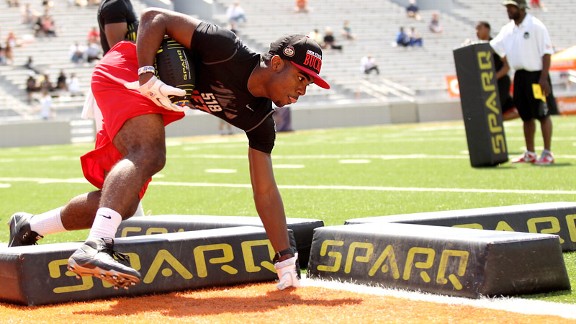 Tom Hauck/ESPNHSJohn Burroughs (St. Louis) running back and Ohio State commit Ezekiel Elliott earned one of five invitations to The Opening at the Champaign NFTC.
Ezekiel Elliott
was a relative unknown heading into 2012.
Last season, the 6-foot, 200-pound running back rushed for 1,802 yards and 34 touchdowns on 211 carries (8.5 yards per carry) and scored 42 total touchdowns while leading John Burroughs (St. Louis) to a Class 3 state runner-up finish.
Yet, Elliott was barely a blip on the national radar. A big reason why is that Elliott had never attended a national combine or camp, choosing instead to focus on his other passion during the offseason — track.
But it all started to change this spring when Elliott began to receive serious football interest from big-time college programs. And on April 1, he committed to Ohio State over Missouri, where his dad played football and his mom ran track, and Notre Dame.
The No. 255 recruit in the
ESPN 300
, Elliott followed his commitment by attending his first major football camp, the Nike Football Training Camp in Champaign, Ill. There, Elliott
was named running back MVP
and earned invitations to both The Opening and Champion Gridiron Kings.
So what's this Buckeyes commit got planned for the rest of the summer?
Get Familiar
with Ezekiel Elliott.
ESPNHS: Why did you never attend a football camp before this spring?
Elliott:
It's something I didn't think was very important. I could have went to some if I wasn't getting the looks I was getting. Also, I'm a track guy, so I'm competing at meets every weekend. I went to Champaign because of The Opening. I had seen it on TV and I was hearing about it from the other recruits. And then I heard from all the Ohio State guys who were going. It's a great chance to go out and compete. I'm not necessarily ranked among the top guys in the country. It's a great way to improve my ranking, compete and have fun.
ESPNHS: What did it feel like when you received The Opening invite?
Elliott:
It felt great. Last summer, I wasn't on anybody's radar. To think in a year's time that I'd be invited to The Opening and Gridiron Kings is incredible. It just shows that hard work pays off.
ESPNHS: You ended up missing most of your sophomore year with a broken collarbone. How tough was that to deal with?
Elliott:
I broke my collarbone during the fourth game of my sophomore year. I had eight touchdowns at that point. It was tough to have to watch. My guys did great and made it to the state championship. But it was tough not being able to be physically part of the games.
ESPNHS: Your team lost in the state final for the second straight year last fall. How much has that motivated you and your teammates this offseason?
Elliott:
It was very heartbreaking. It's something I still think about every day. Now we know what it takes to get there and not get what we want. We just have to work hard, stay humble and stay motivated.
ESPNHS: You're also a track star. Are you planning on running track at Ohio State and why do you love running so much?
Elliott:
Running track has been in the conversation. I'm going to try it my freshman year and see how it goes. I just love to compete. Track helps me stay in shape, and being a hurdler helps my flexibility and my hips. I just can't sit out a season. I also play basketball during the winter. I've been doing this since I was 7. I also run summer track and two-a-days start for football on Aug. 6. It just doesn't feel right for me not to be physically active.
ESPNHS: What led you to pick Ohio State on April Fool's Day?
Elliott:
Nobody thought I was serious. I narrowed it down to three schools — Ohio State, Mizzou and Notre Dame. I visited each school twice. After I came back from the second visit at Ohio State, I sat down with my parents. It was tough. We wanted to wait it out, but it became overwhelming. When we came back from Ohio State, we talked about it and I woke up (the next day) and committed to Ohio State. I called coach (Urban) Meyer and told him I wanted to be a Buckeye. It felt great.
ESPNHS: How much did your parents help you through the process?
Elliott:
I wouldn't be where I am without my mom. She drives me to every practice and every game. My dad has been there for me, too. My dad played football at Missouri and my mom ran track at Missouri, but they supported me in every decision I made. They both love Ohio State. They'll still be rooting me on. I credit everything I've accomplished to them. It's great to have two parents who support you. I'm grateful for everything they've done.
EZEKIEL ELLIOTT
School:
John Burroughs (St. Louis)
Class:
2013
Position:
Running back
HT:
6-0
WT:
200
College:
Ohio State
FAVORITES
TV Show:
"Criminal Minds"
Movie:
"Air Bud"
Musical Artist:
J. Cole
Athlete:
Lolo Jones
Pro Team:
Miami Heat
School Subject:
Physics
Food:
Fried chicken
November, 23, 2011
11/23/11
3:30
PM ET
By
Brandon Parker
| ESPN.com
The day before Thanksgiving. It's like Christmas eve for your stomach, with dreams of turkey, stuffing, mac and cheese and sweet potato pie dancing in your head right up until the moment you sit down at the table.
But for you, Missouri football fans, it's also time for us to take a glimpse at the intriguing slate of championship football games set to take place this weekend. All the hard work, hitting and offensive firepower has built up to this, 12 teams vying for state supremacy at Edward Jones Stadium.
Class 6: CBC vs. Blue Springs South (7:30 p.m. Friday)

After meeting at this same high-stakes juncture five years ago, these two get to do it again in 2011. Last time, Blue Springs South took the crown, but this time CBC, ranked No. 31 in the
POWERADE FAB 50
, enters as the favorite after running the table up until this point. The Cadets have morphed into an incredibly balanced team this season behind QB Dalton Demos (2,434 yards, 31 TDs) and a defense that's given up 10.8 points since surrendering 49 in a season-opening win against Fort Zumwalt West.
The Blue Springs South defense has also been solid and poses the greatest challenge to the Cadets this season. The Jaguars shut down a powerful Rockhurst team in the quarterfinals and have given up a touchdown or less in three of their last four wins. Plus, when the Jaguars D isn't on the field, the rushing attack of RB Steven Sullivan (1,303 yards, 17 scores) and QB Connor Harris (738 yards, nine TDs) eats up the clock. Whichever offense can control the clock and has the least amount of turnovers will win this game.
My pick:
CBC 28, Blue Springs South 20
Class 5: Staley vs. Kirkwood (6:30 p.m. Saturday)

Imagine being Staley, fresh off a 76-70, quadruple-overtime win against Lee's Summit West to avenge last year's semifinal loss and produce arguably one of the state's greatest games ever...and that wasn't even the biggest game of your season. But quarterback Trent Hosick says that shouldn't be a problem.
"We're already back down to the earth," says Hosick, who scored seven times last week. "The goal this year wasn't to beat Lee's Summit West, even though we knew they were very good and would probably have to beat them sometime, but that was just another step in achieving the ultimate goal. So it's not hard for us to get ready for this game against a very, very good Kirkwood team."
Offensive weapons will be on high in this one. Staley boasts Hosick along with standout tailback Morgan Steward while Kirkwood possesses one of the state's top wideouts in Mike McHugh (20 TDs) and has scored 40-plus points in 11 of its 12 games. Staley will look to eat up clock behind its talented rushers, especially considering the Pioneers' solid secondary. One team will emerge with its first loss of the year while another hoist its first-ever title.
My pick:
Staley 35, Kirkwood 31
Class 4: Webb City vs. MICDS (4:15 p.m. Friday)

Scoring has never been a problem this season for MICDS. The Rams are averaging nearly 42 points per game behind gritty running back Michael Scherer, who has racked up 1,542 yards and 27 scores this year.
Winning has rarely been a problem for Webb City this season...and long before now. The defending champ Cardinals have won three state titles since 2006 and triumphed in their last 81 regular season games. Defense has been the Cardinals staple this year, as the unit has posted four shutouts, including one against Hillcrest and its All-American wideout Dorial Green-Beckham in the quarterfinals.
The Rams will be closely studying film of last week's Webb City, as the Cardinals had to overcome a 21-point deficit to win. It'll be interesting to see which unit bends (or breaks) between the MICDS offense and Webb City defense.
My pick:
Webb City 34, MICDS 28
Class 3: Burroughs vs. Logan-Rogersville (3:15 p.m. Saturday)

Burroughs pulled off a major upset last week against Osage behind RB Ezekiel Elliott (40 TDs) but stopping a Logan-Rogersville offense that had 400 yards against defending champ Richmond last week will be no easy task.
My pick:
Logan-Rogersville 28, Burroughs 17
Class 2: Lamar vs. Lafayette County (1 p.m. Friday)

Lafayette County has the moment after winning its last 13 games and knocking off two-time defending champ Penney in the quarterfinals but Lamar has had its way for most of the postseason.
My pick:
Lafayette County 24, Lamar 18
Class 1: Valle Catholic vs. South Shelby (Saturday at noon)
A week before districts, South Shelby was 3-4. But after seven straight wins, the Cardinals find themselves in the state championship as perhaps the biggest underdog. Valle Catholic has won 10 titles and outscored its last eight opponents 334-54.
My pick:
Valle Catholic 31, South Shelby 21
Brandon Parker covers Missouri for ESPNHS magazine and ESPNHIGHSCHOOL.com. Follow him on Twitter @brandoncparker or email him at brandon.c.parker@espn.com.