High-SchoolMissouri:

Joplin
December, 29, 2011
12/29/11
10:10
AM ET
By
Brandon Parker
| ESPN.com
The year 2011 is winding down to a close and what a year it's been in the world of sports. Here are the top 10 stories from the Missouri high school sports scene:
10. Pin 'Em Down

Blue Springs dethroned two-time defending Class 4 champ Park Hill to win its first state title in 12 years. Lewis Foutz, Greg Hegarty, Darick Lapaglia and Daniel Lewis all won individual crowns for the Wildcats.
9. Solid as a Rock

In swimming, it's almost become a question of by how much and not who will win the state championship, thanks to Rockhurst's recent run of dominance. The Hawklets extended their reign to a state-record eight titles this past fall and this time they did it without fielding an individual champ.
8. Zach Attack

A year after winning Gatorade State Runner of the Year, it appeared Zach Herriott was headed for a disappointing senior season after finishing 13th at the cross country state meet. But the Rockhurst harrier bounced back with a ninth-place showing at the prestigious Nike Cross Nationals meet.
7. Perfect Saint
In the strive for a state championship, St. Louis Priory's soccer team one-upped itself. The Rebels went 27-0 to complete the second undefeated season in state history and cop the Class 2 crown. The only other program to go undefeated were the 2005 Rebels, who went 26-0.
6. Falcons Soar
In just its fourth year of existence, Staley made its mark in the history books by marching its way to the Class 5 state football title. Led by rushing machines Trent Hosick (2,054 yards and 31 TDs) and Morgan Steward (2,226 yards and 27 scores), the Falcons went 14-0 and downed previously undefeated Kirkwood in the title game.
5. Cardinal Rule
After graduating nearly 30 players from last year's Class 4 state championship squad, it appeared that 2011 would be a rebuilding year for Webb City. But the Cardinals didn't miss a beat, extending their regular-season win streak to 81 games and going undefeated en route to a repeat Class 4 title. In their 56-42 win against MICDS, the Cardinals helped set championship game records for combined points and yards (1,048).
4. Shooting Stars

For most of the 2010-11 season, Chaminade appeared to be the favorite with All-American Bradley Beal and a 27-0 start. But McCluer North avenged an early-season loss to the Red Devils by beating them 57-56 in the Class 5 quarterfinals behind B.J. Young's 27 points. The Arkansas recruit went on to lead the Stars to the Class 5 title.
3. Big Beal

Although his team fell short of the Class 5 hoops title, Bradley Beal ended his senior season on a good note. The Chaminade senior was named Gatorade National Player of the Year after averaging 32.4 points for the Red Devils. Beal is currently a freshman starter for the Florida Gators.
2. Notorious DGB
He's been the talk of the state football scene since his freshman year and as Dorial Green-Beckham capped his prep career in 2011, he showed just why. The Hillcrest senior
shattered the national mark for career receiving yards
by finishing with 6,356 yards and broke his own state record by recording 2,233 receiving yards to go with 24 touchdowns and 119 catches. Green-Beckham also led the Hornets to their best season ever, going 11-2 and reaching the Class 4 quarterfinals.
1. Joplin Recovers

The 2011 sports season got off to a rough start for many when a tornado tore through Joplin in May, killing 160 while destroying much of the town and Joplin High School. The Eagles football team proved to be a source of unity and healing, as many came out to the games and the team helped raise money en route to a 3-8 season.
Brandon Parker covers Missouri for ESPNHS magazine and ESPNHS.com. Follow him on Twitter
@brandoncparker
or email him at brandon.c.parker@espn.com.
September, 28, 2011
9/28/11
10:55
AM ET
By
Ryan Canner-O'Mealy
| ESPN.com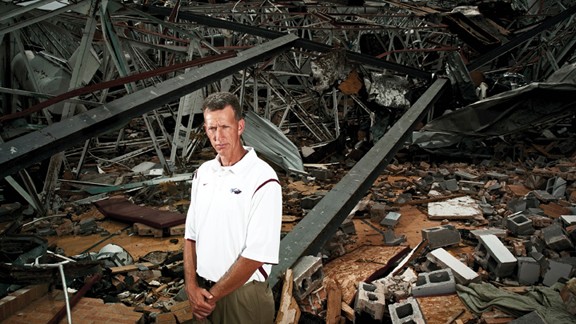 Jeff Lautenberger/Tulsa World/no_sourceJeff Starkweather, Athletic Director of Joplin High School, stands on what remains of the hardwood court in Kaminsky Gymnasium, the school's field house, which was destroyed in an EF-5 tornado in May.
This story originally appeared in the October issue of ESPNHS magazine
Jeff Starkweather didn't think anything of it.
The Joplin (Joplin, Mo.) athletic director had seen countless storms and tornado warnings come and go. So when the alarms started going off just hours after the members of Joplin's Class of 2011 received their diplomas, he went about his business.
Back at his house, Starkweather was watching television when the storm knocked out his DirecTV. But his part of town wasn't directly affected, so he still didn't know the extent of the damage. With his satellite out of commission, he turned on the radio and got a sense of just how bad things were.
"A guy is driving up and down Range Line Road, which is where all the shopping areas and restaurants are, and he's saying, 'The Home Depot is gone, Walgreen's is completely gone,'" Starkweather says.
September, 12, 2011
9/12/11
1:42
PM ET
By
Brandon Parker
| ESPN.com
DeSmet had the better ranking, the talented duo of
Durron Neal
and KeVonn Mabon and, by the second quarter of Saturday's clash with Christian Brothers college, an 11-point lead.
But CBC had Dalton Demos.
The senior quarterback proved unstoppable for the No. 5 Cadets, who erased their early deficit by scoring on seven straight possessions for a relatively easy 52-22 win against No. 3 DeSmet. Demos finished with 280 yards and three scores through the air as well as a 56-yard touchdown reception.
Scoring hasn't been a problem for CBC, which is averaging 56 points during its 3-0 start. Meanwhile, its defense proved stout, holding Neal to just one score on the night.
Rockhurst 16, Blue Springs South 3
With the big play of Jordan Walker at tailback, somewhat lost in the discussion of Rockhurst's powerhouse football team has been the defense — until now. The Hawklets D stuffed Blue Springs South on Friday, allowing just 177 total yards. Walker still made his mark, rushing for 166 yards, including a 60-yard touchdown.
Hillcrest 21, Joplin 9
For once, the attention wasn't on Dorial Green-Beckham — and rightfully so. The talented Hillcrest receiver took a backseat to the emotion surrounding Joplin's first home football game since a tornado destroyed much of the town in May. More than 6,500 fans came out for the contest, but it wasn't enough for the Eagles to pull out a win. Despite holding DGB to six catches and 94 yards, Hornets tailback Stuart Andress broke loose for two touchdowns and 136 total yards.
Park Hill South 13, Park Hill 7
For the first time since 2004, Park Hill South got a win against its crosstown rivalry. Behind an Eddie Soal rushing score and a recovered fumble in the end zone by Craig Scott, the Panthers reeled off 13 straight points to seal the big win.
Brandon Parker covers Missouri for ESPNHS magazine and ESPNHIGHSCHOOL.com. Follow him on Twitter @brandoncparker or email him at brandon.c.parker@espn.com.
September, 9, 2011
9/09/11
6:34
PM ET
By
Brandon Parker
| ESPN.com
In the season opener, CBC went head to head with one of the state's top programs in Fort Zumwalt West. The Cadets ended up outlasting the Jaguars in a 52-49 shootout.
Tonight, the No. 5 Cadets (2-0) will have another chance to prove themselves Saturday and climb up the rankings when they face an explosive No. 3 DeSmet squad (2-0), led by
ESPNHS September cover boy Durron Neal
.
Dalton Demos leads a Cadet offense that has racked up 866 yards in just two games, racking up 378 passing yards, four touchdowns and one interception while spreading the ball around the field. The senior will be tested, though, against a DeSmet defense that has allowed just 12 points per game during its 2-0 start. And with Neal making plays on both sides of the ball as well as KeVonn Mabon leading the defense, the Spartans will give CBC all it can handle.
Prediction:
DeSmet 45, CBC 42
No. 10 Blue Springs South (2-0) at No. 1 Rockhurst (2-0)
No one disputes that Rockhurst is the top squad in the state, but that doesn't mean Blue Springs South is going to back down. In their two meetings last year, the Jaguars played the Hawklets close, losing by just a touchdown on both occasions. Jordan Walker has emerged as the Hawklets' offensive threat, but Blue Springs South has its own weapon in Stephen Sullivan, who recorded 289 all-purpose yards and four touchdowns last week.
Prediction:
Rockhurst 35, Blue Springs South 20
Hillcrest (1-1) at Joplin (1-1)
Emotions will run high for Joplin this weekend, as the Eagles play their first home game since a tornado ravaged the town this past May. Joplin, which is expecting more than 7,000 fans for the Saturday contest, gained momentum with last week's win at West Plains, but of course, Hillcrest boasts the nation's top receiver in Dorial Green-Beckham. Despite the Hornets' loss to Rogers Heritage (Ark.) last week and snagging just two passes in the first half, DGB finished with seven catches for 142 yards and two touchdowns.
Prediction:
Hillcrest 24, Joplin 14
Brandon Parker covers Missouri for ESPNHS magazine and ESPNHIGHSCHOOL.com. Follow him on Twitter @brandoncparker or email him at brandon.c.parker@espn.com.
September, 6, 2011
9/06/11
2:00
PM ET
By
Brandon Parker
| ESPN.com
Remember this name, folks: Trent Hosick.
After transferring from Ozark and sitting out last season as a result, the Staley quarterback entered this season with some hype after performing well at several combines. Now, just two games into the season, the junior is wasting no time justifying the looks he's received from several BCS colleges.
And it's not just his arm that's impressive. In the Falcons' 47-25 rout of Blue Springs, the junior helped Staley overcome an early deficit by rushing for 214 yards and three touchdowns on 20 carries. Tailback Morgan Steward also held his own, racking up 203 yards and three touchdowns and continuing a disturbing defensive trend for Blue Springs (Remember, the Wildcats surrendered 400 rushing yards to Rockhurst's Jordan Walker last week.)
AROUND THE STATE
*Parkway North's 38-20 loss to Summit on Friday stung more than usual, as the Vikings learned that All-State RB/LB Donavin Newsome has an injured MCL. The knee injury actually occurred in the Vikings' season opener, when Newsome had 150 yards on 11 carries and an 102-yard interception return. But the senior struggled last week, gaining just 45 yards on 11 carries while showing signs of injury. Coach Bob Bunton expects to hear an update Tuesday, so stay tuned.
*Joplin gots its first win a season that will carry a much more different meaning as clean-up from the tornado continues. The Eagles took down the West Plains Zizzers (what a name), 35-7, behind a stout defensive effort. Joplin will have quite the test for its first home game, as Dorial Green-Beckham and Hillcrest come to town Sept. 10.
*Jordan Walker had quite the letdown in week two. Just one game after rushing for a school-record 400 yards on 33 carries, the Rockhurst senior tailback "only" had 151 yards and two touchdowns on 16 carries in the Hawklets' 35-20 win against Hutchinson.
Brandon Parker covers Missouri for ESPNHS magazine and ESPNHIGHSCHOOL.com. Follow him on Twitter @brandoncparker or email him at brandon.c.parker@espn.com.