High-SchoolMissouri:

Webb City
June, 6, 2012
6/06/12
10:22
AM ET
By
Mark Tennis
| ESPN.com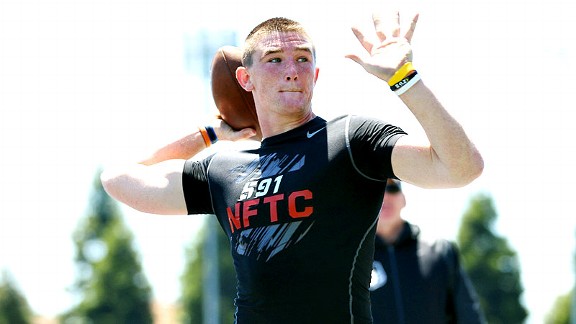 Tom Hauck/ESPNHSJunior quarterback and Missouri commit Trent Hosick guided Staley (Kansas City, Mo.) to its first state title this past fall.
During the offseason, we'll check out one team per week that looks like a sure bet to be among the best in the nation this fall.
FAB 50 Offseason Primer archive
This week's team:
Staley (Kansas City, Mo.)
2011
Season
: 14-0,
Class 5 state champion
, No. 12 in final
Midlands Region rankings
.
Projected
2012
Preseason
Ranking
: Top 50. While the Falcons didn't win the highest division in Missouri's Show-Me Bowl last December, they made a strong case that they were the state's top overall squad. Not only were they unbeaten, but they posted a win against Blue Springs (Mo.) early in the season and Blue Springs was a team that also notched a win early in the season against Class 6 state champion Blue Springs (Mo.) South (Blue Springs, Mo.). This year's Staley team once again will feature the talents of
Trent Hosick
(6-2, 220), one of the top-ranked quarterbacks in the nation. A Missouri commit,
Hosick
rushed for 2,403 yards and 31 touchdowns as a junior and passed for 1,422 yards and 10 scores.
Team Strengths
: Hosick's return automatically makes the Falcons a choice to be one of Missouri's best teams for this fall. He has committed to Missouri after getting offers from most schools from the Big 12 and Big Ten. For the team to repeat and be higher in the rankings, however, a replacement will need to step up for graduated standout
Morgan Steward
. He rushed for 2,226 yards and scored 36 times in his senior season. A good bet to become that feature back is Tre Childs, who averaged nearly eight yards per carry as a backup. Another plus will be the return of all-state offensive lineman Austin White. The defense also could be in rebuilding mode and will need some younger players, including sophomore linebacker Parker Mertz, who played varsity as a freshman, to become team leaders.
Another Missouri team to watch:
Webb City (Mo.) begins 2012 as a two-time defending Class 4 state champion and with on a 30-game winning streak. It's hard to tell how the Cardinals would fare against bigger schools, but early in the season they are going up against Har-Ber (Springdale, Ark.), a solid Class 7A program from Arkansas. This year's team at Webb City also is loaded with returning standouts, led by running back Phoenix Johnson, who rushed for 1,920 yards and scored 33 touchdowns last fall. Three others who earned Class 4A all-state honors as juniors are defensive lineman Jose Speer, kicker Alex Easley, linebacker Nate Brown and tight end Kohl Slaughter.
December, 29, 2011
12/29/11
10:10
AM ET
By
Brandon Parker
| ESPN.com
The year 2011 is winding down to a close and what a year it's been in the world of sports. Here are the top 10 stories from the Missouri high school sports scene:
10. Pin 'Em Down

Blue Springs dethroned two-time defending Class 4 champ Park Hill to win its first state title in 12 years. Lewis Foutz, Greg Hegarty, Darick Lapaglia and Daniel Lewis all won individual crowns for the Wildcats.
9. Solid as a Rock

In swimming, it's almost become a question of by how much and not who will win the state championship, thanks to Rockhurst's recent run of dominance. The Hawklets extended their reign to a state-record eight titles this past fall and this time they did it without fielding an individual champ.
8. Zach Attack

A year after winning Gatorade State Runner of the Year, it appeared Zach Herriott was headed for a disappointing senior season after finishing 13th at the cross country state meet. But the Rockhurst harrier bounced back with a ninth-place showing at the prestigious Nike Cross Nationals meet.
7. Perfect Saint
In the strive for a state championship, St. Louis Priory's soccer team one-upped itself. The Rebels went 27-0 to complete the second undefeated season in state history and cop the Class 2 crown. The only other program to go undefeated were the 2005 Rebels, who went 26-0.
6. Falcons Soar
In just its fourth year of existence, Staley made its mark in the history books by marching its way to the Class 5 state football title. Led by rushing machines Trent Hosick (2,054 yards and 31 TDs) and Morgan Steward (2,226 yards and 27 scores), the Falcons went 14-0 and downed previously undefeated Kirkwood in the title game.
5. Cardinal Rule
After graduating nearly 30 players from last year's Class 4 state championship squad, it appeared that 2011 would be a rebuilding year for Webb City. But the Cardinals didn't miss a beat, extending their regular-season win streak to 81 games and going undefeated en route to a repeat Class 4 title. In their 56-42 win against MICDS, the Cardinals helped set championship game records for combined points and yards (1,048).
4. Shooting Stars

For most of the 2010-11 season, Chaminade appeared to be the favorite with All-American Bradley Beal and a 27-0 start. But McCluer North avenged an early-season loss to the Red Devils by beating them 57-56 in the Class 5 quarterfinals behind B.J. Young's 27 points. The Arkansas recruit went on to lead the Stars to the Class 5 title.
3. Big Beal

Although his team fell short of the Class 5 hoops title, Bradley Beal ended his senior season on a good note. The Chaminade senior was named Gatorade National Player of the Year after averaging 32.4 points for the Red Devils. Beal is currently a freshman starter for the Florida Gators.
2. Notorious DGB
He's been the talk of the state football scene since his freshman year and as Dorial Green-Beckham capped his prep career in 2011, he showed just why. The Hillcrest senior
shattered the national mark for career receiving yards
by finishing with 6,356 yards and broke his own state record by recording 2,233 receiving yards to go with 24 touchdowns and 119 catches. Green-Beckham also led the Hornets to their best season ever, going 11-2 and reaching the Class 4 quarterfinals.
1. Joplin Recovers

The 2011 sports season got off to a rough start for many when a tornado tore through Joplin in May, killing 160 while destroying much of the town and Joplin High School. The Eagles football team proved to be a source of unity and healing, as many came out to the games and the team helped raise money en route to a 3-8 season.
Brandon Parker covers Missouri for ESPNHS magazine and ESPNHS.com. Follow him on Twitter
@brandoncparker
or email him at brandon.c.parker@espn.com.
December, 13, 2011
12/13/11
12:54
PM ET
By
Brandon Parker
| ESPN.com

Monday | Tuesday |

Wednesday | Thursday | Friday

Whether you're putting together a grouping of best quarterbacks or worst albums, or you're making that special list for Santa, there's nothing quite like a good list. So in honor of the holiday season we're bringing you lists all week long — Merry List-Mas! Today: The top underclassmen in high school football.

The state championships are over and the Class of 2012 had their run, but it's never too early to start looking at the impressive players in the Class of 2013 and beyond. Who's going to rule the gridiron in Missouri next season? We give you the early rundown of who to watch for.

5. Aarion Penton (JR), CBC, DB/RB

Credentials: Anchored defense that allowed 15.6 points per game, led Cadets to Class 6 title game

4. Ramon Alton (JR), Kirkwood, RB

Credentials: 1,177 rushing yards, 20 touchdowns, led Pioneers to Class 5 title game

3. Phoenix Johnson (JR), Webb City, RB

Credentials: 1,920 rushing yards, 33 touchdowns, led Cardinals to second straight Class 4 crown

2. Nick Ramirez (JR), Lee's Summit West, LB

Credentials: Offers from Missouri and Nebraska, state's top-ranked linebacker in his class, led Titans to Class 5 semifinals

1. Trent Hosick (JR), Staley, QB

Credentials: 2,403 rushing yards, 31 touchdowns, 1,422 passing yards, 10 passing touchdowns, led team to Class 5 crown

Click here

to check out some of the other states in our Five Days of List-Mas

Tomorrow: POWERADE state hoops rankings Brandon Parker covers Missouri for ESPNHS magazine and ESPNHS.com. Follow him on Twitter @brandoncparker or email him at brandon.c.parker@espn.com.
November, 28, 2011
11/28/11
2:00
PM ET
By
Brandon Parker
| ESPN.com
2011 Final Rankings
Staley has been around for just four years, but in two weeks, the Falcons cemented themselves in Missouri football lore.
In the Class 5 semifinals, Staley outlasted defending champ Lee's Summit West, 76-70, in an instant classic. Then, the Falcons completed an undefeated season by downing Kirkwood for its first state title.
Trent Hosick
and Morgan Steward continued their dominance on the ground by combining for 285 yards and five scores in the 35-21 win. And with this impressive effort, the Falcons can lay claim to the top spot in state rankings.
Just behind them is Blue Springs South, which had an equally impressive run to the Class 6 title. The Jaguars downed the defending champs in Class 5 (Lee's Summit West) and Class 6 (Rockhurst) before beating the state's top team, Christian Brothers College, 40-37 in the final.
Steven Sullivan (three rushing touchdowns) and Connor Harris (two scores, two interceptions) proved to be the difference, as the Jags (12-2) stopped CBC from completing its perfect season. Blue Springs South also beat CBC in 2006 for its first state crown.
History repeated itself (and was made) in the Class 4 final. Webb City and MICDS lit up the scoreboard for the most combined points (98) and yards (1,048), but Webb City outlasted the Rams for its second straight title.
Here's how the final rankings shake out (last week's rankings in parentheses):
1. Staley (Kansas City) 14-0 (2)
The Falcons beat Kirkwood, 35-21, to win their first Class 5 title in the school's four-year existence.
2. Blue Springs South 12-2 (8)
The Jaguars beat previous No. 1 CBC, 40-37, to win their first Class 6 title since 2006.
3. CBC (St. Louis) 13-1 (1)
The Cadets' drive for a perfect season came up just short, as they fell, 40-37 to Blue Springs South in the Class 6 final.
Click here for the full POWERADE weekly Missouri football rankings.
November, 23, 2011
11/23/11
3:30
PM ET
By
Brandon Parker
| ESPN.com
The day before Thanksgiving. It's like Christmas eve for your stomach, with dreams of turkey, stuffing, mac and cheese and sweet potato pie dancing in your head right up until the moment you sit down at the table.
But for you, Missouri football fans, it's also time for us to take a glimpse at the intriguing slate of championship football games set to take place this weekend. All the hard work, hitting and offensive firepower has built up to this, 12 teams vying for state supremacy at Edward Jones Stadium.
Class 6: CBC vs. Blue Springs South (7:30 p.m. Friday)

After meeting at this same high-stakes juncture five years ago, these two get to do it again in 2011. Last time, Blue Springs South took the crown, but this time CBC, ranked No. 31 in the
POWERADE FAB 50
, enters as the favorite after running the table up until this point. The Cadets have morphed into an incredibly balanced team this season behind QB Dalton Demos (2,434 yards, 31 TDs) and a defense that's given up 10.8 points since surrendering 49 in a season-opening win against Fort Zumwalt West.
The Blue Springs South defense has also been solid and poses the greatest challenge to the Cadets this season. The Jaguars shut down a powerful Rockhurst team in the quarterfinals and have given up a touchdown or less in three of their last four wins. Plus, when the Jaguars D isn't on the field, the rushing attack of RB Steven Sullivan (1,303 yards, 17 scores) and QB Connor Harris (738 yards, nine TDs) eats up the clock. Whichever offense can control the clock and has the least amount of turnovers will win this game.
My pick:
CBC 28, Blue Springs South 20
Class 5: Staley vs. Kirkwood (6:30 p.m. Saturday)

Imagine being Staley, fresh off a 76-70, quadruple-overtime win against Lee's Summit West to avenge last year's semifinal loss and produce arguably one of the state's greatest games ever...and that wasn't even the biggest game of your season. But quarterback Trent Hosick says that shouldn't be a problem.
"We're already back down to the earth," says Hosick, who scored seven times last week. "The goal this year wasn't to beat Lee's Summit West, even though we knew they were very good and would probably have to beat them sometime, but that was just another step in achieving the ultimate goal. So it's not hard for us to get ready for this game against a very, very good Kirkwood team."
Offensive weapons will be on high in this one. Staley boasts Hosick along with standout tailback Morgan Steward while Kirkwood possesses one of the state's top wideouts in Mike McHugh (20 TDs) and has scored 40-plus points in 11 of its 12 games. Staley will look to eat up clock behind its talented rushers, especially considering the Pioneers' solid secondary. One team will emerge with its first loss of the year while another hoist its first-ever title.
My pick:
Staley 35, Kirkwood 31
Class 4: Webb City vs. MICDS (4:15 p.m. Friday)

Scoring has never been a problem this season for MICDS. The Rams are averaging nearly 42 points per game behind gritty running back Michael Scherer, who has racked up 1,542 yards and 27 scores this year.
Winning has rarely been a problem for Webb City this season...and long before now. The defending champ Cardinals have won three state titles since 2006 and triumphed in their last 81 regular season games. Defense has been the Cardinals staple this year, as the unit has posted four shutouts, including one against Hillcrest and its All-American wideout Dorial Green-Beckham in the quarterfinals.
The Rams will be closely studying film of last week's Webb City, as the Cardinals had to overcome a 21-point deficit to win. It'll be interesting to see which unit bends (or breaks) between the MICDS offense and Webb City defense.
My pick:
Webb City 34, MICDS 28
Class 3: Burroughs vs. Logan-Rogersville (3:15 p.m. Saturday)

Burroughs pulled off a major upset last week against Osage behind RB Ezekiel Elliott (40 TDs) but stopping a Logan-Rogersville offense that had 400 yards against defending champ Richmond last week will be no easy task.
My pick:
Logan-Rogersville 28, Burroughs 17
Class 2: Lamar vs. Lafayette County (1 p.m. Friday)

Lafayette County has the moment after winning its last 13 games and knocking off two-time defending champ Penney in the quarterfinals but Lamar has had its way for most of the postseason.
My pick:
Lafayette County 24, Lamar 18
Class 1: Valle Catholic vs. South Shelby (Saturday at noon)
A week before districts, South Shelby was 3-4. But after seven straight wins, the Cardinals find themselves in the state championship as perhaps the biggest underdog. Valle Catholic has won 10 titles and outscored its last eight opponents 334-54.
My pick:
Valle Catholic 31, South Shelby 21
Brandon Parker covers Missouri for ESPNHS magazine and ESPNHIGHSCHOOL.com. Follow him on Twitter @brandoncparker or email him at brandon.c.parker@espn.com.
November, 14, 2011
11/14/11
5:09
PM ET
By
Brandon Parker
| ESPN.com
There will be a new champion in Class 6 football, as three favorites, including defending champ Rockhurst, fell in the quarterfinals over the weekend.
*For the first time in five tries, Blue Springs South finally got the upper hand on Rockhurst — and in a big way. The Jaguars scored the first four touchdowns in a 28-7 win while holding the Hawklets to under 100 yards rushing.
*Next the Jaguars will face Francis Howell, which downed another powerhouse in Fort Zumwalt West. Howell beat FZ West at its own game, striking early and often in a 49-28 victory. The Vikings' defense came up big, recording eight sacks to get FZ West QB Drew Hare under wraps, and allowing Howell to score 21 straight points in the second and third quarters.
*While Howell earned vengeance for an early-season loss, DeSmet couldn't do the same in its matchup with SLUH. Despite another big performance from Durron Neal (244 rushing yards, five total touchdowns), it wasn't enough to overcome the Junior Billikens, who blew an 18-point deficit but held on for the 47-46 win. Quarterback Trevor McDonagh had another big day for SLUH (368 yards and five scores), but it was his favorite target who was the talk of the game. Stefan Sansone set a school record with 13 catches for 276 yards and four scores. What's more, he intercepted a pass with less than a minute left to eliminate DeSmet's hopes of a comeback.
*Amid all the upsets, one thing held true in Class 6: top-ranked CBC won. The Cadets took care of McCluer North, 31-10, to set up a semifinal contest against SLUH and move to
No. 38 in the latest POWERADE FAB 50.
*In Class 5 action, a team from Hazelwood will once again be in the semifinals -- it's just not the one you think. A down year for Class 6's Hazelwood Central and a huge weekend upset of Parkway Central pushed Hazelwood East into a semifinal matchup with Kirkwood. Mind you, the Spartans pulled out a 42-15 win after watching the Colts score on their first play from scrimmage. But behind Jimmy Jones' 120 rushing yards and three scores, the Spartans scored 42 of the next 49 points.
*As expected, Staley will battle defending champ Lee's Summit West in the other semifinal. Staley barely squeaked by Fort Osage for a 7-6 win in the quarterfinals while the Titans easily downed Nixa, 42-3. Does Lee's Summit West have enough momentum to pull off the win or will Staley continue its victorious ways behind Trent Hosick and Morgan Steward? Stay tuned.
*Finally, Dorial Green-Beckham's prep career came to an end with a 49-0 loss to defending Class 4 champ Webb City. The star Hillcrest receiver had seven catches for 58 yards, pushing his career receiving yards record to a grand total of 6,356.
Brandon Parker covers Missouri for ESPNHS magazine and ESPNHIGHSCHOOL.com. Follow him on Twitter @brandoncparker or email him at brandon.c.parker@espn.com.
November, 11, 2011
11/11/11
3:39
PM ET
By
Brandon Parker
| ESPN.com
Two weeks from now, several fortunate teams will be ready to eat. Yeah, Thanksgiving is around then, too, but I'm talking about those squads that were hungry enough to reach the Missouri state football championships and will be starving to hoist that crown. Here are some of this week's big matchups:
DeSmet at SLUH

The last time DeSmet tasted defeat this season, it came at the hands of SLUH, which rode QB Trevor McDonagh's 424 yards and five scores to a 37-31 double-overtime win. The Spartans will look to put some more pressure on McDonagh, while building off the 263 rushing yards that they churned out in that same game. The fact that DeSmet could have such a good offensive output, including 165 yards from star Durron Neal, shows how key stopping McDonagh will be in the Spartan's overall success.
My pick:
DeSmet 31, SLUH 27
McCluer North at CBC
McCluer North enters this game riding a 10-game win streak, yet it still pales in comparison to what the state's top-ranked team has done this season. Cadets QB Dalton Demos has thrown for 29 scores to anchor an offensive attack that averages more than 44 points per game. CBC will face a test in the Stars' defense, which has the ability to slow down opponents with aggressive play.
My pick:
CBC 35, McCluer North 24
Fort Zumwalt West at Francis Howell

A massive crowd is expected at this matchup, which revives an intense contest earlier this season that saw Fort Zumwalt West win 34-28. Both teams can score and in a hurry behind strong-armed quarterbacks (West's Drew Hare has 30 total touchdowns; Howell's Eric Siebenshuh has thrown for 28 scores) and big playmakers (West RB Ray Harris has scored 31 times; Howell's Alex Strong and Corey King have both tallied more than 1,000 receiving yards). Whichever team strikes first will gain a helpful upper hand in what could be a shootout.
My pick:
Fort Zumwalt West 42, Howell 41
Webb City at Hillcrest

It doesn't get much bigger than this in Class 4. One of the greatest prep wide receivers ever in Dorial Green-Beckham will go up against one of prep football's greatest dynasties in Webb City this Saturday. For the Cardinals, the focus will obviously be on slowing down DGB, but the Hornets showed in their first-round win against St. Clair that they aren't a one-man team, as Stuart Andress ran for 132 yards and two scores. Webb City, which has won 27 straight games, also has its own ground weapons, which combined to pile up 494 rushing yards in last week's win against Helias. Whichever team wins this contest will be the favorite to win it all.
My pick:
Webb City 28, Hillcrest 24
Brandon Parker covers Missouri for ESPNHS magazine and ESPNHIGHSCHOOL.com. Follow him on Twitter @brandoncparker or email him at brandon.c.parker@espn.com.
November, 8, 2011
11/08/11
11:43
AM ET
By
Brandon Parker
| ESPN.com
Dorial Green-Beckham has already cemented his place in the record books as the all-time career receiving yards later. Now it's his team that's making history.
For the first time in school history, Hillcrest advanced past the second round of the playoffs with a 28-21 win against previously undefeated Union on Monday. Two third-quarter touchdowns allowed the Hornets to break a tie at 14 and gain enough cushion for the road win. Green-Beckham finished with six catches for 116 yards and a touchdown, pushing his career receiving yards mark to 6,287 yards and counting.
The Hornets will meet the state's No. 7 team and defending Class 4 champs Webb City in a Saturday quarterfinal.
*Parkway Central pulled off a tough task, beating Webster Groves for the second time in three weeks. Behind Alan Gasnali's 183 rushing yards and three scores, the Colts overcame a 13-point halftime deficit to pull out a 42-26 win in Class 5 sectional playoff action. They will host Hazelwood East in the quarterfinals on Saturday.
*In Class 6 action over the weekend, CBC finally overcame the obstacle that is Hazelwood Central by beating the Hawks, 35-0. The Cadets had fallen to the Hawks in the first round in each of the last two seasons. CBC's victory pushed the team up to No. 40 in the
POWERADE FAB 50
. They now advance to face McCluer North on Friday in the quarterfinals.
Brandon Parker covers Missouri for ESPNHS magazine and ESPNHIGHSCHOOL.com. Follow him on Twitter @brandoncparker or email him at brandon.c.parker@espn.com.
November, 3, 2011
11/03/11
5:04
PM ET
By
Brandon Parker
| ESPN.com
Classes 4 and 5 already got the first round of the postseason off to a dramatic start. Here are a few highlights:
-In a powerhouse first-round matchup, Webb City began its Class 4 title defense by bouncing Bolivar from the playoffs with a 35-21. Cardinals will host Helias next week.
-St. Clair resorted to double-teaming Dorial Green-Beckham the entire night in their contest at Hillcrest, so tailback Stuart Andress picked up the slack, running for 132 yards and two scores in a 41-14 win. DGB had two scores but only added 62 yards to his career record total, which now sits at 6,171. Hornets will travel to rival Union next week.
-In Class 5, Webster Groves nearly got knocked off for the second time in three weeks. In a furious fourth quarter, Summit cut a 24-point lead to two with 30 seconds to play. On the two-point conversion try, Webster Groves LB E.J. Clayborn stuffed Ian McIntosh at the goal line to give the Statesmen the dramatic win. Next up: a rematch with Parkway Central, which defeated Webster Groves just three weeks ago.
Class 6 action starts Friday. Of the seven games, here are two to watch out for:
Hazelwood Central at No. 1 CBC
Perennial power Hazelwood Central backed into the playoffs this year and as a result, gets to face the state's top-ranked team. On the Hawks' side is the fact that they've eliminated CBC in the first round for the last two seasons. It's safe to say, though, that the tables have turned, and with Cadets QB Dalton Demos playing at a high level, CBC should overcome this hurdle on Friday.
My pick:
CBC 35, Hazelwood Central 21
DeSmet at Eureka
Durron Neal returned from injury last week to score three times and help the Spartans blow past Mehlville to gain momentum for the playoffs. Thing is, with Neal susceptible to injury and the Spartans sometimes struggling in big games this year — along with the fact it's the playoffs — the door is open for a Eureka upset. The Wildcats won their last three to finish 8-2 and are led by the QB-WR duo of Seth Pratt and Jaron Henderson.
My pick:
DeSmet 31, Eureka 21
Brandon Parker covers Missouri for ESPNHS magazine and ESPNHIGHSCHOOL.com. Follow him on Twitter @brandoncparker or email him at brandon.c.parker@espn.com.
September, 28, 2011
9/28/11
10:55
AM ET
By
Ryan Canner-O'Mealy
| ESPN.com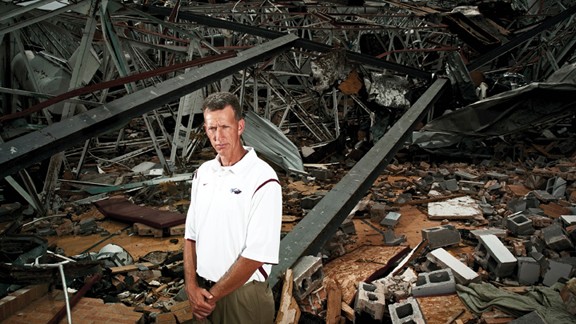 Jeff Lautenberger/Tulsa World/no_sourceJeff Starkweather, Athletic Director of Joplin High School, stands on what remains of the hardwood court in Kaminsky Gymnasium, the school's field house, which was destroyed in an EF-5 tornado in May.
This story originally appeared in the October issue of ESPNHS magazine
Jeff Starkweather didn't think anything of it.
The Joplin (Joplin, Mo.) athletic director had seen countless storms and tornado warnings come and go. So when the alarms started going off just hours after the members of Joplin's Class of 2011 received their diplomas, he went about his business.
Back at his house, Starkweather was watching television when the storm knocked out his DirecTV. But his part of town wasn't directly affected, so he still didn't know the extent of the damage. With his satellite out of commission, he turned on the radio and got a sense of just how bad things were.
"A guy is driving up and down Range Line Road, which is where all the shopping areas and restaurants are, and he's saying, 'The Home Depot is gone, Walgreen's is completely gone,'" Starkweather says.
September, 20, 2011
9/20/11
2:48
PM ET
By
Brandon Parker
| ESPN.com
In this week's edition of the Missouri
All-State
Football Stock Watch, wide receivers are the toast of the town, as two top wideouts have led their teams to undefeated records and top 10 rankings through the first four weeks.
UP — Mike McHugh, Kirkwood WR
While Northwestern fans watched what they used to have in quarterback Mike Kafka, who subbed for the concussed Michael Vick during the Eagles' loss to the Falcons, they can also bask in what they will have in another Mike. Mike McHugh, that is. The Kirkwood senior wideout and Wildcats commit exploded this past week, catching four passes for three touchdowns and returning an interception 98 yards for another score in Kirkwood's 47-0 blowout of Hazelwood Central. McHugh's effort earned him
ESPNHS Southwest Regional Player of the Week honors
.
DOWN — Evan Boehm, Lee's Summit West OL
The Titans' top offensive lineman could only watch as his Lee's Summit West squad lost to Blue Springs South for the second straight year. A concussion during the prior week forced Boehm out of the contest, and with the new rules and rightful precaution surrounding head injuries, there's no guarantee the senior will return for this week's game against Winnetonka. Regardless, the defending Class 5 champs will be hungry to bounce back.
UP — Jarvis Jones, Webb City WR
Jones has never experienced a regular-season loss in his four years at Webb City and his effort in Friday's 37-7 win against Neosho shows why. The senior caught four passes for 59 yards, including 50-yard touchdown reception just before halftime. The Cardinals' 75-game win streak will be tested this week against undefeated Nixa, but with Jones on their side, chances for yet another victory are good.
Brandon Parker covers Missouri for ESPNHS magazine and ESPNHIGHSCHOOL.com. Follow him on Twitter @brandoncparker or email him at brandon.c.parker@espn.com.
August, 31, 2011
8/31/11
10:07
AM ET
By
Brandon Parker
| ESPN.com
School:
Webb City
Sport:
Football
With Friday's 38-14, opening-night win against Ozark, Webb City has now won 72 straight regular season games. Phoenix Johnson led the way with 135 rushing yards and two touchdowns for the Cardinals.
This year, that streak may be tested, as the Cardinals field a very young squad. But even amid graduations, injuries and more over the years, history has still proven good to the Cardinals, who have won three Class 4 state titles ('06, '08 and '10) during this span.
In fact, the last time the Cardinals lost in the regular season— a 30-3 defeat at Hickman in 2003 — George W. Bush was in his first term as president, a tweet was the sound a bird made and a Jim Tressel-led Ohio State squad beat the Miami Hurricanes for the BCS title (go figure).
Brandon Parker covers Missouri for ESPNHS magazine and ESPNHIGHSCHOOL.com. Follow him on Twitter @brandoncparker or email him at brandon.c.parker@espn.com.
August, 30, 2011
8/30/11
9:14
AM ET
By
Brandon Parker
| ESPN.com
The undisputed top team in the state of Missouri can now say it's one of the nation's best squad after entering the
new POWERADE FAB 50 football rankings.
The Hawklets opened the season with a big 35-20 win against Blue Springs, vaulting to them the No. 50 spot on the updated list.
Without further ado, here's a look at the new state rankings following the first week of play (last week's rankings in parentheses):
1. Rockhurst 1-0 (1)
Maintained supremacy with 35-20 win against solid Blue Springs squad. Up next: Hutchinson (Kan.) on Friday.
2. Lee's Summit West 1-0 (2)
Defending Class 5 champs took care of Raymore-Peculiar, 49-13. Up next: at Central on Friday.
3. DeSmet (St. Louis) 1-0 (4)
Moved up a spot after big 28-0 win against fellow top 10 team, Hazelwood Central. Up next: at Hazelwood East High.
4. Staley (Kansas City) 1-0 (5)
Showed potential with 30-6 win against Raytown. Will get big test Friday against Blue Springs.
5. Christian Brothers (St. Louis) 1-0 (8)
Moved up several spots with
52-49 upset of Fort Zumwalt West
. Next up: Howell Central on Friday.
6. Webster Groves 1-0 (7)
Moves up a spot in the rankings, scoring 37 first-half points en route to 50-12 victory against McCluer. Up next: University City on Friday.
7. Fort Zumwalt West (O'Fallon) 0-1 (3)
Opened season with
stunning loss to fellow top-10 squad Christian Brothers
, but didn't fall out of rankings. Will look to rebound against Howell North on Friday.
8. Kirkwood 1-0 (9)
Put together easy 36-7 win against Rockwood Summit in opener. Up next: Bye week followed by Seckman on Sept. 9
9. Webb City 1-0 (10)
Overcame graduation of several senior starters, the Cardinals stood tall in their opener with 38-14 win against Ozark. Next up: at Willard on Friday.
10. Blue Springs 0-1 (Unranked)
Despite record, the Wildcats put up a fight in loss to top-ranked Rockhurst and have a chance to rebound in a big way Friday against fourth-ranked Staley.
Dropped out of Top 10:
No. 6 Hazelwood Central (Florissant) 0-1
On the Bubble:
Blue Springs South, Bolivar, Carthage, Harrisonville, Hazelwood Central (Florissant), Helias (Jefferson City), Howell (St. Charles), Jefferson City, Kearney, MICDS (St. Louis), Park Hill (Kansas City), Park Hill South (Kansas City), Parkway Central (Chesterfield), Penney (Hamlilton), Richmond, Rock Bridge (Columbia), Valle Catholic (St. Genevieve), Warren County
Brandon Parker covers Missouri for ESPNHS magazine and ESPNHIGHSCHOOL.com. Follow him on Twitter @brandoncparker or email him at brandon.c.parker@espn.com.