High-SchoolNew-Jersey:

Bobby Hurley Sr.
January, 16, 2012
1/16/12
3:27
PM ET
By
Brandon Parker
| ESPN.com
SPRINGFIELD, Mass. -- Hall of Fame coach or not,
Bob Hurley Sr.
was searching for answers during halftime Monday as his No. 4 St. Anthony (Jersey City, N.J.) team was locked in a tight game with No. 34 Miller Grove (Lithonia, Ga.) at the Spalding Hoophall Classic.
Miller Grove had tallied 21 second-quarter points to storm back within four of the Friars, and it seemed like just a matter of time until the Wolverines' star big man
Tony Parker
awoke from his first-half slumber.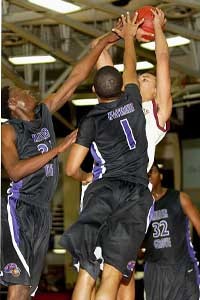 J. Anthony Roberts/ESPNHSEven with the defensive focus solely on him, Kyle Anderson managed to dominate.
Then came a quiet suggestion, but not from one of the basketball gods who has taken up residence at the Basketball Hall of Fame just miles down the street. Chalk this one up to Friars assistant Ben Gamble.
"As I'm walking upstairs, Ben Gamble, one of my assistants, says to me, 'Maybe you start the second half in zone.' And of course we never came out of it," Hurley said with a laugh. "I come out looking like the genius, but Ben told me to do it."
The Friars held the Wolverines to 22 second-half points thanks to a swarming 1-1-3 zone attack, paving the way for a 60-48 win. St. Anthony (11-0) has now won 44 straight games, dating back to last year's
POWERADE FAB 50 championship season
.
It didn't hurt that Hurley had
Kyle Anderson
on his side, either. The St. Anthony senior guard seemed to have his hand in every aspect of the game, finishing with 18 points, 10 rebounds and seven assists.
"Kyle picking up his level of play probably had a lot to do with the second half and us getting the win, too," Hurley said.
As has been the case with most of Miller Grove's opponents this season, the Friars came in with a plan of collapsing on Parker in the post to disrupt his shots and force him to pass. With three or four long-armed Friars in his face, Parker was held to just six points, and St. Anthony easily topped Miller Grove on the glass, 32-19.
Meanwhile, Anderson was almost a one-man show, finding open teammates with pinpoint passes and having his way on offense with an assortment of fadeaways and strong drives to the lane.
The complete effort on both ends of the court had to feel familiar for the Friars. Last year at Hoophall, they topped DeMatha (Hyattsville, Md.) by 50 en route to the FAB 50 national championship.
Currently sitting No. 4 in the rankings
, St. Anthony appears poised to make a similar run this season.
"Last year, this was the time where everybody clicked," said Anderson, a UCLA commit. "So I think this year, over the next few games, this is where we'll click and come together and hopefully get every game."
Brandon Parker covers high school sports for ESPNHS. Follow him on Twitter @brandoncparker or email him at brandon.c.parker@espn.com.
January, 16, 2012
1/16/12
7:45
AM ET
By
Jason Jordan
| ESPN.com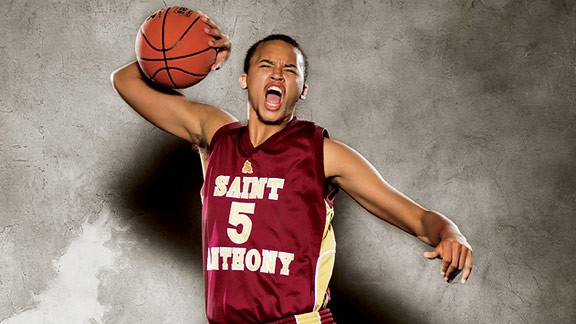 Kelly Kline/ESPNHSKyle Anderson said he and the Friars love their new role of underdog.
SPRINGFIELD, Mass. -- There are so many things that make
Kyle Anderson
a typical 18-year-old high school basketball player: He's an avid hip hop fan, he's a social media junkie and he
rocks Beats by Dre headphones
prior to games.
The one thing that makes him a bit different is that he doesn't pay attention to rankings of any kind.
Seriously.
"I'm telling you, man," Anderson said, "I don't look at that kind of stuff."
It's obvious the St. Anthony (Jersey City, N.J.) senior point guard knows that statement might raise a few eyebrows, so he adds a quick follow-up to reinforce his claim.
"I swear I don't get in to all that stuff," said Anderson, a UCLA signee who is ranked No. 5 in the
ESPNU 100
. "That's for other people to decide. All we do is go out there and play as hard as we can. We stay focused on that."
The Friars, ranked No. 4 in the
POWERADE FAB 50
, will need that focus today when they face No. 34 Miller Grove (Lithonia, Ga.) at the Spalding Hoophall Classic in Springfield, Mass., at 11 a.m. ET on ESPNU.
"We look at the polls at the end of the year," St. Anthony coach
Bobby Hurley Sr.
said. "Other than that, I don't really put any thought into where we're ranked and things like that. It doesn't matter to me."
That said, Hurley was "aware" that fresh off of an undefeated (33-0) season and a No. 1 final ranking in the 2010-11 FAB 50, his Friars began this season ranked No. 9. After some digging, Anthony fessed up to "not really understanding" how they were ranked so low after a perfect season.
"I didn't really get it," Anderson said. "But that's what I mean, that's why I don't really keep up with those things because it's someone's opinion. I'm sure that there are some teams that are better than us, but eight teams? Do I agree with that? Nah."
To be fair, St. Anthony lost
Myles Mack
, an
ESPNHS first team All-American
who averaged 15.2 points and 3.6 assists per game last season. Mack is now a freshman at Rutgers averaging 10.2 points and 2.1 assists per game for the Scarlet Knights.
Still, you get the sense that Anderson has drawn the conclusion that the eight-spot drop in the preseason was the voters' way of saying that he alone wasn't enough, even if he is putting up 17.4 points, 8.7 rebounds and 6.1 assists per game for the Friars.
"Kyle is the most versatile player in the country," said Miller Grove coach
Sharman White
. "He's the guy and he's been the guy. If we're not able to slow him down or stop him from getting into a groove, then it's going to be a long day. I'm not sure why St. Anthony was slighted in the rankings from the beginning, but I know that Kyle and Coach Hurley will only use that as motivation."
White is exactly right. Anderson said he and the Friars have come to relish the role of the underdog.
"It's a new situation for us, but we love it," Anderson said. "A lot of people are overlooking us, and that's fine. It's like people don't see us coming, but we're definitely coming. We're definitely coming."
And everyone will have to pay attention to that.
Jason Jordan is the basketball editor for ESPNHS. He can be reached at jason.x.jordan.-ND@espn.com. Don't forget to follow him on Twitter: @JayJayESPN.