High-SchoolNew-Jersey:

Elijah Shumate
December, 5, 2011
12/05/11
4:03
PM ET
By
Brandon Parker
| ESPN.com
There's no need for a playoff or BCS in this year's high school football campaign; Don Bosco Prep is the clear No. 1. The Ironmen cemented their claim on the top spot with a 42-14 win in the against Bergen Catholic in this weekend's Non-Public, Group 4 title. The outcome marked the Ironmen's sixth straight state title and second
POWERADE FAB 50
national crown in the three years.
The defense led the way in the finale, intercepting four passes and racking up seven sacks. RB/DB Elijah Shumate scored twice and had a pick-six in his final high school game.
*North Bergen also made it a memorable season, knocking off previously unbeaten Montclair on the final play of the North Jersey Section 1, Group 4 title. Debray Tavarez pulled down a 22-yard touchdown pass as time expired to give the Bruins their first title and coach Vin Ascolese a win in the final game of his 50-year coaching career.
*Wayne Hills overcame the absence of nine of its players (suspended after being charged with aggravated assault) to knock off Old Tappan, 15-12, in the North Jersey Section 1, Group 3 title. The Patriots used a 25-yard pass from Jeff Gignac to Kevin Olsen to secure its second straight crown.
*Eighth-seeded Piscataway overcame the odds and a tough opponent in Elizabeth to cop its second straight North Jersey Section 2, Group 4 crown with a 41-34 win. Tevin Shaw had a career effort, rushing for a school-record 304 yards and three touchdowns, including the decisive score with 17 seconds left.
Here are how the final state rankings after a wild championship weekend:
1. Don Bosco Prep 11-0
Cemented top spot in state and nation with 42-14 win against Bergen Catholic in Non-Public, Group 4 championship.
2. St. Joseph (Hamm.) 10-0
Capped dominant season with 51-0 win against St. Mary. The Non-Public, Group 1 champs allowed 19 points all season.
3. Bergen Catholic (Oradell) 8-3
The Crusaders once again fell to rival Don Bosco Prep in the Non-Public, Group 4 title by the count of 42-14. Two of three losses came at the hands of nation's top team.
Click here for the full POWERADE weekly New Jersey football rankings
October, 3, 2011
10/03/11
2:15
PM ET
By
Brandon Parker
| ESPN.com
After games of Sunday, Oct. 2.
Talk about a wild weekend of football. In a much-anticipated rivalry game,
Don Bosco Prep showed why the fourth quarter is its time to shine
while St. Joseph (Hamm.) avenged its lone loss from a year ago.
Let's start at No. 1, where the nation's top-ranked team once again overcame a fourth-quarter deficit behind its defense. Kyle Sakowski's interception sparked a 12-point final period, as Elijah Shumate scored two of his three touchdowns to push the Ironmen past a tough Bergen Catholic squad, 33-22. For three quarters, it looked like the Crusaders would pull off the upset, but as they showed against Manatee (Fla.) two weeks ago, the Ironmen's resolve carried them to their 39th straight win.
Meanwhile, Holy Spirit saw its 16-game win streak snapped against St. Joseph (Hamm.). You might remember last year that the Spartans easily beat a turnover-prone Wildcats squad, 35-0 last year, so the reversal of fortune in this past Saturday's 34-7 win for the Wildcats was probably very sweet. The defensive duo of Max Valles and Kaiwan Lewis looked stout in holding Holy Spirit to just 56 rushing yards and 155 total yards.
Needless to say, Holy Spirit dropped out of the
POWERADE FAB 50
while Don Bosco remains on top. This week, the Ironmen cap an intriguing tripleheader at Fordham University (N.Y.), as they face national No. 6 St. Edward (Ohio) after Bergen Catholic takes on Friendship Academy (Washington, D.C.) and St. Peter's Prep battles Ursuline (Ohio). In the meantime,
click here
to see what else is going down on the New Jersey high school sports scene.
Here are this week's rankings (last week's rankings are in parentheses):
1. Don Bosco Prep (Ramsey) 4-0 (1)
The Ironmen once again overcame a fourth-quarter deficit against a tough opponent, this time beating rival Bergen Catholic, 33-22, behind three touchdowns by Elijah Shumate. And as has been the trend this season, the road doesn't get any easier, with national No. 6 St. Edward (Ohio) coming to town this week.
2. Wayne Hills 4-0 (4)
Andrew Monahan scored three more touchdowns and the Patriots shut out their third straight opponent in a 34-0 win against Teaneck. Next up: Paramus.
3. Bergen Catholic (Oradell) 2-2 (3)
A 22-21 fourth-quarter lead ended in a loss for the Crusaders, who have now lost nine straight to rival Don Bosco Prep. Still, the Crusaders can notch a huge bounceback win when they face Friendship Academy (Washington, D.C.) this Saturday in New York.
Click here for the full POWERADE New Jersey weekly football rankings.
September, 9, 2011
9/09/11
6:10
PM ET
By
Brandon Parker
| ESPN.com
For weeks, we've talked about the juggernaut that is
Don Bosco Prep's football
game. Four straight state titles. 35 consecutive wins. No. 1 ranking in the POWERADE FAB 50.
This weekend, the curtain will finally be raised on the Ironmen and the Jersey football scene.
Don Bosco is waiting no time proving its worth as the nation's top team as it hosts No. 6 Mission Viejo (Calif.), a program that's produced the likes of Jets QB Mark Sanchez. This year's quarterback, Alex Bridgford, looked solid in the Diablos' opener, passing for four touchdowns. But the Ironmen defense present quite the challenge for Bridgford.
From lineman Darius Hamilton and Mike Strizak to defensive backs Elijah Shumate, Yuri Wright and Jabrill Peppers, the Ironmen have the potential to lock down any and every opponent that comes their way. (Good thing, too, judging by the monster schedule Don Bosco has this season).
The X-factor could be Ironmen quarterback Mike Yankovich. The senior replaces two-year starter Gary Nova, who is now at Rutgers. Yankovich has a good target in All-State wideout Leonte Carroo, but he certainly has little time for growing pains with a squad like Mission Viejo coming to town.
Prediction:
Don Bosco 28, Mission Viejo 24
No. 5 St. Peter's Prep vs. Montclair at Rutgers
This matchup serves as the biggest in-state matchup, as there's plenty of star power on both sides. St. Peter's Prep has the experience edge, boasting senior quarterback Brandon Napoleon (West Virginia commit) and tight end Michael Giacone (Rutgers). In pursuit of Napolen will be All-State defensive lineman Julian Pinnix-Odrick, who had 82 tackles and 10 sacks last season.
Prediction:
St. Peter's Prep 35, Montclair 21
Hammonton at Mainland Regional
It will be quite the emotional weekend for Mainland Regional's football team. Not only is the 10th anniversary of Sept. 11 sure to be heavy on some minds, but this will mark the first game played by the Mustangs since losing four teammates in a
tragic car crash
in August.
Brandon Parker covers New Jersey for ESPNHS magazine and ESPNHIGHSCHOOL.com. Follow him on Twitter @brandoncparker or email him at brandon.c.parker@espn.com.
August, 22, 2011
8/22/11
7:04
PM ET
By
Brandon Parker
| ESPN.com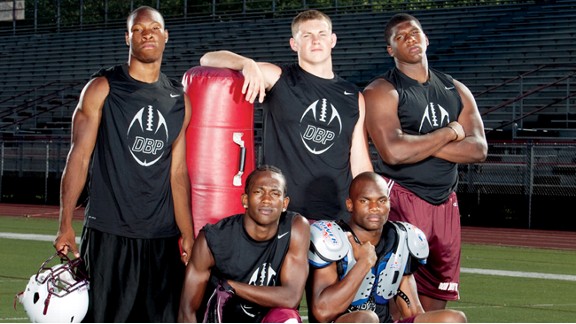 Steve Boyle/ESPNHSDon Bosco Prep, the top-ranked football team in the POWERADE FAB 50 and five-time defending state champ, is led by this senior quintet. Clockwise from left: Elijah Shumate, Mike Strizak, Darius Hamilton, Leonte Carroo and Yuri Wright
Winners of the last five state championships. A record of 59-1 in that span. Currently atop the
POWERADE FAB 50 Football Team Rankings
for the second time in three years.
The maroon-and-white tradition within Don Bosco Prep's football program is indeed a strong one, especially of late. And with 10 of its 11 starters returning on defense, one can't help but think that the saga will continue this upcoming season.
Anchoring this charge is a quintet of seniors headed for Division I BCS programs -- Leonte Carroo, Darius Hamilton, Elijah Shumate, Mike Strizak, Yuri Wright. In the September edition of the ESPNHS New Jersey magazine, each veteran took time to share what it felt like to enter into this special dynasty as well as their plans in making sure it carries on in 2011. Click
here
to see what they had to say.