High-SchoolNew-Jersey:

Georgia
February, 13, 2012
2/13/12
11:40
PM ET
By
Steve Underwood
| ESPN.com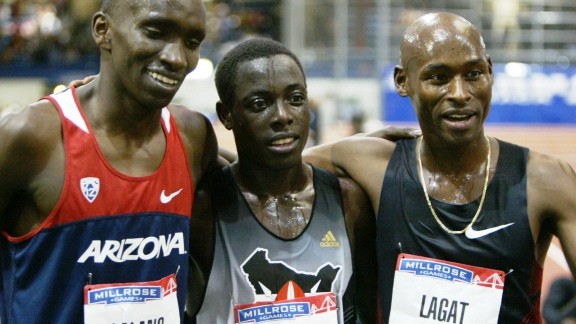 John Nepolitan/ESPNHSRecord-breaking trio: Edward Cheserek, who broke Lukas Verzbicas' 5k HSR is surrounded by collegiate and American record-setters in the same race: Lawi Lalang and Bernard Lagat.
Meet Index
In a venue that high school tracksters own for so many days and nights over the long winter, it was only fitting that the The Armory's first-ever hosting of the Milrose Games should have been a special one for preps. Yes, for the previous years of the meet in Madison Square Garden, there were many special boys and girls miles, plenty of good relays, and some occasional forays by preps into elite races. But in 2012 with the promise of the 200-meter track encouraging fast times, meet organizers brought in three of the nation's very best – St. Benedict's (Newark, N.J.) junior
Edward Cheserek
, Neptune (Neptune, N.J.) senior
Ajee Wilson
, and Christopher Columbus (Bronx, N.Y.) senior
Strymar Livingston
– to battle the pros and chase records and added a few relays as well. It all added up to a very heady brew in the sold-out historic structure.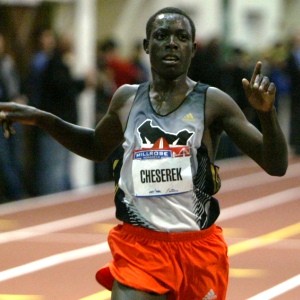 John Nepolitan/ESPNHSEd Cheserek crosses the line in triumph, setting the 5k USR with 13:57.04.
And guess what? The meet lived up to the hype – especially when the preps mixed it up with the elites. In the men's 5,000, Cheserek started fast, shook off the lack of consistent pacing, and finished strong to nail his first USR: a 13:57.04 that took more than nine seconds off of
Lukas Verzbicas
' 2011 mark (14:06.78). Fellow Kenyan-born stars Bernard Lagat and Lawi Lalang (U. of Arizona), who gave Cheserek a little boost when they lapped him, set American and collegiate records ahead of him and the trio celebrated together afterward.
The women's 800, on the other end of the spectrum, could hardly have been more tightly packed, and that Wilson was right in the thick of that pack was a tribute to what she's learned in her third race in three weeks against the elites. It wasn't strategically perfect – she was pinned on the curb mid-race and swung extremely wide in the last 100 – but it was aggressive and that's what counted most. Wilson's reward was a US#1 2:04.13 that's #2 all-time and netted her 4th in a field of eight.
Only Livingston wasn't elevated on this day by racing the elites. After two spectacular records in three weeks, he couldn't get in the rhythm in a slow-starting field and wound up 6th out of six in 1:03.39.
Meanwhile, the prep miles were typically strong and deep, with good storylines, even if they weren't world-beaters on the clock. US#1 North Shore (Glen Head, N.Y.) senior
Samantha Nade
l was the overwhelming favorite to win and take down the Millrose record – and didn't have to PR to do so. With somewhat tired legs, she settled for a 4:46.19 victory.
Liverpool (Liverpool, N.Y.) senior
Zavon Watkins
was the boys favorite (though not as overwhelmingly as Nadel), but in the third quarter of the race he had drifted into next-to-last place. No problem; Watkins woke up before the final lap and delivered a sledgehammer of a kick (28.5), finally stomping across the line with a triumphant growl.
The prep relays, overall, didn't quite live up to pre-meet hopes; for example, the nation-leading
Christian Brother Academy
(Lincroft, N.J.) boys 4x800 and
Boys & Girls
(Brooklyn, N.Y.) boys 4x400 squads didn't field their 'A' teams for various reasons. B&G's boys did, however, sweep the PSAL 4x400 and Metropolitan 4x800 titles, while CBA got an impressive Suburban 4x400 victory. Another sweep came in the newest relay events, the sprint medleys for boys and girls, as
St. Anthony's
(Melville, N.Y.) claimed both races. The most impressive stickwork, however, came in the girls Metropolitan 4x800, as
Garden City
(Garden City, N.Y.) ripped a US#1 9:00.92, #10 all-time.
New meet records were established in the girls mile and weight throw, and nearly all of the prep relays.
Cheserek and his fast friends
The aftermath said it all: First,
Edward Cheserek
on the track celebrating as part of a trio of Kenyan-born record-breakers. Then, Edward Cheserek delivering softly, quickly spoken short answers and sentence fragments in the interview room, leaving as quickly as he politely could. Finally, Edward Cheserek back on the track, getting into his warmups while happily chatting with the middle man of the aforementioned trio, Lawi Lalang.
Except for the rare occasion, the St. Benedict's junior prefers to do his talking with his feet. And breaking records is a lot more fun when you have comrades from home to share it with.
Though Cheserek had run very fast times in the Stanner 2-mile and the New Balance Games mile (the elite race), until now he had never entered a race set up for a record attempt with all of the inherent hype. There was reportedly supposed to be two pace-setters for Cheserek, but the way things unfolded, he only truly had pace help for a few laps. At the beginning, there really wasn't any need as Ches hung on the back end of the lead pack and went through 1,600 in a too-fast 4:16. That put him more than 14 seconds up on record pace. Shortly thereafter, he fell off the back. He got a few laps pace help from Ben Bruce, but then Bruce dropped out and Ches was back on his own, starting to lose ground, but still passing 3,200 in 8:48 with a dozen seconds to spare.
As his 200s started slipping above 35 seconds, Cheserek got a boost when Bernard Lagat and the other leaders lapped him. "When someone passes me, I usually slow down," he would say later with a wry smile, "but not tonight." He managed a 67-second in the middle of that final mile and while he then slipped back to 35 second laps and a couple slower, he was now closing in on the finish and the energy of the crowd and announcer carried him the final two circuits.
So, in the final 50-seconds of the 5,000, three records were broken: First, Lagat sprinted home in 13:07.15 for the American record, just holding off the 13:08.28 collegiate record effort of Lalang. Then, finishing 8th out of nine in the remarkable field was Cheserek, receiving a champion's reception and raising his arms as he crossed in 13:57.04, taking away
Lukas Verzbicas
' only indoor record less than a year after he set it.
Cheserek admitted the experience of running so far back yet breaking a record was kind of "crazy, but it was okay, though." He added that "it was important to break the record" and he liked having someone pace him (for the few laps that it happened). Not surprisingly, he said, "I was very happy with my time."
Then Cheserek left the interview room and while he was changing and chatting with Lalang, his coach Marty Hannon finally made his way down to congratulate his star pupil. "We knew up front it would be very fast and Edward would have to try and hold back. This was the best 5k field ever, here," he said moments later. "To break the record by nine seconds, and to do it with the guys he looks up to, was awesome."
Wilson proved she belonged
Unlike Cheserek's presence in the 5,000, or even Livingston's in the 300, there was little hype as
Ajee Wilson
lined up with America's finest half-milers. Perhaps that was partly because it's become commonplace for the Neptune (Neptune, N.J.) senior to line up with the elites. First, in the US Open, she had finished 2nd of four – not a particularly good field overall – with a 2:09. Then in the New Balance meet in Boston, she ran a faster 2:07.37 against a better field, but fell off the back and was not competitive. Would she be able to change the game here against the best field of the season?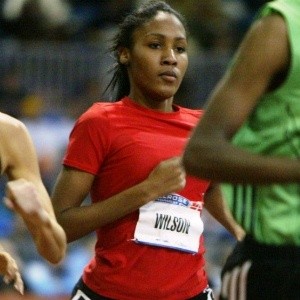 John Nepolitan/ESPNHSAjee Wilson mixes it up with the nation's best pros in the women's 800.
After a stumble necessitated a recall, the field was off again, with Wilson getting inside and staying there. One athlete immediately fell back, so it was basically a 7-woman race. This time, Wilson never lost contact with the lead group, smartly holding her position, running steady 31-second laps, and setting herself up for a big improvement.
Then in the final 120 meters, Wilson really impressed by gathering herself and sprinting around the outside for a final kick. She ran very wide, but was able to sustain it all the way to the finish, passing three women for 4th – including sub-2:00 pros Maggie Vessey and LaTavia Thomas. When the times came up, the magnitude of what Wilson had done became further apparent: 2:04.13, a 2-second improvement on her indoor PR. With that mighty kick, she had zoomed past legends like
Joetta Clark
,
Tameka Grizzle
and
Chanelle Price
on the all-time list. Only
Mary Decker
, with her otherworldly 2:01.8 from 1974, is ahead of Wilson now.
Wilson is rarely one to jump around and celebrate, but she was definitely smiling and had a look that said, 'So that's what it feels like.' Then she revealed what made the difference this week: "I know this sounds strange, but I didn't care as much. I didn't put so much pressure on myself.
"This week I just ran my own race and stayed close. After I got through the second lap, I felt good, so I said 'stick in there for one more.' On the last lap, I heard my coach say, 'Get to the outside,' and I made my move. I enjoyed it more this week.
Watkins: Call him "Hulk"
What was up with that, Armorytrack.com asked Liverpool (Liverpool, N.Y.) senior
Zavon Watkins
after he stomped across the finish line after his boys HS mile victory, letting out a roar and throwing the finish tape to the track in a mostly beastly manner?
"The Incredible Hulk," he said. "I was really excited."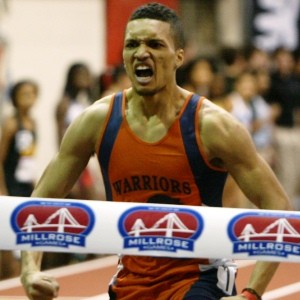 John Nepolitan/ESPNHSZavon "The Hulk" Watson wins the boys mile.
Whether Watkins will dye his skin green next time to better resemble the Marvel Comics superhero or this was a one-time deal remains to be seen, but he certainly was emotional about a victory that came in a most improbable fashion.
For the first six laps, Watkins looked lost, like someone who'd just squeaked into the field instead of the favorite. With three laps to go, he had drifted to dead last. But after a 63-2:06.5 start, the leaders were hardly hammering the third quarter anyway and Watkins woke up and passed a few runners to get within striking distance. Still, he hardly looked like the winner with a quarter to go (3:12.5).
Chariho (Wood River Junction, R.I.) senior
Mike Marsella
had led since taking it from New Providence (New Providence, N.J.) senior
Everett Price
at 600 and, with his 4:09 mile PR from outdoors last year, was certainly a worthy potential champion. He had pushed the pace, then let up before three quarters as if to make sure he had enough for a kick. With 300 to go, there were still nine in contention – with a surprise off the back end being Great Valley (Malvern, Pa.) senior
Ned Willig
, with a 4:15 mile best this winter as well as that great NB Collegiate 1k and a US#1 1:51.25 800 to his credit. He would finish 10th.
Coming down the home straight for the bell, however, Watkins suddenly exploded and passed seven runners into the lead in a matter of about 40 meters. By the backstretch, the race was over, with Marsella giving earnest chase but just not having the same wheels. The "Hulk" crossed in 4:13.83, with a 28.5 last lap, followed by the Rhode Island star in 4:14.68 and the rest of the group at 4:17 or slower.
Watkins admitted emotions got him at the finish, that he was just so excited to win. "This was something I really wanted," he said, "ever since Millrose last year when I got tripped up. I was really upset about that."
He added that he wasn't sure why he drifted all the way to the back so late in the race, but "I never count myself out. I really have a lot of confidence in my kick."
Watkins plans to go back to his cornerstone event at New Balance Nationals, however. "I definitely want to run the 800 and go under 1:50," he said.
Nadel: Winning was the most important thing
When you race the way
Samantha Nadel
has this winter, so successfully and with steady frequency, there will be times when you can't quite achieve everything you want. So you settle for the most important thing.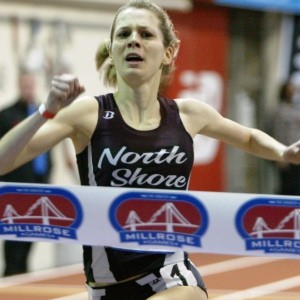 John Nepolitan/ESPNHSSamantha Nadel defends her girls HS mile title.
For Nadel in the girls HS mile Saturday night, that was winning – and defending her title. Chances are pretty good that if someday Nadel has grandchildren she wants to entertain with tales of her running prowess, one thing she'll be able to claim is being the only girl to win a Millrose at both Madison Square Garden and The Armory. But the record she aspired to,
Emily Lipari'
s New York state mark of 4:42.04, would have to wait for another race.
In the past, Nadel has fallen victim to starting too fast, but this winter she has overcome that and Saturday she relaxed through the first quarter to see what everyone else might do. The pace was fast enough, 71.9, but when the inevitable slowdown happened for the others, Nadel took command. Victory was never in doubt at that point and she won as she pleased in 4:46.19, easily crushing the Games record and just .08 off her PR and track record of 4:46.11.
After that, the battle was for second, which was something Nadel's teammate B
rianna Nerud
badly wanted. When it came to the final kick, Cosby (Midlothian, Va.) senior
Megan Moye
had more and edged Nerud at the finish, 4:49.95 to 4:50.12.
"Winning was the first priority," Nadel admitted. "And it feels really great to win this meet again. The atmosphere here tonight was great."
There was a good reason, though, that she didn't have PR form. It turns out Nadel had tripled in a mid-week Section 8, Class B County meet. But she had no regrets – there are big races like Millrose strewn throughout the year, but she and Nerud also had business to accomplish for their team, and their performances helped North Shore win an 18th straight title there. "My legs were feeling it tonight," she said.
Relays: Garden City shines brightest
Compared to the other fireworks in the individual events, the relays were a tad underwhelming, especially without the aforementioned CBA 4x800 boys and Boys & Girls 4x400 boys not at full strength. B&G star
Robert Rhodes
ran the Metropolitan 4x800 as the school took that title in 7:51.83, but having battled the flu during the week, the coaches gave him a break in the PSAL 4x400, figuring they still had enough to win in style – which they did, in 3:18.83.
Meanwhile, CBA was without top guns
George Kelly
, who had battled the flu most of the week, as well, and
Tom Gorman
– who was going to run the mile anyway, but didn't do that either because of the same illness. The school still took 6th in the race with 7:58.87 and refocused on putting out a great 4x400. Mission accomplished, as CBA took the Suburban 8-lap affair in a US#3 3:19.61. "We were a sprint school today," said CBA assistant Chris Bennett. "Our 4x4 stole the show. And three of these four guys will be coming back next year, including our anchor (
Theo Foster
), who we had in 48.8 today."
The top relay performance of the meet went to a fresher group, the
Garden City
(Garden City, N.Y.) girls. In the Metropolitan 4x800, they ripped a US#1 9:00.92. They came into the meet having qualified for both this race and the Long Island 4x400 and, given their US#2 3:50.03 status in the 4x4, they had their choice of where to make their mark.
"We're really happy with the time," said freshman
Emily O'Neill,
whose older sister
Katie
is also part of the quartet. "We wanted to run that fast, but I'm not sure we really thought we could."
Added fellow frosh
Emma Gallagher
, "This is only the second time we've run this relay this year. We wanted to win and hopefully run a US#1 time."
Senior
Taylor Hennig
admitted as a sprinter, she preferred the 4x400, but was thrilled nonetheless and said that even though she's older than her teammates, "they've taught me at least as much as I've taught them. It's an honor to run with them."
Also racking up the victories were the sprint medley foursomes from
St. Anthony'
s (Melville, N.Y.). The relays were just added this year and the school lived up to favorites' status in both. The girls improved their own US#1 from 4:06.08 to 4:02.62. Senior
Olicia Williams
anchored in 2:12 and said that
Chynna-Monica Chung
's third leg got them in position where they could get a seasonal best. "She put us ahead and I took it from there. We wanted to get a good time to get ready for nationals."
The boys followed late in the meet with a 3:34.76 triumph.
Dunn, others shine individually
In the Women's USATF Championship 1-Mile Racewalk, the field was boosted by the presence of several top preps from New York and the Northeast. The best of them turned out to be Edward Little (Auburn, Maine) senior
Abby Dunn
, who strode to a 7:28.36 in 3rd place, which she said was "just about" a PR. Like the other preps who were able to mix with elites, she enjoyed the experience tremendously. "I got to come last year and I was really excited to do it again, to have the chance to compete against women like Lauren Forgues (winner from N.Y.A.C. at 6:48.62)," she said. "I love this track." Dunn also won the NBIN mile walk here last year and hopes to repeat in March.
Two more new events were the 55 dashes, with the star entry being Paramus Catholic (Paramus, N.J.) senior
Myasia Jacobs
– the defending NBIN champ in the 60 and the silver medalist from last summer's World Youth 100. Jacobs indeed dominated, rolling to a 6.91, just .04 off her current US#2 best. For the boys, it was Sweet Home (Amhearst, N.Y.) senior
Wayne Gordon
hitting 6.46 to get the win.
The weight throws, contested Friday, were to feature two of the nation's best: US#2 Averill Park (Averill Park, N.Y.) junior
Rudy Winker
for the boys and US#1 Woodward Academy (Atlanta, Ga.) senior
Avana Story
for the girls. Winkler scratched, leaving the win to St. Anthony's senior
Bryan Rhodes
with 63-9.5, while Story just missed her national leader with 57-8.5.
January, 16, 2012
1/16/12
3:27
PM ET
By
Brandon Parker
| ESPN.com
SPRINGFIELD, Mass. -- Hall of Fame coach or not,
Bob Hurley Sr.
was searching for answers during halftime Monday as his No. 4 St. Anthony (Jersey City, N.J.) team was locked in a tight game with No. 34 Miller Grove (Lithonia, Ga.) at the Spalding Hoophall Classic.
Miller Grove had tallied 21 second-quarter points to storm back within four of the Friars, and it seemed like just a matter of time until the Wolverines' star big man
Tony Parker
awoke from his first-half slumber.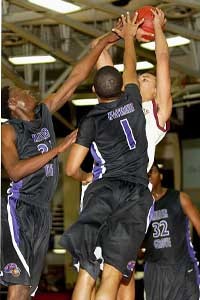 J. Anthony Roberts/ESPNHSEven with the defensive focus solely on him, Kyle Anderson managed to dominate.
Then came a quiet suggestion, but not from one of the basketball gods who has taken up residence at the Basketball Hall of Fame just miles down the street. Chalk this one up to Friars assistant Ben Gamble.
"As I'm walking upstairs, Ben Gamble, one of my assistants, says to me, 'Maybe you start the second half in zone.' And of course we never came out of it," Hurley said with a laugh. "I come out looking like the genius, but Ben told me to do it."
The Friars held the Wolverines to 22 second-half points thanks to a swarming 1-1-3 zone attack, paving the way for a 60-48 win. St. Anthony (11-0) has now won 44 straight games, dating back to last year's
POWERADE FAB 50 championship season
.
It didn't hurt that Hurley had
Kyle Anderson
on his side, either. The St. Anthony senior guard seemed to have his hand in every aspect of the game, finishing with 18 points, 10 rebounds and seven assists.
"Kyle picking up his level of play probably had a lot to do with the second half and us getting the win, too," Hurley said.
As has been the case with most of Miller Grove's opponents this season, the Friars came in with a plan of collapsing on Parker in the post to disrupt his shots and force him to pass. With three or four long-armed Friars in his face, Parker was held to just six points, and St. Anthony easily topped Miller Grove on the glass, 32-19.
Meanwhile, Anderson was almost a one-man show, finding open teammates with pinpoint passes and having his way on offense with an assortment of fadeaways and strong drives to the lane.
The complete effort on both ends of the court had to feel familiar for the Friars. Last year at Hoophall, they topped DeMatha (Hyattsville, Md.) by 50 en route to the FAB 50 national championship.
Currently sitting No. 4 in the rankings
, St. Anthony appears poised to make a similar run this season.
"Last year, this was the time where everybody clicked," said Anderson, a UCLA commit. "So I think this year, over the next few games, this is where we'll click and come together and hopefully get every game."
Brandon Parker covers high school sports for ESPNHS. Follow him on Twitter @brandoncparker or email him at brandon.c.parker@espn.com.
January, 16, 2012
1/16/12
7:45
AM ET
By
Jason Jordan
| ESPN.com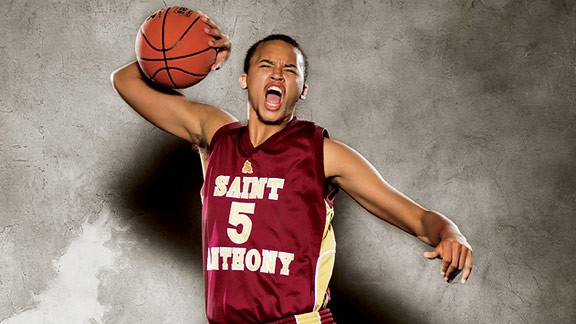 Kelly Kline/ESPNHSKyle Anderson said he and the Friars love their new role of underdog.
SPRINGFIELD, Mass. -- There are so many things that make
Kyle Anderson
a typical 18-year-old high school basketball player: He's an avid hip hop fan, he's a social media junkie and he
rocks Beats by Dre headphones
prior to games.
The one thing that makes him a bit different is that he doesn't pay attention to rankings of any kind.
Seriously.
"I'm telling you, man," Anderson said, "I don't look at that kind of stuff."
It's obvious the St. Anthony (Jersey City, N.J.) senior point guard knows that statement might raise a few eyebrows, so he adds a quick follow-up to reinforce his claim.
"I swear I don't get in to all that stuff," said Anderson, a UCLA signee who is ranked No. 5 in the
ESPNU 100
. "That's for other people to decide. All we do is go out there and play as hard as we can. We stay focused on that."
The Friars, ranked No. 4 in the
POWERADE FAB 50
, will need that focus today when they face No. 34 Miller Grove (Lithonia, Ga.) at the Spalding Hoophall Classic in Springfield, Mass., at 11 a.m. ET on ESPNU.
"We look at the polls at the end of the year," St. Anthony coach
Bobby Hurley Sr.
said. "Other than that, I don't really put any thought into where we're ranked and things like that. It doesn't matter to me."
That said, Hurley was "aware" that fresh off of an undefeated (33-0) season and a No. 1 final ranking in the 2010-11 FAB 50, his Friars began this season ranked No. 9. After some digging, Anthony fessed up to "not really understanding" how they were ranked so low after a perfect season.
"I didn't really get it," Anderson said. "But that's what I mean, that's why I don't really keep up with those things because it's someone's opinion. I'm sure that there are some teams that are better than us, but eight teams? Do I agree with that? Nah."
To be fair, St. Anthony lost
Myles Mack
, an
ESPNHS first team All-American
who averaged 15.2 points and 3.6 assists per game last season. Mack is now a freshman at Rutgers averaging 10.2 points and 2.1 assists per game for the Scarlet Knights.
Still, you get the sense that Anderson has drawn the conclusion that the eight-spot drop in the preseason was the voters' way of saying that he alone wasn't enough, even if he is putting up 17.4 points, 8.7 rebounds and 6.1 assists per game for the Friars.
"Kyle is the most versatile player in the country," said Miller Grove coach
Sharman White
. "He's the guy and he's been the guy. If we're not able to slow him down or stop him from getting into a groove, then it's going to be a long day. I'm not sure why St. Anthony was slighted in the rankings from the beginning, but I know that Kyle and Coach Hurley will only use that as motivation."
White is exactly right. Anderson said he and the Friars have come to relish the role of the underdog.
"It's a new situation for us, but we love it," Anderson said. "A lot of people are overlooking us, and that's fine. It's like people don't see us coming, but we're definitely coming. We're definitely coming."
And everyone will have to pay attention to that.
Jason Jordan is the basketball editor for ESPNHS. He can be reached at jason.x.jordan.-ND@espn.com. Don't forget to follow him on Twitter: @JayJayESPN.