High-SchoolNew-Jersey:

NHSI
March, 29, 2012
3/29/12
11:08
PM ET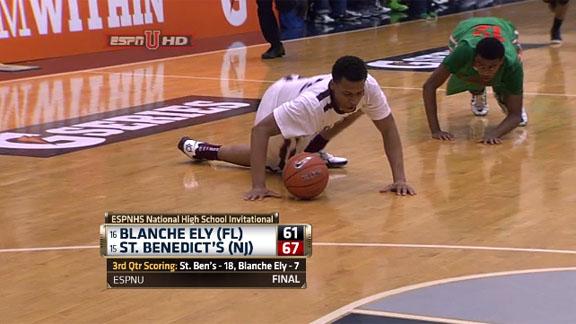 BETHESDA, Md. -- Instant analysis from No. 4 seed St. Benedict's (Newark, N.J.) 67-61 win over No. 5 seed Blanche Ely (Pompano Beach, Fla.) in the quarterfinals of the National High School Invitational at Georgetown Prep on Thursday:
Overview:
St. Benedict's found itself trailing by double digits in the second quarter, but the Gray Bees tightened up on defense in the second half and surged past Blanche Ely, 67-61, to advance to the semifinals of the ESPNHS National High School Invitational.
Blanche Ely, the No. 16 team in the
POWERADE FAB 50
, shot 57 percent in the first half and held a 40-32 lead at the half. St. Benedict's, ranked No. 15 in the FAB 50, responded by coming out of the locker room in lockdown mode, holding Blanch Ely to just seven points in the third quarter. Senior guard
Melvin Johnson
and freshman guard
Isaiah Briscoe
were pivotal, as they came up with three steals apiece.
Johnson, the No. 92 player in the
ESPNU 100
, scored a team-high 17 points. Briscoe added 11, and junior guard
Tyler Ennis
chipped in 14.
Turning Point:
The St. Benedict's defense was shredded in the first half. The Gray Bees gave up 40 points, with Blanche Ely senior forward
Clide Geffrard
and senior guard Benji Bell doing most of the damage on pick-and-rolls. St. Benedict's tried playing man and zone to slow the duo down, but nothing seemed to work.
That changed after halftime. The Gray Bees came out more focused on the defensive end and played straight man the entire half. They held Blanche Ely to 29.6 percent shooting in the second half and forced 10 turnovers (17 overall). That helped St. Benedict's get into the open floor, where the trio of Ennis, Johnson and Briscoe took over.
"We were disappointed in the way we defended in the first half," said St. Benedict's coach Mark Taylor. "In the second half we made the decision that we were going to go man. We hedged harder. We sent weak-side help. We stopped changing the D and went with what worked."
Geffrard scored 14 points on 5-of-6 shooting in the first half, mostly on dunks and lay-ups right at the rim. After the break, the St. Benedict's defense held him to just four points on five shots.
"There was a lot of help-side defense (in the second half)," said Geffrard. "They kept switching and rotating."
Key Player:
Just a freshman, Briscoe came into the tournament averaging about three points per game. But the 6-foot-3 guard came up huge during St. Benedict's second-half comeback. Briscoe scored 10 of his 11 points after halftime while adding four assists, three steals and a block.
Briscoe also made a game-changing play midway through the fourth quarter. With St. Benedict's clinging to a two-point lead, he stripped his man at midcourt and went to the floor to make the diving steal. He then got up, gained control and drove in for a lay-up to make it a 55-51 game.
Junior
Isaiah Watkins
also had a huge game for the Gray Bees, as the 6-foot-8 forward posted 14 points and 14 rebounds, including nine offensive boards.
Key Stat:
With Blanche Ely making almost 60 percent of its shots in the first half, St. Benedict's couldn't fully utilize its three-guard offense in the open court. But once the defense clamped down in the second half, the Gray Bees' offense took off. St. Benedict's finished with 20 fast break points, compared to just 10 for Blanche Ely.
Up Next:
With top-seeded Findlay Prep (Henderson, Nev.) -- the No. 2 team in the POWERADE FAB 50 -- looming as a potential opponent in the NHSI semifinals, St. Benedict's is going to need more production from its bench. The Gray Bees played just two subs against Blanche Ely, with the bench guys contributing five points in 23 minutes. Findlay Prep is arguably the deepest squad in the nation and is uniquely qualified to take advantage of any team's lack of depth.
March, 22, 2012
3/22/12
10:44
PM ET
Team:
No. 4 seed St. Benedict's (Newark, N.J.)
Record, FAB 50 Rank:
33-2, No. 15 (No. 7 in the East)
Head Coach:
Mark Taylor (1st year at school, 31-1; previously spent nine years at St. Joseph of Metuchen, N.J. and five at Ridge of Basking Ridge, N.J.)
Key Players:
Melvin Johnson
The 6-foot-3 senior guard is labeled by Taylor as "probably the best shooter" he's coached in 15 seasons at three New Jersey schools. That's high praise since Taylor coached Jason Williams at St. Joseph (Metuchen, N.J.) among 11 Division I players, including the Lakers' Andrew Bynum, in nine years at his alma mater. "Melvin can fill it up with unlimited range and driving floaters. He's special on the offensive side." The University of Miami recruit is ranked No. 92 in the
ESPNU 100
and lived up to his billing with consistent play.
Tyler Ennis
The 6-foot-2 junior point guard runs the offensive attack for the Gray Bees, which averages 82.8 points a game. Ranked No. 41 in the
ESPNU 60
, he leads the team in assists (7.1 per game) and steals (2.5 avg.) while scoring 15.0 points a game, second to Johnson on the squad. "Tyler and Melvin get everyone involved in the game," Taylor said. "Our three guard setup drives the engine and Tyler's at the wheel. Our team chemistry is very good with a trio of guards and trio of forwards and Tyler is a big part of that."
Isaiah Briscoe
Not many freshman are starters, much less standouts, on FAB 50-ranked teams. But the 6-foot-3 first-year combo guard is no ordinary frosh. "Some analysts rate him in the Top 5 in his class," Taylor said. "He doesn't play like a freshman. He's very strong and plays above his age level." Briscoe is the team's third leading scorer (11.9 ppg) and second in assists (5.3 avg.). "With a senior, junior and freshman handling the ball much of the time, we have a mix that gives defenses fits," Taylor said.
Road to NHSI:
With a new head coach, some first-year players, and a regular season schedule not matching up with some of the top-ranked
POWERADE FAB 50
teams after a 13-12 record in 2010-11, the Gray Bees were absent from the pre-season rankings.
But Taylor guided the Prep to nine straight wins in December before meeting up with defending FAB 50 champion St. Anthony (Jersey City, N.J.) in a Jan. 1 clash of unbeatens. The Gray Bees took the current No. 3 ranked Friars to the wire before bowing 51-50. The Gray Bees reeled off 22 straight wins and soared up the FAB 50 charts to No. 10.
They concluded their regular season at the prestigious Alhambra Catholic Invitational, where they dropped their second game of the season to FAB 50 No. 13 DeMatha Catholic (Hyattsville, Md.) 64-49 after opening the tournament with a 69-65 victory over John Carroll (Bel Air, Md.). They rebounded to defeat No. 46 Gonzaga (Washington, D.C.) for third place.
"We beat Gonzaga without Tyler Ennis and Jordan Forehand, who had a bad ankle, and led the whole way," Taylor said.
Coach Taylor feels strongly the Gray Bees didn't deserve to drop a few seeds after losing to eventual tournament champion DeMatha without the services of Ennis. He does understand the Alhambra Tournament served as a nice tune-up for the NHSI, where the Gray Bees will enter with confidence because Ennis will be cleared to play.
Inside Scoop:
Taylor's two-trio attack has worked to near perfection. He uses three guards -- Johnson, Ennis and Briscoe -- out front and has three forwards, all Canadians, he rotates at the two front court spots. The inside players are 6-6 senior Kamalll Richards, 6-8 junior Isaiah Watkins and 6-7 senior Denzell Taylor. "The two-trio setup has worked well," Taylor said.
Richards averages 11.7 points and 7.0 rebounds; Taylor 5.7 points and 6.9 rebounds; and Watkins 8.2 points and a team-best 8.1 rebounds a game. The fact the Gray Bees are the only team which is playing in two major tournaments -- the Alhambra Catholic Invitational Tournament in Frostburg, Md., and the NHSI -- over the course of three weekends hasn't escaped Taylor's watch. "We've played some good teams one at a time but this two-week pace is like the college Big East Tournament with back-to-back-to-back games against elite teams. It's survival of the fittest."
March, 21, 2012
3/21/12
11:36
PM ET
By
Ronnie Flores
| ESPN.com
ESPNHS has announced the
seedings
for the eight boys' teams that will compete in the fourth annual ESPNHS National High School Invitational.
The year's event, which features six
POWERADE FAB 50
-ranked teams, will be March 29-31 at Georgetown Prep in Bethesda, Md. The championship game is set for 2 p.m. ET March 31 on ESPN.
As expected, two-time NHSI champion Findlay Prep (Henderson, Nev.) was awarded the top seed and will face No. 8 seed Coolidge (Washington, D.C.) March 29. Coolidge (29-7) will have its hands full with the No. 2 team in the country. In three years, only Montrose Christian (Rockville, Md.) has played the top seed in the No. 1 versus No. 8 game down to the wire, and that came in 2010 when Montrose lost to Montverde Academy (Montverde, Fla.) by two points.
This year, FAB 50 No. 9 Montrose Christian (20-2) snagged the second seed and opens the tournament with seventh-seeded Ravenscroft (Ravenscroft, N.C.). The North Carolina Independent Schools Athletic Association Class 3A champions come in with a 31-3 mark, but they didn't venture too far from home this season and are decided underdogs against the defending NHSI champions.
Returning from last year's championship team is emotional leader
Justin Anderson
, a Virginia recruit, and
Michael Carrera
, who averaged a record 12.7 rebounds in Montrose Christian's three victories. Stu Vetter's club has to show its backcourt is capable without reigning tourney MVP Tyrone Johnson (now at Villanova), but Ravenscroft has even more to prove. The last two years, the NCISAA entrant has been routed in its opener.
After missing last year's event because of key early season losses, No. 12 Montverde Academy is back in the fold as the third seed. Kevin Sutton coached the team in 2010 when they advanced to the finals, but this year the 21-3 Mustangs have a new coach in Kevin Boyle. He turned
St. Patrick (Elizabeth, N.J.)
into a national power but his program never had the opportunity to compete at the NHSI.
Boyle now gets the opportunity against No. 6 seed La Lumiere (La Porte, Ind.), a newcomer on the national scene with a big and talented roster. Montverde not only faces the challenge of a hungry 25-2 team ranked No. 23, they also face the challenge of idle time. Montverde had not played another high school since Feb. 4.
One team that certainly won't have any problems with idle time is fourth seed St. Benedict's (Newark, N.J.), which competed in the prestigious Alhambra Catholic Invitational last weekend. Gray Bees lost only their second game of the season (33-2) to eventual tournament champion DeMatha Catholic (Hyattsville, Md.) in the semifinals.
Had St. Benedict's won that tournament without its point guard (Tyler Ennis) and sixth man (Jordan Forehand), there's a strong possibility they would have been seeded second. They only dropped five spots in the FAB 50 to No. 15 (two spots behind DeMatha) and will open the NHSI against fifth-seeded Ely (Pompano Beach, Fla.), the FHSAA Class 7A state champ ranked No. 16. If Ennis and Forehand are not healthy for St. Benedict's, they could have trouble stopping the backcourt of Ely, which has proven its scoring ability in big games this season.
If St. Benedict's situation is any indication, this could be the most balanced NHSI field yet. Findlay Prep wants another crack at La Lumiere to avenge its only loss, but in order for that to occur both teams have to advance to the championship game. If history is any indication, La Lumiere might have a good shot at the semifinals (where defending champion Montrose Christian could be waiting) since the No. 6 seed has won in the opening round the past two years.
"You play 30 games for a seeding, but when the ball goes up, everyone is 0-0," said Findlay Prep coach Michael Peck. "We're blessed to be able to participate, as these games give the competing teams some closure."
Ronnie Flores is a senior editor for ESPNHS. He can be reached at
ronnie.flores@espn.com
. Don't forget to follow him on Twitter:
@RonFloresESPN