High-SchoolNew-Jersey:

St. Joseph (Met.)
February, 28, 2012
2/28/12
2:16
PM ET
By
Brandon Parker
| ESPN.com
After games on Sunday, Feb. 26.
This year's state playoffs begin on a bittersweet note, as St. Patrick announced this past weekend that
financial issues have forced it to close its doors at year's end
. But before this happens, the Celtics will look to end their storied history with a bang in the Non-Public, South B playoffs.
Joining their quest for section supremacy as well as a spot in the Tournament of Champions is St. Anthony (the
POWERADE FAB 50
's No. 3 squad and winners of 59 straight), St. Joseph (Met.) (led by
Quenton DeCosey, the state's best-kept secret
), Teaneck and its 26-0 record as well as a battle-tested Plainfield squad that finished as last year's T of C runner-up.
Not in the mix is St. Benedict's. The Gray Bees are not part of the NJSIAA, meaning last week's easy win against Blair Academy in the Prep A championship signals the end of their season, unless they earn a spot in the ESPNHS NHSI tournament.
Here are this week's rankings (last week's rankings in parentheses):
1. St. Anthony (Jersey City) 26-0 (1)
Friars pushed win streak to 59 games with three victories to cap the regular season. They begin play in the Non-Public, North B tournament on Friday after a first-round bye.
2. St. Benedict's 28-1 (Newark) (2)
Melvin Johnson dropped 27 points to lead the Gray Bees to an easy win against Blair Academy in the Prep A championship, making for their 19th straight win.
3. Teaneck 26-0 (3)
After downing Indian Hills, the Highwaymen will put their undefeated record on the line Wednesday against Jefferson Township in the second round of the North 1, Group 3 tournament. Chris Jones leads the way with 21.3 points per game.
Click here for the full POWERADE weekly New Jersey hoops rankings.
February, 27, 2012
2/27/12
3:54
PM ET
By
Brandon Parker
| ESPN.com
Dave Turco gets it. He realizes his prized player isn't quite on the same level as
Michael Kidd-Gilchrist
or
Kyle Anderson
, the undisputed top high school ballers from New Jersey over the past two years. The St. Joseph (Met.) hoops coach also admits he's a bit biased when it comes to evaluating Falcons senior Quenton DeCosey.
But if there's one thing Turco does know, it's that when it comes to discussing the state's best players, the one they call Q has to be part of the conversation.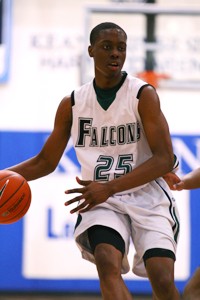 Courtesy of Marlo Williamson PhotographySenior swingman Quenton DeCosey is averaging 21.1 points and 9.5 rebounds for St. Joseph (Metuchen, N.J.), which begins play in the state playoffs this week.
"Kyle's a great, great player and so was Gilchrist, and I know I'm spoiled because I get to see Q everyday," Turco said. "But Quenton is a phenom who can do just about anything on the basketball court. And he just turned 17 last August."
DeCosey's age isn't the only impressive number on his resume. The 6-foot-5 swingman led his team to its third straight Greater Middlesex County title on Friday, tallying 24 points and 12 rebounds in the title game to earn tournament MVP honors. For the year, he's averaging 21.0 points, 9.4 rebounds and 4.1 assists per game, making the 25-1 Falcons a serious contender as the state playoffs begin Monday. They enter the Non-Public, South A bracket as the No. 1 seed and riding a 24-game winning streak.
Three years ago, however, not even Turco knew who DeCosey was. That's because his parents had him try out for the freshman team so he would have more time to get acclimated academically to high school. But with Turco in the stands during one freshman game, DeCosey's athleticism and potential were impossible to miss.
"The ball got stuck between the rim and the backboard, so you know, in a freshman game, the refs and kids are looking for someone to go get another ball to get it out," Turco recalled. "But then Q goes up, taps the ball and dunks it, all in one motion. I got pretty excited when I saw that."
For DeCosey, the move was just a taste of what he'd gleaned from countless hours watching His Airness.
Around the age of 6, DeCosey discovered the movie "Space Jam." At first, the idea of aliens playing basketball against some of his favorite cartoon characters drew in the wide-eyed DeCosey. But the more he watched ("probably two to three times a day," according to his mother, LaWanda), the more he grew to admire Michael Jordan. Soon, "Michael Jordan: Come Fly With Me" was added to his daily dose of films and the journey to be like Mike officially began.
"I would watch it every day when I came home and just study the little things Jordan did," DeCosey said. "The way he took control and how competitive he was. I still watch it now to find things to put in my repertoire."
It shows, especially in the eyes of AAU coach Ed Bright. The founder and coach of Sports U/Team Izod couldn't believe his eyes when DeCosey came out for his squad two years ago.
"There was nothing he couldn't do in terms of his skill set," Bright said. "He could handle the ball, the shooting touch was there and when you see him in person, you realize how long of a player he is.
"His game compares to Kobe. I know some people will say, 'Shut up, that's holy ground.' But if you watch Q, he's
that
graceful out there on the court. He can literally do whatever he wants to do when he wants to do it."
True to form, DeCosey did exactly that as a junior for the Falcons. With the team hit hard by graduation, DeCosey exploded to average 23.4 points, 11.3 rebounds, 3.0 steals and 2.4 blocks per game.
"Sometimes I'm probably unfair to him because we expect him to do so much that he never really comes out of the game," Turco said. "He's just that good."
DeCosey also did it for Team Izod this past summer. During the quarterfinals of the Las Vegas Fab 48 against a tough Grassroots Canada squad, he dropped 25 points to keep his team close during an eventual loss.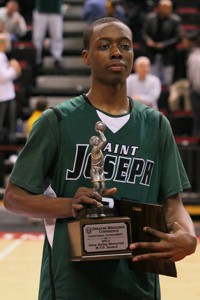 Courtesy of Marlo Williamson PhotographyQuenton DeCosey, a Temple commit, earned MVP honors in leading the Falcons to their third straight Greater Middlesex Conference Tournament crown on Feb. 24.
And there's little doubt DeCosey will do it next year when he puts on a Temple uniform. In fact, Turco says some of the high-major programs that ignored him initially have been pushing for him to change his mind after realizing what a steal the Owls got.
But for a teenager who takes just as much joy in talking about basketball as he does business and accounting, Temple is right where DeCosey wants to be.
"I love basketball, but academics are first and foremost for me," said DeCosey, who stands to join a prestigious St. Joseph alumni list that includes Andrew Bynum and Jay Williams. "My main goal is to graduate with a diploma. I want to major in sports management and maybe one day be a coach or recruiter."
For now, though, DeCosey will stick to torturing opposing coaches in hopes of capturing the school's fourth sectional title and first state crown.
"To have a guy like Q who can carry a team is huge," Turco said. "However we end up, though, I know there are a lot of coaches who will not be sad to see Q leave."
Brandon Parker covers high school sports for ESPNHS magazine and ESPNHS.com. Follow him on Twitter @brandoncparker or email him at brandon.c.parker@espn.com.
December, 22, 2011
12/22/11
1:12
PM ET
By
Brandon Parker
| ESPN.com
The first New Jersey hoops rankings will come out next week, but we've still got you covered with as the season gets underway. Each week, we'll take a look back at our
New Jersey preseason All-State basketball team
and update you on how some of those players are faring this year. There will be a Prime-Time Player (PTP), an Other Top Player (OTP) and an Under the Radar (UTR) player who is making his case as one of the state's top ballers.
PTP: Quenton DeCosey, St. Joseph (Met.), Senior

DeCosey broke the 1,000-point mark by dropping 30 in a win against Old Bridge. The senior swingman also had 12 rebounds for the Falcons, who are 2-1. (
ESPNHS coverboy Kyle Anderson
also surpassed the 1,000-point mark this past week when he scored 20 in St. Anthony's 78-21 win against Newark Central.)
OTP: Alex Mitola, Gill St. Bernard's, Senior
Playing against some of the nation's top competition, the Knights held their own with a 2-2 showing, thanks to the play of Mitola. The sharp-shooting guard knocked down 18 3-pointers in the final three games and is averaging 25.7 points this season.
UTR: Sayvon Williams, Union City, Senior
The speedy senior can hurt opponents with his quickness and outside shooting. This much was clear in a 73-60 win against Newark Vocational when Williams netted a game-high 27 points, including four 3-pointers.
Brandon Parker covers New Jersey for ESPNHS magazine and ESPNHS.com. Follow him on Twitter @brandoncparker or email him at brandon.c.parker@espn.com.
September, 28, 2011
9/28/11
11:45
AM ET
The October issue of
ESPNHS magazine
hits schools this week, and wouldn't you know that St. Benedict's Prep just took hold of the
top spot in our latest POWERADE FAB 50 soccer rankings.
Needless to say, the Gray Bees were represented well on this year's All-State soccer team. See who else made the cut in the Garden State:
New Jersey All-State Soccer
Starting 11
[F] Brandon Allen, St. Joseph (Met.), Senior, Red Bulls Academy
Georgetown commit racked up 30 goals and four assists last season
[F] Ismar Tandir, Hackettstown, Junior, Match Fit Chelsea
Recorded 10 goals and two assists in breakout sophomore season
[F] Scott Thomsen, Christian Brothers, Senior, Red Bulls Academy
Expected to have big senior year after missing 2010 with knee injury
[MF] Mael Corboz, Pingry, Senior, NJSA 04
Rutgers pledge had four goals and 14 assists as a junior