High-SchoolNew-Jersey:

Tyler Ennis
March, 29, 2012
3/29/12
11:08
PM ET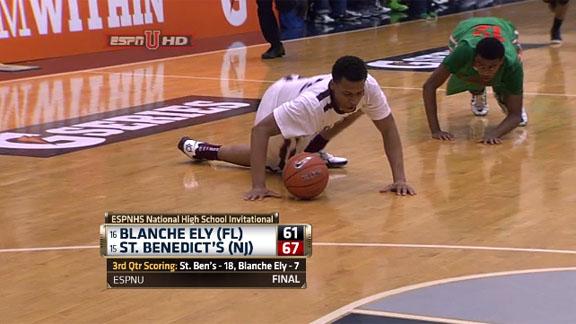 BETHESDA, Md. -- Instant analysis from No. 4 seed St. Benedict's (Newark, N.J.) 67-61 win over No. 5 seed Blanche Ely (Pompano Beach, Fla.) in the quarterfinals of the National High School Invitational at Georgetown Prep on Thursday:
Overview:
St. Benedict's found itself trailing by double digits in the second quarter, but the Gray Bees tightened up on defense in the second half and surged past Blanche Ely, 67-61, to advance to the semifinals of the ESPNHS National High School Invitational.
Blanche Ely, the No. 16 team in the
POWERADE FAB 50
, shot 57 percent in the first half and held a 40-32 lead at the half. St. Benedict's, ranked No. 15 in the FAB 50, responded by coming out of the locker room in lockdown mode, holding Blanch Ely to just seven points in the third quarter. Senior guard
Melvin Johnson
and freshman guard
Isaiah Briscoe
were pivotal, as they came up with three steals apiece.
Johnson, the No. 92 player in the
ESPNU 100
, scored a team-high 17 points. Briscoe added 11, and junior guard
Tyler Ennis
chipped in 14.
Turning Point:
The St. Benedict's defense was shredded in the first half. The Gray Bees gave up 40 points, with Blanche Ely senior forward
Clide Geffrard
and senior guard Benji Bell doing most of the damage on pick-and-rolls. St. Benedict's tried playing man and zone to slow the duo down, but nothing seemed to work.
That changed after halftime. The Gray Bees came out more focused on the defensive end and played straight man the entire half. They held Blanche Ely to 29.6 percent shooting in the second half and forced 10 turnovers (17 overall). That helped St. Benedict's get into the open floor, where the trio of Ennis, Johnson and Briscoe took over.
"We were disappointed in the way we defended in the first half," said St. Benedict's coach Mark Taylor. "In the second half we made the decision that we were going to go man. We hedged harder. We sent weak-side help. We stopped changing the D and went with what worked."
Geffrard scored 14 points on 5-of-6 shooting in the first half, mostly on dunks and lay-ups right at the rim. After the break, the St. Benedict's defense held him to just four points on five shots.
"There was a lot of help-side defense (in the second half)," said Geffrard. "They kept switching and rotating."
Key Player:
Just a freshman, Briscoe came into the tournament averaging about three points per game. But the 6-foot-3 guard came up huge during St. Benedict's second-half comeback. Briscoe scored 10 of his 11 points after halftime while adding four assists, three steals and a block.
Briscoe also made a game-changing play midway through the fourth quarter. With St. Benedict's clinging to a two-point lead, he stripped his man at midcourt and went to the floor to make the diving steal. He then got up, gained control and drove in for a lay-up to make it a 55-51 game.
Junior
Isaiah Watkins
also had a huge game for the Gray Bees, as the 6-foot-8 forward posted 14 points and 14 rebounds, including nine offensive boards.
Key Stat:
With Blanche Ely making almost 60 percent of its shots in the first half, St. Benedict's couldn't fully utilize its three-guard offense in the open court. But once the defense clamped down in the second half, the Gray Bees' offense took off. St. Benedict's finished with 20 fast break points, compared to just 10 for Blanche Ely.
Up Next:
With top-seeded Findlay Prep (Henderson, Nev.) -- the No. 2 team in the POWERADE FAB 50 -- looming as a potential opponent in the NHSI semifinals, St. Benedict's is going to need more production from its bench. The Gray Bees played just two subs against Blanche Ely, with the bench guys contributing five points in 23 minutes. Findlay Prep is arguably the deepest squad in the nation and is uniquely qualified to take advantage of any team's lack of depth.
March, 20, 2012
3/20/12
1:23
PM ET
By
Brandon Parker
| ESPN.com
After games on Sunday, March 18
Just like last year, St. Anthony and Plainfield will play in the Tournament of Champions final. But when the two meet Tuesday at the Izod Center, this time it will truly be a battle between the state's top two eligible teams. (The emphasis is on "eligible" since St. Benedict's doesn't compete in the NJSIAA.)
Last year, that matchup came in the Non-Public, North B final when St. Anthony battled St. Patrick, but with the defending champ Friars on a ridiculous 64-game win streak and Plainfield having blown out contenders like St. Joseph (Met.) and Teaneck, this the matchup we've all wanted to see.
A preview of the contest came on Feb. 7, when St. Anthony held Plainfield to a season-low in points during a 43-31 win. The Friars' defense is just as stifling as it was then, meaning the Cardinals will have to find ways to get scorers like Sekou Harris and Jahmal Lane going.
Nationally, St. Anthony remains at No. 3 in the
POWERADE FAB 50
while St. Benedict's fell to No. 15 after losing to national No. 13 DeMatha (Md.) in the Alhambra Catholic Invitational in Maryland. The Gray Bees, who were without the injured Tyler Ennis, will look to rebound at the NHSI tournament next week. Finally, Plainfield enter the national list at No. 49.
Here are this week's rankings (last week's rankings in parentheses):
1. St. Anthony (Jersey City) 31-0 (1)
Friars pushed their win streak to 64 games by blowing out Atlantic City in the Tournament of Champions semifinals. Next up: Plainfield on Tuesday in a rematch of last year's T of C final.
2. St. Benedict's 33-2 (2)
After beating John Carroll (Md.), the Gray Bees fell to eventual champ and FAB 50 No. 13 DeMatha in the Alhambra Catholic Invitational. Gray Bees move on to the NHSI tournament on March 28-31 with hopes that Tyler Ennis, who sat out the loss with injury, will be back to full strength.
3. Plainfield 30-3 (3)
Cardinals surged past St. Joseph (Met.) and into the Tournament of Champions final to face St. Anthony for the second year in a row. Plainfield fell to St. Anthony in February by the score 43-31.
Click here for the full POWERADE weekly New Jersey hoops rankings.