High-SchoolNew-Jersey:

UCLA
January, 16, 2012
1/16/12
7:45
AM ET
By
Jason Jordan
| ESPN.com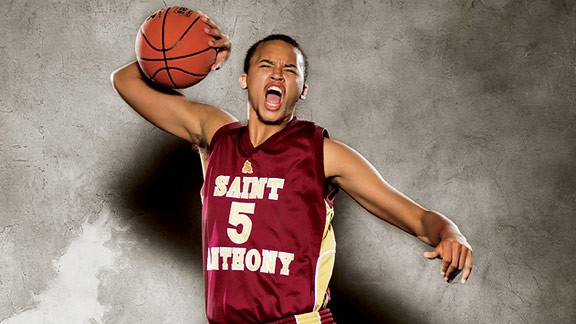 Kelly Kline/ESPNHSKyle Anderson said he and the Friars love their new role of underdog.
SPRINGFIELD, Mass. -- There are so many things that make
Kyle Anderson
a typical 18-year-old high school basketball player: He's an avid hip hop fan, he's a social media junkie and he
rocks Beats by Dre headphones
prior to games.
The one thing that makes him a bit different is that he doesn't pay attention to rankings of any kind.
Seriously.
"I'm telling you, man," Anderson said, "I don't look at that kind of stuff."
It's obvious the St. Anthony (Jersey City, N.J.) senior point guard knows that statement might raise a few eyebrows, so he adds a quick follow-up to reinforce his claim.
"I swear I don't get in to all that stuff," said Anderson, a UCLA signee who is ranked No. 5 in the
ESPNU 100
. "That's for other people to decide. All we do is go out there and play as hard as we can. We stay focused on that."
The Friars, ranked No. 4 in the
POWERADE FAB 50
, will need that focus today when they face No. 34 Miller Grove (Lithonia, Ga.) at the Spalding Hoophall Classic in Springfield, Mass., at 11 a.m. ET on ESPNU.
"We look at the polls at the end of the year," St. Anthony coach
Bobby Hurley Sr.
said. "Other than that, I don't really put any thought into where we're ranked and things like that. It doesn't matter to me."
That said, Hurley was "aware" that fresh off of an undefeated (33-0) season and a No. 1 final ranking in the 2010-11 FAB 50, his Friars began this season ranked No. 9. After some digging, Anthony fessed up to "not really understanding" how they were ranked so low after a perfect season.
"I didn't really get it," Anderson said. "But that's what I mean, that's why I don't really keep up with those things because it's someone's opinion. I'm sure that there are some teams that are better than us, but eight teams? Do I agree with that? Nah."
To be fair, St. Anthony lost
Myles Mack
, an
ESPNHS first team All-American
who averaged 15.2 points and 3.6 assists per game last season. Mack is now a freshman at Rutgers averaging 10.2 points and 2.1 assists per game for the Scarlet Knights.
Still, you get the sense that Anderson has drawn the conclusion that the eight-spot drop in the preseason was the voters' way of saying that he alone wasn't enough, even if he is putting up 17.4 points, 8.7 rebounds and 6.1 assists per game for the Friars.
"Kyle is the most versatile player in the country," said Miller Grove coach
Sharman White
. "He's the guy and he's been the guy. If we're not able to slow him down or stop him from getting into a groove, then it's going to be a long day. I'm not sure why St. Anthony was slighted in the rankings from the beginning, but I know that Kyle and Coach Hurley will only use that as motivation."
White is exactly right. Anderson said he and the Friars have come to relish the role of the underdog.
"It's a new situation for us, but we love it," Anderson said. "A lot of people are overlooking us, and that's fine. It's like people don't see us coming, but we're definitely coming. We're definitely coming."
And everyone will have to pay attention to that.
Jason Jordan is the basketball editor for ESPNHS. He can be reached at jason.x.jordan.-ND@espn.com. Don't forget to follow him on Twitter: @JayJayESPN.
December, 29, 2011
12/29/11
10:10
AM ET
By
Brandon Parker
| ESPN.com
The year 2011 is winding down to a close and what a year it was in sports. Here are the top 10 stories from the New Jersey high school sports scene:
10. Pin 'Em Down

Andrew Campolattano epitomized dominance on the mat, capping his prep career with a fourth state wrestling title (215 pounds). The Brook Bound senior also set a state record in career wins (178) and pins (117) and lost just once in four years. He's now a freshman wrestler at Ohio State.
9. What a Farewell
Vincent Ascolese's final football game as coach on the North Bergen sidelines was one he'll never forget. Bruins wideout Debray Tavarez caught a 22-yard touchdown pass as time expired to stun previously undefeated Montclair, 14-13, in the North Jersey Section 1, Group 4 championship.
8. Gillie the Kidd

Michael Gilchrist may have fallen short of a perfect season and state title as a senior at St. Patrick, but one of the greatest players to come out of New Jersey still made his mark. Gilchrist earned Mr. Basketball USA honors before being named co-MVP at the McDonald's All-American Game in Chicago. Now known as Michael Gilchrist-Kidd
in honor of his late uncle
, he's holding his own as a freshman swingman for Kentucky.
7. California Love

Kyle Anderson could have gone anywhere in the country to play college basketball, but on the day before his birthday (Sept. 19), the St. Anthony senior committed to UCLA. Anderson's decision was huge for the Bruins, who snagged the nation's fifth-best senior recruit.
6. No Gray Area
Winning a state title is nothing new for St. Benedict's Prep — the Gray Bees copped their 23rd straight Prep A crown this past fall. But the Gray Bees ended a five-year drought atop the national standings by going 24-0 and finishing atop the POWERADE FAB 50. Christiano Francois led the way with 43 goals and 22 assists.
5. CBA Runs Away with State, National Titles
Christian Brothers Academy tore through the regular season before winning its record 17th Meet of Champions crown and extending their national-record dual-meet win streak to 315 (and counting). The Colts went on to finish first at the prestigious Nike Cross Nationals meet with a meet-record 91 points and a course-record average of 15:58.99.
4. Perfect Saint

St. Anthony entered the season with a couple new faces, as Kyle Anderson and Myles Mack joined the Friars after Paterson Catholic was forced to shut down. The duo turned out to be the biggest reasons behind the Friars' 33-0 season, state title and top ranking in the final POWERADE FAB 50.
3. King Edward
With the Rosa twins and Lukas Verzbicas gone, Edward Cheserek wasted little time picking up the baton as the nation's best cross country runner. The St. Benedict's junior harrier won all eight of his races this season, setting course records in the first seven before winning the prestigious Foot Locker Nationals meet.
2. The Don
After beginning the year at No. 1 and with a bevy of tough opponents on the schedule, Don Bosco Prep's football team passed the test with flying colors. Led by a suffocating defense, the Ironmen went 11-0 en route to their sixth straight Non-Public Group 4 title and second national crown in three years.
1. Who's No. 1?
Perhaps it's fitting the top story was the epic battle for the state and nation's top spot on the hardwood when No. 2 St. Anthony and No. 1 St. Patrick met in the Non-Public North B championship. The Celtics led for most of the way, but the Friars put together a late run in the fourth quarter to take control and win, 62-45, at the RAC.
Brandon Parker covers New Jersey for ESPNHS magazine and ESPNHS.com. Follow him on Twitter @brandoncparker or email him at brandon.c.parker@espn.com.
November, 14, 2011
11/14/11
10:59
AM ET
By
Brandon Parker
| ESPN.com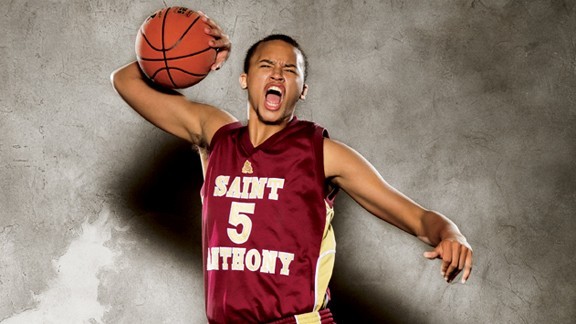 Kelly Kline/ESPNHSAll Kyle Anderson did was win in his first season at St. Anthony, leading the Friars to a 33-0 record as well as the state and POWERADE FAB 50 national titles. The senior is shooting for even more success this year.
This story originally appeared in the Holiday issue of ESPNHS magazine's New Jersey edition.
Let's just be honest: Kyle Anderson is of a different breed.
Unlike most of his peers in the "SportsCenter" generation, the St. Anthony senior swingman isn't always thirsty for a top play. Anderson won't wow fans with a quick crossover — his nickname is "Slow-Mo." He's not known for jamming on the heads of opponents, either. In fact, the 6-foot-7 senior didn't start dunking until a couple years ago.
That's not to say Anderson can't do these things, but for the most part, he is on that old-school, grown-man's game, using incredible instincts to fill up the stat sheet.
"People say Kyle is slow, but it's never been a problem in my eyes," says St. Anthony Hall of Fame basketball coach Bob Hurley. "Other kids might be better athletically, but I wish more kids would play with the controlled pace that he does all the time.
"The way he dribbles and his handle remind me of Magic Johnson, and his other sharp instincts are like Larry Bird," Hurley continues. "If you can talk about two players like that who had such different qualities while being great, that says something about Kyle."
Anderson's on-court success also speaks volumes. Last year, he averaged 14.4 points, 7.5 rebounds and 4.2 assists per game as the Friars went 33-0 en route to state and POWERADE FAB 50 national titles. He stepped it up this summer, averaging nearly a triple-double with Playaz Basketball Club at the Nike Peach Jam and earning co-MVP of the Boost Mobile Elite 24. Entering his senior campaign, Anderson was No. 5 in the ESPNU 100 and had committed to UCLA.
September, 20, 2011
9/20/11
11:34
AM ET
By
Brandon Parker
| ESPN.com
As Kyle Anderson celebrates his 18th birthday today, he can bask in the fact that his college decision has been made. The highly touted St. Anthony senior swingman committed to UCLA's hoops program late Monday night.
Last night, Anderson posted on his Twitter account
@KyleAnderson5
: "Had a great family meeting. I've decided to be a UCLA BRUIN!!" He's also changed his avatar to a picture of him with a UCLA jersey on that says "Anderson" on the back. Pretty sick.
Following a 33-0 season that included a state championship and POWERADE FAB 50 national title with the Friars as well as an impressive summer on the AAU circuit, Anderson had narrowed his list down to UCLA, Georgetown, St. John's, Florida and Seton Hall. But in the end, the Bruins snagged the Boost Mobile Elite 24 co-MVP.
For more on Anderson's commitment, check out
this story
by ESPN basketball recruiting expert Dave Telep.
Brandon Parker covers New Jersey for ESPNHS magazine and ESPNHIGHSCHOOL.com. Follow him on Twitter @brandoncparker or email him at brandon.c.parker@espn.com.
September, 8, 2011
9/08/11
1:06
PM ET
By
Brandon Parker
| ESPN.com
Kyle Anderson's whirlwind summer continued Wednesday when the St. Anthony senior visited St. John's, one of five schools vying for the star swingman's talents.
According to
this New York Post article
, Anderson got a chance to meet Cleveland Cavaliers guard Baron Davis (aka B-Diddy), who played for current Red Storm coach Steve Lavin at UCLA. (Interesting move by Davis, considering UCLA is also on Anderson's list.) The visit, which Anderson took with his mother and two brothers, also included meetings with the coaches and school president as well as a tour and hanging out with the Red Storm squad.
Anderson has been pretty quiet about his recruitment, only revealing his final five (St. John's, Georgetown, Seton Hall, UCLA and Florida) and that his decision will be announced on Sept. 20 — his 18th birthday. The
No. 5 player
in the
ESPNU 100
will take a visit to Florida before weighing his options.
Brandon Parker covers New Jersey for ESPNHS magazine and ESPNHIGHSCHOOL.com. Follow him on Twitter @brandoncparker or email him at brandon.c.parker@espn.com.