High-SchoolNew-York:

Must See
June, 7, 2012
6/07/12
10:02
AM ET
By
Mark Tennis & Doug Huff
| ESPN.com
(After games of Tuesday, June 5)
One player is chosen from each region of the country. These are the final ESPNHS Player of the Week honorees for the 2011-12 school year.
EAST

Alex Godzak, Westhill (Syracuse, N.Y.)
The senior left-handed pitcher was dominant in an 8-1 win over Cazenovia (N.Y.) in the Section III Class B championship game. Godzak allowed only one hit -- a sixth-inning double -- while striking out 13 batters and yielding only one walk to avenge a regular-season loss. Godzak, a Canisius recruit who had a perfect game through five innings, improved his season record to 10-1 with an earned run average under 1.00. The win advances the Warriors to the state tournament this week. Westhill won state crowns in 2009 and 2010.
SOUTHEAST

Jimmy Boyd, Middle Creek (Apex, N.C.)
A four-year varsity starter, Boyd led the Mustangs to the Class 4A state title, which also is the first state title in any sport for the school. Boyd pitched a one-hitter with eight strikeouts in a 2-0 win against Hough (Cornelius, N.C.) in the first game of the best-of-three title series. Middle Creek then won the second game 10-4. In addition to pitching, Boyd also reached base four times in the two games. For the season, Boyd went 8-1 with a 0.86 ERA. He also batted .450, including .550 in the playoffs.
MIDWEST

Kevin Ruff, Minooka (Ill.)
The right-handed senior pitcher was perfect in a 9-0 victory over O'Fallon (Ill.) in the Class 4A sectional tournament final. Ruff retired all 21 batters in his first career no-hitter. Ruff struck out just four batters, but allowed only five balls hit out of the infield and depended on team defense in the playoff game. Earlier in the season, Ruff -- who also plays third base and the outfield -- had a one-hitter against Romeoville (Ill.).
MIDLANDS

Turner Larkins, Arlington Martin (Arlington, Texas)
He's the only sophomore on the roster for Martin's No. 7
FAB 50
squad, but Larkins pitched like a seasoned veteran when the team topped Southlake Carroll (Southlake, Texas) 5-2 in the third game of a best-of-three playoff series. Larkins keyed the win by striking out 13 batters and pitching out of jams. He improved to 10-0 for the season with a 1.25 ERA. Martin advanced to the Class 5A state tournament for the first time since 1993.
WEST

Luke Eubank, Newbury Park (Calif.)
He didn't get his fourth no-hitter of the season, but this senior will gladly take a three-hitter at Dodger Stadium and leading his team to the CIF Southern Section Division I title. Eubank, who had eight strikeouts and no walks, was the difference in Newbury Park's 3-1 victory against Corona (Calif.). Earlier in the week, he closed out the Panthers' 5-2 win over previous FAB 50 No. 1 Mater Dei (Santa Ana, Calif.) with two scoreless innings of relief. For the season, Eubank finished 11-0 with two saves and an ERA of approximately 1.01.
April, 26, 2012
4/26/12
9:32
AM ET
Throughout this offseason, we've spotlighted Class of 2013 quarterbacks who have a shot at making the Elite 11 finals in July. This week, we profile Holy Trinity (Hicksville, N.Y.) junior Chris Laviano, who competed at the Elite 11 regional at at Cowboys Stadium in March. Laviano won't be able to make this Saturday's New York City regional, but does plan on being at the Las Vegas regional in June.
Chris Laviano
never thought he'd get the chance to play quarterback.
Up until the seventh grade, he saw most of his time at center and middle linebacker. Then he played running back and was the backup quarterback.
Finally in the eighth grade he got his chance and he hasn't looked back since.
The 6-foot-2, 197-pound junior is rated the nation's No. 2 pocket passer by ESPN and this fall he'll be a four-year starter at Holy Trinity (Hicksville, N.Y.).
Laviano led Holy Trinity to a CHSFL Class AAA runner-up finish as a freshman and has thrown for 3,227 yards and 29 touchdowns the past two seasons. However, this past fall, a young Holy Trinity squad struggled to a 3-7 mark.
Laviano, who has offers from Boston College and Rutgers, is focusing this offseason to return Holy Trinity to its winning ways. He's also aiming to earn a trip this summer to the Elite 11 finals in California.
In late March, Laviano impressed at the
Dallas Elite 11 regional
at Cowboys Stadium, but came away without an invite. He's hoping it's a different story in June at the Las Vegas Elite 11 regional, which Laviano plans on attending.
ESPNHS: How did it feel to be named the starting quarterback as a freshman?
Laviano:
At the time, it was big. I had only played quarterback one year before in the eighth grade. I pretty much went from Pop Warner to varsity. I lived it up that year. I never felt any pressure because the upperclassmen were awesome. Our running back, Anthony Brunetti, took me under his wing and made it easier for me.
ESPNHS: You didn't play quarterback until the eighth grade? What did you play before then?
Laviano:
I played center and middle linebacker until the seventh grade. Then I played running back and was the backup QB. I just didn't get the chance (to play quarterback). I've come a long way. If I take a step back and look at how far I've come, it's pretty crazy.
ESPNHS: Who's taught you the most about the position?
Laviano:
My personal quarterback coach, Todd Krueger, has taught me the fundamentals and how to play the position. My coach at school, Dominick Tassone, also knows what he's talking about. We do the drills they do at Elite 11 and also switch it up a little bit to get our receivers involved. Coach Tassone and I watch film and break down defenses all the time.
ESPNHS: Who do you credit the most for getting you to this point?
Laviano:
Definitely my mom and dad. They've guided me through these four years and have never steered me wrong. I wouldn't be here without them. And my head coach, Tony Mascia, has given me great advice as well.
ESPNHS: How difficult was last season?
Laviano:
It was tough because we had two great years before then. It was a pretty rough year. But you bounce back and work even harder. Our whole team has a chip on its shoulder to get back to winning seasons.
ESPNHS: How would you describe your Elite 11 experience so far?
Laviano:
I went to the Ohio State and Penn State regionals (last year). The experience of competing against kids your own age is the best part, just to be able to compare yourself against them. I was talking to as many kids as I could to see how their recruiting processes were going. I talked to Gunner Kiel and Zeke Pike. It was cool to get reps with the best. At the Dallas regional, I did well, but I think I did much better at the Nike Football Training Camp the next day. I threw much better. But I was definitely more prepared.
ESPNHS: What mentality are you taking with you into the Las Vegas regional?
Laviano:
I'm definitely hungry. My ultimate goal is to make the finals. When you go to these events, you need something that's going to separate you from 100 kids. You have to have a swagger and take it from the competition. You have to be first in line, have zip on the ball and be all business. It's the last one, so you've got to give to it all.
Chris Laviano
School:
Holy Trinity (Hicksville, N.Y.)
Position:
QB
Class:
2013
2011 Team Record:
3-7 (Lost in Class AAAAA state semifinals)
2011 Stats
Completions-Attempts:
139-232 (.599)
Passing Yards:
1,713
TD:
14
INT:
9
April, 19, 2012
4/19/12
7:43
AM ET
By
Mark Tennis & Doug Huff
| ESPN.com
Here are this week's high school baseball players of the week. One player is chosen from each region of the country. The only other criteria is that no player will be chosen more than once during a season.
(After games of Tuesday, April 17)
EAST
Randy Rodriguez, George Washington (New York)
The Trojans' leadoff hitter had a monster week as GW captured the annual George Washington Tournament crown with a 5-1 record and avenged an early-season loss to rival Cardozo (Bayside, N.Y.) 6-0 in the title game. Rodriguez, a senior veteran, was selected the tournament MVP after going 12-for-18 in the six games, driving in eight runs and playing stellar defense at short.
SOUTHEAST
Emerson Gibbs, Jesuit (New Orleans)
The senior pitcher, who got the save for the Blue Jays in last year's Class 5A state final, posted the equivalent of a seven-inning perfect game within the team's 2-1 victory in 18 innings last week over Archbishop Rummel (Metairie, La.). Gibbs retired 21 straight batters after the sixth inning of the
marathon matchup
. He ended up throwing 15 innings and 193 pitches. Those totals are legal in Louisiana, but would make the heads spin of many coaches around the country. Gibbs has signed with Tulane.
MIDWEST
Alex Darr, University Liggett (Grosse Pointe Woods, Mich.)
The 6-foot-2, 185-pound senior right-handed pitcher/infielder is off to an impressive start for the defending Division 4 state champions. Last week, he struck out 30 batters in two wins, including a no-hitter in a 4-0 blanking of Clarenceville (Livonia, Mich.). In Liggett's home opener, Darr fanned 15 and allowed only two hits in a 13-0, five-inning win over Parkway Christian (Sterling Heights, Mich.). He also helped his own cause with a three-run first-inning homer. Later in the week, he fanned 15 in the win over Clarenceville for his second no-hitter of the season.
MIDLANDS
Sean Rubalcaba, Grand Junction (Colo.)
A familiar name for anyone who follows Colorado prep sports, Rubalcaba continued his hitting tear in a Tuesday game this week by going 4-for-5 with two doubles in a 19-12 victory over Montrose (Colo.). Rubalcaba, a three-sport athlete who was the winner of the prestigious Gold Helmet Award by the Denver Post, kept his season batting average at a hard-to-believe number (.673) and also raised his season total for doubles to 12. He had his fourth four-hit game of the season and in one of those games all four hits were doubles. Rubalcaba, who has a 3.9 GPA and totaled 2,449 yards of total offense last fall as Grand Junction's quarterback, has signed to play football at Northern Colorado.
WEST
Kyle Twomey, El Dorado (Placentia, Calif.)
Pitching no-hitters is one thing, but doing it at the Hard 9 National Classic and for a third straight shutout is something else. Twomey tossed his no-hitter and struck out 14 for the Golden Hawks in a first-round game against Galena (Reno, Nev.). They eventually went on to win the tourney title with Twomey getting the save in a 4-2 victory over El Toro (Lake Forest, Calif.). He was named the tourney's MVP. Earlier this week, Twomey pitched a three-hitter with nine strikeouts when El Dorado topped Esperanza (Anaheim, Calif.) 2-1 in a matchup between two state-ranked squads. The 6-foot-3 senior has signed with USC.
March, 30, 2012
3/30/12
12:07
AM ET
By
Lucas O'Neill
| ESPN.com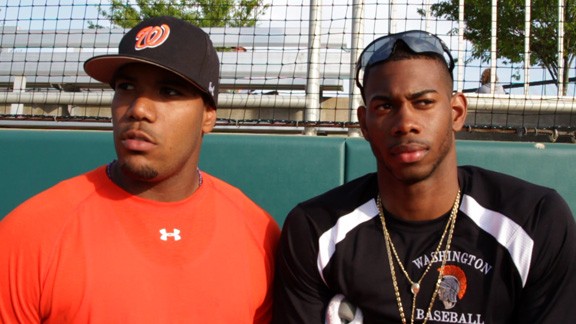 Lucas O'Neill/ESPNHSNelson Rodriguez (left) has been forced to play without George Washington (New York) teammate Fernelys Sanchez, who is out with a broken leg, at the USA Baseball H.S. Invitational.
CARY, N.C. -- George Washington (New York) has had a rough go of it so far at the USA Baseball National High School Invitational. The lone representative from the Northeast, the Trojans fell to Parkview (Lilburn, Ga.) 11-3 on Wednesday and Russell County (Seale, Ala.) 8-0 on Thursday.
Unlike most of the teams at the tournament, George Washington's season has essentially just started. They played nine games in March — none against what would be considered national-caliber programs. But the bigger obstacle for the Trojans this week is that they are without star outfielder
Fernelys Sanchez
, the No. 93 recruit in the
ESPN 100
.
Well, that's not technically true. Fernelys made the trip to North Carolina and was there in the dugout for both games, but the large cast on his right leg made playing impossible. Sanchez broke his leg last week when his foot got stuck in the dirt while running the basepaths and is expected to miss 4-6 weeks.
"All I was thinking was just, 'North Carolina, North Carolina,' man," Sanchez recalled. "I was just thinking about this week. I was just really looking forward to joining my team and Nelson…
"It happens, though; it's baseball," he continued. "Now I've just got to adjust to what's next."
Nelson would be
Nelson Rodriguez
, the Trojans' other senior leader. A star since his freshman campaign, Rodriguez has long been compared to another Trojans' power-hitter: Manny Ramirez. And the person making the comparison, coach Steve Mandl, is in a position to know: He coached Ramirez at GW.
Rodriguez and Sanchez have been best friends since Little League. One year they were opponents, the next year they were teammates, and the rest is history.
"That's where everything started right there," said Sanchez. "From then on, we always played together."
But that could change next year. While both players have committed to Central Arizona CC, it's likely that one or both will choose to go pro instead following June's MLB draft. That's what makes this year all the more important — and Sanchez's injury all the more disappointing. Still, the Trojans will settle for nothing less than a city championship.
"Now that Fernelys is injured, we have to adjust to the atmosphere," said Rodriguez. "It's a big loss and hopefully he gets better soon."
Playing or not, Sanchez will be there every step of the way.
One-Man Show
Courtney Hawkins
led Carroll (Corpus Christi, Texas) over Gulliver Prep (Pinecrest, Fla.) Thursday morning, supplying the game's only run with a solo blast in the top of the third. Hawkins, No. 26 in the ESPN 100, also pitched 5.1 innings of four-hit ball with nine strikeouts and two walks.
"Courtney kind of showed up today," said Carroll coach Lee Yeager, whose team entered the tournament No. 2 in the
POWERADE FAB 50
. "It came down to what he did for us."
Making the performance more impressive is the fact that Gulliver boasts at least a trio of potential early-round draft picks in
Adrian Marin
,
Chris Chinea
and Eric Neitzel. Hawkins did some reconnaissance work before the game to get an edge on the Raiders' potent lineup.
"I got a little help from some guys in Florida I know that play with them," he said with a smile.
Giant Killers
Hawkins' smile was short-lived, figuratively speaking, as within a couple hours his Tiger team was getting trounced by Mater Dei (Santa Ana, Calif.). The Monarchs, who were ranked No. 2 in the preseason POWERADE FAB 50 but had since fallen out of the rankings, had the tournament's toughest draw, but you wouldn't know it from looking at their box scores.
A day after taking out the nation's No. 1 team, Bishop Gorman (Las Vegas), by a score of 10-3, Mater Dei defeated No. 2 Carroll by mercy rule, 12-0.
Ty Moore
led the way for the Monarchs on Thursday, pitching four scoreless innings and hitting a three-run home run.
No. 1*
The radar guns were out in force Thursday as Harvard-Westlake (Studio City, Calif.) co-ace
Max Fried
took the hill against Parkview. The nation's No. 4 prospect in the ESPN 100, Fried didn't disappoint, striking out eight in the Wolverines' 10-3 win.
Perhaps more important to the many scouts in attendance, Fried touched 94 mph on the gun and was consistently in the 89-91 range on his fastball. His 80-mph breaking ball was equally devastating. While Fried's injured teammate, RHP
Lucas Giolito
, is the No. 1 player in the ESPN 100, Fried might be just as coveted by MLB teams come draft time for one reason: He's a southpaw.
Harvard-Westlake will face American Heritage (Plantation, Fla.) in the semifinals on Friday.
Come Sail Away
Sarasota (Fla.) is one of the few teams that entered the tournament unranked in the FAB 50, but that could change after the Sailors won both ends of a double-header on Thursday to earn a semifinal tilt with Mater Dei on Friday.
In a morning matchup with Lee County (Sanford, N.C.), Sarasota scored 14 unanswered runs, breaking the game open with five runs in the sixth and another six in the seventh in a 14-2 victory. In the nightcap, sophomore Evan Mendoza went the distance for the Sailors in the 5-3 win.
"This is the best thing I've seen done for high school baseball yet," said coach Clyde Metcalf, who's in his 31st year at the helm. "Our kids have been really excited about this since it was announced. We're grateful to be here."
March, 23, 2012
3/23/12
10:13
AM ET
By
Jason A. Churchill
| ESPN.com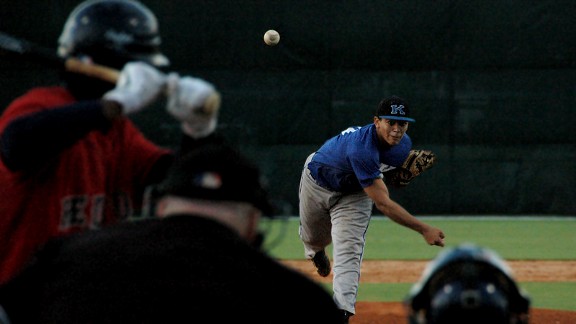 Courtesy of Perfect GameWoodford County (Versailles, Ky.) star Clinton Hollon is the nation's top right-handed pitcher in the Class of 2013.
Each week from now until the end of April, we'll take a look at the elite Class of 2013 baseball prospects by ranking the Top 5 players at each position. This week, we get things started with the Top 5 right-handed pitchers led by Clinton Hollon of Woodford County (Versailles, Ky.), a 6-foot-1, 195-pounder who can throw in the high-90s.
1. Clinton Hollon, Woodford County High School (Versailles, Ky.)
Hollon, a Kentucky commit, has bumped 97 mph on the radar gun. And despite some red flags with his delivery, he has the best arm in the prep class of 2013. He's just 6-foot-1, but he's well built at 195 pounds and offers an upper-80s curveball, a mid-80s slider and a changeup. His slider may be his best shot at an out pitch at the next level.
2. Jordan Sheffield, Tullahoma High School (Tenn.)
Sheffield is a two-sport star and is headed to Vanderbilt, a school that usually keeps its commits rather than losing them to the baseball draft. Sheffield has hit 94 mph with his fastball thanks to terrific arm speed and the pitch has late life. He also employs a power curveball and a slider. Like Hollon, Sheffield is a bit undersized at 6-foot-1 and is just 175 pounds -- great size for a slot receiver on the gridiron, but not ideal for a starting pitcher.
3. Trevor Clifton, Heritage High School (Maryville, Tenn.)
Clifton offers projection from his 6-foot-4, 180-pound frame and a fastball that is in the 89-92 mph range entering his junior year. He complements the four-seamer with a mid-70s slurvy breaking ball and an upper-80s changeup. He's started this season 2-0 and tossed his first career no-hitter this week.
4. Thomas Hatch, Jenks High School (Okla.)
Hatch has grazed 93 mph with his fastball, pitching mostly in the 89-90 range, and pitches downhill with arm-side ride and a cutter-like slider. His release point is consistent and he repeats his delivery. He's considered a mature arm with a good feel for pitching and above-average command.
5. Matt Vogel, Patchogue-Medford High School (Medford, N.Y.)
Vogel, committed to South Carolina, possesses good arm speed and a fastball up to 92 miles per hour. His secondary stuff includes a curveball and slider -- of which he will likely have to choose one as a pro -- and works both sides of the plate well. Despite the average velocity upon which to build, the pitch is true, which means his lack of ideal height -- he's 6-foot-1 -- makes it difficult to create downward plane. He may need college to work on his delivery.
Others to Watch
Cheyne Bickel, Dwyer (Palm Beach Gardens, Fla.)
Trey Cobb, Broken Arrow (Okla.)
Dustin Driver, Wenatchee (Wash.)
Steve Farinaro, Head-Royce (Oakland, Calif.)
Sheldon Neuse, Fossil Ridge (Fort Worth, Texas)
Keegan Thompson, Cullman (Ala.)
Andrew Zapata, Poly Prep (Brooklyn, N.Y.)
Jason A. Churchill covers scouting, player development and the MLB draft for ESPN Insider, as well as Prospect Insider, where he's the founder and executive editor. You can follow him on Twitter @ProspectInsider and email him at churchill@prospectinsider.com.
January, 31, 2012
1/31/12
9:56
PM ET
By
Mark Tennis & Doug Huff
| ESPN.com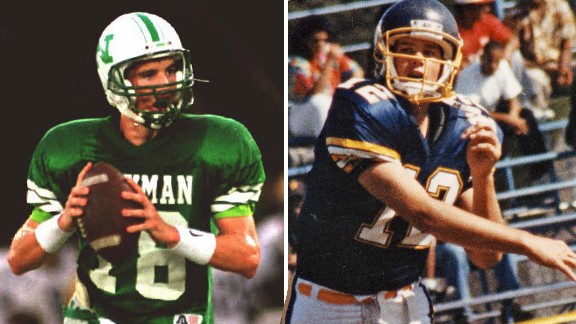 AP Photo, Serra High SchoolBefore they led their teams to Super Bowl XLVI, Eli Manning (left) and Tom Brady were high school standouts at Isidore Newman (New Orleans) and Junipero Serra (San Mateo, Calif.), respectively.
With signing day upon us and the the Super Bowl not far behind, it's a busy time for all levels of the game. Given that every player in Super Bowl XLVI played as a prep back in the day, we decided to break down the rosters for the New England Patriots and New York Giants by state and by high school.
Emerging superstar tight end
Rob Gronkowski
and fullback
Lousake Polite
of the Patriots are both from Woodland Hills (Pittsburgh). These two are also the only two players from Pennsylvania from the Patriots in this year's game.
For the Giants, star receiver
Hakeem Nicks
from Independence (Charlotte, N.C.) was part of the school's legendary 109-game win streak from 2000 to 2009 that still stands as the second-longest in U.S. history.
And with the
Great State Debate
still fresh on our minds, it's worth mentioning that California leads the way for Super Bowl participants this season with 13, while Florida (11) and Ohio (9) aren't far behind in the tally.
ALABAMA
Giants LB
Michael Boley
(Elkmont)
Giants WR
Jerrel Jernigan
(Eufaula)
Giants DL
Justin Tuck
(Central Coosa County, Rockford)
Giants DL
Osi Umenyiora
(Auburn)
ARIZONA
Giants DB
Prince Amukamara
(Apollo, Glendale)
ARKANSAS
Giants OL
Mitch Petrus
(Carlisle)
CALIFORNIA
Giants WR
Ramses Barden
(Flintridge Prep, La Canada)
Patriots QB
Tom Brady
(Junipero Serra, San Mateo)
Giants QB
David Carr
(Stockdale, Bakersfield)
Patriots DB
Patrick Chung
(Rancho Cucamonga)
Patriots WR
Julian Edelman
(Woodside)
Patriots OL
Logan Mankins
(Mariposa)
Patriots DB
Sterling Moore
(Deer Valley, Antioch)
Giants TE
Bear Pascoe
(Granite Hills, Porterville)
Giants LB
Spencer Paysinger
(Beverly Hills)
Patriots WR
Matthew Slater
(Servite, Anaheim)
Giants DL
Dave Tollefson
(Ygnacio Valley, Concord)
Patriots RB
Shane Vereen
(Valencia)
Patriots OL
Ryan Wendell
(Diamond Bar)
COLORADO
Giants DB
Derrick Martin
(Thomas Jefferson, Denver)
Patriots OL
Nate Solder
(Buena Vista)
CONNECTICUT
Patriots TE
Aaron Hernandez
(Bristol Central, Bristol)
Patriots LB
Niko Koutouvides
(Plainville)
Patriots OL
Donald Thomas
(Career Magnet, New Haven)
FLORIDA
Giants OL
David Baas
(Riverview, Sarasota)
Giants OL
Kevin Boothe
(Pine Crest, Fort Lauderdale)
Giants DL
Linval Joseph
(Santa Fe, Alachua)
Patriots WR
Chad Ochocinco
(Miami Beach)
Giants DB
Kenny Phillips
(Carol City, Miami)
Giants DL
Jason Pierre-Paul
(Deerfield Beach)
Giants DB
Antrel Rolle
(South Dade, Homestead)
Giants K
Lawrence Tynes
(Milton)
Patriots DL
Gerard Warren
(Union County, Lake Butler)
Giants LB
Jacquian Williams
(Riverview, Sarasota)
Patriots DL
Vince Wilfork
(Santaluces, Lantana)
GEORGIA
Patriots
Deion Branch
(Monroe, Albany)
Giants DB
Deon Grant
(Josey, Augusta)
Patriots LB
Gary Guyton
(Bradwell Institute, Hinesville)
Patriots DL
Kyle Love
(North Clayton, College Park)
Giants RB
D.J. Ware
(Rockmart)
ILLINOIS
Patriots DB
Sergio Brown
(Proviso East, Maywood)
Giants OL
David Diehl
(Brother Rice, Chicago)
Patriots LB
Rob Ninkovich
(Lincoln-Way Central, New Lenox)
INDIANA
Giants OL
James Brewer
(Arlington)
Giants LB
Mathias Kiwanuka
(Cathedral, Indianapolis)
Giants P
Steve Weatherford
(North Vigo, Terre Haute)
IOWA
Giants DB
Tyler Sash
(Oskaloosa)
KENTUCKY
Patriots DL
Brandon Deaderick
(Elizabethtown)
LOUISIANA
Patriots RB
Kevin Faulk
(Carencro, Lafayette)
Patriots RB
BenJarvus Green-Ellis
(St. Augustine, New Orleans)
Giants RB
Brandon Jacobs
(Assumption, Napoleonville)
Giants QB
Eli Manning
(Isidore Newman, New Orleans)
Giants DB
Corey Webster
(St. James)
MARYLAND
Patriots DB
Kyle Arrington
(Gwynn Park, Brandywine)
MASSACHUSETTS

Patriots DL
Ron Brace
(Burncoat, Worcester)
Giants LS
Zak DeOssie
(Phillips Academy, Andover)
Patriots DB
James Ihedigbo
(Amherst-Pelham Regional, Amherst)
MICHIGAN
Patriots OL
Nick McDonald
(Ford, Sterling Heights)
Giants WR
Devin Thomas
(Canton)
MISSISSIPPI
Patriots K
Stephen Gostkowski
(Madison Central, Madison)
Patriots RB
Stevan Ridley
(Trinity Episcopal, Natchez)
MISSOURI
Patriots OL
Dan Connolly
(Marquette, Chesterfield)
MONTANA
Patriots LB
Dane Fletcher
(Bozeman)
NEBRASKA
Patriots RB
Danny Woodhead
(North Platte)
NEW JERSEY
Giants WR
Victor Cruz
(Paterson Catholic, Paterson)
Patriots DB
Nate Jones
(Scotch Plains-Fanwood, Scotch Plains)
Patriots DB
Devin McCourty
(Saint Joseph Regional, Montvale)
Giants OL
Kareem McKenzie
(Willingboro)
Giants DL
Justin Trattou
(Don Bosco Prep, Ramsey)
Patriots WR
Tiquan Underwood
(Notre Dame, Lawrenceville)
NEW YORK
Giants DL
Jimmy Kennedy
(Roosevelt, Yonkers)
NORTH CAROLINA
Giants DL
Chris Canty
(Charlotte Latin, Charlotte)
Giants WR Hakeem Nicks (Independence, Charlotte)
Patriots LB
Brandon Spikes
(Crest, Shelby)
OHIO
Giants TE
Jake Ballard
(Springboro)
Giants LB
Chase Blackburn
(Marysville)
Giants OL
Jim Cordle
(Lancaster)
Patriots QB
Brian Hoyer
(Saint Ignatius, Cleveland)
Giants LB
Greg Jones
(Archbishop Moeller, Cincinnati)
Patriots OL
Matt Light
(Greenville)
Patriots
Zoltan Mesko
(Twinsburg)
Giants WR
Mario Manningham
(Harding, Warren)
Patriots DB
Antwaun Molden
(Glenville, Cleveland)
OKLAHOMA
Patriots DL
Mark Anderson
(Booker T. Washington, Tulsa)
Patriots WR
Wes Welker
(Heritage Hall, Oklahoma City)
PENNSYLVANIA
Patriots TE Rob Gronkowski (Woodland Hills, Pittsburgh)
Giants LB
Mark Herzlich
(Conestoga, Berwyn)
Giants RB
Henry Hynoski
(Southern Columbia, Catawissa)
Patriots RB Lousaka Polite (Woodland Hills, Pittsburgh)
Giants RB
Da'Rel Scott
(Plymouth Whitemarsh, Plymouth Meeting)
Giants OL
Chris Snee
(Montrose)
RHODE ISLAND
Giants DB
Will Blackmon
(Bishop Hendricken, Warwick)
SOUTH CAROLINA
Patriots DL
Shaun Ellis
(Westside, Anderson)
Patriots LB
Tracy White
(Timberland, St. Stephen)
TEXAS
Giants DL
Rocky Bernard
(Sterling, Baytown)
Patriots OL
Marcus Cannon
(Odessa)
Patriots QB
Ryan Mallett
(Texas, Texarkana)
Giants DB
Aaron Ross
(Tyler)
Giants OL
Tony Ugoh
(Westfield, Houston)
Patriots OL
Brian Waters
(Waxahachie)
Patriots DB
Malcolm Williams
(South Grand Prairie, Grand Prairie)
VIRGINIA
Patriots LS
Danny Aiken
(Cave Spring, Roanoke)
Giants RB
Ahmad Bradshaw
(Graham, Bluefield)
Patriots LB
Jerod Mayo
(Kecoughtan, Hampton)
WISCONSIN
Giants TE
Travis Beckum
(Oak Creek)
Note: List does not include OL Sebastian Vollmer of the Patriots, who is not from a U.S. high school (Germany); Rob Gronkowski attended Williamsville North (Williamsville, N.Y.) before transferring to Woodland Hills for his senior year