High-SchoolNew-York:

Buffalo Bills
December, 12, 2011
12/12/11
11:38
AM ET
By
Brandon Parker
| ESPN.com

Click here

to check out some of the other states in our Five Days of List-Mas.

Brandon Parker covers New York for ESPNHS magazine and ESPNHS.com. Follow him on Twitter @brandoncparker or email him at brandon.c.parker@espn.com.
September, 6, 2011
9/06/11
5:50
PM ET
Chad Kelly, a senior at St. Joe's Collegiate, is one of the top-rated quarterbacks in the nation after earning a spot in the Elite 11 this past summer. Kelly, who has already committed to Clemson, agreed to chronicle his senior season through a weekly diary as told to ESPNHS editor Brandon Parker.
We were so hyped going into Saturday's game against Aquinas Institute. The game was on TV and we knew we were playing a team that's not only ranked in the state but ranked nationally, so we figured they weren't going to make many mistakes. We knew it would be tough, but we thought we could do something against them if we played mistake-free football.
Unfortunately, though, we couldn't get it done [
St. Joe's lost 40-20 to Aquinas
]. I know I don't play defense, but we just couldn't tackle well at all. [Aquinas tailback Billy Lombardi] was running all over the place, so that's something we've got to work on. Jarron Jones is a good player, but he didn't have a dominant game. We actually felt like we got more yards going at him than when we did when we tried to go around him, so that was a pleasant surprise.
You always hate to lose, but we have to look past that one now and move on. It wasn't a league game and knowing we played the state's top team in our first game should have us prepared going forward. When we watched the film, it took us four and a half hours to go through the first half alone, so that gives you an idea of how much we can learn from this — and how bad it was at times. We just made so many mistakes and it was embarrassing for us on both sides of the ball.
Our coach [Dennis Gilbert] made me come in bright and early Sunday at 7:30 to talk and we didn't get out of practice until 3, so we're putting in work. We just sat down for about an hour and a half and he was saying how sometimes he goes hard on me so the guys know there are no favorites. Then we just talked about how bad we played and how we're really going to have to work on tackling, even if that means going hard in practice.
Next up, we have Monsignor Farrell. Last year, we lost a tough one to them, 21-20. With a minute and a half left, we scored to go up by six points. Then they got the ball, drove to their 30 and threw up a pass to score on the last play and then win it on the extra point. I actually got hurt on the first play of that game with a thigh bruise and our running back hurt his tailbone, so we should be better off this time around. They have a new coach now who runs a spread like Oregon does, so we'll have to be ready.
It was nice to have college football back on TV. After our game, I was of course checking up on the Clemson game. I saw the LSU-Oregon and Baylor-TCU games. Baylor looks like the real deal and LSU has a good team. Boise State is always tough, too. I think this will be an interesting season where a lot of people will be be surprised with the strides some teams make.
I'm also excited for the NFL season. All I can say for my Buffalo Bills is good luck. Hopefully they can win some games, but it's not looking too good for them right now. I guess we'll just have to wait and see.
August, 25, 2011
8/25/11
10:00
AM ET
By
Brandon Parker
| ESPN.com
Since we're still in the early stages of launching this blog, I figured I'd get creative and introduce a new word into this space. So ladies and gentlemen, I now present to you our first "Twinterview," where (you guessed it) an interview is done in Twitter format. (OK, maybe calling that "creative" is a stretch. Sue me.)
Our first subject is Chad Kelly, a senior at St. Joe's Collegiate who at this point probably needs no introduction after his
cover story
in ESPNHS, TV time at the
Elite 11
and all-tournament performance at the
Nike 7ON
. (Kelly has also agreed to do a senior diary chronicling his season, so check back in two weeks for that)
See what the Clemson-bound QB had to say about his busy offseason, what it was like being on TV and why his famous uncle is against Twitter:
August, 23, 2011
8/23/11
2:20
PM ET
By
Brandon Parker
| ESPN.com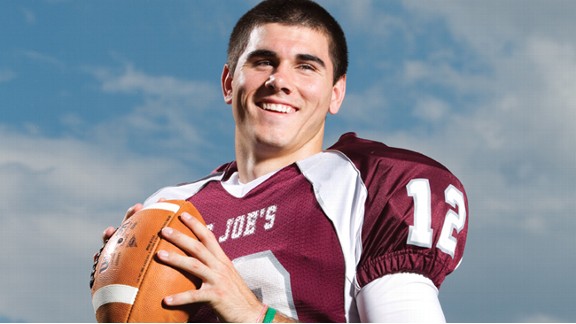 Kelly Kline/ESPNHSAfter a big summer that included a Nike 7ON championship and a spot in the Elite 11, St. Joe's Collegiate senior QB Chad Kelly is all smiles entering his senior season.
Fueled by determination and what some call freakish athleticism, Chad Kelly placed his stamp on the prep football scene this summer.
At the Nike 7ON in Oregon, the St. Joe's Collegiate senior QB threw the game-winning touchdown to push his team to
the 7-on-7 title
and earn all-tournament honors. A few weeks later, Kelly was at it again, earning a spot in the
final Elite 11
at the prestigious Elite 11 quarterback competition in California.
Needless to say, with
an uncle
who quarterbacked the Bills to four Super Bowl appearances and several records already to his name, Kelly appears ready for a huge senior campaign. Click
here
to read about Kelly's journey to the top.
Also check back later this week for our recent "Twinterview" with the elite QB and stay tuned for our weekly diary chronicling Kelly's highly anticipated senior season.
Brandon Parker covers New York for ESPNHS magazine and ESPNHIGHSCHOOL.com. Follow him on Twitter @brandoncparker or email him at brandon.c.parker@espn.com.