High-SchoolNew-York:

Elite 11
April, 26, 2012
4/26/12
9:32
AM ET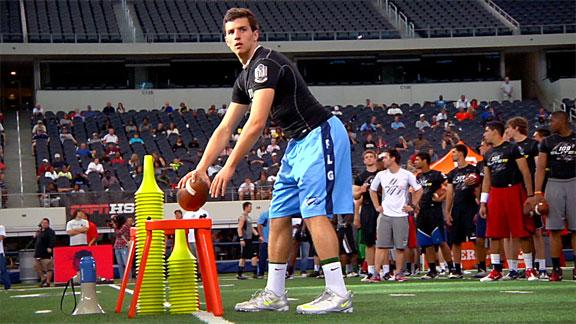 Throughout this offseason, we've spotlighted Class of 2013 quarterbacks who have a shot at making the Elite 11 finals in July. This week, we profile Holy Trinity (Hicksville, N.Y.) junior Chris Laviano, who competed at the Elite 11 regional at at Cowboys Stadium in March. Laviano won't be able to make this Saturday's New York City regional, but does plan on being at the Las Vegas regional in June.
Chris Laviano
never thought he'd get the chance to play quarterback.
Up until the seventh grade, he saw most of his time at center and middle linebacker. Then he played running back and was the backup quarterback.
Finally in the eighth grade he got his chance and he hasn't looked back since.
The 6-foot-2, 197-pound junior is rated the nation's No. 2 pocket passer by ESPN and this fall he'll be a four-year starter at Holy Trinity (Hicksville, N.Y.).
Laviano led Holy Trinity to a CHSFL Class AAA runner-up finish as a freshman and has thrown for 3,227 yards and 29 touchdowns the past two seasons. However, this past fall, a young Holy Trinity squad struggled to a 3-7 mark.
Laviano, who has offers from Boston College and Rutgers, is focusing this offseason to return Holy Trinity to its winning ways. He's also aiming to earn a trip this summer to the Elite 11 finals in California.
In late March, Laviano impressed at the
Dallas Elite 11 regional
at Cowboys Stadium, but came away without an invite. He's hoping it's a different story in June at the Las Vegas Elite 11 regional, which Laviano plans on attending.
ESPNHS: How did it feel to be named the starting quarterback as a freshman?
Laviano:
At the time, it was big. I had only played quarterback one year before in the eighth grade. I pretty much went from Pop Warner to varsity. I lived it up that year. I never felt any pressure because the upperclassmen were awesome. Our running back, Anthony Brunetti, took me under his wing and made it easier for me.
ESPNHS: You didn't play quarterback until the eighth grade? What did you play before then?
Laviano:
I played center and middle linebacker until the seventh grade. Then I played running back and was the backup QB. I just didn't get the chance (to play quarterback). I've come a long way. If I take a step back and look at how far I've come, it's pretty crazy.
ESPNHS: Who's taught you the most about the position?
Laviano:
My personal quarterback coach, Todd Krueger, has taught me the fundamentals and how to play the position. My coach at school, Dominick Tassone, also knows what he's talking about. We do the drills they do at Elite 11 and also switch it up a little bit to get our receivers involved. Coach Tassone and I watch film and break down defenses all the time.
ESPNHS: Who do you credit the most for getting you to this point?
Laviano:
Definitely my mom and dad. They've guided me through these four years and have never steered me wrong. I wouldn't be here without them. And my head coach, Tony Mascia, has given me great advice as well.
ESPNHS: How difficult was last season?
Laviano:
It was tough because we had two great years before then. It was a pretty rough year. But you bounce back and work even harder. Our whole team has a chip on its shoulder to get back to winning seasons.
ESPNHS: How would you describe your Elite 11 experience so far?
Laviano:
I went to the Ohio State and Penn State regionals (last year). The experience of competing against kids your own age is the best part, just to be able to compare yourself against them. I was talking to as many kids as I could to see how their recruiting processes were going. I talked to Gunner Kiel and Zeke Pike. It was cool to get reps with the best. At the Dallas regional, I did well, but I think I did much better at the Nike Football Training Camp the next day. I threw much better. But I was definitely more prepared.
ESPNHS: What mentality are you taking with you into the Las Vegas regional?
Laviano:
I'm definitely hungry. My ultimate goal is to make the finals. When you go to these events, you need something that's going to separate you from 100 kids. You have to have a swagger and take it from the competition. You have to be first in line, have zip on the ball and be all business. It's the last one, so you've got to give to it all.
Chris Laviano
School:
Holy Trinity (Hicksville, N.Y.)
Position:
QB
Class:
2013
2011 Team Record:
3-7 (Lost in Class AAAAA state semifinals)
2011 Stats
Completions-Attempts:
139-232 (.599)
Passing Yards:
1,713
TD:
14
INT:
9
December, 29, 2011
12/29/11
10:10
AM ET
By
Brandon Parker
| ESPN.com
10. Surprise, Surprise

After losing their star player in Ishaq Williams and falling just short of the PSAL title, most figured Lincoln would spend this season rebuilding. Instead, the Railsplitters built a championship season by going 13-0 en route to the championship behind talented rusher Kareem Folkes.
9. In the Nick of Time

For the past decade, Fayetteville-Manlius' girls cross country program has garnered all of the attention, but this year, the boys stole some of the spotlight. Led by Nick Ryan's first-place finish, the boys joined the girls as Class A state champs. Ryan went on to finish fifth at the Nike Cross Nationals meet.
8. Dream Season

After failing to reach the PSAL final for the first time in 15 years, MLK returned to the throne of New York city soccer by beating Francis Lewis, 3-2. Ibrahim Diaby provided the decisive goal, scoring on a header in the 69th minute to give the Knights their 13th crown in the last 16 seasons.
7. Watch the Throne

Jamesville-DeWitt and Mount Vernon both made history on the same day this past winter. Led by Dajuan Coleman, J-D won its state-record tying fourth straight Class A title while Mount Vernon rode the play of Jabarie Hinds to cop its state-record tying ninth overall crown.
6. Elite Class

In just two years on the New York football scene, Chad Kelly made national waves. This past summer, the St. Joe's Collegiate senior earned a spot in the Elite 11 during the annual QB camp in California. Kelly, the son of Hall of Famer Jim Kelly, took those skills to become the first New York QB to throw for 3,000 yards and rush for 1,000.
5. Perfect Saint

Despite losing its starting quarterback before the year began and enduring injuries all season to its top players, St. Anthony's continued its reign of success by going 10-0 and copping its third straight CHSFL crown this past fall.
4. Luck of the Irish

Penn State saw itself spurned not once, but twice in the same year by New York's top football recruit. In January, as Lincoln's Ishaq Williams was packing for a visit to Penn State, a Notre Dame coach knocked on his door and eventually led him to commit to the Fighting Irish. Then this past fall, Aquinas Institute's Jarron Jones decommitted from Penn State and then chose Notre Dame as well.
3. Coaches Suspended

PSAL coaches Steve Mandl, who has 900-plus wins managing George Washington's baseball team, and Forest Hills hoops coach Ben Chobhaphand were suspended for recruiting violations. While Mandl fought the ruling in the courts, George Washington went on to win the PSAL title this past spring. Chobhaphand is poised to return to the sideline after his one-year suspension ends in February.
2. 'Cuse Lands Another Coleman

He's not related to former Syracuse and NBA star Derrick Coleman, but Dajuan Coleman is following in the big man's footsteps. The J-D senior committed to Syracuse this past fall over the likes of Kentucky and Ohio State.
1. We Will Never Forget

Middletown may be a 90-minute drive from Ground Zero, but on Sept. 10 the memory of 9/11 was close at hand for everyone attending a tripleheader of football games to honor the memories of those who died a decade ago. Manhattan Xavier faced Pine Brush, Xaverian played Monroe-Woodbury
and Archbishop Stepinac took on Middletown. More than $4,000 was raised in donations and raffles during the event, as
all involved teams paid tribute to the 10th anniversary of 9/11
.
Brandon Parker covers New York for ESPNHS magazine and ESPNHS.com. Follow him on Twitter
@brandoncparker
or email him at brandon.c.parker@espn.com.
December, 12, 2011
12/12/11
11:38
AM ET
By
Brandon Parker
| ESPN.com

Click here

to check out some of the other states in our Five Days of List-Mas.

Brandon Parker covers New York for ESPNHS magazine and ESPNHS.com. Follow him on Twitter @brandoncparker or email him at brandon.c.parker@espn.com.
November, 18, 2011
11/18/11
12:36
PM ET
By
Brandon Parker
| ESPN.com
Championship football is upon us, meaning dreams will be realized and crushed simultaneously, often in thrilling fashion.
So was the case Thursday when St. Joe's Collegiate and St. Francis faced off for the MMA title. The Marauders entered with the upper hand after beating the Red Raiders earlier this season. Plus, Chad Kelly was attempting to become the first QB in state history to pass for 3,000 yards and run for 1,000 yards in the same season. The Elite 11 quarterback gained 325 total yards to surpass the mark, but in the all-important contest, the Marauders came up short, falling 37-16.
Star tailback Akeel Lynch, who missed their first meeting with an injury, scored on the first play from scrimmage with 62-yard run. The senior finished with 164 yards and two scores, giving him a school-record 2,131 yards for the season, but a turf toe injury sidelined him for most of the second half. But the Red Raiders didn't skip a beat, as Alex Misterman (153 rushing yards, one TD) scored to give them an insurmountable 23-8 halftime lead.
St. Anthony's vs. Archbishop Stepinac
The championship bouts will continue tonight as St. Anthony's battles Archbishop Stepinac in hopes of winning its 10th CHSFL AAA title in the last 11 years. The Friars, who have reached the last 13 title games, enter as the hands-down favorite after beating the Crusaders, 55-29. Friday's contest is likely to be a bit closer, but with the Friars' experience and wealth of talent, my guess is they will once again hoist the trophy at night's end.
My pick:
St. Anthony's 35, Archbishop Stepinac 24
Kellenberg vs. Fordham Prep
This one is bound to be a bit closer than the AAA final, as these two teams already played a classic matchup earlier in the season. Then, Fordham Prep pulled out a 29-28 win on a late two-point conversion. The Rams lost four straight following that thriller, but have righted the ship to reach tonight's AA championship. The question here will be, is two better than one? Kellenberg relies heavily on standout QB Matt McDaniels while Fordham Prep uses a dual-QB approach with James Drago and Logan Williamson.
My pick:
Fordham Prep 24, Kellenberg 21
Brandon Parker covers New York for ESPNHS magazine and ESPNHIGHSCHOOL.com. Follow him on Twitter @brandoncparker or email him at brandon.c.parker@espn.com.
November, 11, 2011
11/11/11
12:31
PM ET
By
Brandon Parker
| ESPN.com
With the PSAL entering its postseason play this weekend, the entire state of New York is now in the midst of its most exciting time during the football season — the playoffs.
An epic battle between St. Joe's Collegiate and Canisius on Thursday proved just that. Marauders
QB Chad Kelly showed why he made the Elite 11 this past summer
, orchestrating a last-minute drive to help his team pull out a 48-47 win in the MMAA semifinals.
Down 47-40 with, Kelly drove his offense to the Canisius 6 with under a minute to play. Two incomplete passes and a run play that yielded negative yards brought up fourth-and-16. But Kelly showed his poise, connecting with Rod Payne for the touchdown before finding Yanni Zaulia for the decisive two-point conversion with 18 seconds remaining. Next, the Marauders will face St. Francis, which they beat earlier this season, 27-20.
Here are some other intriguing games to watch out for this weekend:
Iona Prep vs. St. Anthony's
When these two met on the gridiron two weeks ago, even though St. Anthony's escaped with a 21-20 win, there were some who weren't convinced that the Friars were the better team. The difference came when Iona Prep's two-point conversion try was stuffed with 24 seconds remaining, but coach Vic Quirolo said that had his kicker (and
All-State goalkeeper
) Alex Kapp been at the game rather than at a soccer commitment, they would have kicked the PAT and rolled the dice in overtime. Kapp is expected to play this weekend, which is welcome news for the Gaels, but is it enough? The Friars appear to be as close to full strength as they've been all season after standout players like Dariyan Riley and Brian Sherlock struggled with injuries. And though Kapp is slated to play, starting QB Mario Biaggi III might not due to an ankle sprain he sustained last week. If not, Justin Combs, who scored three times in last round's win, will get the nod.
My pick:
St. Anthony's 24, Iona Prep 21
Campus Magnet vs. Curtis

Campus Magnet's season began with hope (a 24-20 comeback win against Erasmus Hall) while Curtis' started in defeat (a 40-12 loss to Boys & Girls). Both have had their ups and downs en route to a 6-3 regular season showing, making this weekend's first-round PSAL contest a closely matched one. Homefield advantage is in Campus Magnet's favor, but Curtis has a tailback Kevin Austin who could exploit the Bulldogs' struggles against the run this year.
My pick:
Campus Magnet 24, Curtis 17
Brandon Parker covers New York for ESPNHS magazine and ESPNHIGHSCHOOL.com. Follow him on Twitter @brandoncparker or email him at brandon.c.parker@espn.com.
October, 3, 2011
10/03/11
12:09
PM ET
By
Brandon Parker
| ESPN.com
After games as of Sunday, Oct. 2.
Even though Erasmus Hall has plenty of talent and boasts an All-American in Wayne Morgan, few figured the Dutchmen would pull of an upset of Tottenville. Not after losing 30-8 to the same Clinton squad that the Pirates had shut out 21-0 earlier this season. But after falling behind 13-0 in the first half, the Dutchmen put the clamps on Tottenville's high-powered offense and pulled off the 14-13 upset.
St. Francis also fell, losing for the second time this season to a top 10 squad. In a rematch of last year's Monsignor Martin championship, St. Joe's Collegiate once again beat the Red Raiders, this time by a count of 27-20.
Elite 11 QB Chad Kelly
led the way, connecting with Kyle Briggs for two late scores to make the difference. The win gives the Marauders a signature win following their season-opening loss to Aquinas Institute and knocks the Red Raiders out of the top 10.
And without further ado, here are this week's rankings (last week's rankings are in parentheses):
1. St. Anthony's (Mehlville) 3-0 (1)
The Friars used a late turnover to seal a close, 29-19 win against previously undefeated Holy Cross. Next up: Archbishop-Stepinac.
2. Aquinas Institute (Rochester) 5-0 (2)
The Little Irish breezed past Corning, 51-12. Aquinas Institute will look to continue their unbeaten streak against Canisius this week.
3. Orchard Park 5-0 (5)
The Quakers avoided the upset bug and continued their winning ways, downing a talented Clarence squad, 44-13. Next up: Lancaster.
Click here for the full POWERADE New York weekly football rankings.
September, 30, 2011
9/30/11
2:03
PM ET
By
Brandon Parker
| ESPN.com
It's been a pleasantly surprising start to the season for Holy Cross. A win against Xaverian along with coach Tom Pugh;s 200th victory last week highlights the Knights' 3-0 start, but nothing would top a victory against defending CHSFL champ and current No. 1 St. Anthony's (2-0).
The Knights have homefield advantage and a solid defensive attack, but quite frankly, most of the odds are stacked against them. The Friars boast tons of experience and depth — both of which were witnessed last week when Anthony Anderson stepped in for the injured Dariyan Riley to rush for 136 yards in a 51-0 rout of Fordham Prep. Riley is expected back this week and the Friars' defense is evolving into midseason form. Don't get wrong — Holy Cross will put up a fight, but this bout will end in a 22nd straight victory for the Friars.
My pick:
St. Anthony's 35, Holy Cross 17
No. 8 St. Joe's Collegiate (3-1) at No. 4 St. Francis (3-1)
Just two weeks after facing No. 2 Aquinas Institute, St. Francis comes up against another strong team in St. Joe's Collegiate. Both teams possess big-time playmakers, with St. Francis anchored by Akeel Lynch (705 rushing yards and seven scores despite missing a game a half with injury) and the Marauders led by Elite 11 QB Chad Kelly. Ironically, this will be the first time these two will play on the same field. Last year, an injury held out Lynch, as Kelly went off for five scores in an easy win. And the year before that, Kelly was still playing in Pennsylvania, as Lynch had a career-high five touchdowns in victory. What's more is that both teams only loss came to No. 2 Aquinas Institute. Like Lynch, Kelly has been off to a great start, totaling 14 TDs through the air and on the ground. In other words, this matchup is primed to be a shootout.
My pick:
St. Francis 38, St. Joe's Collegiate 35
Xaverian (2-1) at No. 9 Iona Prep (3-0)

Last week was the
Justin Combs show, as Diddy's son
stepped in at quarterback to score three touchdowns for the surging Gaels in a 28-7 win against Monsignor Farrell. The Gaels will need a similar effort from the versatile starter this week against a tough Xaverian squad. Quarterback Isaiah Kearney (a total of 644 yards and seven TDs) will keep the Gaels defense on its heels, but ultimately, I think Iona Prep's offense of Combs, Mario Biaggi and Shaquille Townsend will be too much for the Clippers.
My pick:
Iona Prep 28, Xaverian 20
No. 3 Tottenville (3-0) at Erasmus Hall (1-2)

Many thought this game would be a matchup of undefeateds, but Erasmus Hall has sputtered in its first three games. Despite boasting All-State DB Wayne Morgan, the Dutchmen defense has struggled, surrendering 17 second-half points in a loss to Campus Magnet and 30 points last week against Clinton. Tottenville, on the other hand, has cruised to a 3-0 start behind the three-headed monster of QB Brandon Barnes, RB Augustus Edwards and WR Alvin Cornelius. The good news for Erasmus Hall is talented enough to rebound and still contend for a state title. The bad news is that Tottenville easily beat Clinton a few weeks ago and won't let up tonight.
My pick:
Tottenville 31, Erasmus Hall 17
Brandon Parker covers New York for ESPNHS magazine and ESPNHIGHSCHOOL.com. Follow him on Twitter @brandoncparker or email him at brandon.c.parker@espn.com.
September, 16, 2011
9/16/11
4:49
PM ET
By
Brandon Parker
| ESPN.com
For the second time this season, No. 2 Aquinas Institute will face a top-10 squad, as No. 3 St. Francis comes to town on Saturday.
As most know, the Little Irish (2-0) are led by the state's top recruit, Jarron Jones, who has committed to Notre Dame. The senior defensive lineman can plug up holes and get into the backfield in a hurry. Plus, All-State players Marc Pettrone (LB) and Jamahl Pardner (DB) have his back.
As a result, a Red Raiders (2-0) offense that has put up 85 points in two games could be slowed. Akeel Lynch is the backbone of their attack, gaining 479 yards and five touchdowns on the ground. Thing is, if the Little Irish can solely focus on stopping Lynch, as the Red Raiders' passing game has struggled in minimal action this year.
On the other side of the ball, Aquinas also has a rushing attack to be respected. Junior Billy Lombardi has surpassed the 150-yard mark in two games to go with five scores. What's more, quarterback Cory Benedetto has yet to throw a pick this season.
The Red Raiders should put up a good fight, but Aquinas has too many weapons for St. Francis on this day.
My pick:
Aquinas 35, St. Francis 20
No. 7 Fort Hamilton (1-0) at Campus Magnet (1-0)

Fort Hamilton extended its regular-season win streak to 33 games, but the Tigers face a Campus Magnet that appears prone to surprise teams. Last week, the Bulldogs fell behind 13 points before gaining a first down to a tough Erasmus Hall squad. But that was no sweat for the Bulldogs, who stormed back for a 24-20 win. Quarterback Khalik Greenwood will be tested again against a solid Tigers defense.
My pick:
Fort Hamilton 20, Campus Magnet 17
No. 9 St. Joe's Collegiate (1-1) at Canisius (2-0)
With two potent offenses meeting up, this could be an old-fashioned shootout. For St. Joe's, Elite 11 QB Chad Kelly can make plays with his arm and feet, totaling 586 yards, seven scores and just one pick. For Canisius, Mercer Timms is the focus. The tailback has tallied 463 yards and seven touchdowns in just two games. Likewise, quarterback Chris Jugovic showed his stuff last week with four touchdowns through the air. The Marauders' defense has struggled this season, which could give Canisius a slight advantage on its homefield.
My pick:
Canisius 24, St. Joe's Collegiate 21
Erasmus Hall (0-1) at Boys & Girls (1-0)
While one team showed it can adjust on the fly, the other is looking to prove its mettle after a shocking opening loss. Just days after Clive Harding replaced dismissed coach Barry O'Connor, Boys & Girls showed their resolve in a 40-12 win against Curtis. Meanwhile, Erasmus Hall, led by All-State player Wayne Morgan, lost a 13-point lead and eventually the game to a surprising Campus Magnet squad. This bout will be key for both squads, with Erasmus facing an 0-2 hole and Boys & Girls looking to gain some early momentum. Look for Erasmus Hall to bounce back behind Morgan and freshman phenom Curtis Samuel, who rushed for two scores last week.
My pick:
Erasmus Hall 24, Boys & Girls 20
Brandon Parker covers New York for ESPNHS magazine and ESPNHIGHSCHOOL.com. Follow him on Twitter @brandoncparker or email him at brandon.c.parker@espn.com.
August, 25, 2011
8/25/11
10:00
AM ET
By
Brandon Parker
| ESPN.com
Since we're still in the early stages of launching this blog, I figured I'd get creative and introduce a new word into this space. So ladies and gentlemen, I now present to you our first "Twinterview," where (you guessed it) an interview is done in Twitter format. (OK, maybe calling that "creative" is a stretch. Sue me.)
Our first subject is Chad Kelly, a senior at St. Joe's Collegiate who at this point probably needs no introduction after his
cover story
in ESPNHS, TV time at the
Elite 11
and all-tournament performance at the
Nike 7ON
. (Kelly has also agreed to do a senior diary chronicling his season, so check back in two weeks for that)
See what the Clemson-bound QB had to say about his busy offseason, what it was like being on TV and why his famous uncle is against Twitter:
August, 24, 2011
8/24/11
3:01
PM ET
By
Brandon Parker
| ESPN.com
Each week, we'll take a deeper look into our
All-State football team
to see whose stock is rising and falling based on recent performance and news. I know some of you are wondering, how can you have a stock watch when football hasn't officially started? Easy. Every football fan knows that the season never truly ends.
UP — Wayne Morgan, Erasmus Hall, DB

When it comes to football, Morgan is all about putting on for his city. So as the lone New York player at Gridiron Kings this past summer, the Erasmus Hall senior did just that with an impressive performance. Helped by Morgan's lockdown defense, his Midwest squad made an improbable run to the finals before falling to Southeast. Click
here
to read more about Morgan's solid showing.
UP — Kyle Briggs, St. Joe's Collegiate, WR

It's safe to say Briggs had plenty to smile about this past summer. In July, the senior wideout watched his quarterback Chad Kelly earn
all-tournament honors
at the Nike 7ON and
Elite 11 status
at the prestigious QB competition. So as
Kelly's stock skyrockets
, so too will Briggs', who stands to put up big numbers this season while serving as Kelly's main target.

Brandon Parker covers New York for ESPNHS magazine and ESPNHIGHSCHOOL.com. Follow him on Twitter (@brandoncparker) or email him at brandon.c.parker@espn.com.
August, 23, 2011
8/23/11
2:20
PM ET
By
Brandon Parker
| ESPN.com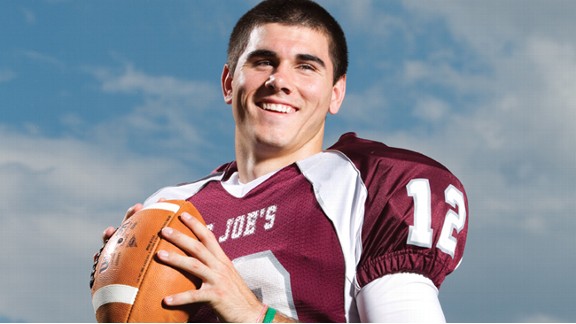 Kelly Kline/ESPNHSAfter a big summer that included a Nike 7ON championship and a spot in the Elite 11, St. Joe's Collegiate senior QB Chad Kelly is all smiles entering his senior season.
Fueled by determination and what some call freakish athleticism, Chad Kelly placed his stamp on the prep football scene this summer.
At the Nike 7ON in Oregon, the St. Joe's Collegiate senior QB threw the game-winning touchdown to push his team to
the 7-on-7 title
and earn all-tournament honors. A few weeks later, Kelly was at it again, earning a spot in the
final Elite 11
at the prestigious Elite 11 quarterback competition in California.
Needless to say, with
an uncle
who quarterbacked the Bills to four Super Bowl appearances and several records already to his name, Kelly appears ready for a huge senior campaign. Click
here
to read about Kelly's journey to the top.
Also check back later this week for our recent "Twinterview" with the elite QB and stay tuned for our weekly diary chronicling Kelly's highly anticipated senior season.
Brandon Parker covers New York for ESPNHS magazine and ESPNHIGHSCHOOL.com. Follow him on Twitter @brandoncparker or email him at brandon.c.parker@espn.com.
August, 22, 2011
8/22/11
11:45
AM ET
By
Brandon Parker
| ESPN.com
As featured in the ESPNHS New York magazine that hits schools this week, here is our annual All-State Football Team along with 70 more players to watch.
(The team is based on projected on-field performance and accomplishments, not necessarily recruiting potential. For a list of the top football recruits in the state, click here)
Want to see the All-State teams for the other 49 states?
We've got 'em right here
.
2011 NEW YORK ALL-STATE FOOTBALL
FIRST TEAM OFFENSE
Brandon Barnes, Tottenville, QB, Junior

All-City pick after throwing for 22 TDs and only four picks as a sophomore
Chad Kelly, St. Joe's Collegiate, QB, Senior

Clemson recruit is four-time NFL Punt, Pass & Kick champ
Okoya Anderson, Orchard Park, RB, Senior

All-State selection ran for 1,443 yards and 21 scores as a junior