High-SchoolNew-York:

George Washington
June, 13, 2012
6/13/12
2:05
PM ET
By
Brandon Parker
| ESPN.com
After games on Sunday, June 10
All preseason, the talk was about George Washington — and rightfully so. The Trojans were the reigning champs, boasted arguably the two best players in the state in Nelson Rodriguez and Fernelys Sanchez and had a strong pitching corps as well. But as the postseason came to a close this past weekend, it was Grand Street Campus that stood atop the Empire State baseball scene.
The Wolves rode the balanced play of Kevin Martir (run-scoring triple), Ernesto Lopez (solo homer) and Gerry Gonzalez (four-hitter, third playoff win) to a 2-1 victory against George Washington in the PSAL Class A final. The triumph gave the Wolves their first-ever state title and pushed them into the
POWERADE FAB 50
.
In Class AA play, another team came up just short of defending its crown as Kingston knocked off reigning champ Victor for its first state title.
Here are the final rankings (last week's rankings in parentheses):
1. Grand Street Campus (Brooklyn) 21-1 (1)
Wolves capped impressive season by winning the PSAL Class A crown with a 2-1 victory against George Washington, their first in school history.
2. Poly Prep (Brooklyn) 20-4 (2)
Won second straight NYSAISAA crown and have a shot at a third with Andrew Zapata and other two top pitchers returning.
3. George Washington (New York) 33-10-1 (3)
Trojans couldn't knock red-hot Grand Street Campus in the PSAL Class A championship, losing 2-1.
Click here for the full POWERADE weekly New York baseball rankings.
June, 6, 2012
6/06/12
3:11
PM ET
By
Brandon Parker
| ESPN.com
After games on Sunday, June 3
Two of the top three teams in the state were knocked out of the postseason last week, as Tottenville and Cardozo went down, leaving surging and top-ranked Grand Street Campus to battle with preseason favorite George Washington in the PSAL Class A final.
Here are this week's rankings (last week's rankings in parentheses):
1. Grand Street Campus (Brooklyn) 20-1 (1)
Wolves swept John Adams to set up PSAL Class A final matchup with George Washington.
2. Poly Prep (Brooklyn) 20-4 (4)
Won second straight NYSAISAA title behind Andrew Zapata's one-hitter.
3. George Washington (New York) 33-9-1 (5)
Trojans beat Telecommunications 16-3 to cap two-game sweep and advance to PSAL Class A final against Grand Street Campus.
Click here for the full POWERADE weekly New York baseball rankings.
May, 22, 2012
5/22/12
4:56
PM ET
By
Brandon Parker
| ESPN.com
After games on Saturday, May 19
The playoffs get started this week and some teams enter on a hot streak (Grand Street Campus, Cardozo) while others stumbled into the postseason (St. Joseph-by-the-Sea, George Washington). What effect this has on their playoff performance remains to be seen.
Here are this week's rankings (last week's rankings in parentheses):
1. Grand Street Campus (Brooklyn) 15-1 (1)
Heads into PSAL Class A playoffs on hot streak and led by Ernesto Lopez, who led the league with 26 RBIs, five HRs and a .610 batting average.
2. Tottenville (Staten Island) 22-3 (2)
Won 28th straight PSAL Staten Island A division crown and open playoffs Wednesday against Riverdale or Kingsbridge.
3. Cardozo (Queens) 21-2 (8)
Judges won two more games to sweep competition in Queens A East and earn top seed in PSAL Class A playoffs.
Click here for the full POWERADE weekly New York baseball rankings.
April, 25, 2012
4/25/12
11:54
AM ET
By
Brandon Parker
| ESPN.com
After games on Saturday, April 21
Entering this season, most eyes were on George Washington because of their powerful tandem in Nelson Rodriguez and Fernelys Sanchez, and Poly Prep because of junior ace pitcher Andrew Zapata. But the Trojans have struggled due to Sanchez being sidelined by injury and inconsistent pitching, while the Blue Devils have been inconsistent in producing offense at the plate.
As a result, teams like Grand Street Campus (led by do-everything player Alex Cuas) have taken the baton and raced to the top of the New York rankings. Of course, the season is still young, so expect plenty more movement in the coming weeks.
Here are this week's rankings (last week's rankings in parentheses):
1. Grand Street Campus (Brooklyn) 7-1 (2)
Led by Alex Cuas, the Wolves are peaking at the right time.
2. St. Joseph-By-The-Sea (Staten Island) 3-0 (3)
Vikings knocked off rival Monroe Catholic and have been a surprise contender this year.
3. Xaverian (Brooklyn) 7-2 (4)
Clippers welcomed back ace pitcher Blaise Scerbo to the lineup, giving them even more punch.
Click here for the full POWERADE weekly New York baseball rankings.
April, 17, 2012
4/17/12
5:40
PM ET
By
Brandon Parker
| ESPN.com
After games on Saturday, April 14
Lots of movement took place in this week's rankings, partly because many of the top 10 teams spent the past week playing each other in various tournaments.
George Washington retook the top spot after avenging a loss to Cardozo and winning the GW Tournament. Meanwhile, Poly Prep nearly dropped out of the rankings altogether after the previous No. 1 squad lost two straight to Fieldston and St. Joseph-By-The-Sea. Lastly, Grand Street Campus rose the the No. 2 spot after winning the loaded Monroe Tournament.
Here are this week's rankings (last week's rankings in parentheses):
1. George Washington (New York City) 17-5-1 (3)
Avenged loss to Cardozo by beating the Judges 6-0 en route to the GW Tournament title. Randy Rodriguez earned MVP honors.
2. Grand Street Campus (Brooklyn) 3-1 (NR)
Wolves topped an impressive field to win their second straight Monroe Tournament crown.
3. St. Joseph-By-The-Sea (Staten Island) 2-0 (NR)
Pitching was key in two big wins for the Vikings, as Chris Falcone threw a four-hitter in a 1-0 win against Iona Prep and ace Brian Russell bested Poly Prep ace Andrew Zapata during a victory against previous No. 1 Poly Prep.
Click here for the full POWERADE weekly New York baseball rankings.
April, 11, 2012
4/11/12
12:08
PM ET
By
Brandon Parker
| ESPN.com
After games on Saturday, April 7
George Washington started off strong, going unbeaten in its first 10 games until an 0-3 showing at the loaded NHSI tournament in North Carolina. It didn't help that star senior Fernelys Sanchez broke his leg just before the tournament, forcing him off the field for the next 4-6 weeks.
In the meantime, the likes of Poly Prep (2-1 and No. 42 in the
POWERADE FAB 50
behind junior ace Andrew Zapata) and Cardozo (4-0, including a win against GW) have risen to the top of the first New York rankings.
Here are this week's rankings (preseason rankings in parentheses):
1. Poly Prep (Brooklyn) 2-1 (2)

Blue Devils had allowed just one run through 14 innings behind junior pitchers Andrew Zapata and Phil Maldari before falling to Delbarton (N.J.).
2. Cardozo (Queens) 4-0 (NR)

Connor Doyle ripped a triple to begin a rally and pitched three innings of relief to seal the Judges' 5-4 win against George Washington.
3. George Washington (New York) 12-4-1 (1)

Trojans have struggled some as they await the return of Fernelys Sanchez from a broken foot.
Click here for the full POWERADE weekly New York baseball rankings.
March, 30, 2012
3/30/12
12:07
AM ET
By
Lucas O'Neill
| ESPN.com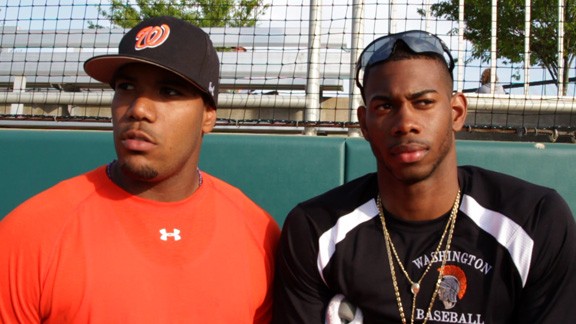 Lucas O'Neill/ESPNHSNelson Rodriguez (left) has been forced to play without George Washington (New York) teammate Fernelys Sanchez, who is out with a broken leg, at the USA Baseball H.S. Invitational.
CARY, N.C. -- George Washington (New York) has had a rough go of it so far at the USA Baseball National High School Invitational. The lone representative from the Northeast, the Trojans fell to Parkview (Lilburn, Ga.) 11-3 on Wednesday and Russell County (Seale, Ala.) 8-0 on Thursday.
Unlike most of the teams at the tournament, George Washington's season has essentially just started. They played nine games in March — none against what would be considered national-caliber programs. But the bigger obstacle for the Trojans this week is that they are without star outfielder
Fernelys Sanchez
, the No. 93 recruit in the
ESPN 100
.
Well, that's not technically true. Fernelys made the trip to North Carolina and was there in the dugout for both games, but the large cast on his right leg made playing impossible. Sanchez broke his leg last week when his foot got stuck in the dirt while running the basepaths and is expected to miss 4-6 weeks.
"All I was thinking was just, 'North Carolina, North Carolina,' man," Sanchez recalled. "I was just thinking about this week. I was just really looking forward to joining my team and Nelson…
"It happens, though; it's baseball," he continued. "Now I've just got to adjust to what's next."
Nelson would be
Nelson Rodriguez
, the Trojans' other senior leader. A star since his freshman campaign, Rodriguez has long been compared to another Trojans' power-hitter: Manny Ramirez. And the person making the comparison, coach Steve Mandl, is in a position to know: He coached Ramirez at GW.
Rodriguez and Sanchez have been best friends since Little League. One year they were opponents, the next year they were teammates, and the rest is history.
"That's where everything started right there," said Sanchez. "From then on, we always played together."
But that could change next year. While both players have committed to Central Arizona CC, it's likely that one or both will choose to go pro instead following June's MLB draft. That's what makes this year all the more important — and Sanchez's injury all the more disappointing. Still, the Trojans will settle for nothing less than a city championship.
"Now that Fernelys is injured, we have to adjust to the atmosphere," said Rodriguez. "It's a big loss and hopefully he gets better soon."
Playing or not, Sanchez will be there every step of the way.
One-Man Show
Courtney Hawkins
led Carroll (Corpus Christi, Texas) over Gulliver Prep (Pinecrest, Fla.) Thursday morning, supplying the game's only run with a solo blast in the top of the third. Hawkins, No. 26 in the ESPN 100, also pitched 5.1 innings of four-hit ball with nine strikeouts and two walks.
"Courtney kind of showed up today," said Carroll coach Lee Yeager, whose team entered the tournament No. 2 in the
POWERADE FAB 50
. "It came down to what he did for us."
Making the performance more impressive is the fact that Gulliver boasts at least a trio of potential early-round draft picks in
Adrian Marin
,
Chris Chinea
and Eric Neitzel. Hawkins did some reconnaissance work before the game to get an edge on the Raiders' potent lineup.
"I got a little help from some guys in Florida I know that play with them," he said with a smile.
Giant Killers
Hawkins' smile was short-lived, figuratively speaking, as within a couple hours his Tiger team was getting trounced by Mater Dei (Santa Ana, Calif.). The Monarchs, who were ranked No. 2 in the preseason POWERADE FAB 50 but had since fallen out of the rankings, had the tournament's toughest draw, but you wouldn't know it from looking at their box scores.
A day after taking out the nation's No. 1 team, Bishop Gorman (Las Vegas), by a score of 10-3, Mater Dei defeated No. 2 Carroll by mercy rule, 12-0.
Ty Moore
led the way for the Monarchs on Thursday, pitching four scoreless innings and hitting a three-run home run.
No. 1*
The radar guns were out in force Thursday as Harvard-Westlake (Studio City, Calif.) co-ace
Max Fried
took the hill against Parkview. The nation's No. 4 prospect in the ESPN 100, Fried didn't disappoint, striking out eight in the Wolverines' 10-3 win.
Perhaps more important to the many scouts in attendance, Fried touched 94 mph on the gun and was consistently in the 89-91 range on his fastball. His 80-mph breaking ball was equally devastating. While Fried's injured teammate, RHP
Lucas Giolito
, is the No. 1 player in the ESPN 100, Fried might be just as coveted by MLB teams come draft time for one reason: He's a southpaw.
Harvard-Westlake will face American Heritage (Plantation, Fla.) in the semifinals on Friday.
Come Sail Away
Sarasota (Fla.) is one of the few teams that entered the tournament unranked in the FAB 50, but that could change after the Sailors won both ends of a double-header on Thursday to earn a semifinal tilt with Mater Dei on Friday.
In a morning matchup with Lee County (Sanford, N.C.), Sarasota scored 14 unanswered runs, breaking the game open with five runs in the sixth and another six in the seventh in a 14-2 victory. In the nightcap, sophomore Evan Mendoza went the distance for the Sailors in the 5-3 win.
"This is the best thing I've seen done for high school baseball yet," said coach Clyde Metcalf, who's in his 31st year at the helm. "Our kids have been really excited about this since it was announced. We're grateful to be here."
March, 1, 2012
3/01/12
12:11
PM ET
By
Brandon Parker
| ESPN.com
December, 29, 2011
12/29/11
10:10
AM ET
By
Brandon Parker
| ESPN.com
10. Surprise, Surprise

After losing their star player in Ishaq Williams and falling just short of the PSAL title, most figured Lincoln would spend this season rebuilding. Instead, the Railsplitters built a championship season by going 13-0 en route to the championship behind talented rusher Kareem Folkes.
9. In the Nick of Time

For the past decade, Fayetteville-Manlius' girls cross country program has garnered all of the attention, but this year, the boys stole some of the spotlight. Led by Nick Ryan's first-place finish, the boys joined the girls as Class A state champs. Ryan went on to finish fifth at the Nike Cross Nationals meet.
8. Dream Season

After failing to reach the PSAL final for the first time in 15 years, MLK returned to the throne of New York city soccer by beating Francis Lewis, 3-2. Ibrahim Diaby provided the decisive goal, scoring on a header in the 69th minute to give the Knights their 13th crown in the last 16 seasons.
7. Watch the Throne

Jamesville-DeWitt and Mount Vernon both made history on the same day this past winter. Led by Dajuan Coleman, J-D won its state-record tying fourth straight Class A title while Mount Vernon rode the play of Jabarie Hinds to cop its state-record tying ninth overall crown.
6. Elite Class

In just two years on the New York football scene, Chad Kelly made national waves. This past summer, the St. Joe's Collegiate senior earned a spot in the Elite 11 during the annual QB camp in California. Kelly, the son of Hall of Famer Jim Kelly, took those skills to become the first New York QB to throw for 3,000 yards and rush for 1,000.
5. Perfect Saint

Despite losing its starting quarterback before the year began and enduring injuries all season to its top players, St. Anthony's continued its reign of success by going 10-0 and copping its third straight CHSFL crown this past fall.
4. Luck of the Irish

Penn State saw itself spurned not once, but twice in the same year by New York's top football recruit. In January, as Lincoln's Ishaq Williams was packing for a visit to Penn State, a Notre Dame coach knocked on his door and eventually led him to commit to the Fighting Irish. Then this past fall, Aquinas Institute's Jarron Jones decommitted from Penn State and then chose Notre Dame as well.
3. Coaches Suspended

PSAL coaches Steve Mandl, who has 900-plus wins managing George Washington's baseball team, and Forest Hills hoops coach Ben Chobhaphand were suspended for recruiting violations. While Mandl fought the ruling in the courts, George Washington went on to win the PSAL title this past spring. Chobhaphand is poised to return to the sideline after his one-year suspension ends in February.
2. 'Cuse Lands Another Coleman

He's not related to former Syracuse and NBA star Derrick Coleman, but Dajuan Coleman is following in the big man's footsteps. The J-D senior committed to Syracuse this past fall over the likes of Kentucky and Ohio State.
1. We Will Never Forget

Middletown may be a 90-minute drive from Ground Zero, but on Sept. 10 the memory of 9/11 was close at hand for everyone attending a tripleheader of football games to honor the memories of those who died a decade ago. Manhattan Xavier faced Pine Brush, Xaverian played Monroe-Woodbury
and Archbishop Stepinac took on Middletown. More than $4,000 was raised in donations and raffles during the event, as
all involved teams paid tribute to the 10th anniversary of 9/11
.
Brandon Parker covers New York for ESPNHS magazine and ESPNHS.com. Follow him on Twitter
@brandoncparker
or email him at brandon.c.parker@espn.com.