High-SchoolNew-York:

Monsignor Farrell
October, 4, 2011
10/04/11
3:23
PM ET
By
Brandon Parker
| ESPN.com
For the third straight year, Monsignor Farrell won the NYC Mayor's Cup, as junior Daniel Galford crossed the finish line first for the Lions. Led by Galford's time of 13:05.24, the Lions placed five runners in the top 10 during the race at Van Cortlandt Park. Collegiate and Bronx Science finished second and third, respectively.
The impressive showing bodes well for the Lions, who have their eyes set on becoming the first New York City squad to qualify for the Nike Cross Nationals in Oregon. The Staten Island squad is also looking to improve upon its 28th-place finish at last year's Federation meet while besting St. Anthony's for its first CHSAA Intersectional title since 1994.
Brandon Parker covers New York for ESPNHS magazine and ESPNHIGHSCHOOL.com. Follow him on Twitter @brandoncparker or email him at brandon.c.parker@espn.com.
September, 30, 2011
9/30/11
2:03
PM ET
By
Brandon Parker
| ESPN.com
It's been a pleasantly surprising start to the season for Holy Cross. A win against Xaverian along with coach Tom Pugh;s 200th victory last week highlights the Knights' 3-0 start, but nothing would top a victory against defending CHSFL champ and current No. 1 St. Anthony's (2-0).
The Knights have homefield advantage and a solid defensive attack, but quite frankly, most of the odds are stacked against them. The Friars boast tons of experience and depth — both of which were witnessed last week when Anthony Anderson stepped in for the injured Dariyan Riley to rush for 136 yards in a 51-0 rout of Fordham Prep. Riley is expected back this week and the Friars' defense is evolving into midseason form. Don't get wrong — Holy Cross will put up a fight, but this bout will end in a 22nd straight victory for the Friars.
My pick:
St. Anthony's 35, Holy Cross 17
No. 8 St. Joe's Collegiate (3-1) at No. 4 St. Francis (3-1)
Just two weeks after facing No. 2 Aquinas Institute, St. Francis comes up against another strong team in St. Joe's Collegiate. Both teams possess big-time playmakers, with St. Francis anchored by Akeel Lynch (705 rushing yards and seven scores despite missing a game a half with injury) and the Marauders led by Elite 11 QB Chad Kelly. Ironically, this will be the first time these two will play on the same field. Last year, an injury held out Lynch, as Kelly went off for five scores in an easy win. And the year before that, Kelly was still playing in Pennsylvania, as Lynch had a career-high five touchdowns in victory. What's more is that both teams only loss came to No. 2 Aquinas Institute. Like Lynch, Kelly has been off to a great start, totaling 14 TDs through the air and on the ground. In other words, this matchup is primed to be a shootout.
My pick:
St. Francis 38, St. Joe's Collegiate 35
Xaverian (2-1) at No. 9 Iona Prep (3-0)

Last week was the
Justin Combs show, as Diddy's son
stepped in at quarterback to score three touchdowns for the surging Gaels in a 28-7 win against Monsignor Farrell. The Gaels will need a similar effort from the versatile starter this week against a tough Xaverian squad. Quarterback Isaiah Kearney (a total of 644 yards and seven TDs) will keep the Gaels defense on its heels, but ultimately, I think Iona Prep's offense of Combs, Mario Biaggi and Shaquille Townsend will be too much for the Clippers.
My pick:
Iona Prep 28, Xaverian 20
No. 3 Tottenville (3-0) at Erasmus Hall (1-2)

Many thought this game would be a matchup of undefeateds, but Erasmus Hall has sputtered in its first three games. Despite boasting All-State DB Wayne Morgan, the Dutchmen defense has struggled, surrendering 17 second-half points in a loss to Campus Magnet and 30 points last week against Clinton. Tottenville, on the other hand, has cruised to a 3-0 start behind the three-headed monster of QB Brandon Barnes, RB Augustus Edwards and WR Alvin Cornelius. The good news for Erasmus Hall is talented enough to rebound and still contend for a state title. The bad news is that Tottenville easily beat Clinton a few weeks ago and won't let up tonight.
My pick:
Tottenville 31, Erasmus Hall 17
Brandon Parker covers New York for ESPNHS magazine and ESPNHIGHSCHOOL.com. Follow him on Twitter @brandoncparker or email him at brandon.c.parker@espn.com.
September, 30, 2011
9/30/11
10:01
AM ET
When a shoulder injury forced Iona Prep (New Rochelle, N.Y.) quarterback Mario Biaggi out of a Sept. 23 matchup with Monsignor Farrell (Staten Island, N.Y.), the Gaels weren't worried. In stepped senior Justin Combs, who threw for 163 yards and totaled three touchdowns during a 28-7 win. Having the spotlight as well as success at multiple positions is nothing new for Combs though, especially when you consider who his dad is.

This story originally appeared in the October issue of ESPNHS magazine.
Justin Combs has heard his share of trash talk while attending football camps and combines. Of course, that'll happen when your dad is hip-hop mogul Sean "Diddy" Combs and your 16th birthday was televised on MTV.
The Iona Prep senior has put up with opponents reciting his dad's lyrics during one-on-one drills and players questioning whether he even deserves to be on the field.
"I've had to go harder than anybody else to prove that I belong because most people think I have everything handed to me," Combs says. "I had to prove them wrong."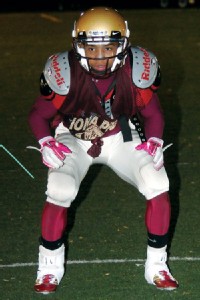 Richard Harbus/New York Daily News/ESPNHSJustin Combs may be Diddy's son, but the Iona Prep (New Rochelle, N.Y.) senior has earned offers from UCLA, Illinois and Virginia.
He's done a good job of that. The 5-foot-9, 165-pounder is a star quarterback, cornerback and kick returner for Iona Prep, and he has received scholarship offers from D-I programs like Virginia, UCLA and Illinois.
Combs has put in the work on the field (he's a two-way starter) and in the classroom (he boasts a 3.7 GPA), so he's now beginning to emerge from his father's shadow.
"I'm extremely proud of him," Diddy says, "due to the fact that he didn't use any celebrity to get to where he's at."
"He's a good student, and when he's not doing that, he's spending every other minute on football," adds Iona Prep coach Vic Quirolo, who's in his eighth season at the Gaels' helm. "He's really dedicated himself. Justin is true to himself, and the kids respect him for it. I don't know anyone who's dedicated himself to improving in football like he has. He's the whole package, and it's a pleasure to have him."
This summer, Combs trained seven days a week doing position drills, running on the track and lifting weights to prepare for his senior season. He's serious about succeeding on the gridiron both this year and when he gets to college.
"It was my dream to play football," he says. "Football is my first love."
As for the music industry, Combs says he's never had any interest in following in his father's footsteps. His studio is the football field, where he's starting to make a name for himself. And not just because of who his dad is.
September, 23, 2011
9/23/11
4:45
PM ET
By
Brandon Parker
| ESPN.com
Up until this week, it appeared No. 1 St. Anthony's couldn't get a break.
In the offseason, Sean McDonaugh, who was supposed to replace the graduated Charlie Raffa at quarterback, went down with a season-ending back injury. Then the replacement, Pete Carew, sprained his ankle and standout defensive lineman Bryan Rhodes tweaked his hamstring. If that wasn't enough, after Hurricane Irene cancelled the season opener, tailback Dariyan Riley left last week's game with a foot injury.
Fortunately for the Friars, Riley is OK and they beat Monsignor Farrell to extend their current win streak to 20 games. But the road doesn't get any easier, as they travel to face a tough Fordham Prep squad. The Rams have breezed to a 2-0 start behind quarterback James McHale and tailback Logan Williamson (four touchdowns). Their defense should test Carew at quarterback, but the balance and experience of the Friars should help them pull out the win.
My pick:
St. Anthony's 20, Fordham Prep 14
No. 6 Fort Hamilton (2-0) at Boys & Girls (1-1)
The regular-season win streak is at 34 for the Tigers, thanks Travon Reid Segure blocking a potential game-tying field goal against Campus Magnet last week. The defending PSAL champs will be tested again versus Boys & Girls, although the Kangaroos looked a bit out of sorts last week after showing promise in the opener. Boys & Girls has a playmaker in quarterback Keon Marsh, but it probably won't be enough to hang with the Tigers' strong rushing game behind Segure and quarterback Marvin Centeno.
My pick:
Fort Hamilton 28, Boys & Girls 14
Erasmus Hall (1-1) at Clinton (1-1)

The last time these two teams met, Clinton pulled off the upset in the 20-16 upset in the first round of the PSAL playoffs. Match that with the sting from blowing a 13-point fourth quarter lead to Campus Magnet in the opener and you've got a vengeful team in Erasmus Hall. Clinton struggled to slow the talented Tottenville tandem (say that three times fast) of QB Brandon Barnes and WR Alvin Cornelius, and with All-State player Wayne Morgan leading the Dutchmen, it could be another long game for Clinton.
My pick:
Erasmus Hall 21, Clinton 10
Brandon Parker covers New York for ESPNHS magazine and ESPNHIGHSCHOOL.com. Follow him on Twitter @brandoncparker or email him at brandon.c.parker@espn.com.
September, 19, 2011
9/19/11
5:36
PM ET
By
Brandon Parker
| ESPN.com
With Hurricane Irene long gone, the state's top team was finally able to get into action last week. And St. Anthony's didn't disappoint, beating Monsignor Farrell, 41-26. Sure, there were signs of rust and backup quarterback Pete Carew is still adjusting to his new starting role, but a conference win is a conference win. The road doesn't get any easier though, as the Friars face a 2-0 Fordham Prep squad on the road.
Aquinas Institute continued to build its case for the top slot, beating previous No. 3 St. Francis, 34-20. Xaverian wasn't as fortunate, falling to Holy Cross and, as a result, out of rankings. A surging Iona Prep took the Clippers' spot and then some, earning the No. 9 spot, thanks to a loss by William Floyd.
Here's how the state rankings shake out this week:
1. St. Anthony's (South Huntington) 1-0 (1)
The Friars finally got their season underway, beating Monsignor Farrell by a score of 41-26. The loss came with some bad news, though, as running back Dariyan Riley left the game early with an ankle injury. Next up: a tough Fordham Prep squad.
2. Aquinas Institute (Rochester) 3-0 (2)
The Little Irish showed their mettle once again against a top-10 squad, this time beating former No. 3 St. Francis High, 34-20. A battle against McQuaid Jesuit is next on the schedule.
3. Tottenville (Staten Island) 2-0 (4)
The Pirates rolled to a 21-0 victory against Clinton behind three touchdown throws from Brandon Barnes to Alvin Cornelius. Next up: Adams.
Click here for the full POWERADE New York weekly rankings.